tenant Christmas gift ideas – how to spread landlord holiday cheer
This post may contain affiliate links. If you purchase a product through one of them, we will receive a commission at no additional cost to you. As Amazon Associates, we earn from qualifying purchases.
---
Today's post is two-family landlord specific.  Let's brainstorm tenant Christmas gift ideas! 
Tenant gifts are a funny thing – some people don't bother, while others believe it fosters a good relationship. 
Quick disclaimer: we are speaking from experience of owner occupying a small multi-family property – not a huge real estate empire. We're a "mom and pop" – literally. These ideas will likely be inappropriate for a landlord with many units in their portfolio.
And, one quick aside: while these are "tenant Christmas gift ideas," they also apply to any gift-giving situation where you don't know someone that well: like coworkers, neighbors you're kind-of-friendly-with, and those folks you know you want to give something to, but you're just not sure what.
Right-o! Let's talk through the why, the what, and the how to give your tenants a Christmas gift. 
---
Why bother to give tenants a gift?
There are many ways to talk yourself out of giving tenants a Christmas gift.  Why bother? What if they don't celebrate?  What if it's something they don't want?  Why should I give them something when they're the ones who are supposed to be paying me?
Let's nip those in the bud.
1. What if they don't celebrate Christmas? 
Here's an example for you.  Personally, we celebrate Christmas, and not Hannukah, for example. 
If someone gave me a Hannukah gift, and it was lovely, would I really care which holiday's gift it was? 
No.  It's a gift.  We'd accept it graciously.
2. What if it's something they don't want? 
So what? Giving any gift could result in a return or re-gift, and honestly, that's not the point. 
Altogether now: "It's the thought that counts."
3. Why should I give them something? 
Honestly, it's good business practice.  I think of it as a gift for a client. 
Or, think of it as a gift to a customer.  Businesses do this sort of thing all the time. 
Landlord-ing is a business, and we ought to treat it as such. 
---
What are the best tenant Christmas gift ideas?
If you are owner occupying your two family home, you probably see your tenants every once in a while.  At the very least, you probably know their household makeup – i.e., do they have kids?  Are they a group of roommates?  Does Grandma live with them?  Take all this into consideration before you hit "add to cart."
Let's do the fun part – shopping!  Here are our favorite tenant Christmas gift ideas. 
---
Sweet goodies
The quintessential "thought that counts" gift, a box of chocolates is truly always a nice gesture. 
I personally love to shop our local business for sweets. My hometown favorite, Holsten's, has a website where you can buy their homemade confections.
Holsten's is famous for that last scene of the Soprano's, but to this former 6-year-old, they're famous for creating perfect chocolates.
---
Kitchen things
If you know that your tenants cook (and if you are house hacking a duplex, your nose will tell you), why not consider gifting a kitchen gadget or two?  If you're unsure, just snag a gift receipt in case.
As a home chef myself, I always appreciate an upgrade on items like:
A new cutting board set (you as a landlord tick a win here, too – encouraging chopping on a board and not the counter)
Silicone baking mat – if your tenant likes to bake, this is an earth-friendly, nonstick alternative to parchment paper or tinfoil
Updated utensil rest – kind of like a frilly '50s housewife spoon rest, but upgraded, food safe, and heat resistant. 
Oil dispenser jars – these have a cleaner look than a regular store-bought jar, and make it easy to dispense oil one-handed.
---
Spice basket
Even the lukewarm home chef can appreciate a spice or two. Here are my personal favorites that take a dish from zero to hero:
Spice blends from Dangold
Hit up Dangold for his Roasted Vegetable spice blend.  You will not be disappointed.  I once seasoned a tray of roasted carrots with this, and my 6-year-old niece housed them.  It doesn't get much better than that. 
While you're at it, toss a bottle of the Kickin' Chicken Finger Lickin' into your cart. It's foolproof!
Chili powder to die for
Trader Joe's chili lime seasoning blend is out of this world delish.  Personally I believe the contents of Trader Joe's spice rack should be an inalienable right, like air or the pursuit of happiness.
Everything but the bagel seasoning
Have you heard?  This incredible spice blend is on the market. 
Just go ahead and purchase one for you and one for your tenant's gift.  It's delicious on eggs, toast or just about anything that can be served for breakfast.  Consider it a nice way to add flavor without adding too much salt. 
Shout to my millennials, for whom EBTB + avocado toast will be perfection. 
Spice jars for fridge
If you know that your tenant doesn't have a lot of counter space for new spices, check out these cool magnetic spice jars!  You can purchase them filled or empty, label as you please, and have a ball like a little bee organizing the hex jar shapes. 
Shout to my friends Laura at Crux Organizing and Laura the badass musician van Duzer for introducing me to this genius invention. 
---
Toys
If your tenants have children, take note of their ages and habits.  Even if you're not a "kid person," if you're living in the same building as an owner occupant, you can observe at least a few things about them. 
For instance, if they're elementary aged kids, they probably like toys.  Remember being a kid?  Toys are fun, regardless whether you wrote them on your Christmas list or not. 
Parents will likely appreciate something educational and silent, but any toy will do, right? 
Aim for something age appropriate and inoffensive, and you'll be good. 
---
Gift basket of edible goodies
In years past, this has been my go-to.  The best thing about assembling a gift basket is that most of the items can be obtained at your local grocery store. 
Related: 10 Tenant Gift Basket Ideas – Simple Ways to Say, "Welcome!"
We like to include things like:
Cookies! – tis the season!
Seasonal Winter Tea – affordable and delicious
Coffee – don't tell the others, but this is my all-time favorite
Flavored coffee syrups – take it from this former barista: one pump of syrup + 2/3 hot milk + 1/3 coffee = homemade latte heaven
Fruit – nice and colorful, and fills up the basket space quickly
---
A manicure
I have to say, I'm pretty excited about this idea. My sis in law sells this neat thing called Color Street – it's like grown up stick on nails.
I think they're perfect for a tenant that you know loves having her nails done.
These snazzy nails price at or less than the cost of a manicure at the salon. And – they've got tons of holiday-themed options!
I personally think the sparkly ones are beautiful. Sue swears by them for her kids, too, since they're mess-proof – no waiting for the polish to dry!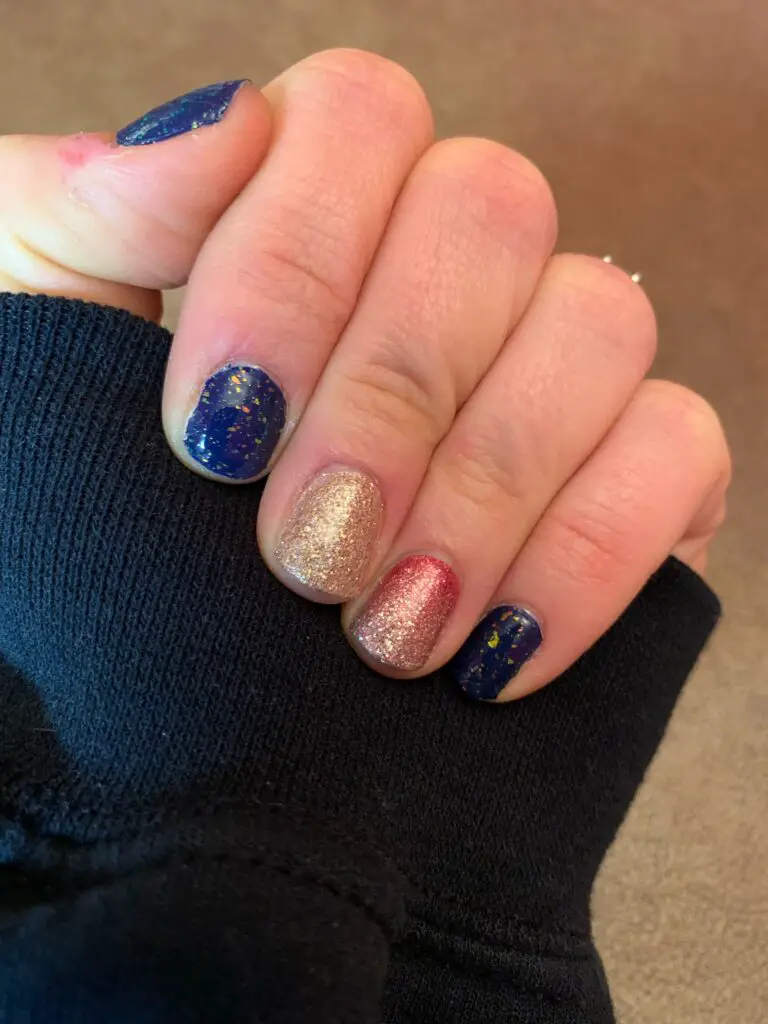 ---
Gift cards
Meh… I don't love the gift card in the tenant Christmas gift ideas conversation.  Some people may feel a gift card to Amazon might be appropriate, with a nod to the idea that the tenant can purchase something for their home, but we haven't really done this. 
I also feel it's like a non-cash refund reflecting something gone wrong during the rental year. 
However, if it's the thought that counts, a gift card isn't wholly bad, and I'm sure your tenant will appreciate it. Who doesn't love a $50 Target shopping spree?
---
How much? 
We generally spend between $50 and $75 on our tenant gifts.
I don't feel there's any right number for something like this. It's the thought that counts, of course – and we live in a high-cost rental area, so we feel it's totally appropriate.
It's also a business expense right along with ice melt and lightbulbs (except way more fun to shop for!), so it's tax deductible, I do believe.
---
Conclusion
I hope you find these tenant Christmas gift ideas helpful. What has worked for you in the past? Have I missed an obvious idea that renters will love? Tell me your thoughts!
---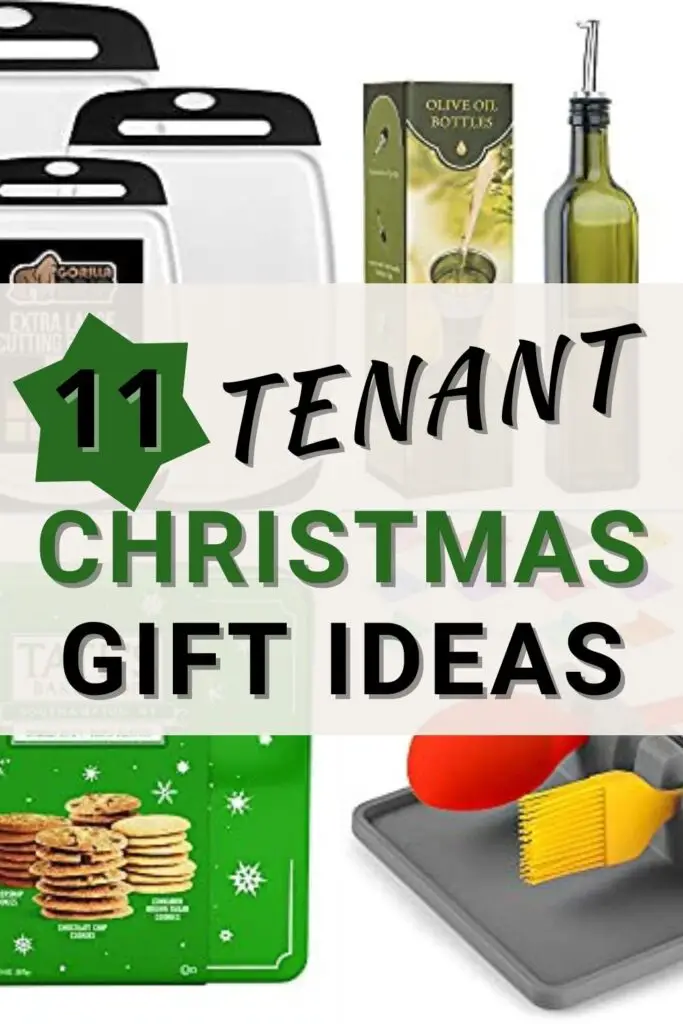 ---