Couch Skins review – pros and cons of our new slipcover
This post may contain affiliate links. If you purchase a product through one of them, we will receive a commission at no additional cost to you. As Amazon Associates, we earn from qualifying purchases.
---
Welcome back to Our Two Family house!  This post is a Couch Skins review.
Couch Skins is a website that sells couch slipcovers.  We bought one during our Living Room Makeover.
We found Couch Skins attractive due to their selection available, color options and pricing.  
However, before purchasing, I was hesitant. Would the quality of product withstand the potential beating awaiting in our home with young children? Would they have an option to fit our old style couch?
Read on to find out how we made Couch Skins work for our vintage tuxedo sofa, how we like the product, what our shopping experience was like, and more!
---
Couch Skins Review – an Overview
Couch Skins is a simple brand, really – they sell slipcovers.  There are lots of options, including solid colors, patterns, waterproof and fleece, to name a few.  
They sell couch covers and couch covers only, so when shopping, I was inclined to believe they knew what they're doing.  
Couch Skins also has impressively low prices.  If you're looking to upgrade your couch's look without breaking the bank, as we were, it is certainly appealing.  
---
A Tuxedo Sofa Cover
The biggest challenge we faced when finding a slipcover for our tuxedo sofa was its size.  
Many slipcovers will cover a standard sized, more modern couch – but a tuxedo couch is usually wider and shorter than the average sofa.  Here's our "before" picture.
Before shopping for any slipcover, you need to measure the dimensions of your couch.  
Not just the width and height – no, you need to measure the width of the arm, down to the cushion, across the seating, back up the arm, and then the width of the arm again.  Think a giant U shape.  Then, measure front to back and top to bottom, and write it all down.
At first, I thought we'd need a regular 3-seater couch cover.  
Oh contraire!  I hadn't measured the U-shape, I had only measured once left to right.  The customer service agents at Couch Skins helped me out with this one.  I was most grateful.  
---
What we purchased
You probably want to know which couch skin we purchased!
We ordered:
6 of The Original Couch Skin seat/back cushion cover in Navy
2 of The Original Couch Skin – pillowcases in Navy
1 of The Original Couch Skin – Four Seater in Navy
Couch Skins also carries waterproof and higher quality materials, but we felt the basic treatment was enough for now.  
Due to the basic structure of our couch, we had to order a "four seater" couch skin despite our couch only having three seats.  This emphasizes the importance of measuring!
Additionally, because our seat cushions and back cushions are all loose, we ordered seat/back cushion covers to match. 
I suppose if you wanted to style your couch in color blocks, you could order different colors for your cushions!  We chose to keep it all one color.  
---
Do couch covers work for all couches?
In short: not exactly. We had to do a little sewing to make Couch Skins work for our sofa.
Because our tuxedo vintage couch doesn't fit any couch slipcover profiles, we had to get a little creative.
Check out exactly how we fit the Couch Skins onto our odd-shaped couch.
---
Couch Skins Review – Pros and Cons
Negatives of our Couch Skins Review
Website distractions
The "so-and-so just purchased" tab that kept popping up on their website was extraordinarily stressful.  I don't care if Shelly in Indiana just purchased a slipcover for her dog.  It won't make me more inclined to buy something.
Likewise, I appreciate the "chat" feature, but also found it quite distracting.
Emails
So. Many. Emails.  
The Couch Skins email follow up game is strong.  
If you don't want daily emails, hold off on giving your email address until you absolutely have to.
Speaking of emails – if you're interested in more home renovation tips and tricks, please subscribe to Our Two Family!  We email once a month, never more.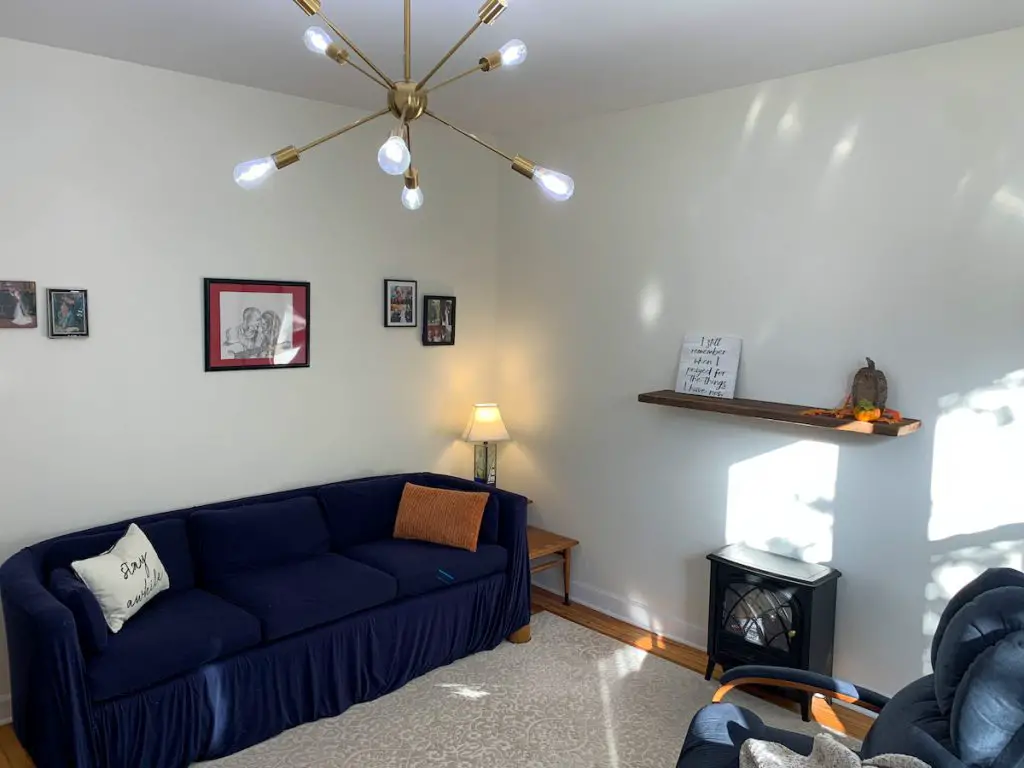 Positives of our Couch Skins Review:
Material quality
I just LOVE that this slipcover material is stretchy!  
It's also super soft – great in the summertime with short sleeves or pants.  No scratchy upholstery or sticky leather here!  
The material does seem a little bit thin, so I am interested to see how long it lasts.  But so far we are about 9 months in without any troubles.  
We also successfully washed this material in our regular washing machine without incident.
Delivery
We were pleased that our couch skins arrived exactly as promised.  
Shipping was free and remains so according to their website.
Value for what we paid
$131.00 is wayyyyy better than buying a new couch!  
The only thing we didn't like about our couch was its color.  Couch skins provided an easy fix to bring our living room makeover up to date.  
Minimal movement
For the most part, our couch skins stay in place! 
Time will tell, as the material of our couch skins stretches under use, but so far we are satisfied.  
Color
There are so many options for colors on the Couch skins site, and we are very pleased with the vibrant navy blue that we ordered.  
Shopping experience
The Couch Skins website is a little confusing but customer service was top notch.  
Using their chat feature was painless and every service agent we contacted knew exactly how to help us.
I also highly recommend bookmarking their Sizing Guide for reference.   
Price
We are satisfied that we received good value for the price we paid.  
When working on our Living Room Makeover, we didn't want to replace our couch completely.  Our Couch Skins provided a perfectly affordable solution.  
---
Final thoughts on Couch Skins review:
It works for us for now. 
I don't expect this couch cover to last for more than five years.  After all, with a toddler and one on the way, it's destined for destruction. 
However, we are extremely pleased with the look and feel of the couch skins, as well as value for our dollar.  
We also love that it's machine washable – up against kids and family life, it's way easier than cleaning that vintage upholstery!  
I say, if you're looking for an affordable update to your couch or sofa, go for it!  
---
You may also like:
---
---