basement bathroom remodel: from half nightmare to dreamy full
This post may contain affiliate links. If you purchase a product through one of them, we will receive a commission at no additional cost to you. As Amazon Associates, we earn from qualifying purchases.
---
Oh, the basement bathroom remodel.
Have you ever had one of those moments when you ask yourself, "What was I thinking?"
I have.
It usually manifested itself when I walked by… this.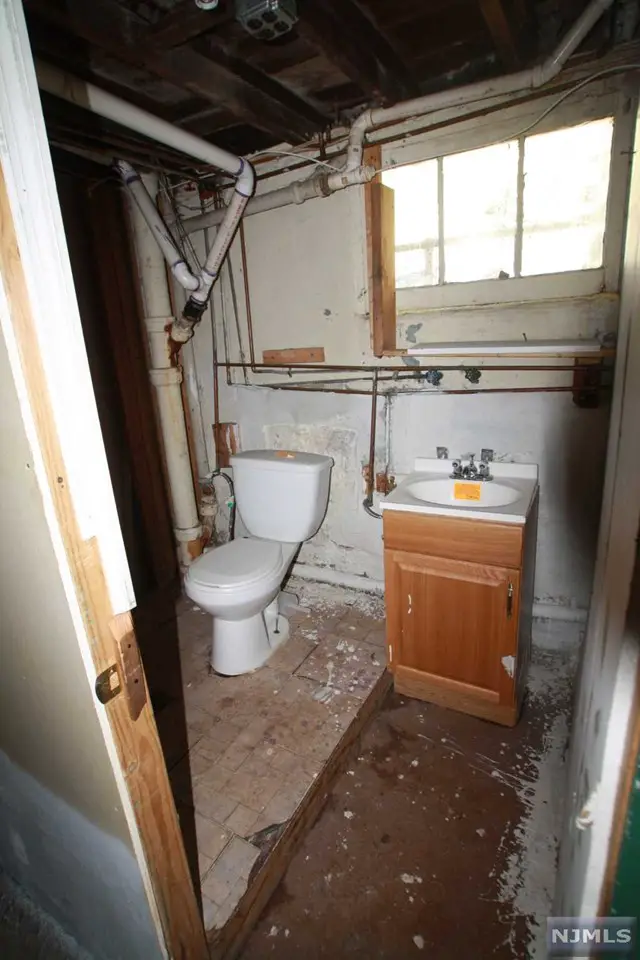 There are many comical things about this photo.  Let us count the ways:
A realtor published this photo in the listing of the home. 
To sell it. 
For money.
We purchased this home after viewing this photo. 
To buy it. 
With money.
What was I thinking?
This bathroom had a door, a mirror, and a few things like soap still in the cabinet.  Next to it was cabinet with a closet rod in it. 
Judging by that, plus the locks on all the doors, we could only conclude that someone was ACTUALLY USING THIS BATHROOM until the house foreclosed.
Moment of silence.
After we closed on the house and showed this to our plumber, his exact words (after a sick chuckle to himself) were, "Don't even try to use it.  Just don't." 
We thought about renting it out to horror films – with our close proximity to NYC, and Noreen's connection to the tv/film industry, it was a real possibility.  Can't you just see it?  The killer, hiding out, living in squalor, munching on stale woven wheat crackers in the corner when the cops find him? 
Once we realized no one would want to shoot a Hollywood film next to our boilers and water heaters with low ceilings, we nixed that idea and thought things through…
"If we want to eventually rip out the kitchen and bath on the first floor, where are we going to shower when the house is gutted?"
"Well, since the town allows either a full kitchen or a full bath in a basement and not both…" (For my fellow new-ish homeowners, a "full bathroom" is one that includes toilet, sink, and shower. A "half bath" only includes a toilet and sink.)
"Turning a half bath into a full really does increase the value of a home…"
YEP.  You guessed it.  We renovated this bad boy into a full bathroom.
---
Basement Bathroom Remodel common questions
Is it expensive to add a bathroom to a basement?
Well, it depends on how you plan your bathroom renovation. We spent about $5k on this new basement bathroom. That included hiring our plumber plus all the materials in 2018.
Really interested in the price of our home renovations? Go to this post: Before and After Home Renovations WITH COST.
Can I add a bathroom in my basement by myself?
Yes, of course you can. Depending on your skill level, however, you might want to hire out some help. Once you start jackhammering your basement floor, things can get a little exciting. Unless you are a professional, you should probably talk to one.
We had the help of our plumber (whom we paid) and my dad (whom we bribed). Both are professionals in their own right.
You should also check with your municipality to see if you need a permit.
How to add a basement bathroom cheap?
Don't choose an expensive bathroom.
Do as much work as you can yourself.
Plan carefully with one of our Bathroom Renovation Planners.
And, check out our post: How Do You Renovate a House with no Money?
---
Demolition Derby
The best part about this basement bathroom remodel was that we had utterly NO REMORSE when ripping it apart.  That's the nice thing about a fixer-upper… it's actually fun to destroy it. 
Now, since we're environmentally friendly (-ish…) we put the fixtures on Craigslist.  Would you believe… WOULD YOU BELIEVE… people took everything (for free, of course.  Even I won't ask for money for these things). 
The cabinet?  We put it on the curb and it disappeared. 
The sink?  Some crazy guy with a "present" for his friend.  (We were legit suspicious of that one, and he was very creepy, and why yes, he did drive a beat-up pickup truck…but we're good. Promise!). 
The toilet?  Yes, the toilet!!  Someone furiously emailed, enthusiastic beyond belief, so surely interested that we just had to ask… why on earth would this guy want a toilet that looks like crap and doesn't even work? 
Well, apparently, he was working for an "Escape the Room" experience, and they were making a jail-themed room, and "GOSH THAT TOILET WOULD BE PERFECT."  After making him promise to bleach it first, away he went, happy has a clam with his dysfunctional piece o' porcelain.  Blessings and Godspeed, good friend; maybe we'll go visit our toilet at the Escape the Room someday. 
Back to the reno.
Derek ripped out the floor and the right-side wall – we planned to back up that wall about a foot for more space.  We saved the 2x4s that weren't damaged – lumber costs add up, people! – and then it was time to think things through.

---
A New Layout
This basement bathroom borders our finished basement "rec room."  We always thought it would be wiser to have the door open to the rec room instead of the boiler space.  (Who wants to run to the loo during intermission on movie night through the boiler space? Not I). 
Here's a drawing of the old layout. As you can see, we would be moving things around quite a bit.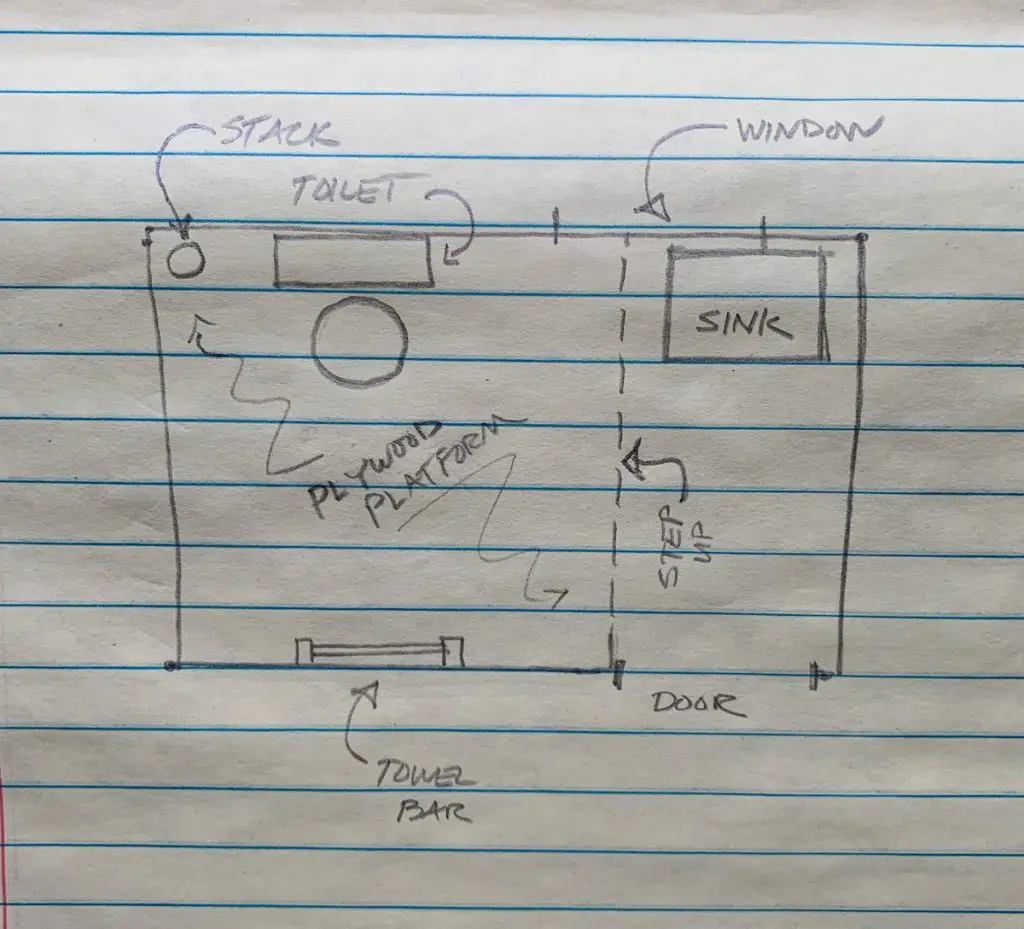 And here's a drawing of the new layout – complete with new door on the left hand side.
Once we had a plan, Derek went to town on the horror-film status, opening up the wall to our finished rec room.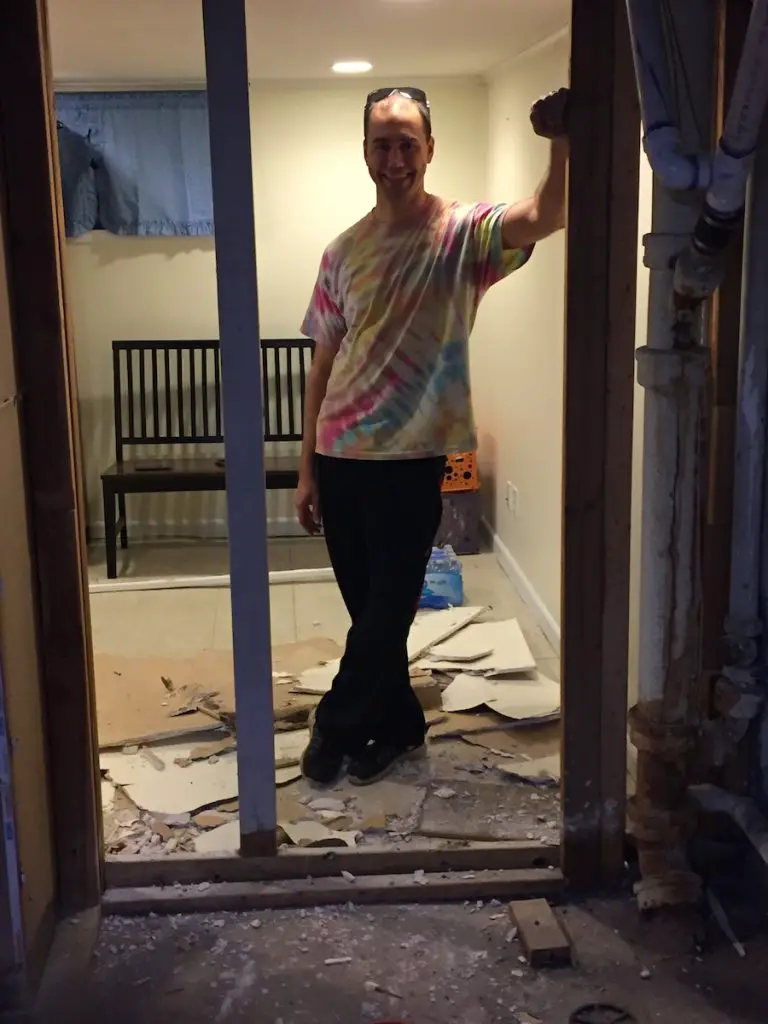 ---
Plumbing Decisions
After deciding just how big a stand-up shower and where to put it, we gave our buddy Dave the plumber a call. 
He (rightly so) advised us to replace the bottom half of our crumbling stack – saying goodbye to original cast-iron plumbing, yikes! 
He dug up the concrete to put the flooring all on one level (please notice that the porcelain throne really once sat on a throne) as well as to run the drain for the shower. 
Here I will offer a very valuable piece of advice – if you learn but one thing from me, please make it this: WHEN YOU ARE RENOVATING, TAKE PICTURES OF WHERE THE PIPES ARE.
I repeat:
When you are renovating your home, take pictures of where the pipes are. 
For example, in our basement bathroom remodel: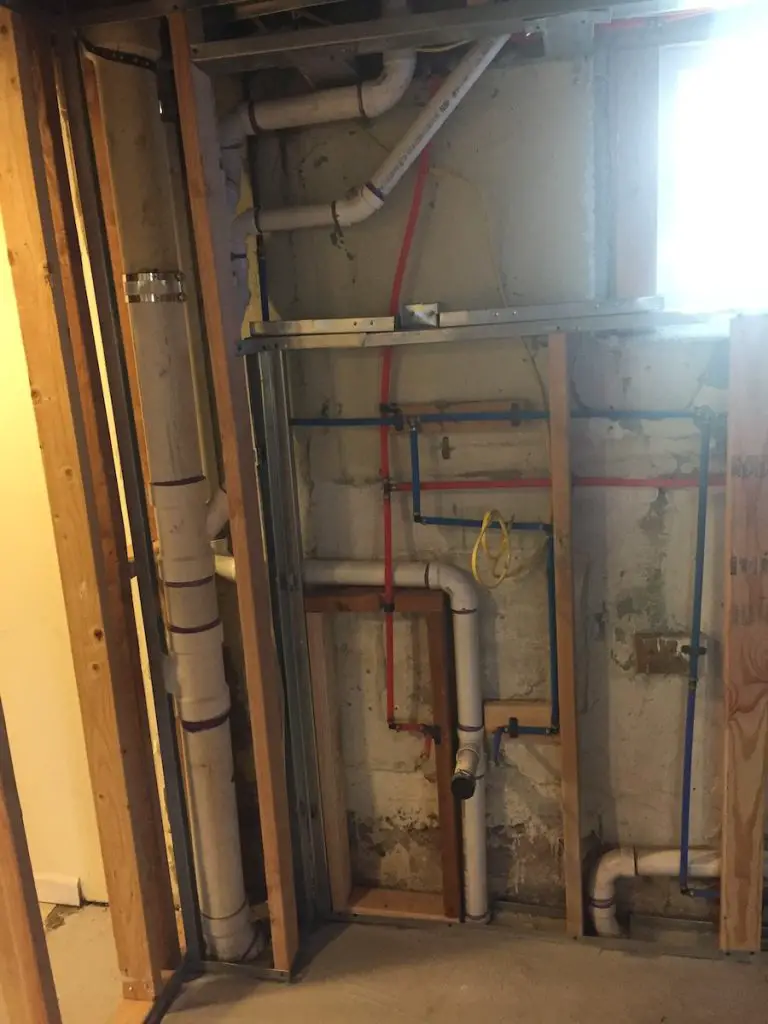 This is known as the "rough in."  Before the sheetrock or flooring goes in, you will want to know where those things are. 
Why? 
If you ever need to drill into that wall ever again, you will NOT want to drill into a pipe.  This may be categorized as "common sense." 
Take your pictures.  It's 2021 and your phone can do it.  This will also provide the added bonus of approximating where the studs are, which is just darned good to know.  (Good ol' "16-on-center" isn't terribly helpful in a room that's 30 sq ft.)
Anyway, we framed out the walls and shower (framing = putting up the 2x4s for the walls)…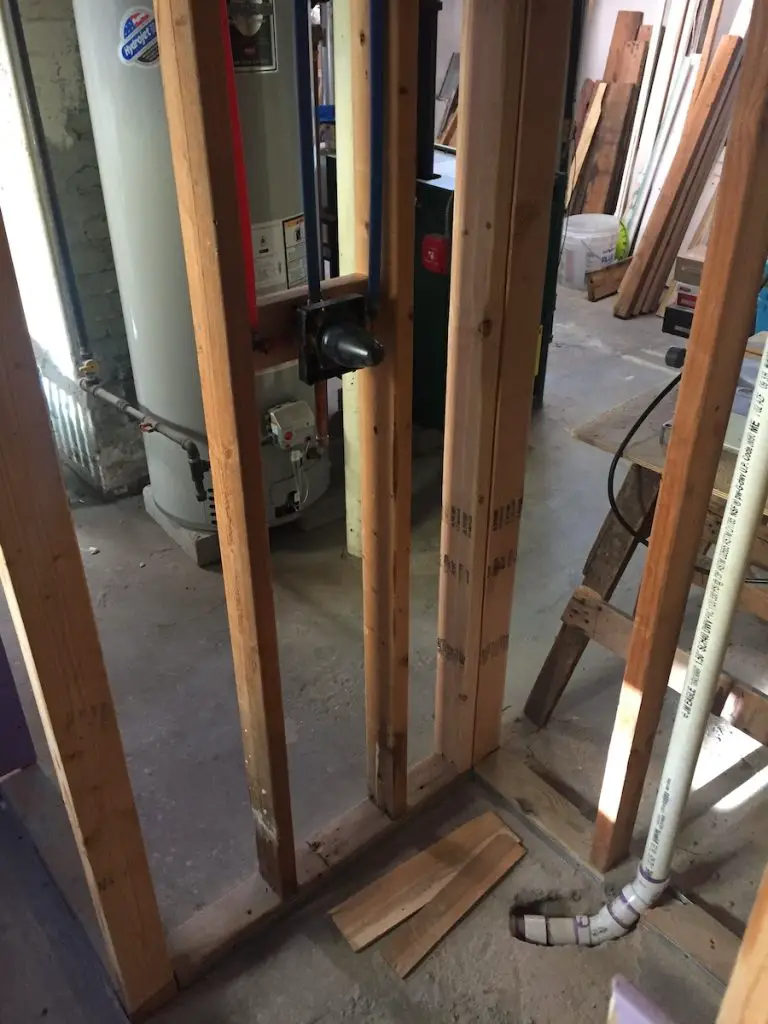 …and got our man Dave to rough-in all the plumbing.
One big challenge to our basement bathroom remodel was that the floor was not level (aka flat, and not a miniature hill).
I'm talking – the floor was a full 2″ out of level.
We had to mix up some cement… and then some more cement… and some self-leveling cement… to make it possible for tiles to sit in nicely.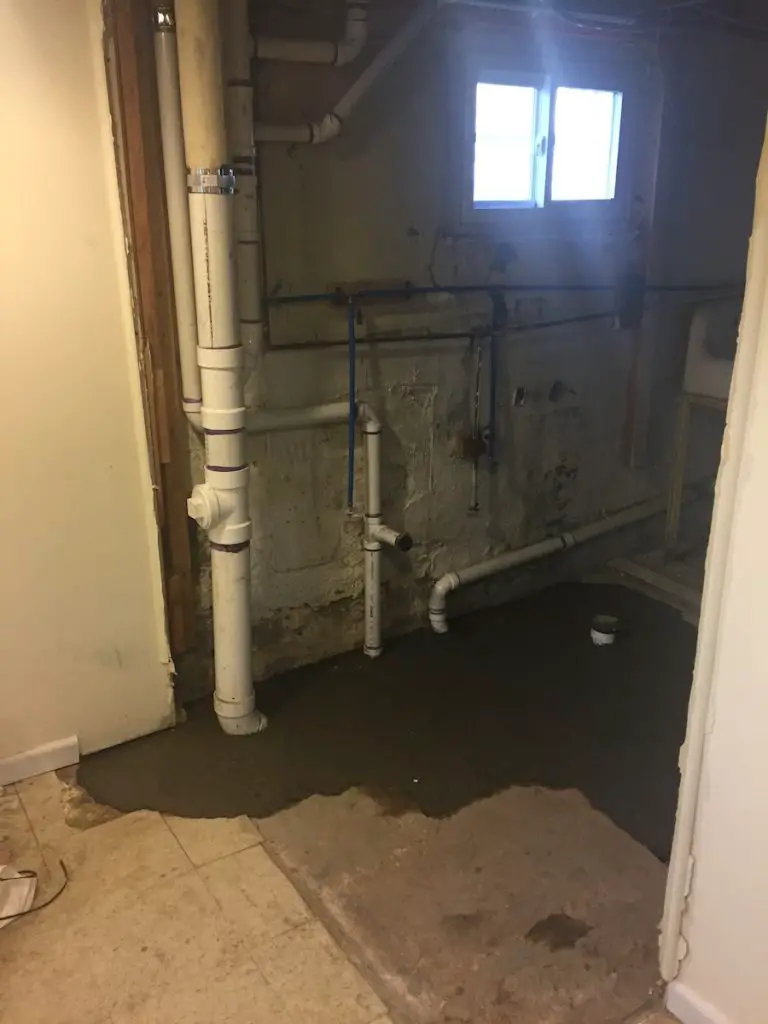 Once we had a level floor, we could sheet-rock and roll!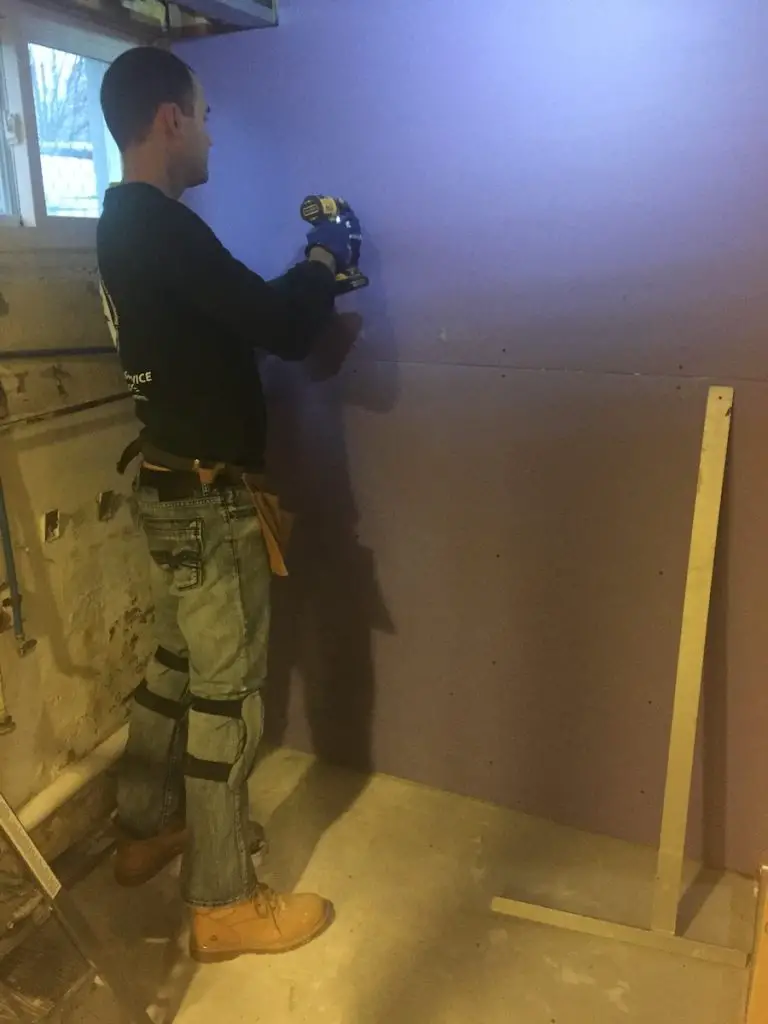 ---
Are you, also, making a nice new bathroom?
Go claim your Bathroom Renovation Planner – it's the best nine bucks you'll spend on your new loo!

---
Making it nice-nice
After taping the walls, we threw down some tiles (after a serious struggle with some "quick drying" stuff that dried wayyyyy to quickly…)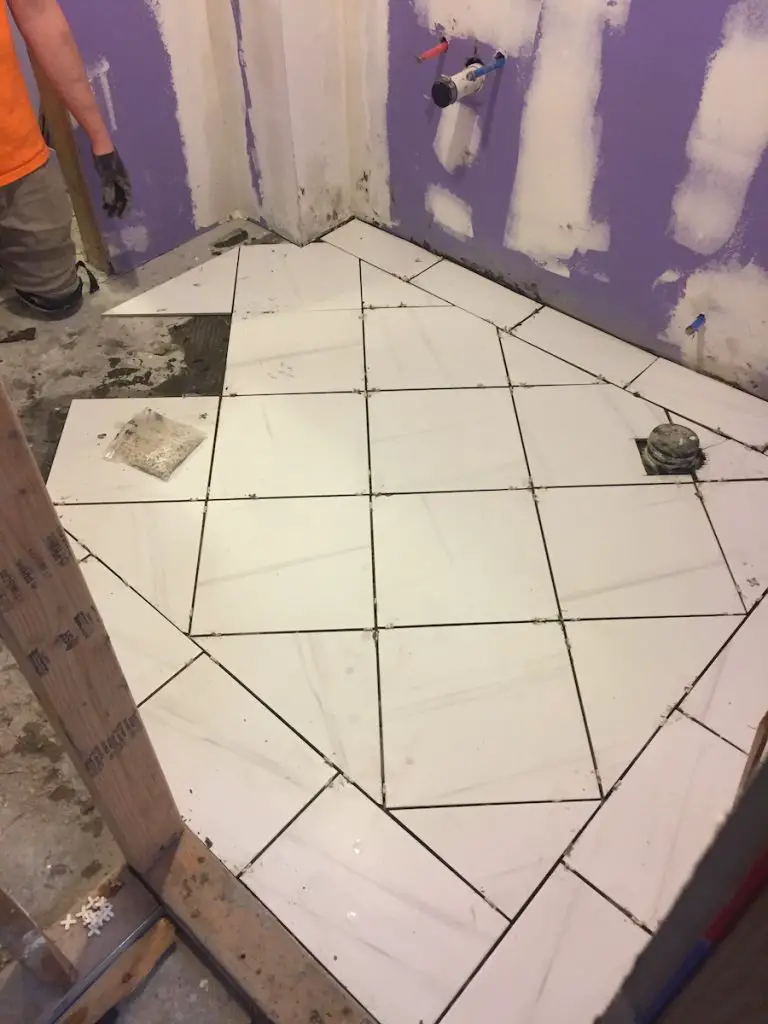 We chose not to tile the surround (aka walls) of the shower, and rather keep it simple with a direct-to-stud shower, like this one. You basically just put the little box together and drill into the studs, et voila, a shower.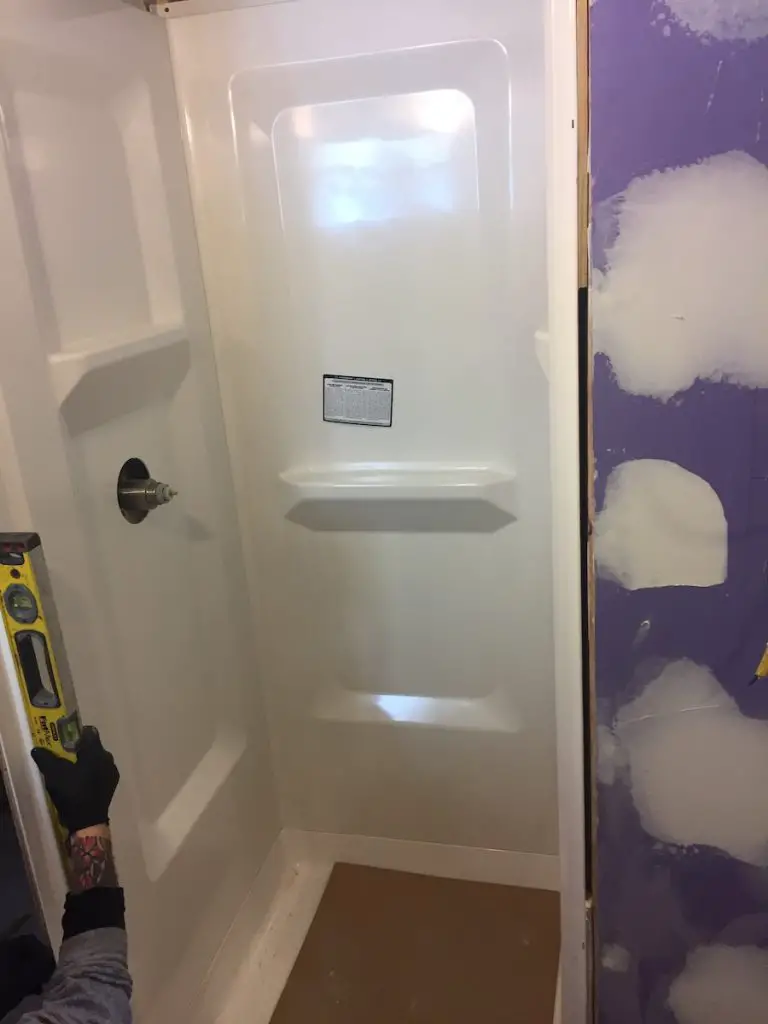 After sheetrock of course comes taping, painting, trim… all the things that make a room sing.
My dad and his best bud Frankie can't resist a good reno project – they actually came to our house one night when we weren't even home, made themselves coffee, ate our chocolate, and worked on the sheetrock and taping in this bathroom. Kinda like Goldilocks, but blue collar and productive.
Why yes, they are slightly cynical, and we love them anyway.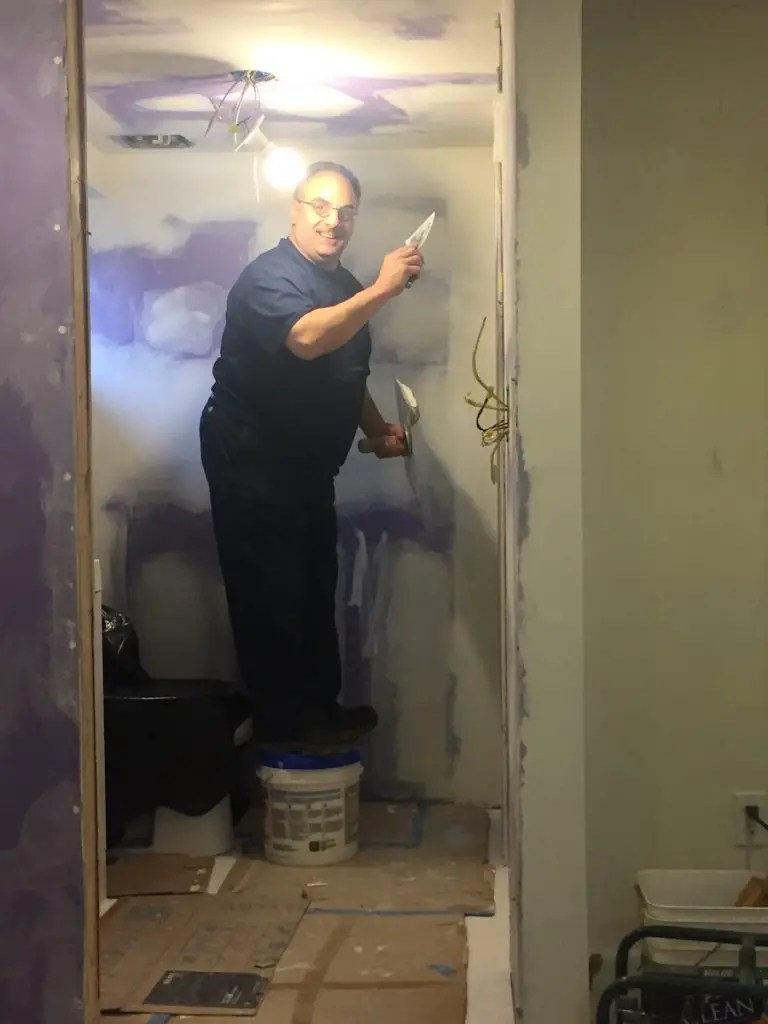 ---
Finishing touches
We hacked an Lillangen Ikea cabinet for built-in storage (similar to the new Enhet variety) by recessing between the studs, put the finishing touches on paint and trim, added things like towel bars and my favorite toilet roll holder, and look at that, a beautiful new bathroom!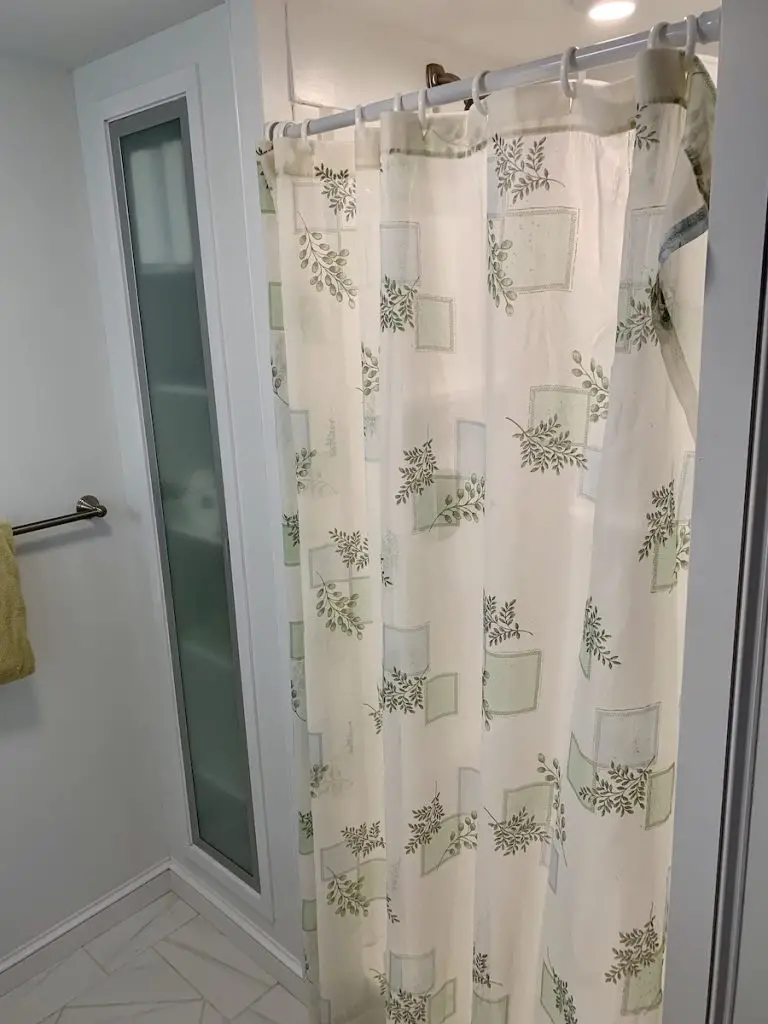 ---
Final thoughts on our basement bathroom remodel
I'll leave the barn door saga for another day (yes we found a door in our house, and saved it, and reused it as the door to this bathroom).
For now, let's celebrate that our serial killer embarrassment of a bathroom is now a functional full with a fresh feel! 
The best part about this before and after of our basement bathroom remodel is that the "after" looks really impressive if you start with a giant disaster zone.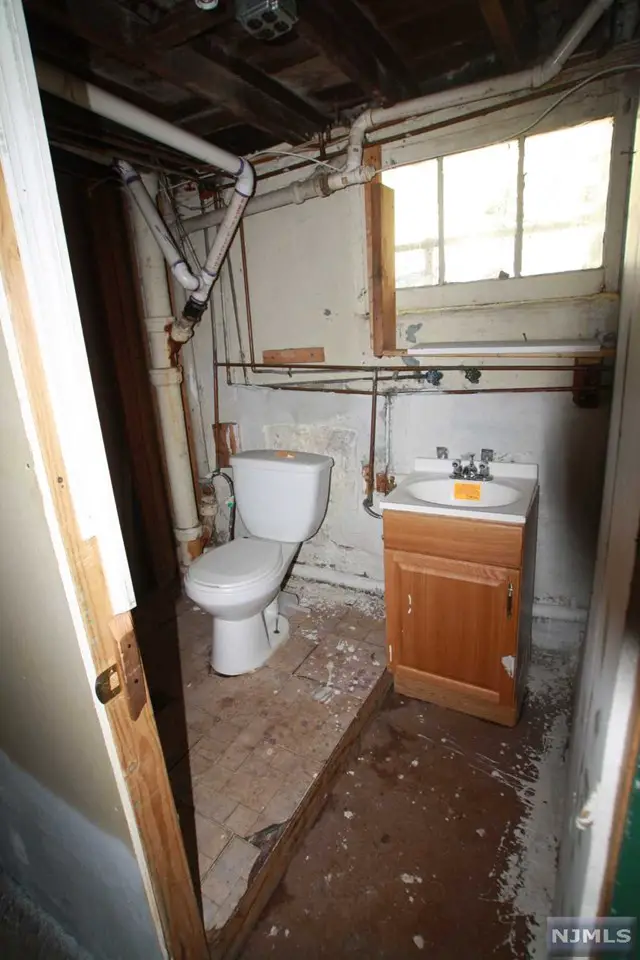 Don't forget to grab your printable Bathroom Renovation Planner!
---
You may also like:
---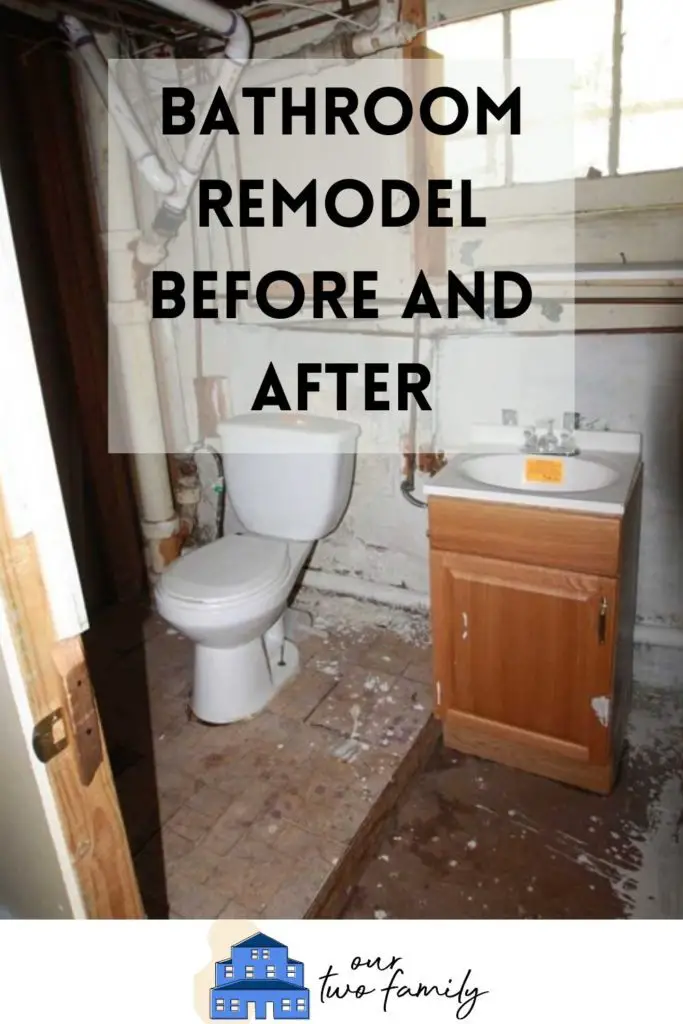 ---