home improvement ideas for small houses – 12 affordable projects!
This post may contain affiliate links. If you purchase a product through one of them, we will receive a commission at no additional cost to you. As Amazon Associates, we earn from qualifying purchases.
---
Welcome back to Our Two Family house!  Today we are exploring home improvement ideas for small houses.
The very nature of renting out a unit a two family house means that you, homeowner, only get to live in half of it.  
The perks are many, but a downside is that you have a smaller space.  
Don't get me wrong – small houses have tons of advantages!  In fact, here are the Best Benefits of a Small House – 10 reasons to embrace less space.  
However, some projects just aren't in the cards for small home dwellers.
Like double vanity sinks.
Or sprawling mudrooms with lockers for each kid.
Or, you know, counter space in the kitchen.
Sigh…
Anyway, we have compiled this list of home improvement ideas for small houses to help look at the bright side.
There are wonderful home improvement projects you can tackle no matter your square footage.  Let's take a look!  
---
Create a built in cabinet
Your small house probably has less storage.  No one wants less storage these days!!  Combat this disadvantage by creating built-in cabinets. 
For example, check out our 2nd floor bathroom renovation.  We found some space between the studs, backing up to another closet.  My talented carpenter (and conveniently, my father) built a custom box and installed it.  A little trim, a little paint, et voila – a perfect place to store extra TP!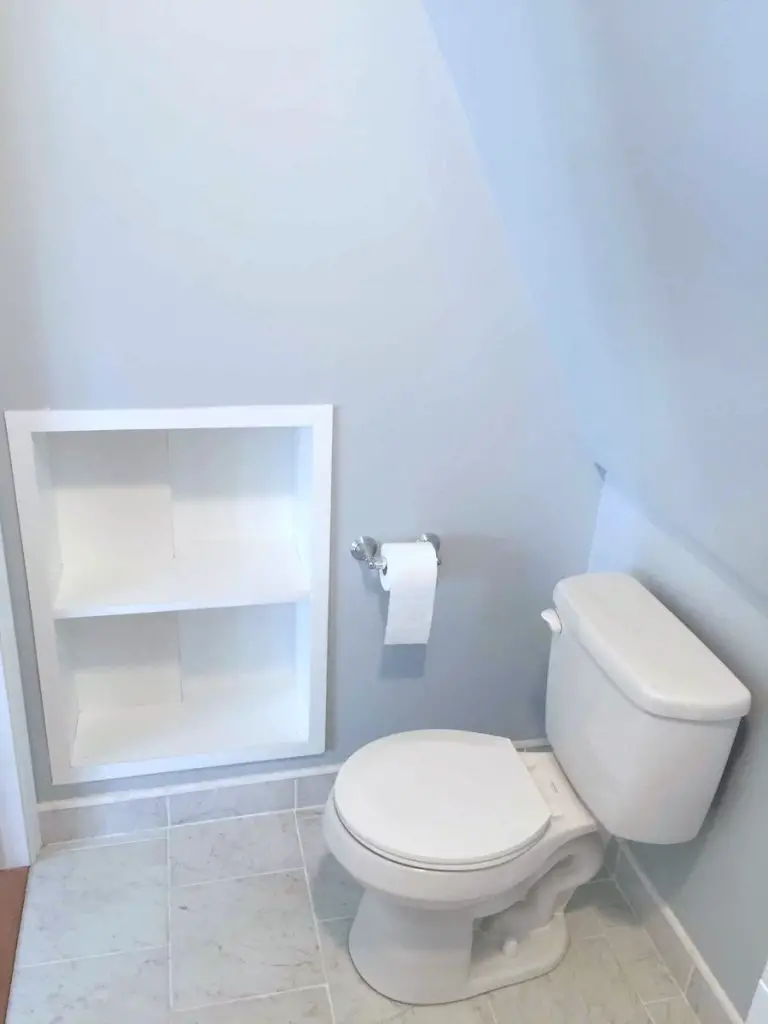 Want storage with a door to neaten the look?  
In our basement bathroom remodel, we hacked an Ikea cabinet into the wall.  
It's become home our extra toiletries, beach towel, travel necessities, and more!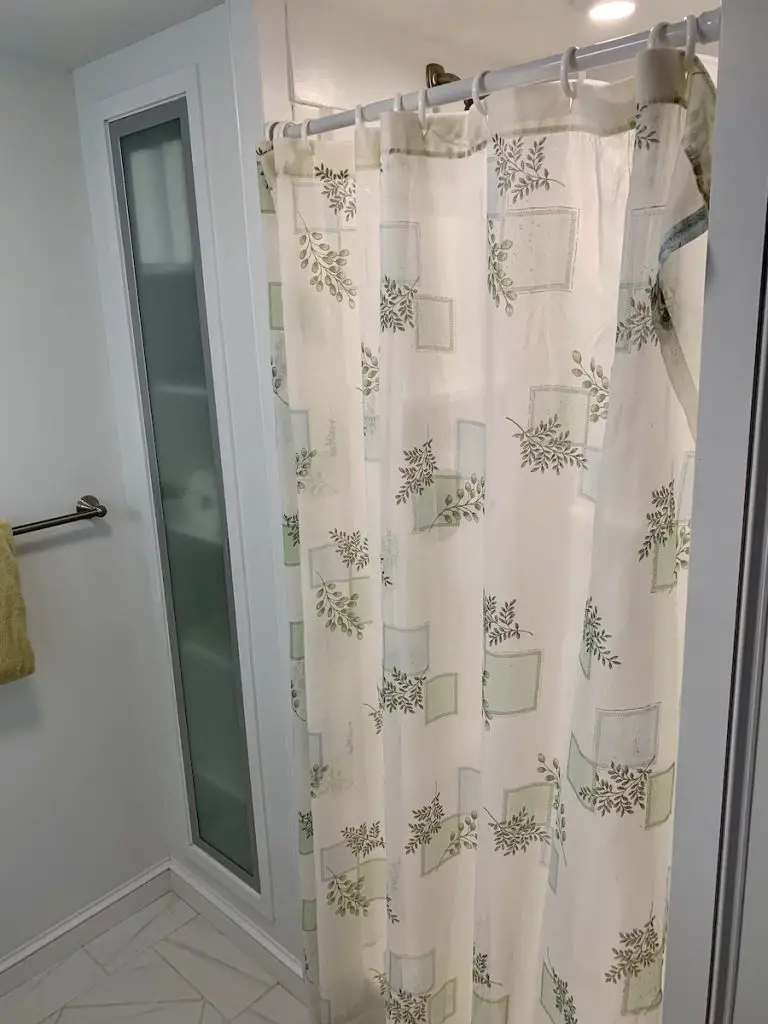 ---
Recess the fridge
When buying our foreclosure home in 2017, sans appliances, we discovered while refrigerator shopping that even the smallest fridge on the floor came in one size, and that is monster size.  
We thought we had picked out a simple little top/bottom – not even French doors! – only to realize it was a behemoth when delivered to our home.  
When redesigning the kitchen, one of our big goals was to marry the fridge space and the pantry space to create a recessed fridge cubby.  
You can read all about it: Kitchen & Pantry Layout Correction.
Note: if you're the skinniest kid on the block, YOU get to plug in the fridge and then wiggle your way out of the cubby! (Why yes, I did spend my childhood riding in the middle seat with only a lap belt to save my life.).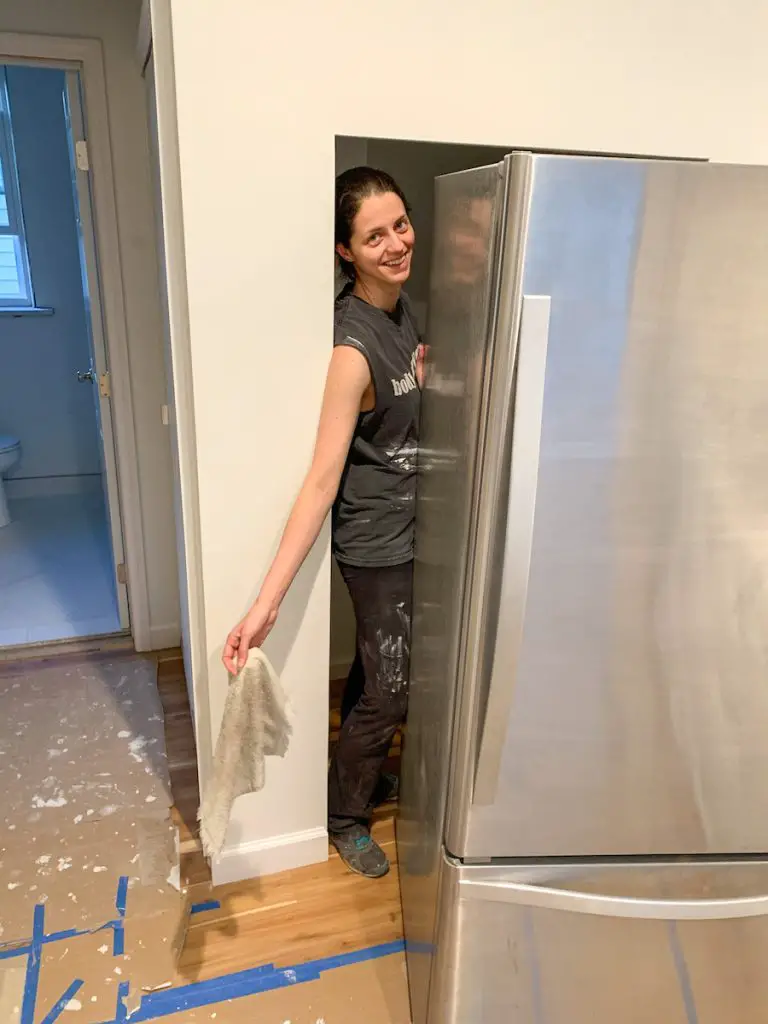 We absolutely LOVE the newfound square footage in our kitchen!
---
Create vertical storage
No space to build out?  Build up! 
My favorite nursery hack, for example, is to use a shoe rack inside the closet to store… everything except for shoes!
Check out more ideas on simplifying a nursery in our Minimalist Baby List.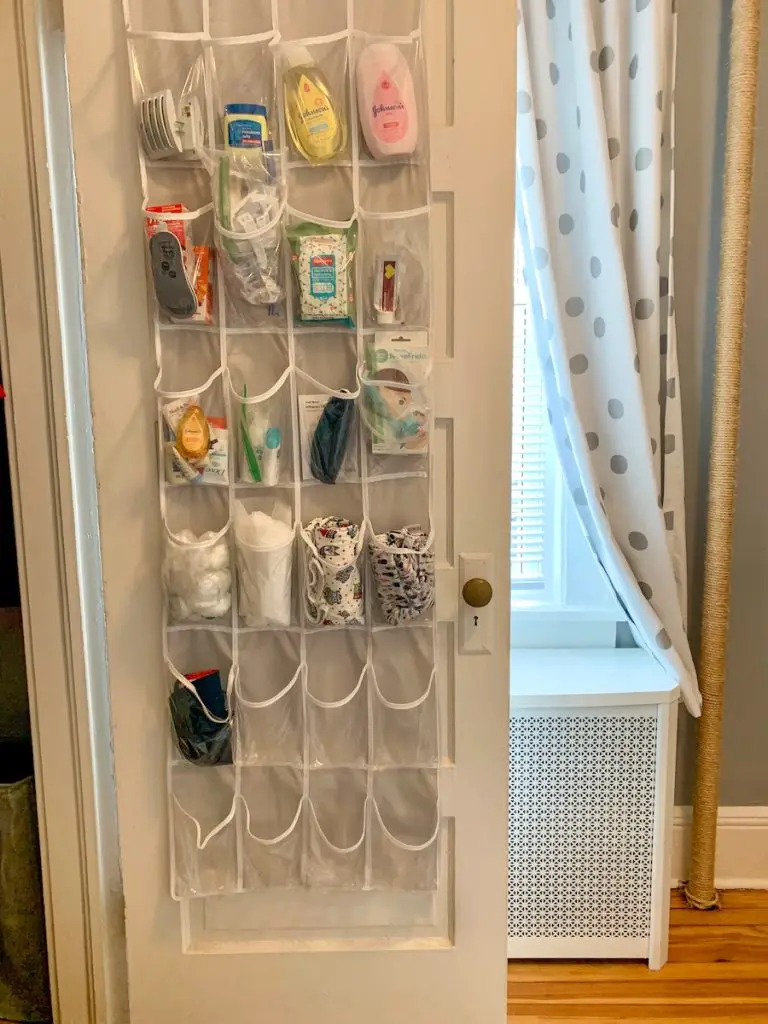 Creating vertical storage is a must-do home improvement project for a small home.
---
Make a nice outdoor space
A small house must-do is to take advantage of space outside!  
Outdoor kitchens, living rooms, dining spaces are all the rage and it has never been easier to shop for easy options.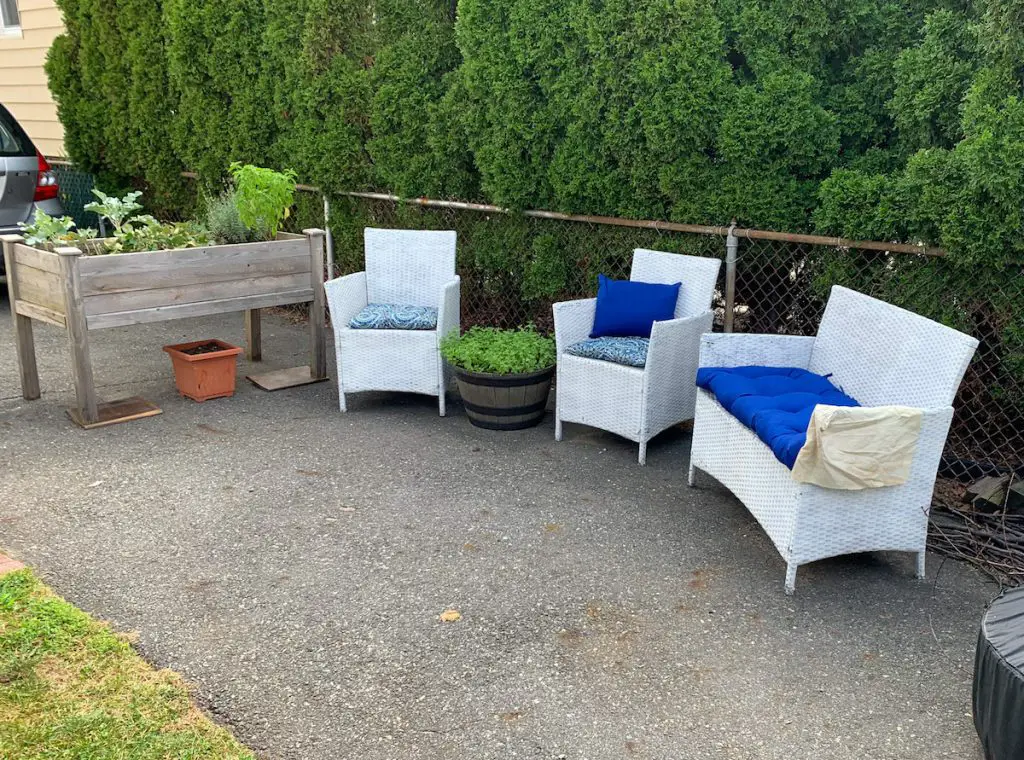 We managed to create an outdoor living space with affordable cushions, a fire pit, and some wicker furniture found at the side of the road.
In the warmer months, we use our outdoor space for at least three hours a day. It's been well worth the investment of time and money put into our Backyard Before & After DIY.
---
Have less stuff
Why do hotel and Airbnb pictures looks so spiffy?  They don't have too much stuff! 
Less stuff means more space.  
Seems so simple.  
It's annoying, right?  
This has to be one of the most effective home improvement ideas for a small house.  
Unsure how to get started clearing house?  Check out our post on Decluttering Before Baby.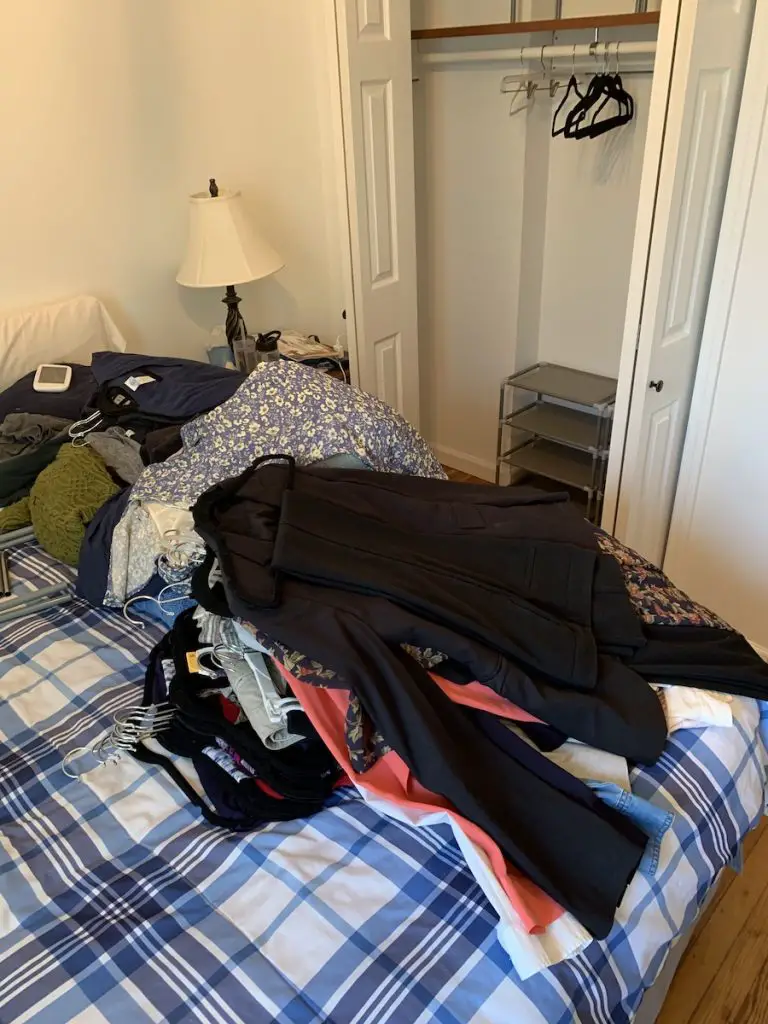 Plus, once you've cleaned out, you can reorganize like a KonMarie Master. 
Ann's Entitled Life has great ideas about closet organization – check it out!
---
Paint your front door
No matter the size of your house, you've likely got a front door, right?  Well, why not paint it with a little bit of pop?
Or if you're like we are, and bought a foreclosure, repair it first.  Then paint it!  
Here's how to repair and paint an exterior door.
No time or energy to take it off the hinges?  
Check out The Thrifty Apartment's tutorial on how to paint a front door without removing it.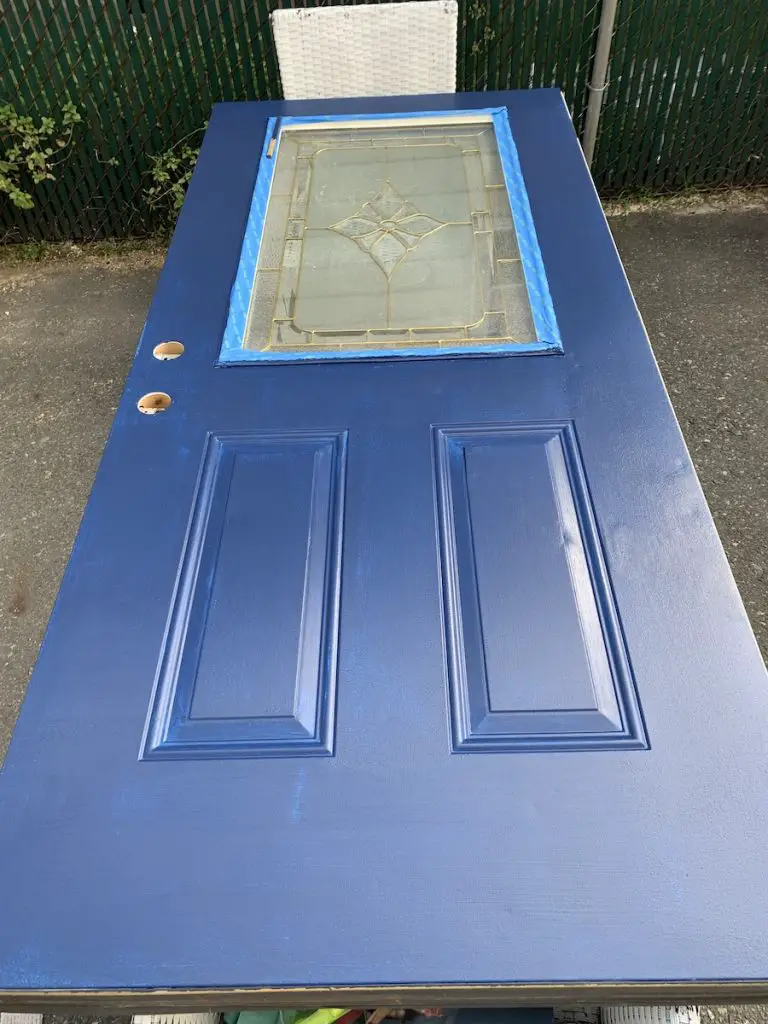 ---
Paint your tile backsplash
There are even home improvement ideas for kitchens in small houses.  
One way to make a big splash is to paint your backsplash!  (See what I did there?)
You could take it down and re-tile.  Or, you can simply paint what you have.  
Look at this lovely project from Sustain My Craft Habit.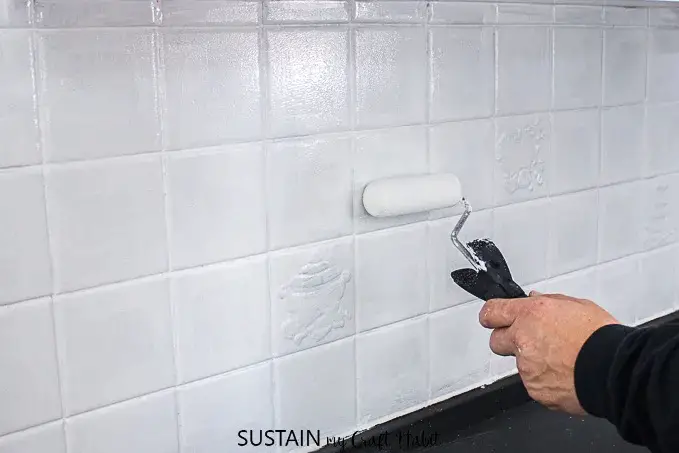 ---
Add shiplap
Call me a Magnolia Homes fanatic, but shiplap is really fun!
What a fabulous idea for a fun weekend project.  Installing shiplap is a great way to update a room without going bonkers.
Take a look at this beautiful accent wall.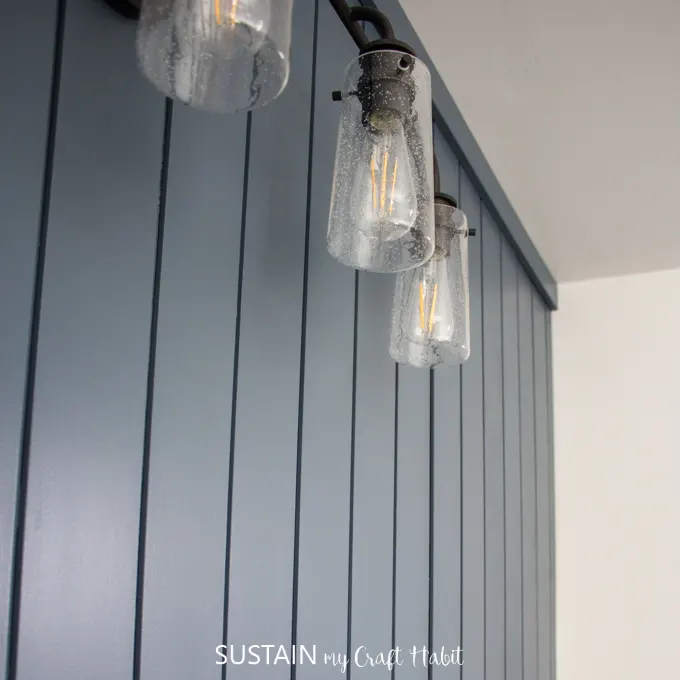 ---
---
Removable bathroom backsplash
You use it daily, so why not tackle a project in your bathroom?  
Consider adding a removable backsplash to your bathroom!  Even if you own your home, it's fun to add commitment-free fun to your washroom.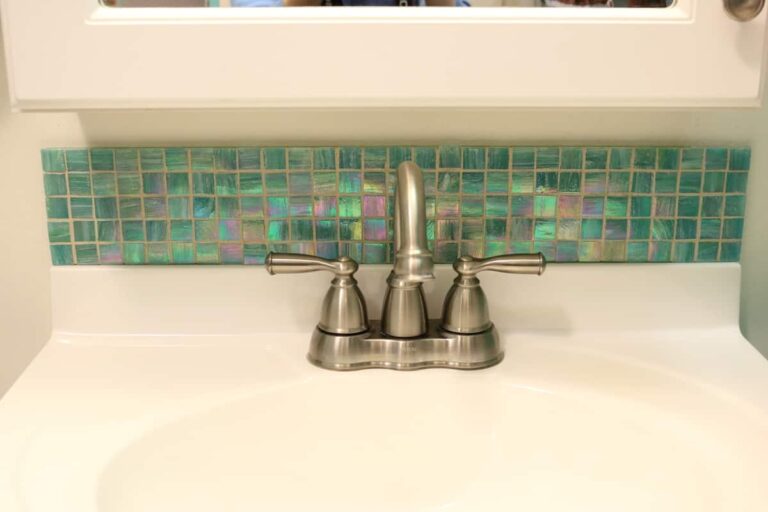 Want more bathroom-specific ideas?  Check out Xoxo Bella's post on tips for a quick bathroom refresh – all small-space friendly.  
---
Spruce up your floors
This is a small house home improvement project that's much easier if you have less space.  
Refinish your hardwood floors!  Even if you just take this one room at a time, the ROI for your eyes is astronomical.  
We've got a full tutorial on how to refinish hardwood floors here.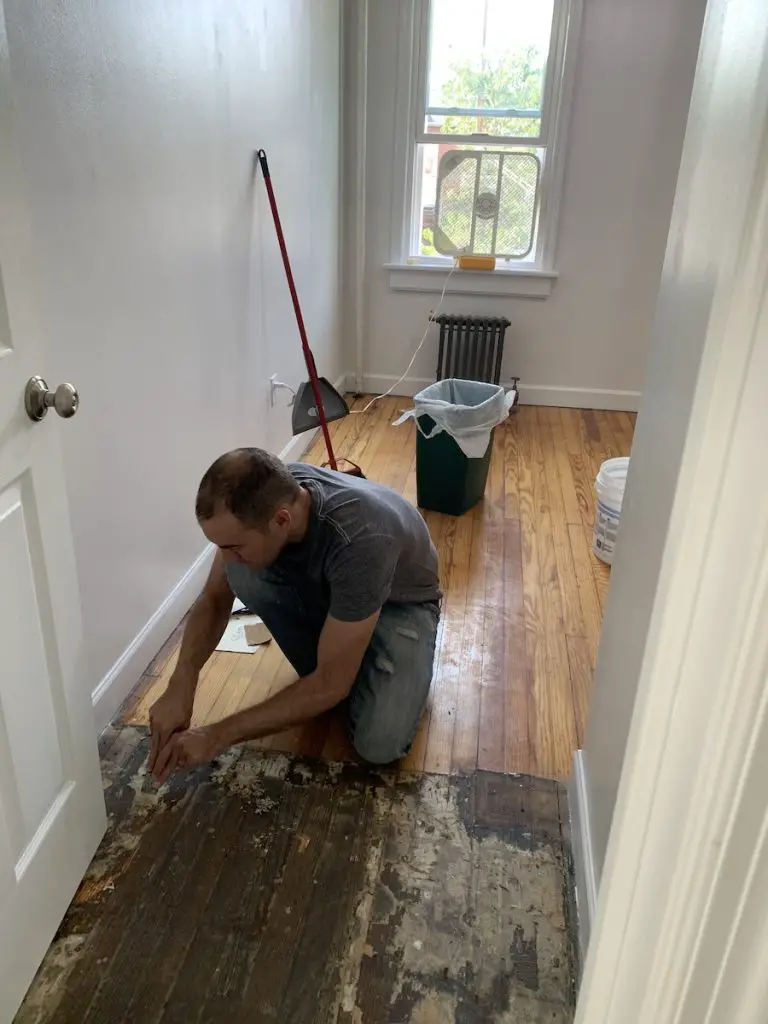 ---
Transform your couch
I'd wager a bet that most homes in America boast a beloved sofa in the living room.  
One way to change the look of your room easily and affordably is to invest in a slip cover!  The benefits are many, including that they're easier to clean than upholstery, and cheaper to replace than an entire couch.  
We recently purchased Couch Skins for our living room makeover.
And, here's the entire Couch Skins review!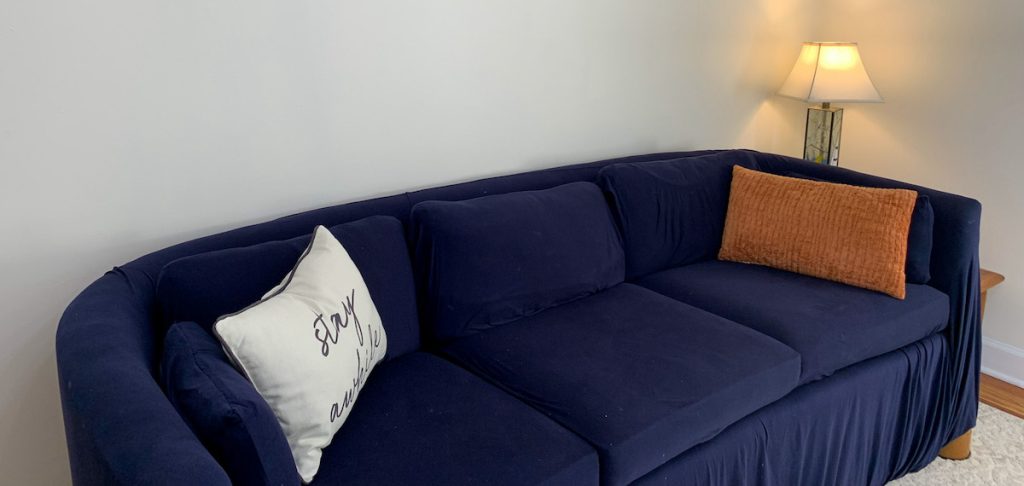 ---
Change out a light fixture
…and "just say no!" to the nipple light!  
This home improvement project for a small home is even renter-friendly.
We personally have switched from flush-mount lights to chanedliers in three spaces, and do not regret it one bit!  With 9-foot ceilings, we take advantage of the tall space to add a little bit of pop.  
Take a look at our chandeliers in the living room, front hallway, and primary bedroom.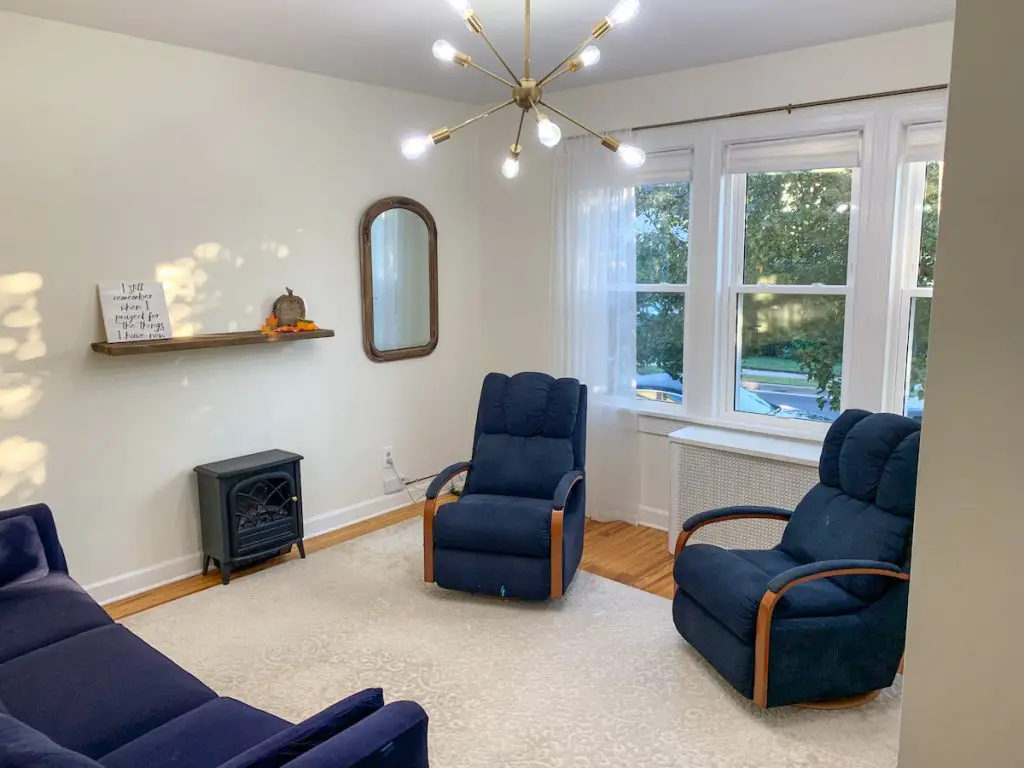 ---
Final thoughts on Home Improvement Ideas for Small Houses
Well, that's a wrap for now on home improvement ideas for small houses.
Whether you paint a front door, change out a backsplash, or simply declutter to the max, you'll be basking in post-project glory in your home in no time!
---
You may also like:
---