minimalist baby list – what to love or skip in a small home
This post may contain affiliate links. If you purchase a product through one of them, we will receive a commission at no additional cost to you. As Amazon Associates, we earn from qualifying purchases.
This post is all about minimalist baby list.
---
Many people think they can't house hack because they won't have space for their family.
Admittedly, living in a two family house comes with the sacrifice of having less space.  
For example, we enjoy an eat-in kitchen, not a dining room, and our bedrooms' square footages are smaller than we'd find in a single family house in our area.  
Having young children in a two family house is a different consideration than if you're a single person or married without children.  
Because the question is…
Where.
Will.
You.
Put.
The.
Stuff?
The baby stuff.  Why is baby stuff so cumbersome?  How could they need a bassinet, a crib, a pack n play, and a dock-a-tot?  Four places to sleep for a creature who clocks in at 8 lbs and 21"?!
Fear not.  We've been through it in a small-ish space (1200 sq. ft.), and we are reporting back on what to buy and what to skip.
This minimalist baby list is here to help you get after your real estate goals and raise your family without too much stuff.
Ready?
Let's go.
---
Minimalist baby list – basic tips
Clean out
Before you go shopping for minimalist baby essentials, you'll want to clear out the extra stuff from your home.
Need inspiration? Check out our post on How To Clear House Before an Exciting Life Change.
Register
Why?
People like to gift baby things. A registry will make it easier for everyone.
Baby registries come with a "welcome box" of goodies for little or no cost. They often include useful items such as swaddles, bottles, pacifiers, and travel-sized soaps.  Check Youtube for current unboxing videos.
We registered at Babylist and also privately at Amazon. Both allowed adding items from any store, and also offered discounts for items not gifted.
Register for gift cards
You might not have the space to store everything your child will need right now – and that's okay!  Register for gift cards, and you can purchase necessities as you go.  
---
Minimalist baby – sleeping needs
You technically only need a crib for baby to sleep in.  
However, since we enjoy the Best Benefits of a Small House, our master bedroom is too small to fit a full crib. Since baby is supposed to sleep in the parents' room for the first few months, we used a bassinet.  
If your room is larger, you might be able to get away with just owning a crib and skip the bassinet. 
Loved:
Arm's Reach Cosleeper
We used the Arm's Reach Mini Travel Cosleeper as our bassinet.  It's lightweight and folds up for travel or storage.  It even has wheels on one side to easily move it around the room.  
This does have an option to be used as a co-sleeper, attached to your bed – but it's not required.  
Crib
You'll need it, but not until at least the 4-month mark.  
If you can't fit a full crib in your room, you can skip it and buy it later.  
Pack 'n Play
It's essential for travel, but only when baby is old enough to need it.  The travel Arm's Reach Cosleeper folds up nicely for travel when they are under 4 months.  
Many pack 'n plays come with an infant bassinet – which would have been great, except we didn't have the square footage in our room to accommodate it.
Again, if you're really tight on space, you can store or skip a pack 'n play for a while.
Swaddles
The only swaddles that worked for us were these two:
White noise machine
We love our travel size White Noise Machine!
It takes up wayyy less space than the others!  
There's also a "white noise app" for your phone if you want to skip the machine altogether, but then you can't use your phone during naptime.  🙂
Skip:
Baby only fits into these bulky items for a few months.  After that, you'll store them.  We felt they're not worth the expense and space for such a short life span.  
Furthermore, these are banned in other countries, which makes me question their safety, regardless of how cute they look on Instagram.  If you have a small home, just stick baby in their regular crib for naps. 
Bumpers, crib blankets, etc.
These are all SIDs risks and yet were legally sold for a frighteningly long time.  Don't use them!  
Registering for blankets
People tend to give blankets no matter what you do, as they're a lovely gift to make. You don't need to register for them.
Also, babies don't sleep with blankets because it's a SIDs risk.  
Muslin swaddles
Babies are little ninjas.  All of them.  
Muslin swaddles (particularly Aden and Anais) are pretty and soft but they are better suited for tummy time, covering up while nursing, or tossing over a car seat when lil' bub is asleep.  
We found them too big for age 0-3m, and too useless as swaddles at 3m+.
---
Minimalist Baby Essentials for Traveling
Car Seats
You'll need one no matter what!
Infant car seat
We used a Graco click connect 35 for little guy's first year or so.  We had been handed down the stroller it matches with, which was good enough reason for us to stick with the same brand.  
I believe it fits up to 35 lbs, so it should last you at least 12 months, depending on the size your little one!  We loved the convenience of clicking from car seat to stroller and back again.  
Transformer car seat
We did not register for a next-size-up transformer car seat – one of those "grow with me ones" – because we didn't want to store it.  
Also – BIG also – car seats eventually expire.  We didn't want to have a car seat growing a year closer to expiration while we weren't even using it.  
We did eventually find the Graco Slim Fit 3-in-1 on a Black Friday sale for about $125, and love using it so far!  
FYI, Black Friday is great for baby gear!    
Skip:
Mirrors
Our local police's car seat specialist told me they're not safe!
Bulky shades
Same reason as the mirrors.  They can fly around in an accident.  
We got these cling window shades instead.  
Confidently skip literally anything else advertised for babies in cars.  You don't need it.  
Babies usually sleep in cars.  If they're not sleeping, you'll know. 😉 
---
Baby Feeding Essentials
Loved:
Bottles
We loved Comotomo bottles because they're easy to clean and don't have 857 parts to manage.
We registered for 8 oz bottles only, and just changed out lids as he got older.  No 4 oz bottles needed on your minimalist baby list!
Don't forget to register for all both slow and fast flow nipples (the bottles come with "medium") so you can use the same bottles but change out the nipples.  
Bottle brush
This is helpful especially to clean a more narrow bottle.  
Bottle drying rack
…and yes, these do exist in colors other than bright green!
It's not 100% necessary, but we found this to be useful in the early months when we went through 8 bottles a day.  
Though, it has proven itself a nice place to dry a wine glass since 😉
Formula mixing pitcher
If you find yourself formula feeding, this mixing pitcher is CLUTCH and currently under ten bucks.  
Bibs
Silicone bucket bibs are where it's at!  We used two for home and a third in the diaper bag. 
Skip:
4- or 5- oz bottles
You only use them for a short amount of time! You can fit 2-3 oz in the 8oz bottle. Seems obvious, right?
Bottle Warmer
We just used a soup mug, filled it with hot water from the sink, added bottle.  Warmed up the bottle just fine.  
Baby food makers
A regular blender worked just fine.
---
Baby Gear You Need
Loved:
Burp cloths
Cloth diapers make the best burp cloths.  Full stop.
High chair
Since we have a small eat-in kitchen, we had nowhere to put a standalone high chair.  
We found this high chair, which hooks up to a regular dining room seat. Saving footprint in dining room, check!
This lightweight piece also travels easily if you're headed to grandma's for an afternoon.  
Also – you won't need a high chair 'til 6 months in, so if you don't want to store it, skip it at first and buy it later.  
Baby Monitor
Our home is small enough that we can hear everything from everywhere.  
However, we like having a video baby monitor to see what's going on without having to open the door. 
We especially like that this works on a closed circuit instead of wifi.
Carrier
Ergobaby 360 is our carrier of choice, and we love it.  
Adjustable, comfortable for dad, fun to take munchkin on hikes or walks.  Lasts into toddlerhood!
Diaper bag
We love this one by HaloVa!  
It is spacious and smart, and even has a cooler section for bottles or snacks.  
Diaper Pail
Here's a story, sad but true…
No matter your square footage, you'll need a diaper pail.
We love using the Dekor pail – small footprint, doesn't require expensive bags, big enough to use with cloth diapers (which we use 90% of the time).
Baby Proofing Essentials
Whether you've got a big house or a small apartment, you'll want to invest in a few baby proofing materials.
Here's our full post on the Best Baby Proofing Products for Your Home.
For now, get a head start with this deluxe kit:
Skip:
Pacifiers
They come in the baby registry sampler boxes.  
Burp cloths advertised as burp cloths.  
They're all just small towels!  Cloth diapers worked better for us.  
---
Bathtime
Loved:
Baby bath
We just used a cushion like this one in the kitchen sink and stuck a rolled up towel underneath, to prop up baby's head.  So much easier than leaning over the bathtub in the early months.  
When he graduated to the big tub, little man sat on the cushion and it kept him from sliding around.  
Hooded baby towel
You don't neeeeeeed it, but I will say, this towel is handy.
Now that he's older, our son understands that this is his towel and marches it over to bath time like a little king.  
Also, it's cute. Indulge.  
Skip: 
Giant monster plastic baby baths.  
They are SO BULKY and take up a mountain of space!  
And, they're another item that you use for such a short amount of time.  The bath "cushion" tucks nicely under, behind, and around things.  
Bath Toys
Just use two plastic cups from your recycling bin. Trust me.
---
Storage
Loved:
With 9-foot ceilings, our home boasts way more vertical space than floor space. Check out these hacks for storage.  
Random stuff holders
We used a shoe organizer, to organize everything except shoes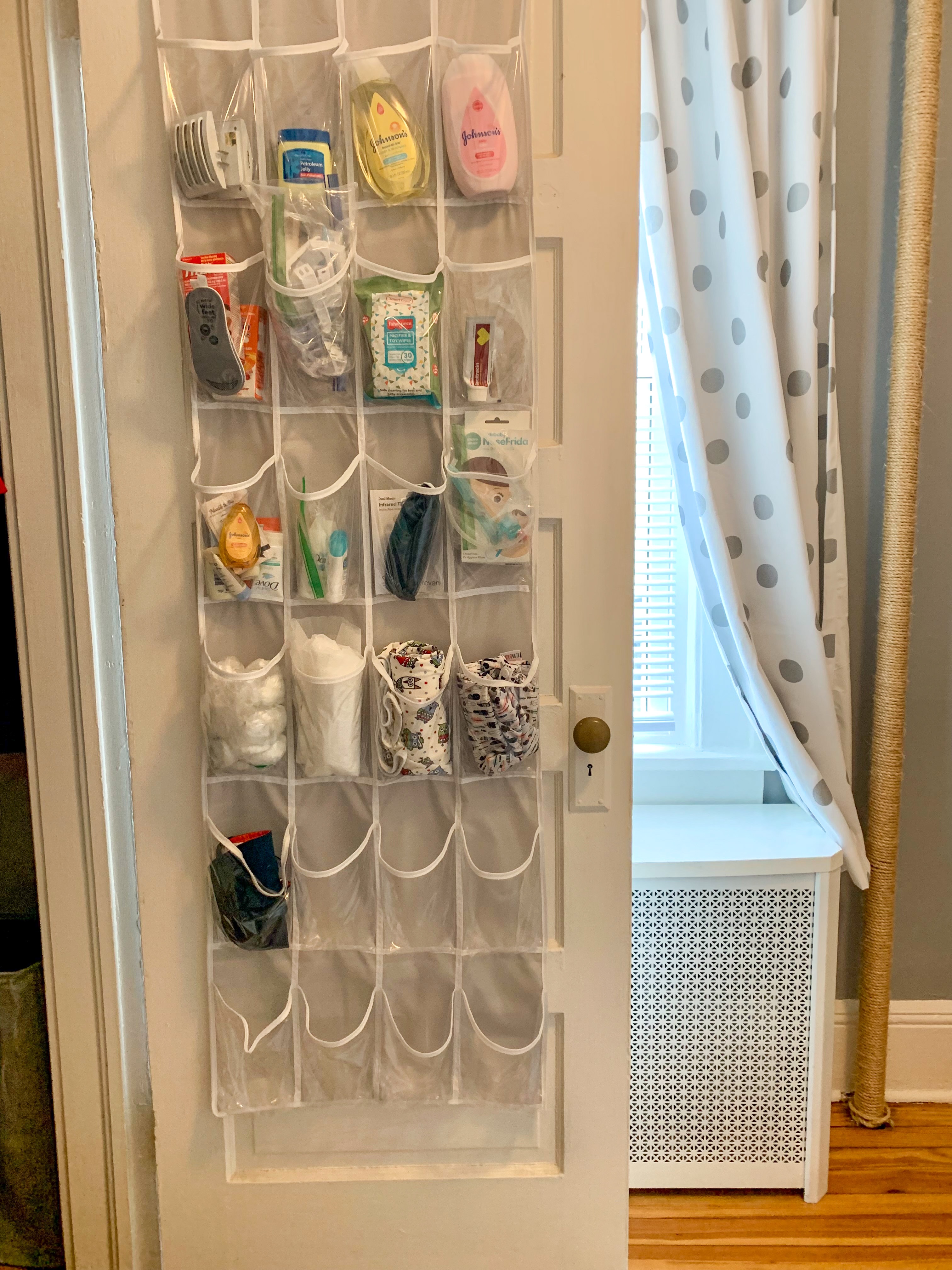 Laundry
This over-the-door laundry bag is perfect in the nursery! Hanging it up high also keeps our feisty toddler from pawing through it.
Book Storage
These are technically the Bekvam Spice Racks from Ikea, but we use them as bookshelf displays.
Tutorial for this can be found at The Sweetest Digs. We just left ours in the wood color, but you can paint them, too!
Our little fella loves to pick out his book at bedtime.  Displaying the books in this way allows him to see the covers.  
Little buckets
Also from Ikea, these buckets are "utensil holders," but we hung them above the changing table.
They conveniently hold all the stuff that babies need, like toothbrushes, toys, bibs and cloths (if you have a boy, you need cloth diapers by your changing area, to cover the "spray" if you know what I mean).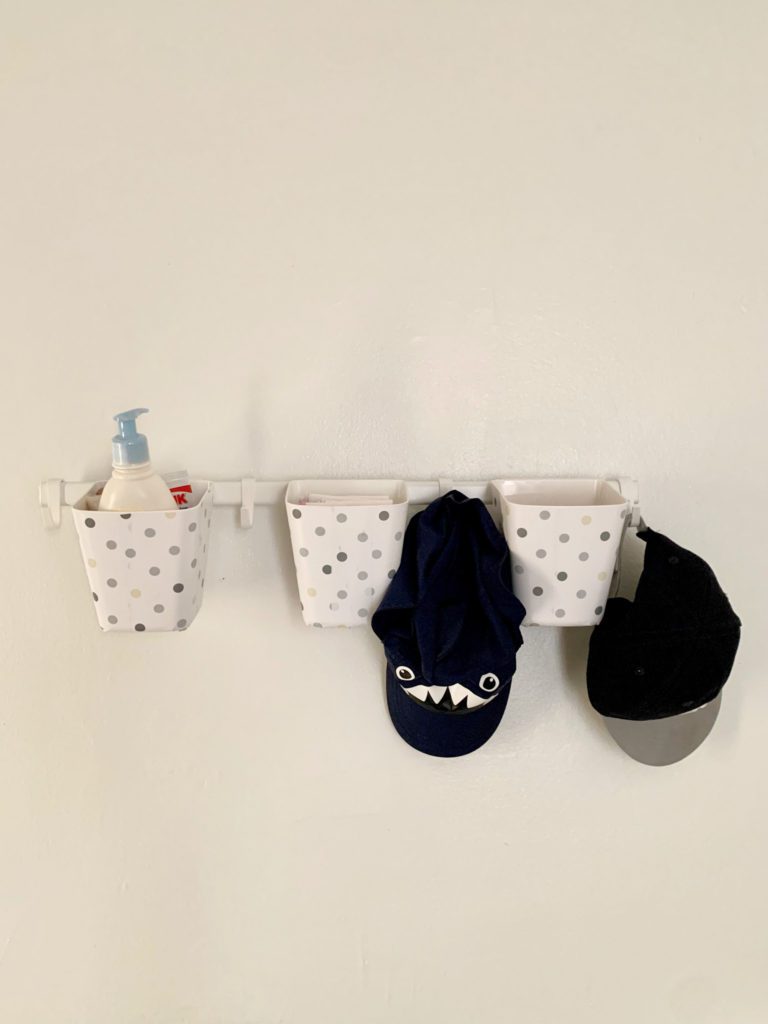 ---
Toys
If you really want to reduce baby clutter, don't bother registering for toys.  People tend to gift toys regardless of the registry. Besides, you kid will be more entertained by the recycling bin than a fancy toy. 
However, we did register for these:
Tummy time gym
We registered for this one because it folds up and stores nicely – behind the couch, under a bed, etc.  
This cute gym "grows with" baby, as the toys come off the rack and can be played with as single animals.  We got use out of it daily for a year!  
Teether
Sophie the Giraffe truly is a good teether – very easy for baby to grip.  
Unfortunately, Sophie now comes with a hole in the back, so be careful not to get water in it when you wash (which can cause mold growth, like with bath toys).  
---
Minimalist Baby Clothes List
I was mostly against putting clothes on our minimalist baby list, and now think slightly differently.  I wish I had registered for clothing right up to 2T.  Especially PJs!  
People will gift clothes no matter what, so register for the ones you want and hopefully they'll play along.  
Tips:
NB clothes lasted two weeks for us.  Keep it minimal.  
Same with 0-3m.  Our little one was out of those by like, week 6.
Accept used.  Friends might have bags – yes, giant contractor bags – of clothing to give away.  People love to give away baby stuff.  Say yes!  And then you get to pass them along later.  
Yard sales are great for baby things, too.  When you give them away, you'll be pleased that you didn't spend a gosh darn fortune on clothes baby only wore 3 times.    
Skip:
Button PJs.  Ain't nobody got time for that at 3am.  Go for the two-way zip until 6m, then just go for a zipper.  
Anything more than 1 dressy outfit per size. 
Seasonal stuff depending on your child's age.  Think – if your baby is born in January, you won't need a Christmas outfit in size 6m, you'll need it in 12m.   
---
In conclusion…
Whew! Thanks for taking a spin around our minimalist baby list.
Whether it's minimalist baby basic tips to baby travel essentials, baby gear you need or a minimalist baby clothes list, we hope that this post helps you make room for baby!
Remember, more than any thing, all your baby will want is you. Space in your home is nothing compared to the love that fills it! Best wishes!
---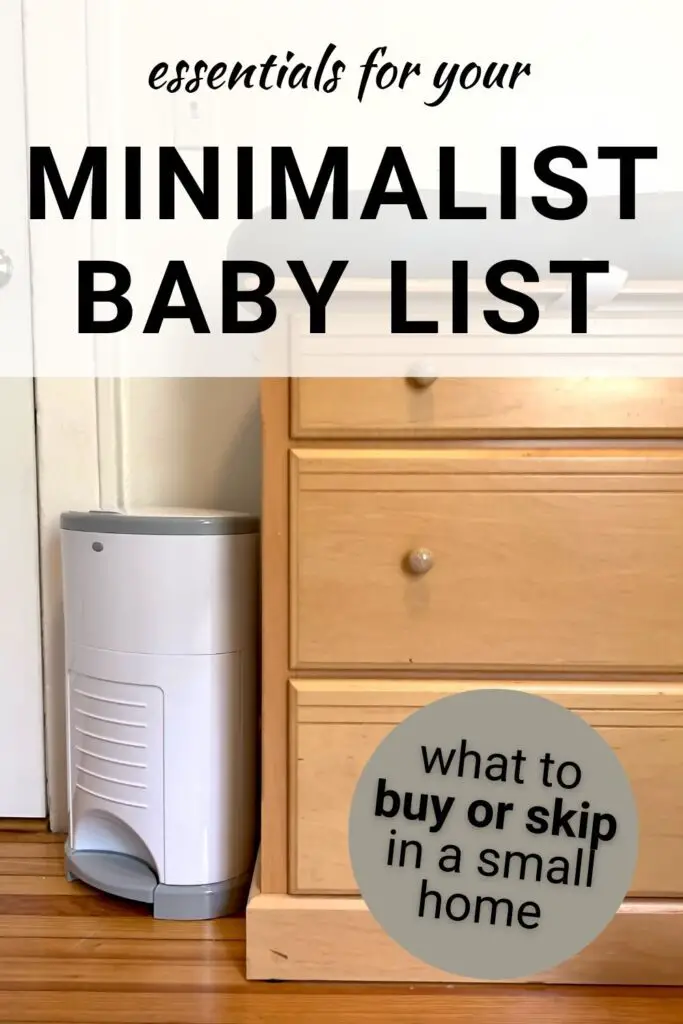 ---