best baby proofing products for your home
This post may contain affiliate links. If you purchase a product through one of them, we will receive a commission at no additional cost to you. As Amazon Associates, we earn from qualifying purchases.
---
Welcome back, fellow home owners! Today we are exploring the best baby proofing products for your home.
We, like many couples, started out our home ownership journey as DINKs – "double income no kids." That evolved to parents of one – and soon to be two – little rascals running around.
Fun!
Joy!
"OH CRAP DON'T RUN INTO THAT—-"
…you feel me?
Even the household items and furniture that we take for granted and think, "my, a child will never hurt themselves with that…"
Oh contraire, good friend – they will find a way.
Let's aggressively create a baby proof house to avoid any tragedies, shall we?
This is by no means a complete list – there is no such thing – but these are the best baby proofing products we have found to keep our kids safe and our sanity in check.
---
Best baby proofing product #1 – YOU.
Your best defense is your attention.  
No baby proofing product will replace a responsible set of eyes and hands at the ready.
All that being said, you can aggressively employ this list of baby proofing items as an extra layer of insurance.  
---
Best baby proofing products for your house
Baby proof house kit
We use everything from this baby proofing kit by Toddleroo:
It's a great place to get started with baby proofing your house! This also makes a great item for your baby registry.
Plug protectors work for a while…ish.  
I don't know anyone for whom these are completely baby proof.  Toddler fingers are smaller than yours and will absolutely find a way to get these out of the outlets.  
However, they are still useful because they buy you time to get to the outlet and redirect baby's hands elsewhere.
Door knob covers
Door knob covers are clutch!  
Squeeze and turn.  Grandparents love 'em, let me tell you – they're perfect for arthritic hands.  
I joke, but honestly, they really do keep little hands from opening doors they shouldn't.  
Our house being a two-family, all of our staircases are blocked by doors – instead of using baby gates at the stairs, we employed these door knob covers to avoid staircase tumbles.  Good stuff.
Bifold door locks
I can't say I predicted this, but these bifold door locks have proven essential in keeping both our sanity and our closet doors in one piece.  
They will keep little ones out of the closet – and give you one or two last hiding places to put all your breakables!
Baby gate
While our staircases are blocked by doors, living in a two family home, we still used a baby gate for a while to keep baby out of the kitchen.  
Especially with a new walker, there were times it was easier to contain the enthusiasm to one room.  
We loved this one by Regalo.
And our friends swear by this clever retractable gate:
Radiator covers
Fellow old- homeowners, you know how much we love our functional and reliable radiators.  
But our kids don't need to burn themselves on them! Cover it up!
We have purchased brand new covers from Stanley Radiator Covers in Queens, NY, and also found a couple used on Facebook Marketplace.
Steam pipe running through the room to the next floor?  Here's our full tutorial on How to Cover Heating Pipes with Sisal Rope.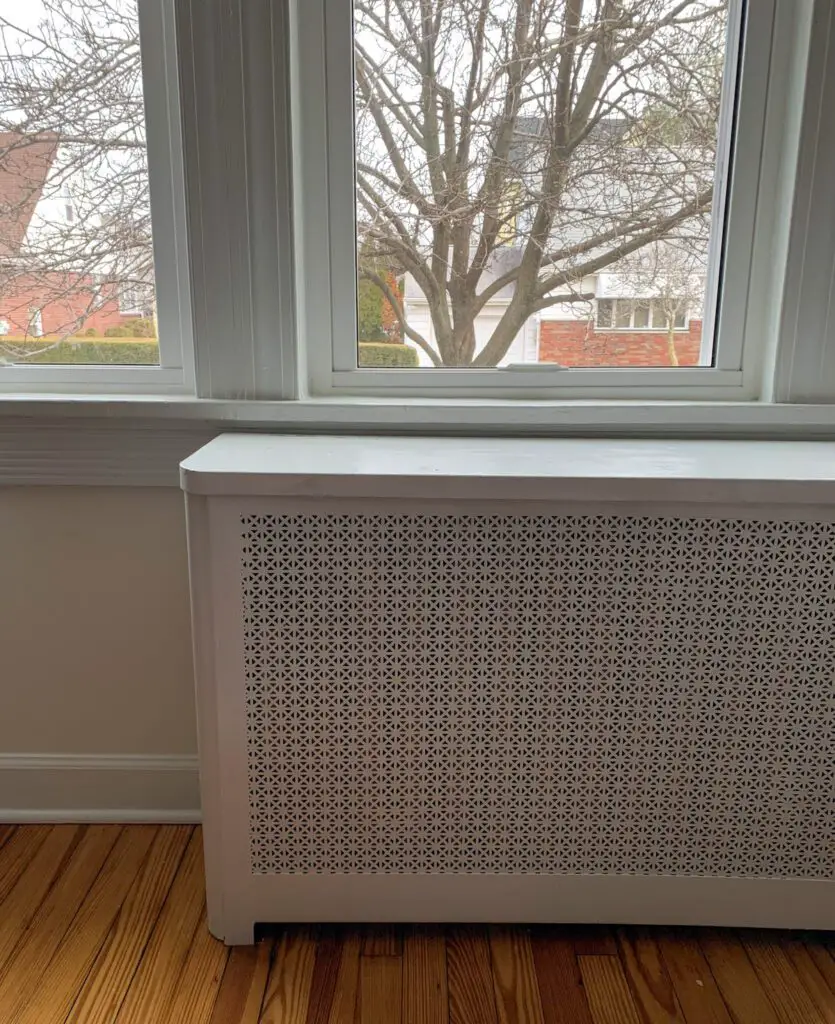 Cordless blinds
Basic mini blinds worked for us in "BC" times (before children).  Then we realized the cords that hang down from most standard blinds are a huge choking hazard.  
With an eye towards eco-friendly home renovations, we decided to invest in cordless cellular shades.  
We definitely feel the difference in keeping out extreme weather!  Note you can buy either "blackout" or "light filtering" (our preference).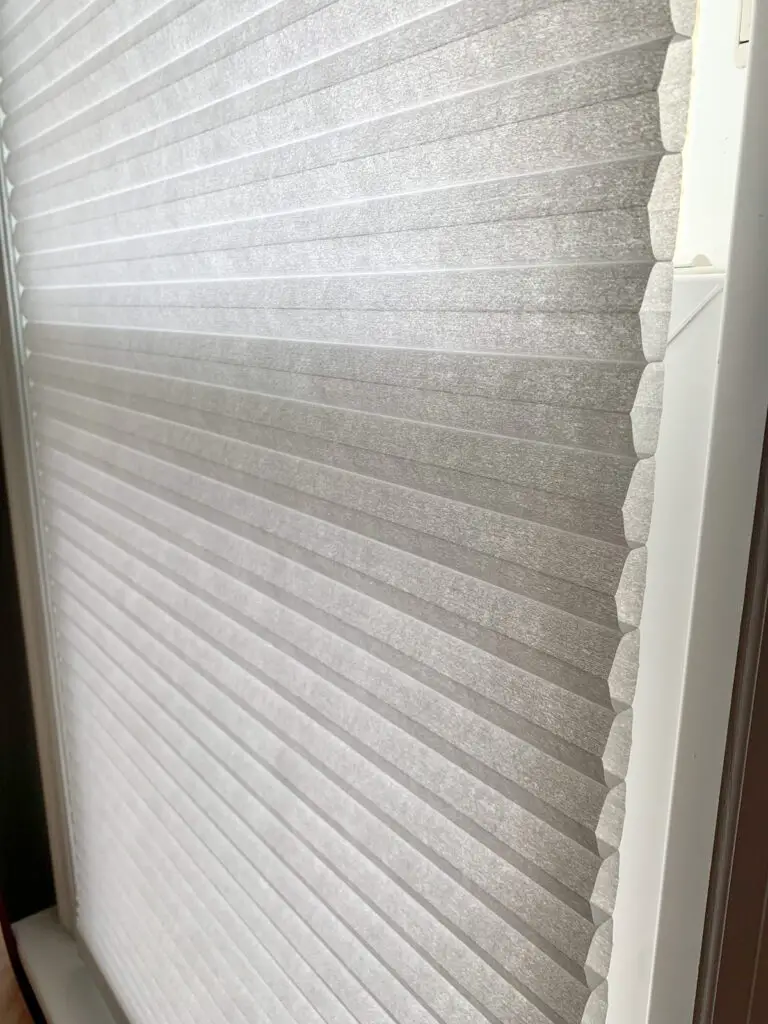 The cordless feature is essential for babyproofing.  AND, we don't risk a piece of the plastic blind missing, as happens with mini blinds and toddlers.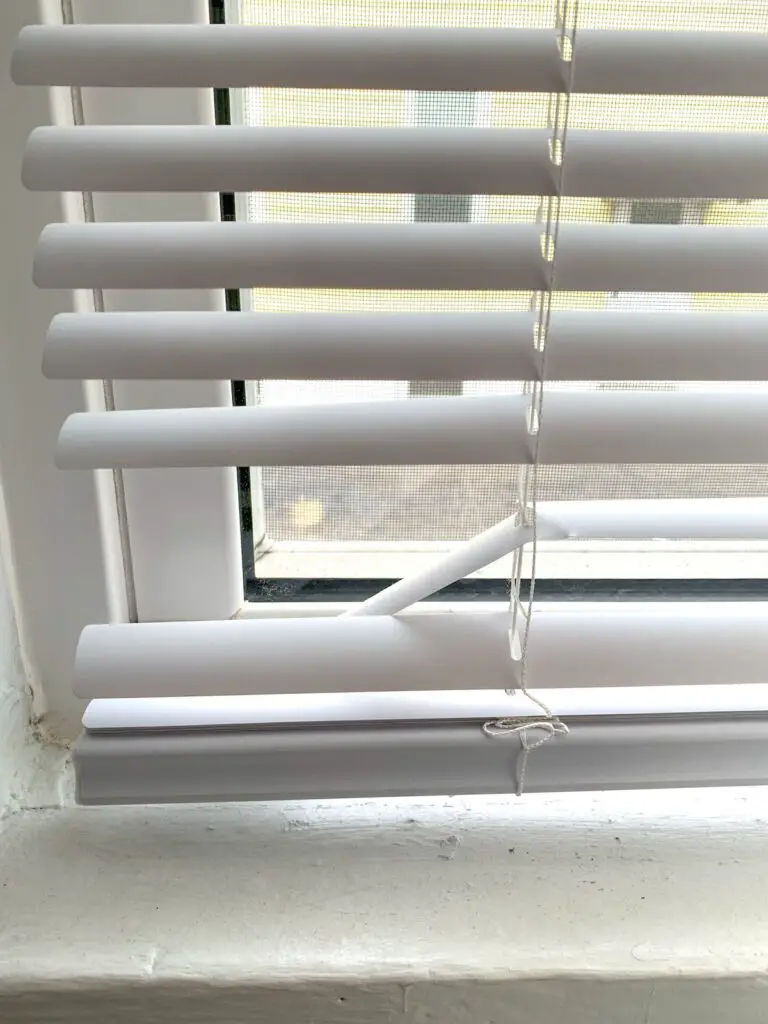 If you don't want to go replacing all your blinds or you can't for some reason, you can mount some handy cord cleats, and diligently wrap the cords around the hooks out of baby's reach.  
Chipping paint
Lead paint sucks!  This I know!  For the bible tells me… wait a sec, strike that.
If there is paint that is chipping, cracked, or peeling in your home, do not delay in (a) checking if it's lead paint and (b) having it repaired regardless.  
Yes, I agree, children should not lick the trim work or eat paint, but they're kids, and in this case, an ounce of prevention is worth a pound of cure.  
We've been through it with lead paint during our FHA 203k Loan – we understand, it's miserably inconvenient – but once you repair it, you'll be free.  
---
Baby proofing products for living areas
Anti-tip wall anchors
We currently don't have furniture that requires this, but these anti-tip anchors are important!
If you have bookshelves or dressers in your home that scream "climb me!" it will be in your best interests to anchor them to prevent them from toppling over.
Drawer locks
We employed our Toddleroo kit once again.  No kit? You can buy drawer locks separately, too.
I'm here to report that the 3M stick-on locks were useless.  Screws or bust, baby.  
We use these in our nursery dresser to prevent kiddo from tearing through the drawers daily.  They're also helpful on the knee-height liquor cabinet at the grandparents' house. 
Sharp edge covers
If you have a coffee table or TV stand with sharp corners, know that they will be at eye height for your little one!  
Your options are to either cover them with safety corner protectors, or invest in round furniture.  
Backless chairs
Learn from my stupid mistake.  Our son likes to sit in "big boy" chairs, and quickly taught himself how to climb into them.  
Once at a gathering with folding chairs set out – up he climbed, and sat down, and leaned back to relax – only to fall right through the backless part of the chair!  
Mom fail.  
If you have chairs look like this: 
or this:
…you might want to invest in a different variety.
Your coffee
Your coffee.  Nectar of the gods for parents of littles, right?  
Find or create a nice high shelf on which to store your hot beverage.  
Recently, a story came out in our town that a 10 month old was air lifted to a hospital due to burns from knocking over a mug of coffee on a tv stand. This is serious!
No obvious shelf? Check out this brilliant DIY by Yellow Brick Home to create a slim behind-the-sofa shelf.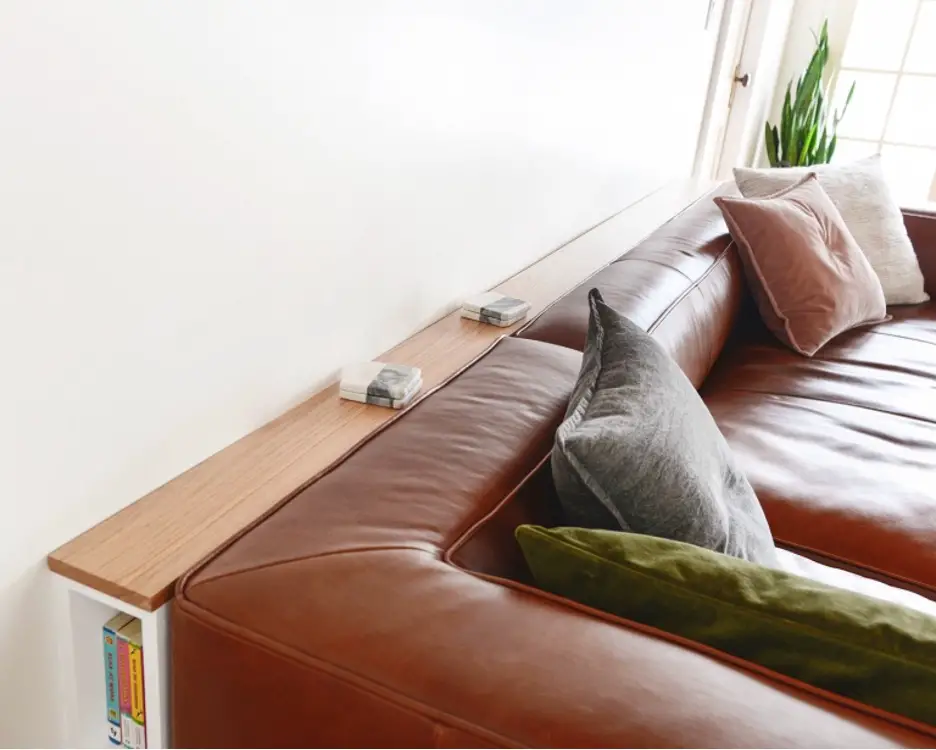 ---
Best baby proofing products for your kitchen
Trash can with a lock
Why do children find the trash and recycling so fascinating?  
Save yourself the extra cleaning and get a trash bin with a lock. 
Cabinet door locks
These sliding cabinet locks are great because they require no install and they travel light.  
We often take a few with us on vacation or to someone else's house, just to make life easier.  
Oven range covers
Little ones want to cook just like you do!  
As a result, they like to adjust the burners, just like you do!  
We just take our range dials right off of the stove and keep them elsewhere.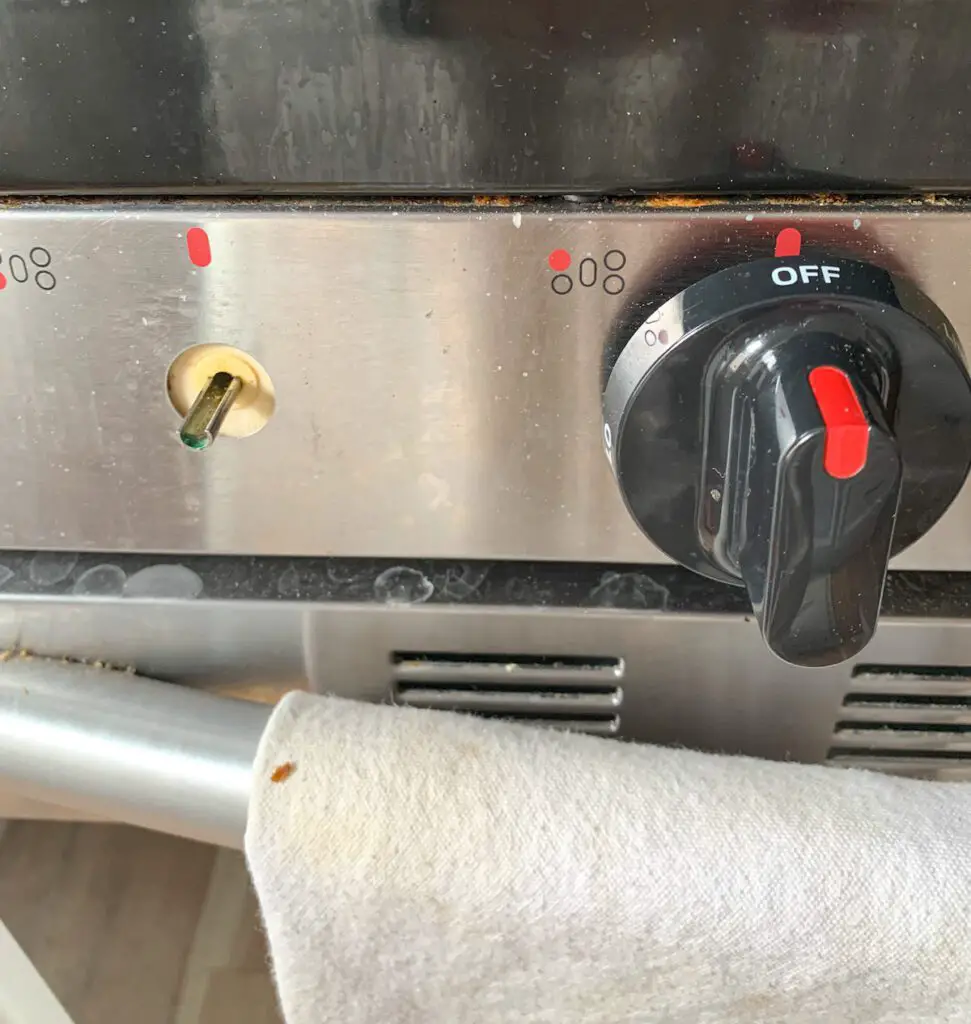 If that doesn't work for you, try these stove knob covers:
To keep lil bub from starting a gas leak or fire.  
Cleaning supplies
Enter: high storage.  
I don't understand why we all keep cleaning supplies under the sink – that's just THE PERECT place for little hands to play with poisonous potions.  
After locking cabinets doors, for extra safety, keep all cleaning supplies on your highest pantry shelf.  
While you're at it – stick the AA batteries up there, too.
---
Best baby proofing products for your bathroom
Toilet lock
Yes, our toddler did figure this out by 20 months old.  But safety straps are still super useful to prevent baby (and Fido, I've heard), from "water play" in the porcelain bowl.  
For a while, we kept both the toilet lock sealed and the bathroom door closed.  
Prescriptions + drugs
While you're at it – put all the OTC and prescription drugs (and hey, whatever else you do) on a high shelf.  
Not your nightstand or dresser drawer.  
And, if you partake in the depending-on-your-state newly legalized ganja that comes in the form of gummi bears – for the love of Daniel Tiger, put it under lock and key! 
Bath Thermometer
This cute little water thermometer also doubles as a bath toy!  Adult ideas of "perfectly warm bath" might be too hot for your little one's skin.  We received this as a gift and used it every bath time for a year.  
---
More tips on how to baby proof house
Register the product
Any baby item you buy, be sure to register the product with its manufacturer.  
If there is a recall, you will receive notice about the problem and likely a solution for it as well.  Often this means a new part or another simple fix. 
Smokes / Cos / Fire extinguishers
You probably have to prove these to your local building or fire inspector to obtain a certificate of occupancy, but while you baby proof your house, it's a good time to double check battery life and expiry dates on these safety items in your home. 
Sleep safety
Basically, babies are safer in a cardboard box than they are surrounded by anything soft.  Don't use bumpers (which were legally sold in the USA for a terrifyingly long time), blankets, stuffies, pillows – don't put anything in the crib with them.  Nada.
For more on safe infant sleep, please see the AAP's website on safe sleep for babies.
Car safety tips
This isn't exactly for baby proofing your house but I wish someone had told me – your local police or fire department may have a car seat specialist to help you install your car seat properly!  
Call your municipality and be sure to check that their specialist is CPST certified.  Ours was completely free, and the sergeant was knowledgeable and kind.  
Gun safety
This goes without saying, but if you exercise your 2nd amendment rights, please have all your gear locked away and out of reach.
---
Final thoughts on best baby proofing products
Well, that concludes this exhausting-yet-not-exhaustive list of best baby proofing products for your house.
Whether you're expecting or already raising your tiny loved one, we hope these baby proofing tips prove useful to you and your family.
And, congratulations on your bundle of joy!
---
You may also like:
---