17 tips – how to renovate a house while living in it
This post may contain affiliate links. If you purchase a product through one of them, we will receive a commission at no additional cost to you. As Amazon Associates, we earn from qualifying purchases.
---
If you want to know how to renovate a house while living in it, you've come to the right place.
We have gut renovated 9/10ths of our house while occupying it and are here to say – it's totally possible!
With a little bit of patience and a whole lot of strategy, you too can do a live-in home renovation.
Here's how!
---
Can I live in my house during construction?
Yes!  
Well, usually.  
In most cases, living in your house while renovating is perfectly plausible.  
There are certain circumstances under which you shouldn't do this – involving serious issues like lead paint remediation, asbestos removal, or foundation correction.  
But if you're just gutting your kitchen or bathroom, or sprucing up with a living room makeover, then yes – you can certainly stay while remodeling your home.
---
What is the first thing to do when renovating a house?
The first thing to do when renovating a house is to plan.  
Take the time to make a plan.  
Not sure where to start?  Check out How Do I Plan a Home Renovation?.
The next thing to do depends on your house. The best order of home projects is specific to your home and needs, so take a look at How to Prioritize Home Projects.
And, don't forget to check out our Etsy shop for super-affordable printable renovation planners!

---
How long should you live in a house before remodeling?
Well, it depends what kind of remodeling you're talking about.  
If you need to correct safety issues like underground tanks, plumbing or electricity, please, get started right away!  You home should be inhabitable – i.e. have running water, electricity, etc – before you move in.
We also believe that the best time to take on projects like refinishing hardwoods or painting are best done in empty rooms – so if you're considering these types of projects, do not hesitate to get going!
But after that? 
Give it 6 months to a year before making any serious changes.  
Seriously!  As you live in your home, your wants and needs will reveal themselves to you.  
For example, our 1st floor Kitchen and Pantry Layout was a big head-scratcher.  
We took years – years! – to decide what cabinet layout would best serve our needs.  As we lived in the space, functioned through holidays, and hosted guests, we came to better conclusions than we would have if we had ripped it all out right away.  
---
Should you move out during renovation?
Not necessarily.  
If you're doing a gigantic overhaul and gutting the whole house at once, then yes, you should probably move out.  And, as above, if there are serious issues at hand like lead paint or asbestos, you should vacate. 
But if you're doing one or two rooms at a time, just move out of the rooms under remodel, and squeeze yourself and your family into what's left.  
It's temporary, and you'll make it through.  I promise.  
---
How to renovate a house while living it
Let's get to our best tips on how to renovate a house while living in it!
Plan ahead.  
The best thing you can do to keep sane while living in a house during a renovation is to plan ahead!
Check out our full post: How Do I Plan a Home Renovation?
Need more hands-on planning? Download your Kitchen Renovation Planner or Bathroom Renovation Planner from our Etsy shop.

Keep the dust down
Seal off the door, vacuum regularly, mop all the time – the battle against dust is about to begin.
You might consider investing in a heavy-duty Wet/Dry vacuum to assist.
Vacate the premises
For the dirtiest days like demo day or when sheetrock dust is flying, send all of the high-risk individuals away from your home.
Think babies, pregnant women, or immune-compromised individuals.
Patience
Your home remodel might take a while. You will find reserves of patience that you never knew existed!
Is your renovation stressing you out?
We have solutions: Overwhelmed by a house renovation? Find Help Here.
Kids & Pets
Keep the kids occupied… and OUT OF THE ROOM.  Safety first. 
Even though we are out of the dirtiest days of our current renovation project, we are still leaving the door taped shut so that our toddler knows the room is off limits.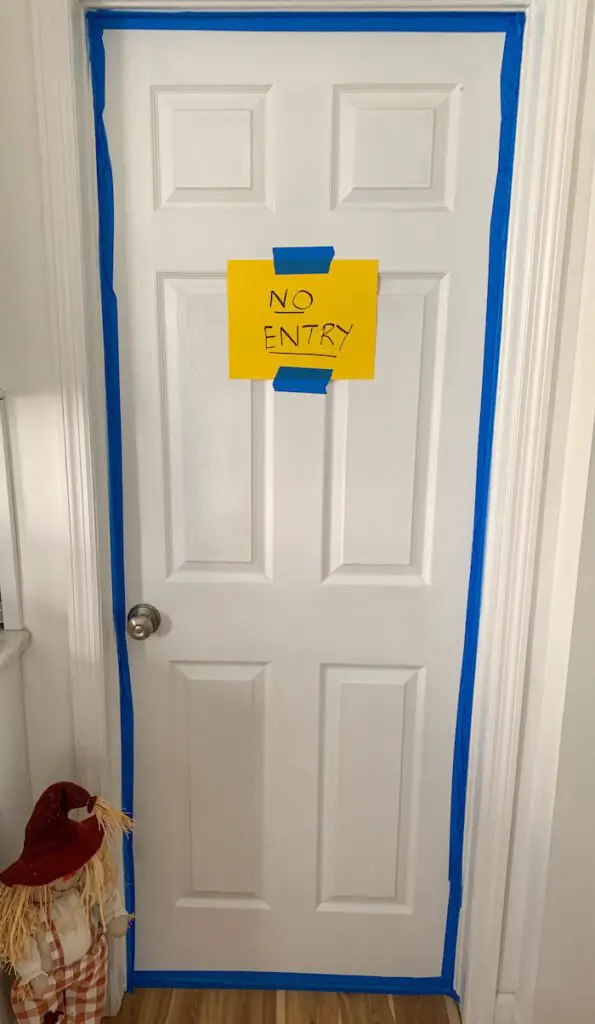 Set up a temporary kitchen
If you're remodeling your kitchen, you'll definitely want to create a temporary place to cook!
Here's how if you're trying to saving money: Cheap Temporary Kitchen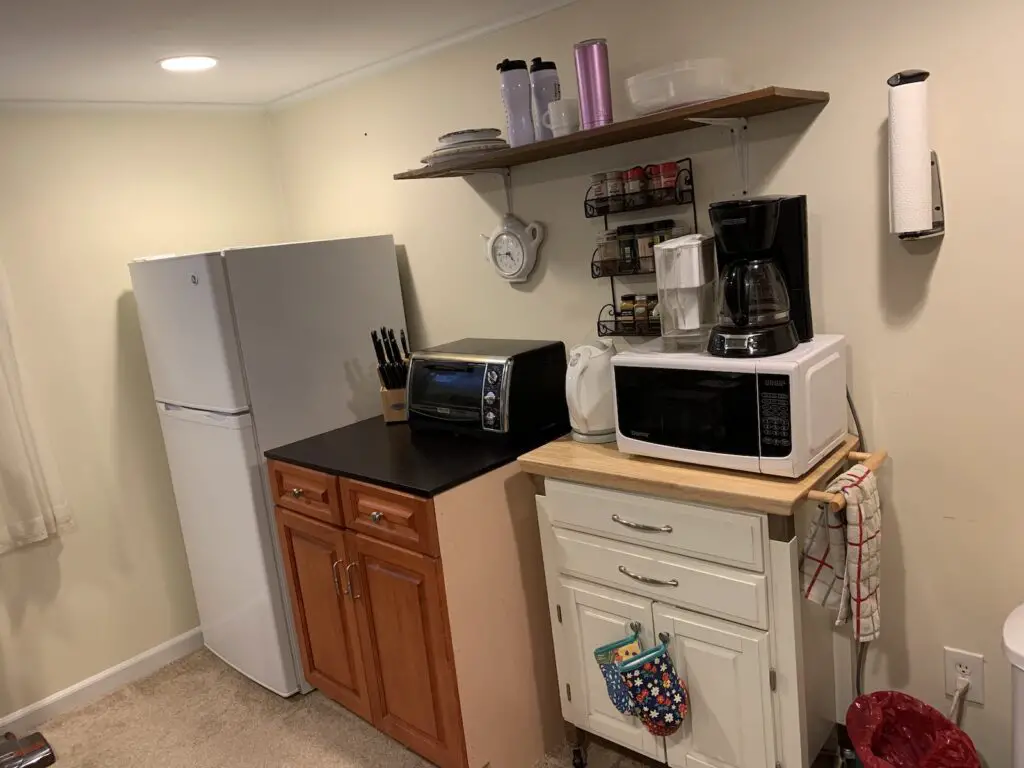 And here are our best tips for setting up: Makeshift Kitchen during Remodel
Plan the potty situation
If you're renovating your bathroom, strategize where you'll do your business in the meantime.
For more bathroom remodel help, see: How to Plan a Bathroom Renovation.
If you're hiring contractors, consider offering them a restroom. They'll certainly appreciate it.
Seasons matter
Consider a summertime renovation, so you can do your living, eating, and cooking outside.
Or, consider a wintertime renovation, which is the cheapest time of year to remodel your kitchen.
Declutter
And I mean, declutter your whole house!  
Less stuff will make it easier.  Promise.
Need inspiration? Here's how we took on decluttering before baby.
Escape
Take a day away.  We say this all the time – you'll return refreshed!
We attend weddings and take nights off during renovations without regret. It yields happier, more productive work.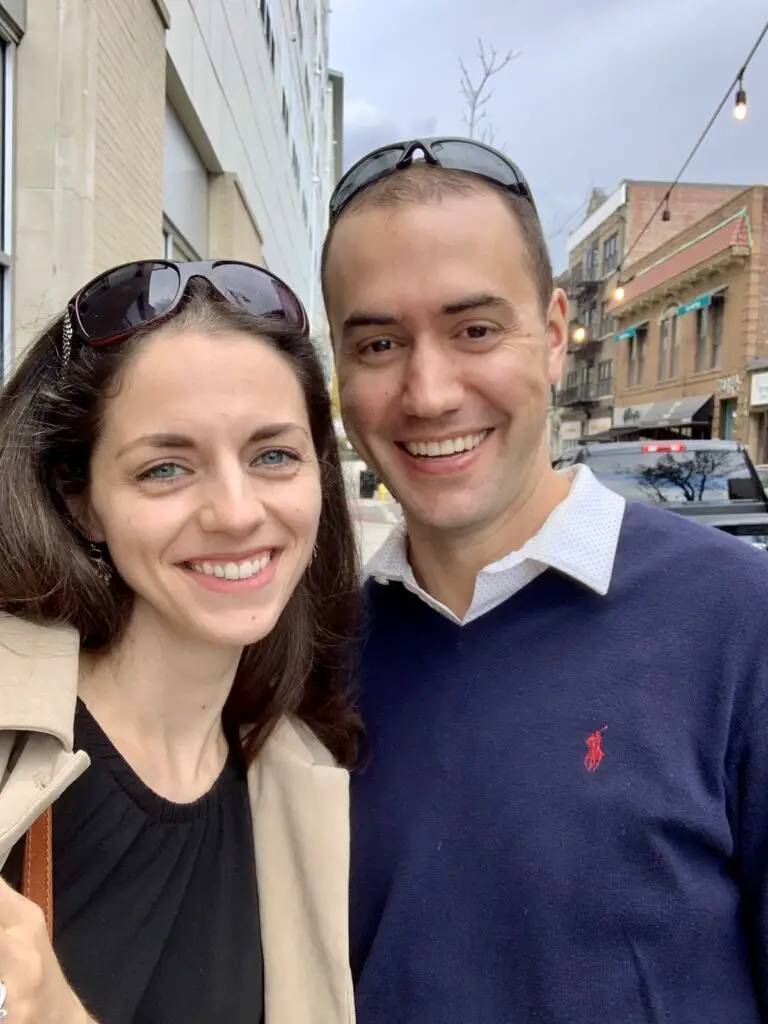 Your neighbors
Be honest with your neighbors.  They know what you're doing.  
Get your permits, work during reasonable hours, or offer them a gift if it's really bad!
Don't host!  
Renovating during the holidays was one of our biggest whoopsy-doozles. It just made things messier. Thankfully we don't host much.
We recommend you don't host grandma, friends, holidays, or parties at your home until it's finished.  
UNLESS – the people coming to stay with you are there to help.  
Why yes, we have hosted family multiple times during remodeling projects.  One time, a cousin kindly brought us in his pickup for a sheetrock run.  If they're game to join in on the DIY fun, then by all means – invite them over.
Stock up on supplies
Stock up on coffee, bottled water, etc.  
Workers of all kinds will appreciate a treat.  I just love crafting a sweet coffee break for our crews.
If you are hiring a contractor and want to build a good relationship, offer a cuppa Joe with a muffin or whatever.  It does not go unnoticed.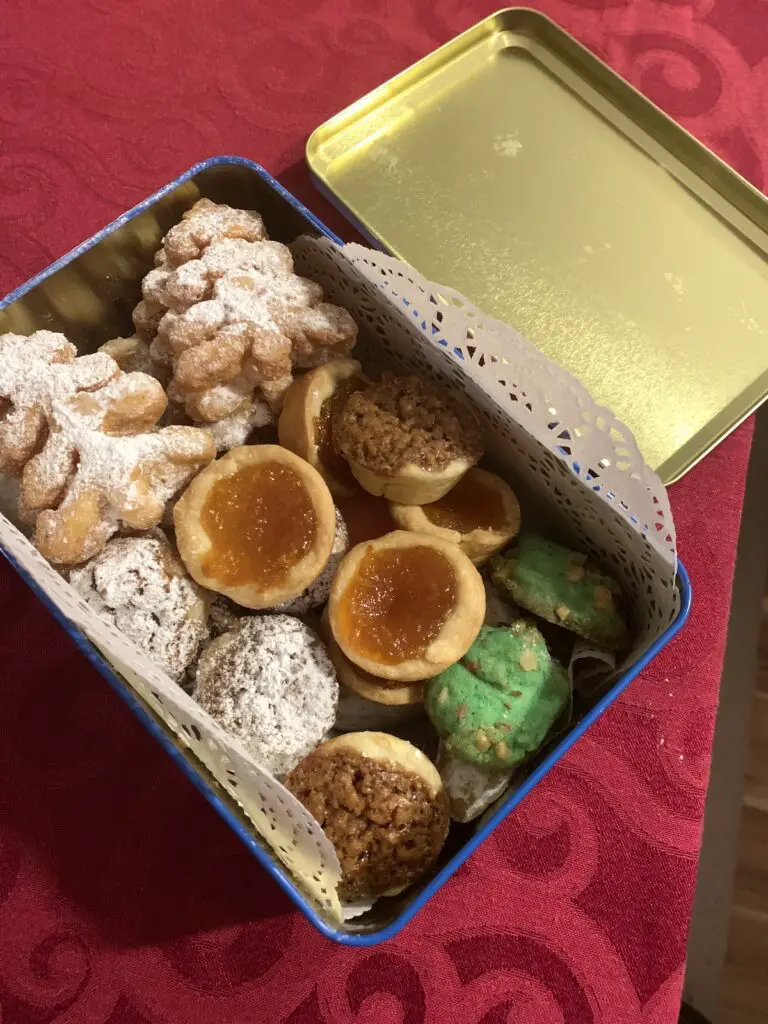 Take pictures
Take lots of pictures – you won't believe what you put yourself through until you go back and look at the documentation.  
Lockbox it
Use a lockbox for contractors if needed.  If you're off to work and school, you'll go mad trying to be available for every single arrival and departure.  
Hopefuly you have hired someone that you trust, and can leave them a key via side or back door.  
Protect your floors
Protect your floors – and not just the ones in the construction room.
Dust tracks on boots like crazy!  Toss down a drop cloth or old carpet runner on the areas workers will walk, even if it's your hallway or whatever.  
It will make cleaning up afterwards that much easier.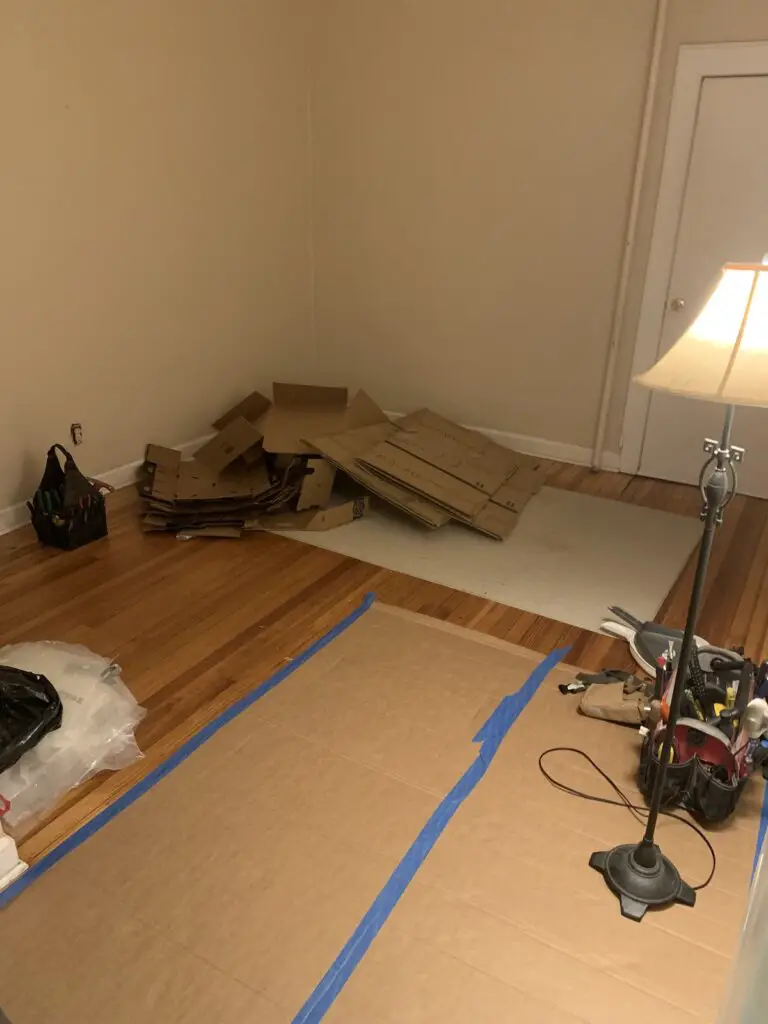 Make a renovation-free zone
Create an oasis to get away from your renovation project.
For your sanity, even if it's the only room left, make a room that is not for remodeling.  Call it "testing out tiny house living" if you need to.  
Check out our kitchen / dining space we created during our massive first floor renovation: Cheap Temporary Kitchen. It was a "cafe-na-gym-na-torium" as my brother likes to say.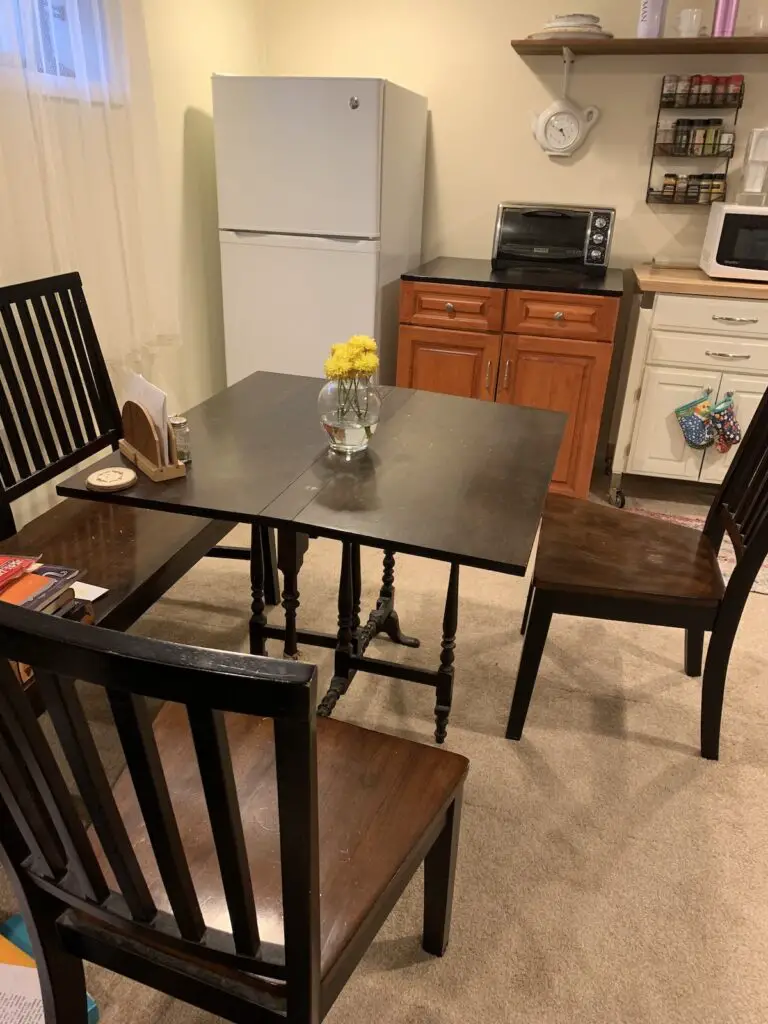 ---
Final Thoughts
Hopefully you find these tips about how to renovate a house while living in it helpful!
Whether you're DIYing, hiring a contractor, or half and half, you can safely stay in your home during a remodel with the right strategies and preparedness.
Wishing you an easy and speedy renovation project!
---
You may also like:
---