how to prepare for a kitchen remodel
This post may contain affiliate links. If you purchase a product through one of them, we will receive a commission at no additional cost to you. As Amazon Associates, we earn from qualifying purchases.
---
Are you wondering how to prepare for a kitchen remodel?  You've come to the right place!  
Preparing for a kitchen renovation can be overwhelming, but there are plenty of steps you can take to keep the overwhelm to a minimum.
If it's your first time swinging by our two family house, we recommend you start here: The Ultimate Home Renovation Survival Guide.  That post has a broader perspective of entire home renovations. 
Now, as for kitchen renovations.  If we can do it, so can you.  Here at OTF we've managed not one but two kitchen renovations in the last six years:
Ready to get kitchen-specific?  Let's go!
---
Budget – and add 10%
When thinking through how to prepare for a kitchen remodel, a great place to start is your budget.  How much money do you want to spend?  
Your personal finances are exactly that – personal!  $15k might sound like a cap for your kitchen renovation, or maybe you're up for a cool $100k, complete with a wine fridge and Viking stove.  
It's up to you, but a ballpark number is imperative  From there, you can pick and choose where you want to splurge and where you want to save.  
For detailed help on exactly how to budget for a renovation, check out our post, Home Renovation Budget – how to make your unsexy remodel roadmap.
Looking to save a few bucks on your budget?  Check out our post on how to save money on home renovations.  
We also recommend factoring in a contingency of 10% to your original number.  You never know what awaits behind your walls.  It could be fun, like our things found during renovations!  
Or… it could be miserable, like a huge leak, a foundation problem, bugs, animals… you just never know.  Better to have a 10% contingency leftover than to be caught without cash to finish your project.
---
Plan
Once you've got a number in mind, let the dreaming and scheming begin!  
Sketch out a picture, even if it's rough, of what you'd like in your kitchen.  Some people create Pinterest boards or mood boards full of magazine clippings.  Whatever your inspiration, now's the time to dream.
If you are embarking on this kitchen renovation with a partner, spouse, or family, be sure to get their input!  And definitely check in with the kids – they might know more than you anticipate!
When we worked on our first floor kitchen renovation we loved Ikea's 3D kitchen planner – even if you're not using Ikea products, it's a helpful way to picture what you're doing. It will also provide you a decent drawing to present to your cabinet and countertop manufacturers.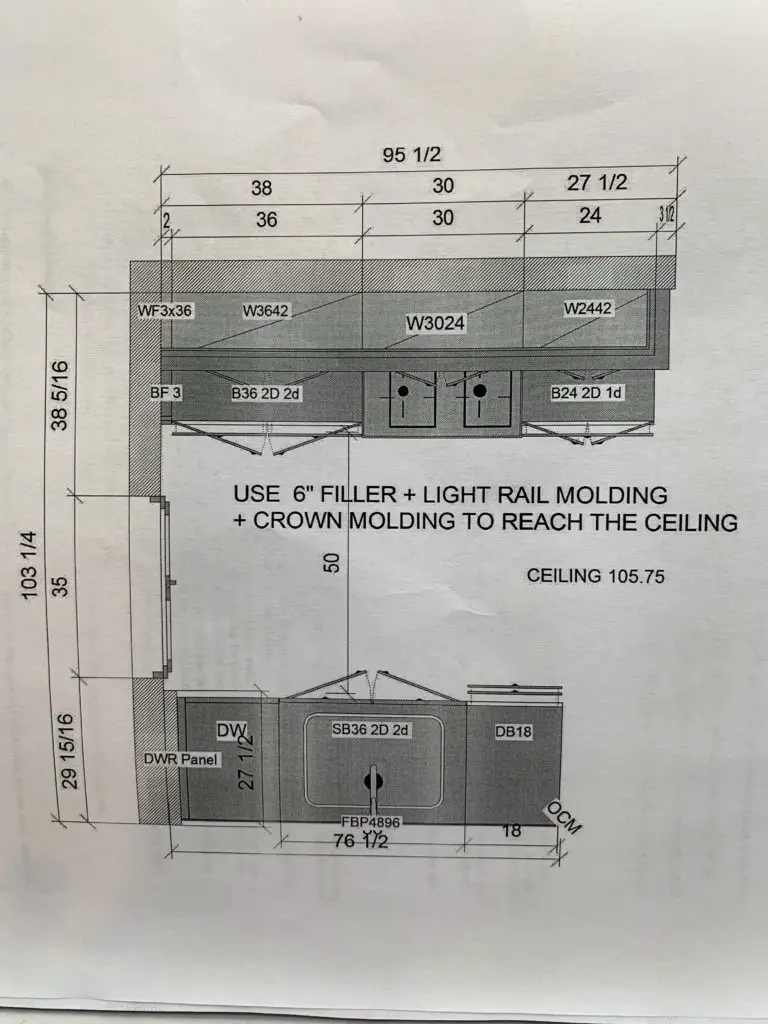 ---
Download your Kitchen Renovation Planner
Get yourself a printable kitchen renovation planner, brought to you via the OTF Etsy Shop.
---
Invest in a few tools
If you're wondering how to prepare for a kitchen remodel while considering a full-out DIY – now is the time to invest in a few tools.  If you're a new homeowner, check out our practical gift guide for items you'll want to add to your Amazon wish list!
And even if DIY isn't your jam and you're hiring a contractor, they might not bring all the fixtures with them.  You'll at least need a measuring tape and a basic toolbox for things like hanging pictures for the final touches!
---
---
Get some quotes from contractors.  
I personally find that chasing down contractors is the most time-consuming part of a renovation.  If you find a good one, treat him or her very well, for you will not want to lose that connection.  More on this in our post here: 5 reasons to point and pay on a renovation.
Contractors are busy – very busy – and many are not the email-writing, administrative type.  Some contractors have admin help, usually a nice individual in an office who fields phone calls.  Some others do all of this work themselves, which can create some interesting background noise when calling for a quote.  
The other part of this equation (which I personally find maddening) is that the process of getting quotes takes time.  
Hopefully you're leaving a boatload of time before you need your project done (don't be like me and start renovating 5 weeks before the holidays!) and the time frame isn't imperative.  I also hope for your sake that this renovation isn't imminent due to something like a leak or fire.  
---
Make some freezer meals
Now we'll start to think through how to prepare for a kitchen renovation through the lens, "How am I going to feed my family?"  
Behold, your freezer.  If you're tossing your kitchen into a dumpster, I suggest you create freezer meals in advance. Here's a link to our favorite freezer meals: easy recipes to prep for your kitchen renovation.
Note: you will need to keep your freezer plugged in for this approach to work.  This may seem obvious, but… just making sure. 😉
Second note: you will also need an oven of some sort for freezer meals to be successful.  We used a toaster oven like this one and stored the meals in 8″ cake pans to be sure they'd fit in the miniature oven.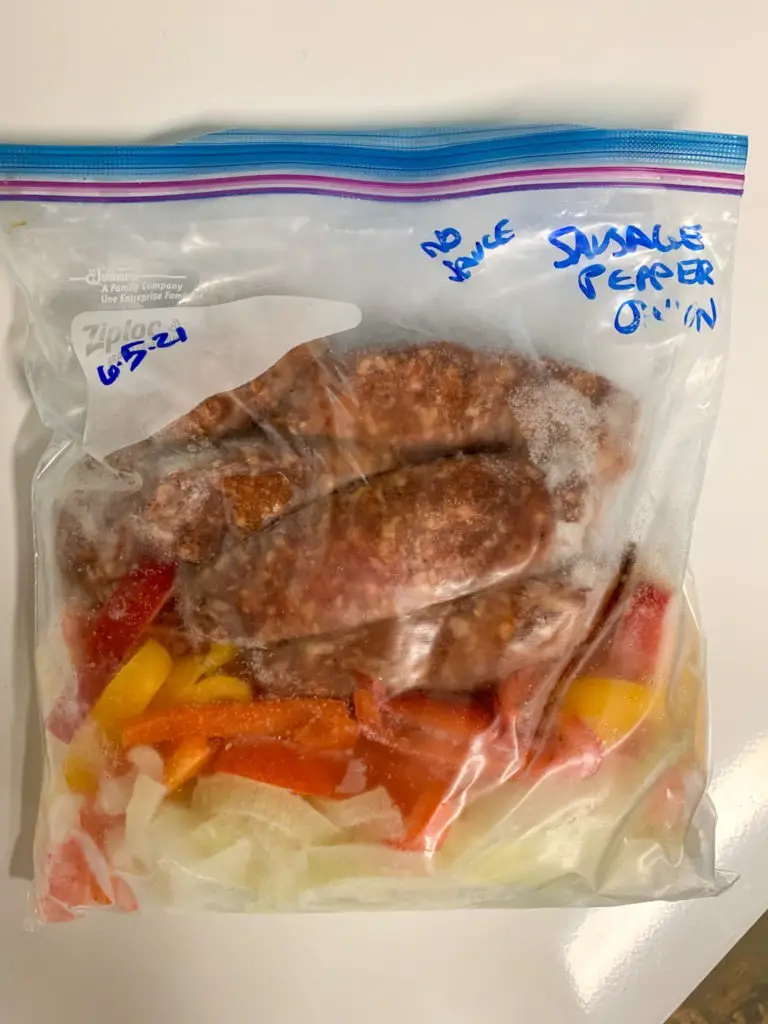 ---
Plan to simplify your menus.
If you love to cook (and since you're wondering how to prepare for a kitchen renovation, I'm assuming your kitchen is important to you), you'll want to take a step back from complex recipes.  
This is not the time to win Iron Chef; it's more like Chopped in that you'll have 20 minutes, limited ingredients, and testy judges at the finish line.  
Need some cooking inspiration for simplification? Check out these posts:
---
RSVP Yes to all the parties
It may feel like mid-kitchen renovation is the worst time to commit to an event.  
However we felt the opposite was true – having a date to look forward to on our calendar, complete with friends, family, and food, made us feel less like dust-covered-schleps and more like responsible grown-ups working towards a goal.  
Say yes – it's only one night out!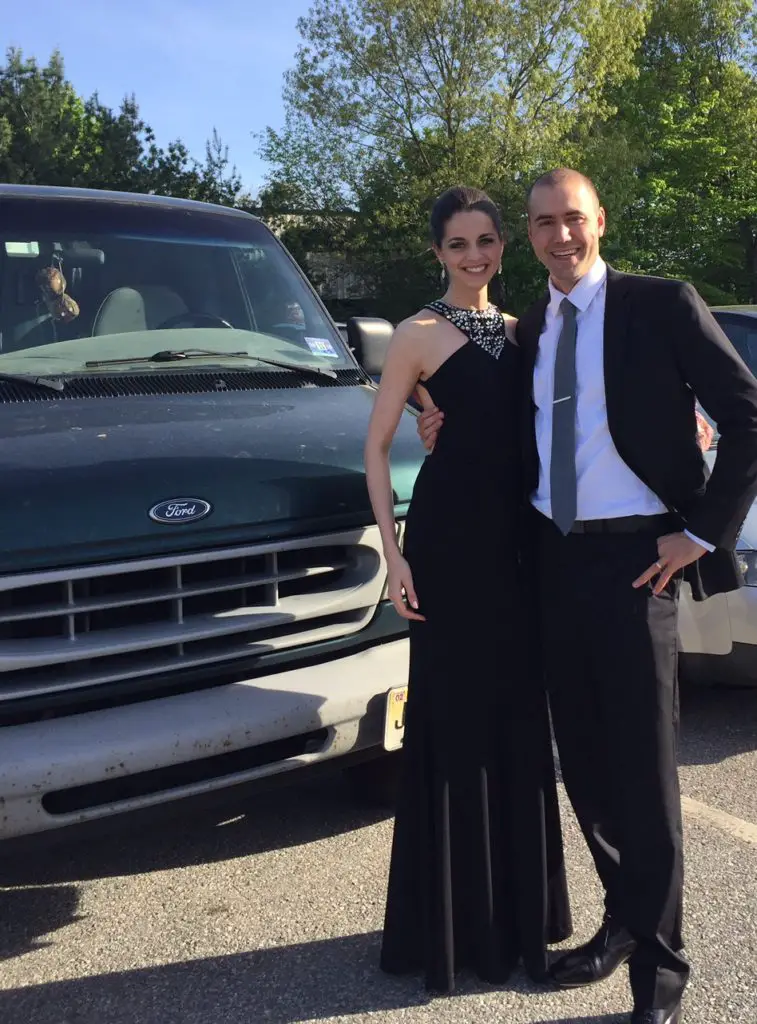 ---
Clean out. 
Less stuff = easier renovation.  You will need more space than you think once a few cabinets and appliances are delivered, but not yet installed.  Think: big boxes, in the way, all day, 'er day.  
Why not purge the house to make your life easier?  At the very least, you'll have less to worry about post-renovation.
We've been there: read all about our journey of cleaning out before baby here.  
---
Move out. 
I hate to be the bearer of bad news, but you're going to have to move out.  Trying to keep your things nice amid a full-out renovation just don't go together.  
Do yourself a favor and move your belongings completely out of the way.  
We've got advice for you on how to move out without losing your sanity – so bust out the packing tape and Amazon boxes, and away you go!
---
Set up a temporary Kitchen (including a sink)
If you remember nothing else in today's lesson on how to prepare for a kitchen remodel, please remember this:
Make.
A.
Makeshift.
Kitchen.
We've got an entire post dedicated to the necessity and know-how of making a temporary kitchen, right here.
Please, please, please, take the time and space you need to create a temporary kitchen for your renovation. You will thank yourself later, I promise!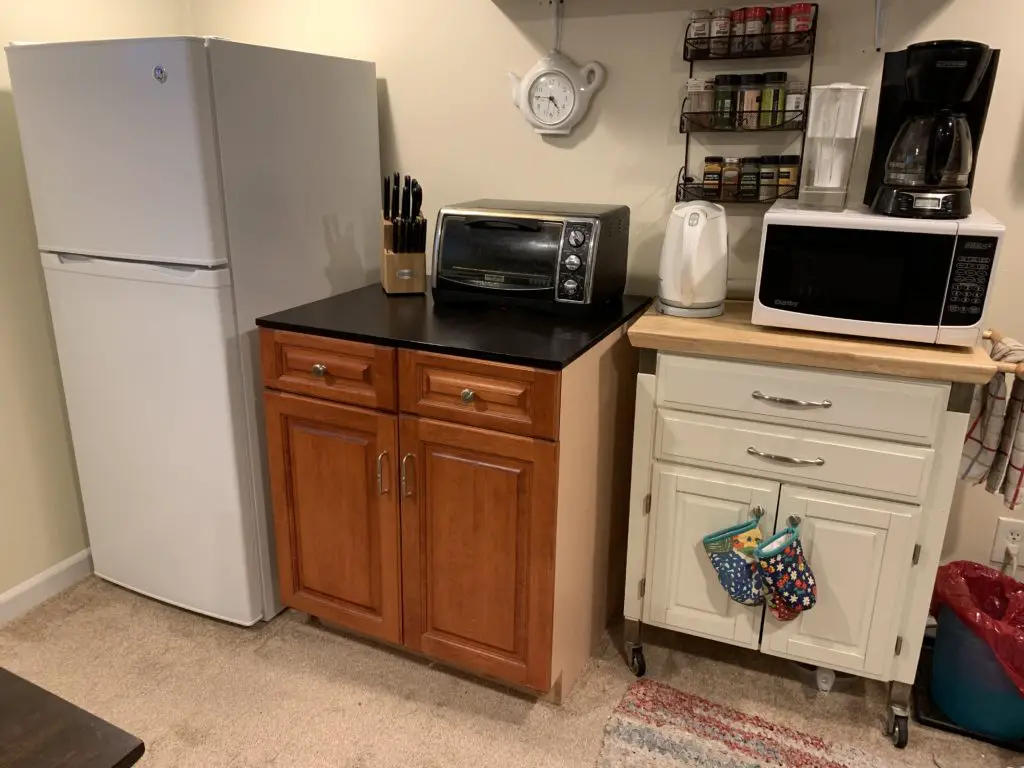 ---
SAFETY
Maybe this one is obvious, but once hammers start swinging, you're going to need a plan for safety.  Here are a few things to consider.
If you're doing demolition yourself, check out our post on 12 tips for an easy demo day.  
DIYing and not interested in splinters?  Don't worry, I've got you: How to take care of your hands during a home renovation.
Be sure to keep the workspace closed off from children and pets.  
Use a door if possible, and if not – hang a tarp and tape off as much as you possibly can.  Dust flies around like you wouldn't believe, and you'll want to keep the rest of your house safe from the tough stuff!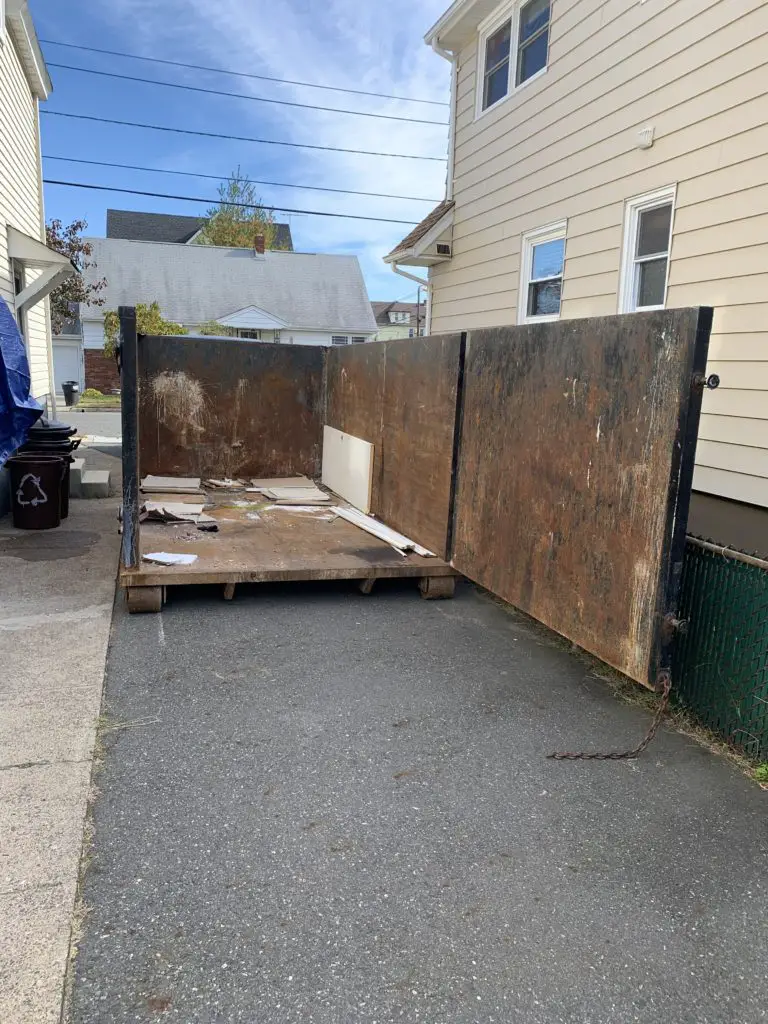 ---
Take before pictures
And finally, for your mental well-being, take "before" pictures.  It's so fun to look back once the project is finished and see the difference!  
This will help encourage you along the way, especially when things get frustrating and take seemingly forever.  
---
That's all for now, my renovation warriors. I hope you've pocketed a few tips on how to prepare for your kitchen remodel.
Do tell, what is your best tip for prepping a kitchen renovation?
---
You may also like:
---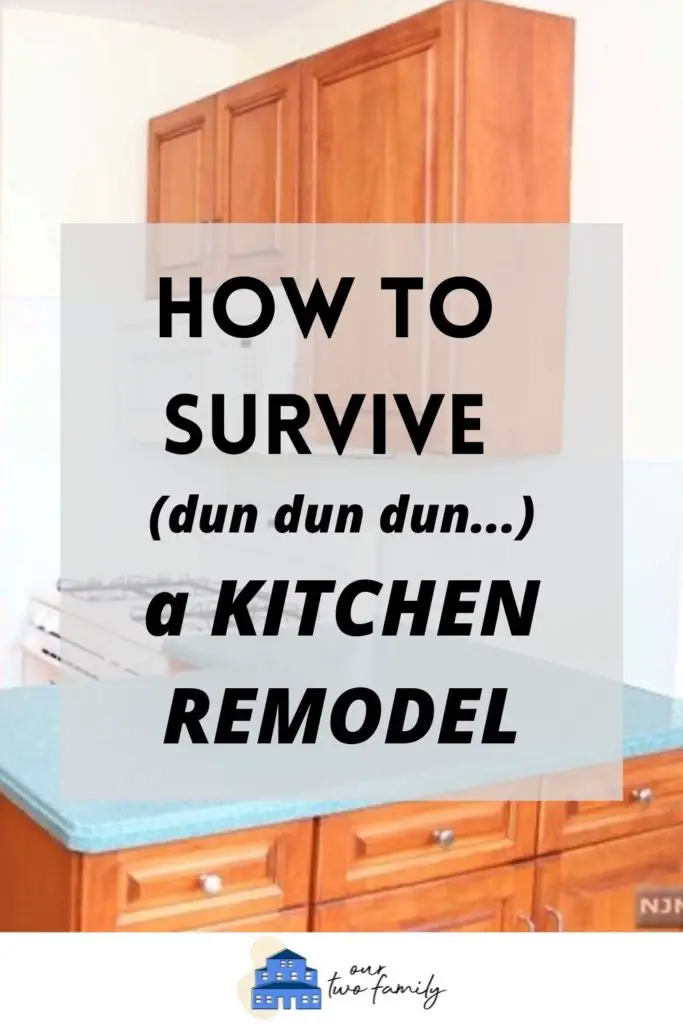 ---