7 Complete Meals When You Have No Kitchen – Crockpot Edition (Under 6 Ingredients!)
This post may contain affiliate links. If you purchase a product through one of them, we will receive a commission at no additional cost to you. As Amazon Associates, we earn from qualifying purchases.
---
Are you looking for meals when you have no kitchen? You've come to the right place.
Here at our two family house, we know how difficult it can be to cook during a kitchen renovation.
From setting up a makeshift kitchen to plowing through a stack of freezer meals in a week, we are here to say… we've been there. The project takes longer than expected, the materials are on back order, and your family just wants to eat a proper meal that isn't takeout.
Fear not!
Now is the time to invest in a great slow cooker and use it, often.
I've consulted the food blogosphere to bring you these wonderful, complete meals to make in your crockpot – all with less than 6 ingredients required.
How's that for simple eats, to get you through demo day, cabinet day, or any other day in your renovation?
Without further ado, here are 7 crock pot meals for when you have no kitchen.
---
Just the title here has my taste buds dancing. Slow Cooker Cider Pulled Pork?! This is a thing?
You bet! Much thanks to Budget Friendly Family for educating me on the flavor potential of a simple pulled pork recipe.
Meals when you have no kitchen are super easy with recipes like this, requiring only 3 ingredients plus a roll to eat it on.
---
You know what I like about this recipe?
Not only the comfort food angle, since meals when you have no kitchen must always provide comfort, but also the "white wine may be substituted for broth" tip. Jennifer at Plowing Through Life is speaking my language!
Seriously though, this Chicken & Stuffing Casserole will stick-to-your-ribs for a satisfying dinner with just 6 ingredients. Gotta love it.
---
There is no occasion for which tacos are inappropriate.
In fact, we've attended not one, but two taco-featured weddings, and they remain among my favorite of all time. I really mean it when I say that tacos are appropriate for all occasions!
If you're without a kitchen, all the more reason to stare down a taco and say, "Get in mah belly!"
Kate at I Heart Eating has simplified taco prep into three – yes, only THREE – ingredients. Toss 'em in your crock pot, grab your fixin's, and these Easy Crock Pot Chicken Tacos are ready.
---
---
Beef, it's what's for dinner. (Sorry, vegans, I'm currently realizing this post is altogether definitely not for you).
When your kitchen is in shreds, and you're craving something comforting for dinner, why not try this Slow Cooker Barbecue Beef recipe? You don't have to go through the trouble of firing up the grill, the oven… just throw it all in the crock, grab some rolls and a salad, and you've got a complete meal.
Kate at I Heart Eating strikes again! Thanks, Kate for this easy recipe!
---
Renovating in the fall? Let your project overflow with the comforting scents of maple and balsamic with this delicious Maple Balsamic Slow Cooker Chicken from Fit as a Mama Bear. Bonus points for healthy eating even when your kitchen is under siege.
This recipe does call for serving over rice – we highly recommend stocking up on these Ready Rice packets for easy prep during your kitchen remodel.
---
---
Did you know? You can have homemade Mac 'n cheese, even when you have no kitchen.
Jenny from Mommy Evolution has the details on how to do this without crazy around of prep – just toss it all in the slow cooker, and delight in your comfort food five hours later.
It's a perfect choice for those night when you wonder "why, just why, did I think a kitchen remodel was a good idea?"
---
Alright folks, I've never had crack chicken but I'm pretty sure there's not actual, you know, crack in it…
Nettie at Moore Or Less Cooking promises that it's the combination of cheddar, ranch seasoning, and bacon that makes this called "crack chicken."
However you slice it, this Slow Cooker Ranch Crack Chicken sure sounds addicting!
Note: I recommend investing in pre-cooked bacon to sufficiently challenge your arteries without needing a stovetop for this recipe. Meals when you have no kitchen often require adapting, even with bacon!
---
Conclusion
Well, folks, there you have it – 7 complete meals when you have no kitchen.
These delicious slow cooker recipes are the way to go for comfort food amid a kitchen renovation!
Need more food ideas? Check out our other posts on what to cook without a kitchen:
---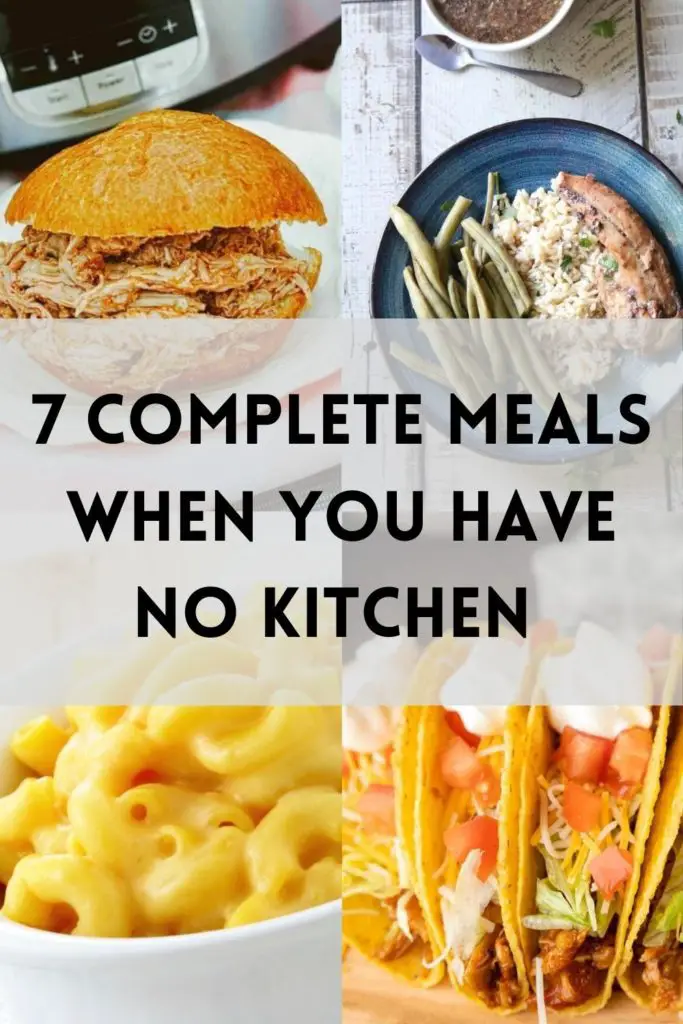 ---