how to take care of your hands during a renovation: a hand model's top 4 secrets
This post may contain affiliate links. If you purchase a product through one of them, we will receive a commission at no additional cost to you. As Amazon Associates, we earn from qualifying purchases.
---
Today I present you, how to take care of your hands during a renovation: a hand model's top 4 secrets.  
I have learned a few things about keeping my paws presentable during my tenure in this specific field in the entertainment business, and will share those tips with you today. (Yes, including my 5 favorite lotions, too!).
Truly, though… I'm a hand model. 
For real.
Yes, I do adore that hilarious Seinfeld episode. 
No, I do not walk around Manhattan wearing oven mitts. 
In light of my profession, it comes as a surprise to folks that I actually participate in the remodeling efforts at Our Two Family house.  I jump in on demo day, run the circular saw, and cut sheetrock. 
How am I confident enough to do heavy, dirty work on the weekends with big jobs on the line come Monday?  I'll tell you. 
These are my secrets to keeping my hands nice no matter the project. 
Let's do it!
---
Keep your nails short
As the old adage goes, an ounce of prevention is worth a pound of cure, and that definitely applies when you want to take care of your hands.
I know this isn't possible for all hand models (or all humans, for that matter), but for me, it works: keep your nails short.  The shorter the nails, the less likely they break. 
My specialty in hand modeling is food commercials (not that I don't do "beauty", it's just that I'm more often cast commercially). 
It's rare that my nail beds are used to show off a new polish color or design—I'm more regularly found playing with food or chopping something for camera.  Hence, my nails are usually short to medium in length.
When you're working on a home renovation project or DIY, if at all, possible, keep your nails short. 
Even if I'm not working on a house project, I keep mine short just to make life easier, and if a client needs them to grow out, so be it.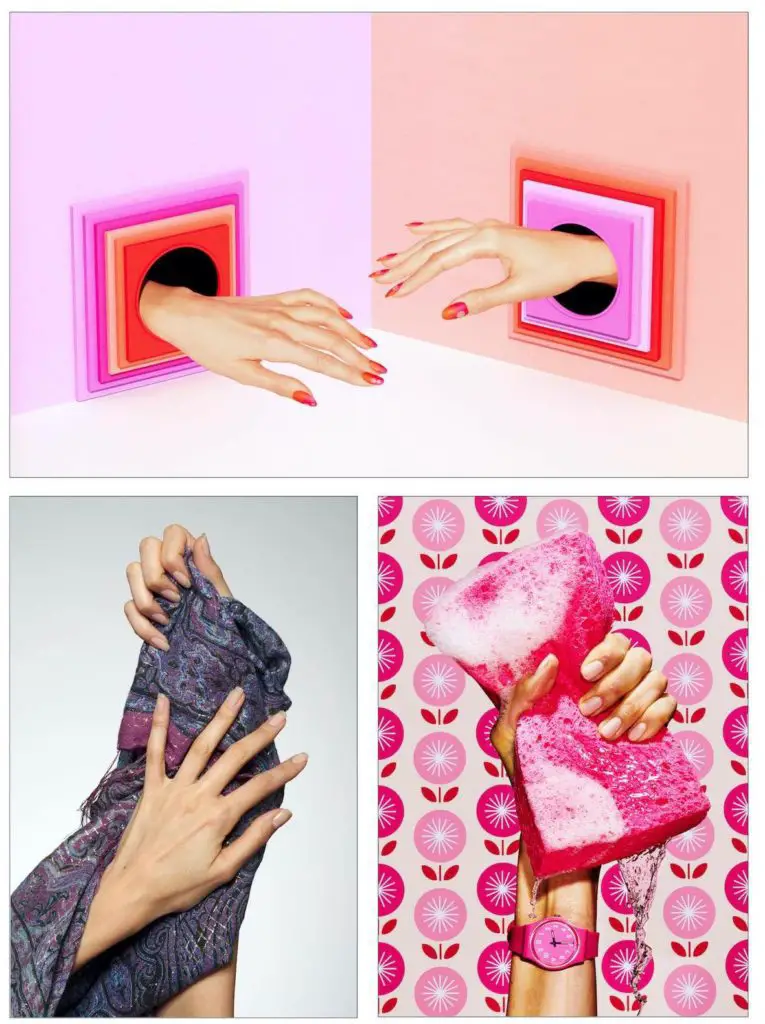 ---
Lotion. 
If you want to take care of your hands, you need lotion.  Working with things involving dust, chemicals, sandpaper, etc., your skin will dry out faster.  You will find yourself reaching for lotion more often during a house project! 
Now's the part where a professional hand model is going to tell you her favorite lotions of all time to heal those chapped digits. 
Affordable go-to
This simple lotion is my favorite pharmacy pick-up. 
I like that it's non-scented – perfect for when I'm at a shoot – and doesn't leave a shiny residue on my hands. 
This can be an issue when I'm working – shiny hands are a no-go in commercials. 
For your purse
"A" lotion is better than no lotion at all.  Why not toss a couple of hotel-sized lotion bottles in your handbag?  (Perhaps I am publicly declaring here that yes, I do swipe all of the hotel mini toiletries. Guilty!)
Or, if you happen to create a baby registry just about anywhere, you likely received a complimentary registry box full of tiny lotion bottles on behalf of the store. 
Those little mini samples are an easy way to always have lotion on hand.  Pun absolutely intended.   
Budget blowout
A makeup artist used this incredible lotion on my hands at a very, very big shoot for a rather well-known tech company. 
I was utterly hooked.  It has a light scent (nothing crazy), and leaves your hands softer than you can possibly imagine. 
It's not my everyday lotion, as mama likes to keep her finances in check, but I do keep this lotion handy for special occasions and certain workdays. 
Serious remedy
It sounds weird, but if it works for chapped udders, it works for chapped hands.
I always keep a small tin of this amazing ointment handy, especially during a renovation or in the wintertime.
Forewarning: this balm is thick! I usually apply it at night. I have heard of sleeping with gloves on over it, but I have never tried doing so.
Icing on the Cake
If you're super particular about your paws, I'm guessing you use cuticle oil, right?
Have you ever heard of a cuticle pen?
I love this cuticle pen because the oil doesn't get everywhere, it fits easily into any purse, and it smells nice, too!
No muss, no fuss, cute cuties. Done.
---
---
Work safely
Yes, I work with power tools.  Ok, I'm probably a little crazy.  Not quite as crazy as some of my hand modeling friends, one of whom is a full-out woodworker and owner of the fabulous SD Squared.
But… for a female hand model, I pride myself as being at least a little adventurous.
I guess I'm comfortable around many tools because their existence in my life preceded my deep dive into hand modeling.  Having grown up with them, I've learned how to use tools safely. 
Once you get into serious construction like a gut-renovation, the opportunity for injury is waiting.
It will behoove you to take your tools seriously. My dad always warns, "remember, if it can cut wood, it can cut you."
How to manage the safety risks?
Remember playing little league, and keeping your eye on the ball? 
Well, keep your eyes on what you're doing, especially if there's a blade involved.  Know where your hands are.  Learn from and observe someone experienced on how to do things safely. 
I do have one hard-and-fast rule as a hand model, and that is: I don't use the table saw.  Let's just be reasonable here.  The table saw has a blade spinning right up into plain air.  Push stick or no push stick, I don't use it anymore.  I've run it in the past, and I don't like it – my temperament is just a little too distractible to use it safely.  So, I just don't. 
And, as my dad says… don't be the guy who needs two hands to order five beers.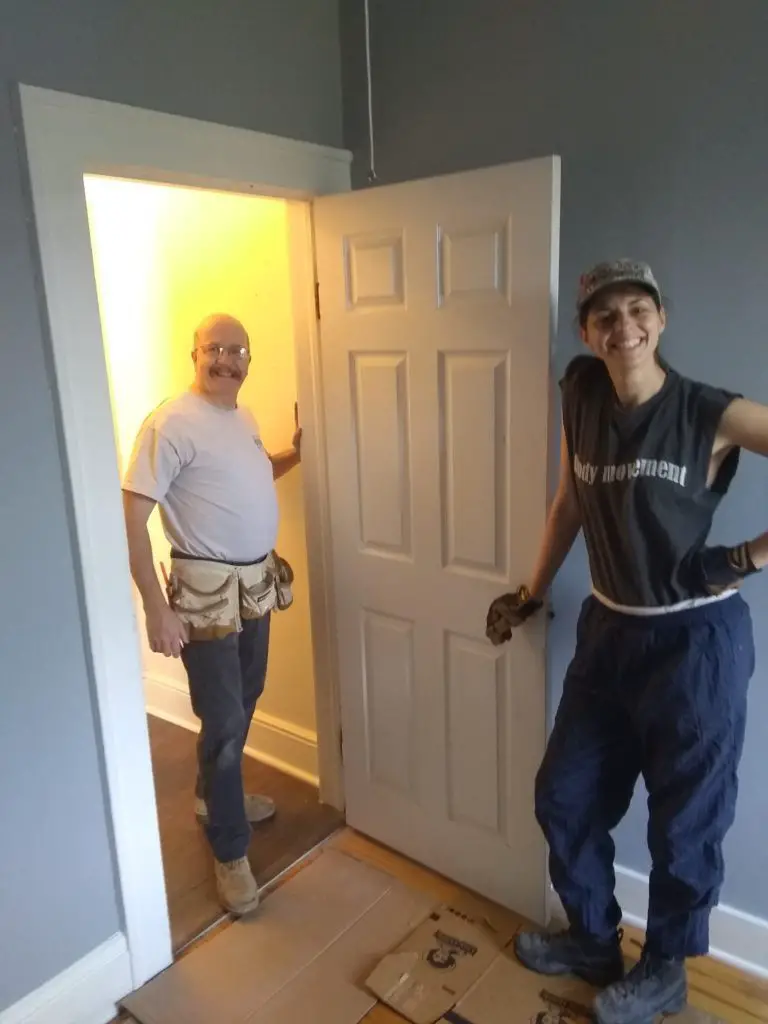 ---
Gloves! All the gloves!! 
Don't touch anything without gloves! 
Not kidding here people. If you want to take care of your hands, stock your cabinets with gloves.  Dish gloves, workout gloves, painting gloves, cleaning gloves, tiling gloves, working gloves, demo gloves, winter gloves… go. to. town. on. the gloves! 
Here are my favorites.
Workout gloves
I like this pair because they cover my fingertips! 
Many workout gloves have open fingers, which is cool, but I prefer to keep my manicure covered when I'm working out. 
These have a Velcro strap around the wrist as well as a patch on the palm to wipe your brow. 
They are machine washable, too = win!
Demo day gloves
We destroyed three plaster rooms in our house, and I'm pleased to report that these leather gloves are still in excellent condition – no holes or significant wear.  Pretty awesome, right? 
I love that they move with your knuckles in your fingers and have an adjustable Velcro wrist to keep dust from falling into the gloves.
General work gloves
When taking care of your hands during a home renovation, it's good to have a stack of basic work gloves.
They're handy even for the most mundane things like painting or installing insulation.
Yes, I do even wear gloves when painting.  Why?  It's just easier! 
Scraping bits of latex paint from your fingers can leave them scratched and dry.  Not to mention, you can acquire a splinter or small cut on your hand quite easily, even when doing something so simple. 
Tiling gloves
Ok, kids, the chemicals from grout and tile adhesives are some serious business, and the last thing you want to do is have to revive the skin on your hands from a day of wet-saw glory. 
A hefty pair of latex gloves is essential, whether you're tiling a shower or a simple backsplash. 
We didn't spend much on these since we don't have that much tile in our house – but you do you to protect those hands!
Dish gloves
This is the easiest thing a person can do to keep their hands nice: use dish gloves! 
Seriously!  If you do nothing else to protect your hands, use dish gloves.
Hot water and dish soap can really tear up your skin, and you might not realize how long you're soaking your hands in that mess until it's too late. 
Even if you've ripped out your kitchen and set up a temporary kitchenette, you'll still have a dish to wash at some point. 
Admittedly, I haven't found a particular dish glove that lasts forever (maybe I'm just an aggressive dishwasher?) but I usually just stock up on a pile and get scrubbing!
And finally…
---
Conclusion
That just about sums up this pro hand model's approach to taking care of your hands during a home renovation. 
Keep your nails short, use lotion, work safely, and wear gloves! 
Follow this advice and you'll be well on your way to happy hands no matter the day's project. 
---
You may also like:
---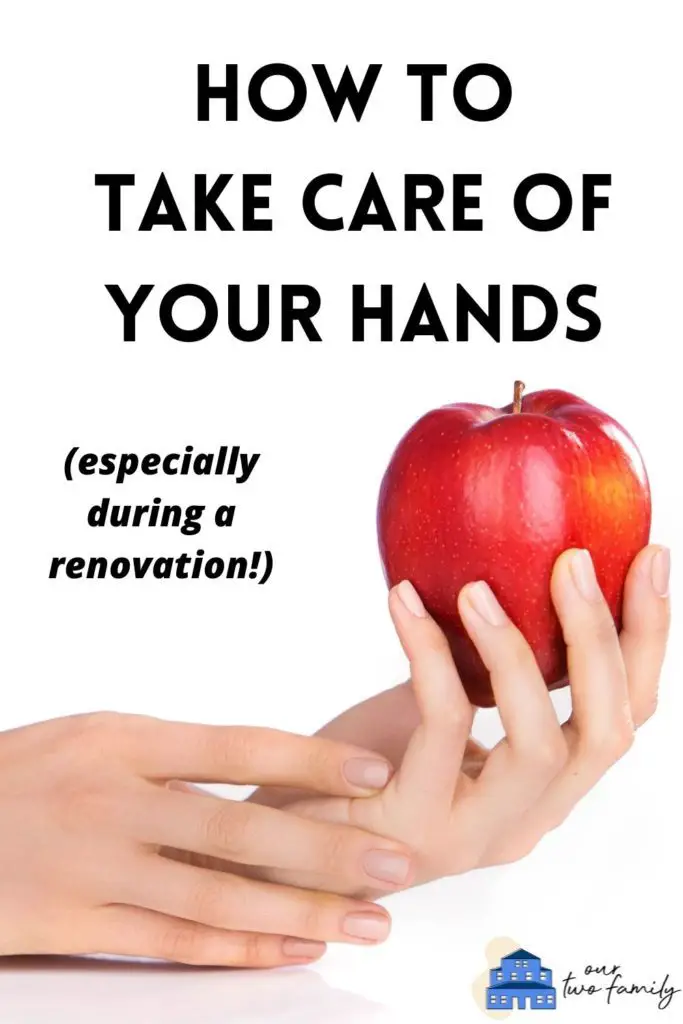 ---