the ultimate home renovation survival guide
This post may contain affiliate links. If you purchase a product through one of them, we will receive a commission at no additional cost to you. As Amazon Associates, we earn from qualifying purchases.
This post is a home renovation survival guide.
---
Welcome! I take it you're ready to tear your house apart?
Excellent.  You've come to the right place.  (Insert evil laugh here.)
Derek and I (with lots of help!) together have renovated 2 kitchens, 3 bathrooms, and 5 bedrooms in our house.  All totaled, we feel we can speak on this topic quite candidly, and intimately know the challenges you might be facing. 
Before you bust a move, we have some advice on how to survive the mess you're about to create!
Behold, our best advice for surviving the mess you're about to make! 
Included, too, is room-specific advice, for your sake, unless you're a level-ten crazy, like Britney Spears ca. 2008, like OJ and that white Bronco, like… we are, and decide to rip out your bathroom, kitchen, and master bed all at once. 
Without further ado…
The ultimate home renovation survival guide.
---
Plan, plan, plan – home renovation survival guide
The best thing you can do is to plan!  Plan everything.  Make a goal end date and work backwards from there. 
Want to finish your kitchen in time for Thanksgiving, to avoid renovating during the holidays? 
Good, make an end date for some time in October (leaving yourself a buffer), and plan how long you think it will take for your chosen renovation scope. 
Remember: the more you remove, the longer your project will take. 
Regardless of how intricate or simple your plan is, just… plan it. 
This gives you the time and head space necessary to order materials, get your crews and subcontractors in order, and give yourself time for permits, inspections, etc. 
We've got room-specific printable planners available for you on our Etsy Shop!
I cannot emphasize the importance of planning enough.  With a good plan, you'll be thriving, not just surviving.
Need help planning? Check out How Do I Plan a Home Renovation?.
Not sure where to start? Here's How to Prioritize Home Projects.
---
Budget
You know, this topic isn't fun, but it's necessary.  It's part of Personal Finance 101: set yourself a realistic budget. 
We personally do not take out loans for our renovations (except for our FHA 203k Loan), and recommend you do the same. 
Save up for it if you need to.  Paying a huge interest rate for years on your French Country Kitchen isn't worth it for your long-term financial health! 
Better to hash this out ahead of time than be sitting on a pile of sheetrock, realizing you need $20k more. 
Check out our posts on budget renovating:
---
Be realistic
Be honest with yourself.  If you think you work fast, that's great! You probably do. 
But in our experience – particularly in our house, which was built before the Titanic sunk – you might encounter unforeseen hiccups. 
Entire walls filled with brick, rodent infestation, unknown plumbing issues… the list could go on and on. 
Or maybe you'll find vintage soda signs and winning lottery tickets, like we did in the Things Found During Home renovations – the weird stuff within our walls!
If you've bought a foreclosure home or a fixer upper – know that you will likely be correcting bad work as you go. 
Think about it – if the previous owner couldn't afford to pay their mortgage, then they probably cut corners. 
Don't be like them.  Budget yourself ample time to correct their mistakes. 
---
Get your tools in order
It's tough to renovate without any tools. Here are some shopping lists to get you started:
---
Get people to help you
If you learn anything from this home renovation survival guide, please know that it takes a village.
If you have anyone – and I mean anyone – in your life who knows about houses, ask for their help.
Yes, just ask them! Don't be shy! I mean, offer to feed them or pay them or help on their next project – beg or barter, but please, GET THE HELP.
Feeling doubtful that folks will help? I beg to differ.
We found that there are good people in this world who think it's fun to work on houses.
It's true!
When we replaced our entire staircase, my dad called in a few friends who thought it would be really fun to install a 14-step staircase in our house. I couldn't believe it.
There they were, a bunch of middle aged fellas, giddy as kids at a theme park to be covered in dust, working together on an unmercifully heavy staircase.
Make the ask. Get help.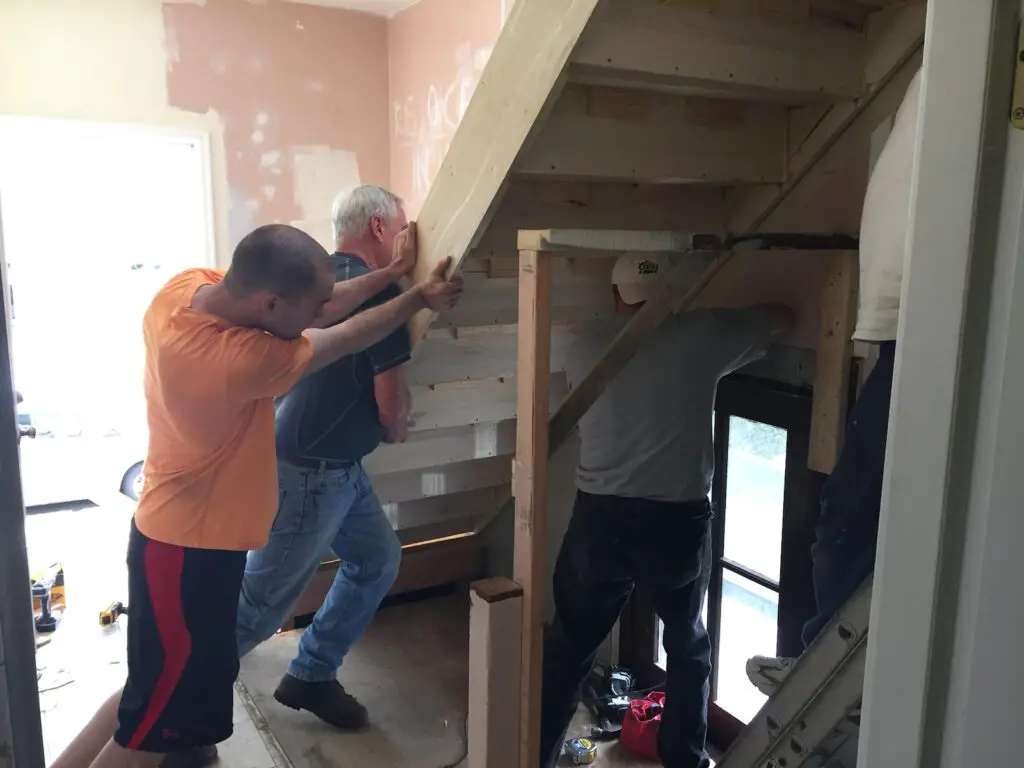 ---
Hire a contractor
AKA point and pay!  Keeping up with a renovation is very time consuming. 
If you're working full time or even part time, take a realistic inventory of your physical & emotional energy stores, and hire out some stuff if you can swing it financially. 
Here are all the reasons why to hire a contractor. 
You know your skills and limits the best.  You'll know when it's time to raise a white flag and hire a contractor. 
---
Take a break
I do understand the "no pain, no gain" mentality.
However, modern thought has discerned that workers work better when they take a break.
You are likely no different. Whether it's just you, or you + crew, be sure to take breaks to hydrate – and of course, if you're working through a morning, craft yourself a sweet coffee break!
Also, don't underestimate the power of leaving your reno site.
Quick story: we happened to be invited to 4 weddings over the course of our 2019-2020 open concept galley kitchen renovation.  We went to every single wedding.  Three out of four were out of town, taking a full weekend each.  We knew it would slow down our project, but we didn't mind.  Here's why: 
The mental, physical, and visual break from our reno was rejuvenating. 
It's always nice to celebrate and witness a wedding. 
We got fed while we didn't have a kitchen at home! 
(Okay, #3 is shallow, but c'mon, a Jersey wedding when you've been eating freezer meals for 6 months is a serious treat!!). 
My point here is that while yes, it's important to finish your project and hustle and get 'r done, it's also important to maintain your sanity and be regular people doing regular things outside of your house. Remember, this is a home renovation survival guide. Emphasis on "survival."
Need more emotional support? Take a look at:
How to triumph over depression during a house renovation
Overwhelmed by a house renovation? Find help here.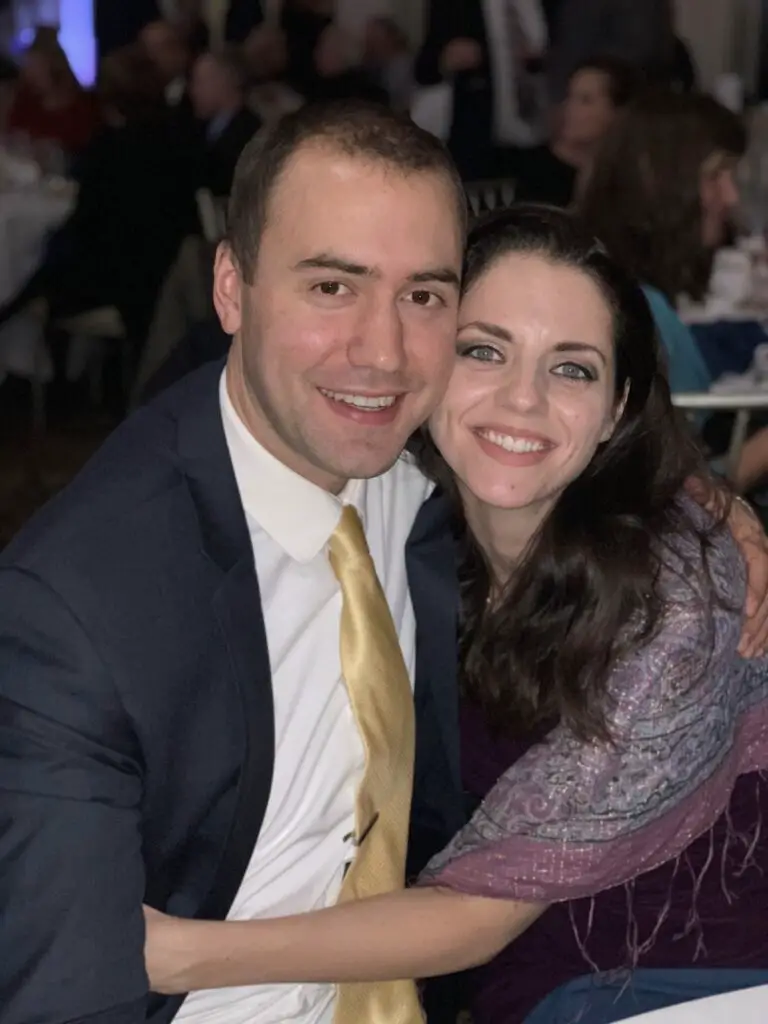 ---
Kitchen Renovation – home renovation survival guide
Alright, let's get room specific. 
This home renovation survival guide gets "advanced" when you descend upon the almighty kitchen.
First, download our FREE, 100+ page e-book: Kitchen Renovation Survival Guide. This details every single piece of kitchen remodeling advice we can muster.
Next, check out our plethora of kitchen renovation posts.
Kitchen Renovation Tips
Meals When You Have No Kitchen
Make a renovation recipe cheat sheet – a go-to list of what to cook during a kitchen renovation. Or check out these posts: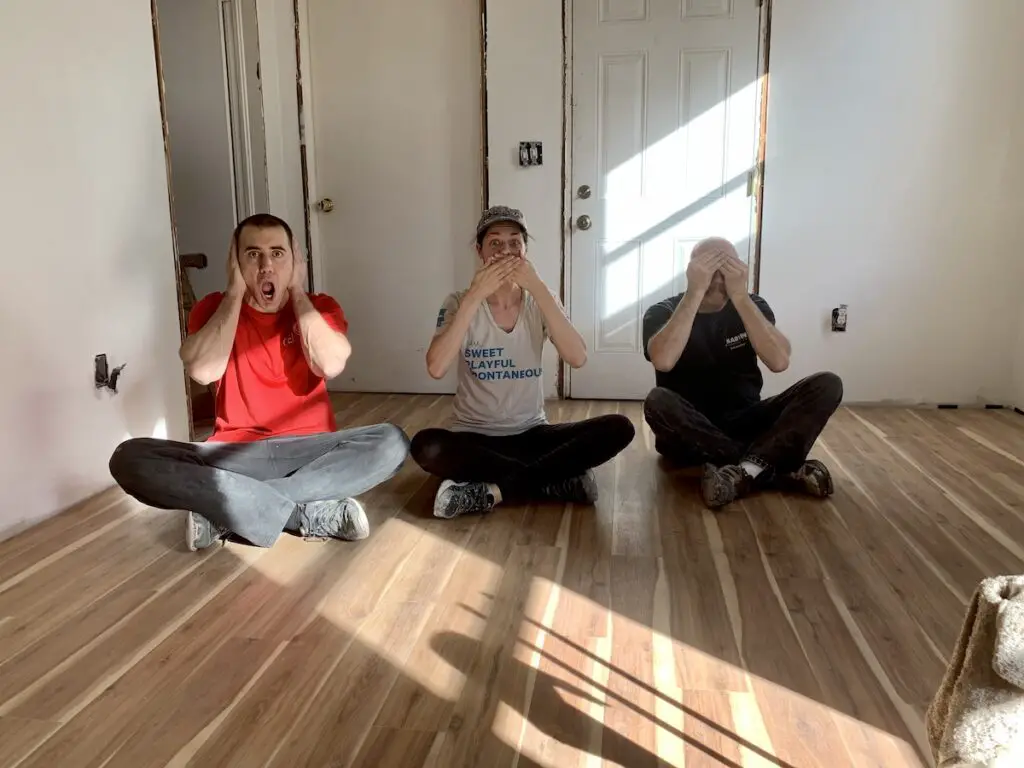 ---
---
Bathroom Remodel – home renovation survival guide
Second only to the kitchen, a bathroom remodel is a tough one.  This is particularly difficult if you only have one bathroom in your house to begin with. 
Even if you have an extra half bath, the no-shower situation can be daunting. 
For a detailed look, here's How to Plan a Bathroom Renovation.
Have another bathroom
The easiest solution to ripping out your bathroom is to have another bathroom.  We specifically renovated our 2nd bathroom (i.e. turning our basement bath into a dream) before renovating our 1st floor bath.  We knew that our 1st floor reno would take a while and didn't want to be stuck without a john for months on end. 
If you only have one bathroom plan very carefully.  If you get your plumbing done quickly, you can do it! 
Get creative – temporary shower curtains over studs and reallllllly quick showers can get you through a few days.  Just… get the toilet done, and fast. 
Where you gonna shower?
Here's the thing about DIY.  You're the one who's gonna get dirty.  You're going to need a place to clean yourself up at the end of the day, whether it's convenient or not. 
There are ways to solve this challenge.  One example – my big brother ripped out his house's only shower, and for a week, he and his wife maximized their YMCA membership by showering there.  As for his two young kiddies at the time, I believe he just sponged them down and hoped for the best. 
Perhaps you have a pool outside with an outdoor shower.  Set up a sprinkler and add some soap for the kids if it's summer – they'll probably think it's super fun! 
Or… maybe just talk to your neighbors and see if you can borrow their shower for a day or two.
For heaven's sake give yourself a toilet and a sink
In other words, prioritize the essential plumbing. 
If you haven't ripped out your kitchen simultaneously, then you can use the kitchen sink to wash your hands, brush your teeth, or shave.  Then, get your toilet done ASAP. 
If not, I mean… there's always the great outdoors?  Or rent a classy port-a-john to put on your front yard.
Hand sanit!!
If you're reading this, you've probably survived the year 2020, never mind surviving your home renovation.  You know the deal: buy a gallon of hand sanit.  
And use it. 
Often. 
---
Living space / Bedroom
Ok, now we are getting into the "easier" rooms.  Living spaces and bedroom are inconvenient, but they're a bit more "doable" than rooms that involve plumbing. 
Our best advice:
Have a place to sleep that's comfy – you're gonna need it
Even if it's the futon in the rec room… give yourself an oasis to plop down into at night. 
DIY can involve some hard work.  You may discover muscles in your body that you never knew existed. Your hands will feel dry and need some TLC.   You're likely going to feel exhausted.
Have a room that's oasis land, even if it's multipurpose
Particularly if your living room is ripped to shreds, you'll want a room to chill out in on the days and evenings that you're not working. 
Especially if you have kids – they'll need a place to go away from the mess! 
If you have a guest room or spare basement space (here's our basement renovation on a budget), these are ideal for some hang-out space.
Pare down and move out as much "stuff" as possible!
As I mentioned earlier… it's really tough to work on a room that's got furniture and boxes in it. 
First of all, do yourself a favor and declutter (like our decluttering spree before baby!)
Then, move out (without losing your sanity)!  Pack it up like you're about to load the u-haul. 
You'll thank yourself when you're not tripping over boxes when trying to paint.
Fringe benefit: your nice stuff will remain exactly that… nice.  And not covered in construction dust.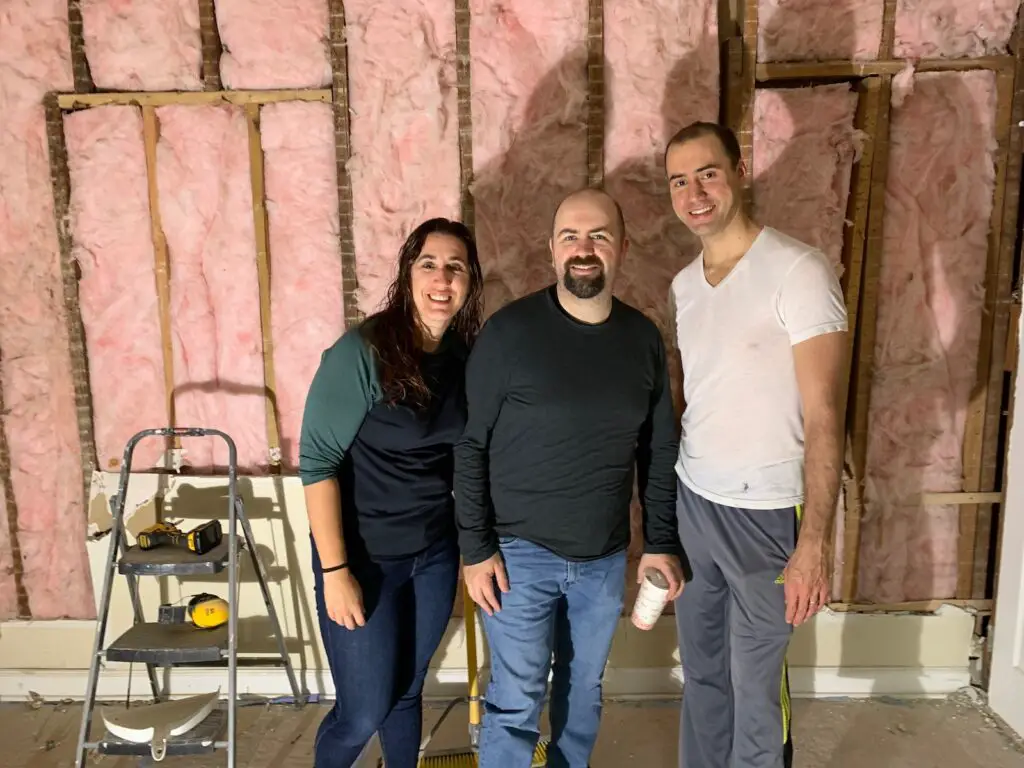 ---
When all else fails…
Empty the house, and make a big push.
You and I have both watched our share of HGTV, right?  It looks so fun! 
However, I must remind myself that 99.9% of the time, the crews we see on TV are working on empty houses. 
What a luxury!  Here in the shadow of Manhattan's skyline, we should be so lucky to have such vast working space. 
I imagine it's possible that you, too, are working on a house that's uh… occupied.  And if you're a DIYer, I imagine that you're planning to work on your humble abode while you and your family are still living in it. 
It's easier to reno without well-meaning-but-unhelpful-people underfoot.  When all else fails, send the kids with grandma to a local museum or waterpark, beach day, the theatre, play date at the neighbors', summer camp for a week, whatever you can make happen. 
Working on an empty house requires meticulous advance planning to have your materials and crew ready to go on the date you want most.  But, even if it's only for a day to work in peace, your project will get a huge jump forward for every day that your efforts have a laser focus!    
---
Final thoughts on home renovation survival guide
Alright, fellow homeowners, that's all I've got. 
From meticulous planning to budget, expectations to tools and contractors, whether you're remodeling a kitchen or a bathroom or a bedroom or all three – consider yourself equipped to go forth and conquer.
Don't forget to subscribe for our latest updates!
---
You may also like:
---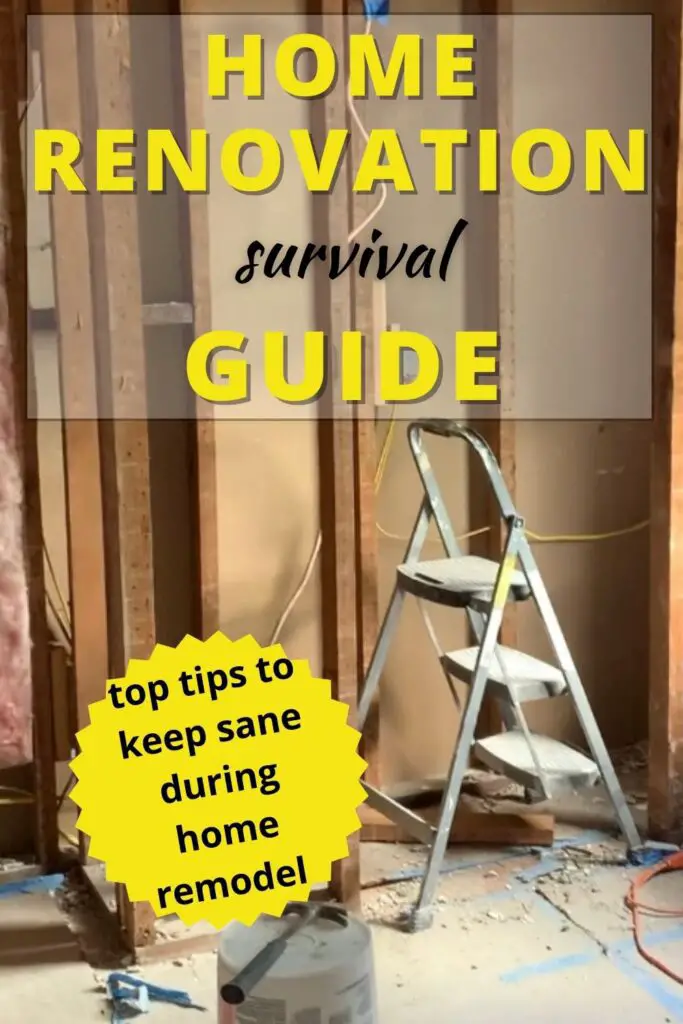 ---