easy toaster oven meals to survive your kitchen remodel
This post may contain affiliate links. If you purchase a product through one of them, we will receive a commission at no additional cost to you. As Amazon Associates, we earn from qualifying purchases.
This post is all about toaster oven meals.
---
Renovating your kitchen?  
Wondering how you'll eat?  
We've been there.  
We're also happy to report that our small appliance army saved our stomachs from starvation.  Among its strong warriors included the crock pot, the rice cooker, and the mighty toaster oven.  
Now, logic would tell us that anything you can make in a regular oven, you can make in a toaster oven.  This is true – but not everything from regular to toaster oven is interchangeable.  
You're going to need to plan.  Let's explore some toaster oven meals!
---
Supplies
First of all, you need a toaster oven.
We used one similar to this model:
Enter: the toss-able 10×10 tins.
---
Listen I'm all for eco-friendly home renovations, but sometimes you just don't have the time for cleaning one. More. Dish.  Especially if that dish is the one, singular sensation in which you cook every single meal.
Enter: the toss-able 10×10 tins.
BE SURE THE TINS YOU BUY WILL FIT IN YOUR TOASTER OVEN.
Ask me how I know.  
Freezer meals for renovations are great and all, but they won't do you any good if they can't fit in the toaster oven.
---
Should you go the route of the reusable pan (and you're a better tree hugger than I if you do), here's a good idea for your toaster oven:
---
Toaster Oven Meals – Tips
Here are some things to consider about toaster oven meals.
Your toaster oven might run hotter or cooler than standard oven
It's super small – so you need super smaller pans to accommodate (reiterating for myself, here).  
If your kitchen is under siege (i.e. renovation), you probably don't have a stovetop on which to prep certain things.  Like browning meat, for example.  Choose your recipes wisely.  
Safety First! Toaster Oven Love has a great post about what can and cannot enter your toaster oven.  
That slick mini-pyrex?  Don't chance it!  Read their post to understand all the ins and outs of toaster oven contents safety.  
If in doubt – follow the instruction on your toaster oven's manual.  
---
---
Toaster Oven Recipes – Breakfast
It's the most important meal of the day! Especially if you're DIYing your kitchen. Get fortified with these toaster oven meal ideas for breakfast.
Baked eggs
Follow an eggs-in-ramekin process here.  
You will need:
Steps:
Preheat toaster oven to about 375.
Spread oil or butter on your pan.  Be generous.
Crack eggs into pan.
Cook until they're done.  Our toaster oven took about 15-18 minutes for this.  Keep an eye on yours!
Et voila, a healthy toaster oven breakfast.  Pair with fruit and toast and it's a meal.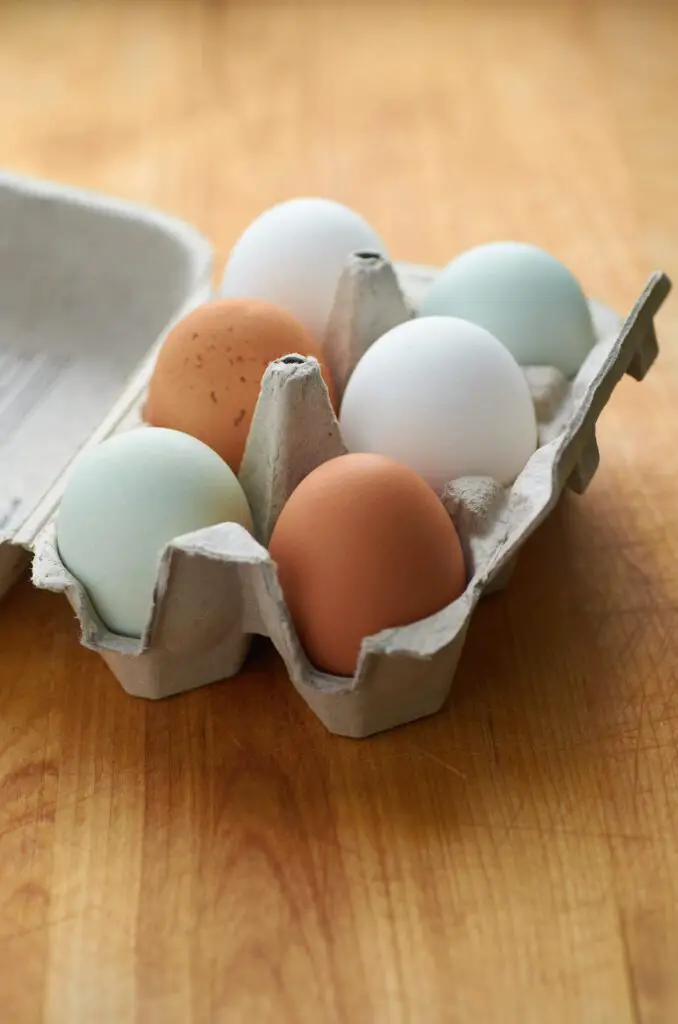 ---
Baked Eggs in avocado
Follow all directions above, except you need an avocado.
Slice the avo in half, remove the pit, and crack the egg into the empty hole where the pit was.  
Put in the oven, proceed as above – note that it might take a little longer to cook.  
This might get messy.  Things that will help: 
Cut the bottom of the avocado to make it sit level in the dish
Scoop some avo flesh out to accommodate more egg.
Bon Appetit!
---
Baked Oatmeal
Shouting out to Toaster Oven Love once again – check out their recipe for Baked Oatmeal, no eggs required.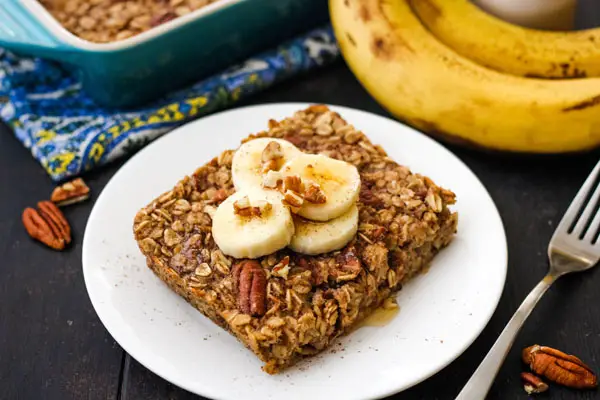 ---
Toaster Oven Meals – Ingredient Prep
One tactic that worked well for us during our kitchen renovation was to cook one piece of the dinner in the toaster oven.  
Then, we'd get the rest of the ingredients either pre-made (like a bag of frozen veggies) or from the freezer (like the stash of taco meat we had prepped ahead of time).  
This was especially advantageous to help us avoid tripping a breaker.  Toaster ovens, toasters, microwaves, and coffee makers are not happy playmates on the same circuit.  Using one at a time makes for a lengthy food prep process if you aren't careful.  
Here are some of the ingredients we'd prep in the toaster oven.
Rice
If I wasn't feeling my rice cooker recipes, I would make my rice in the toaster oven.  Call it a pilaf if you'd like.  Or maybe you're into grain bowls with a smattering of toppings.  
Ingredients:
Steps:
Preheat toaster oven 
Measure 1 part rice to 1.75 parts liquid like water, chicken broth, or a combo
Grease pan with an oil sprayer
Add ingredients and cover with foil
Bake 20-25ish minutes or until water is absorbed
Let stand 5 minutes and fluff it up!
---
---
Ground beef
Tacos, here you come! Or you can top with sauce and call it sloppy joes on a roll.
Cooking ground beef in your toaster oven is simple.  Best of all, it cooks quicker than whole meat would since it's minced up.  
You'll need:
Steps:
Preheat toaster oven to 400
Put ground beef in pan
Top with spices
Cook for 15-20 minutes or whatever is appropriate for your toaster oven.
FYI, this will come out a bit greasier than if you cooked your meat on a stove top.  Don't worry, your arteries will forgive you once your kitchen is put back together.  
---
Baked chicken
Just take your ordinary chicken recipes and convert them to toaster oven.
I recommend doing this after you've become acquainted with your mighty toaster oven, since the temperature could be off.  After a few weeks of working with it, you'll know if it runs hot or cold.  
Honestly you don't need a recipe for this – just follow your go-to baked chicken recipe, use a pan appropriate for your toaster oven, and keep an eye on it.  
Oh, and keep your meat thermometer handy – more than time or oven temp, the meat temperature is what's most important for baked chicken.  Get it up to 165 F, people.  
---
Toaster Oven Recipes – Desserts
If you're renovating your kitchen and you've had enough, maybe it's time for something sweet to lift your spirits!  Or maybe you're renovating during the holidays and your kitchen still isn't finished.
Here are 3 recipes for toaster oven desserts.  
Handheld "pop tarts"
I made this one up on the fly, but it works, and it's fun!
You'll need:
Premade pie crust
Jams, jellies, or other fillings
Pastry cutter or pizza cutter will do
Surface to work on – I used a cutting board
Little bowl of water.
Pan to cook in plus a fork.
Steps:
Roll out your pie crusts.  Cut into equal shapes.  Rectangles will be easiest.
Put a little bit (like a tablespoon!) of filling on half of your rectangles.
Dab your finger in water and run it along the perimeter of the rectangles with filling.
Top each with a non-filled rectangle.
Crimp each closed with a fork.  Stab once to allow airflow so they don't burst.  
Bake at like 400 for around 7-10 minutes.  Keep an eye on them!
---
Brownies
Indulge in the comforting scent of chocolate throughout your makeshift kitchen.  
The toaster oven provides the perfect setting for a brownie-sized pan.  Get yourself a box o' brownie mix, add some mix-ins like chocolate chips, and go for it. 
Shout to my gluten-free friends – Simple Mills is where it's at for boxed mixes!  Try out their brownie mix, you won't regret it.
---
Cupcakes
Perhaps your kitchen remodel is barreling right through someone's birthday. You can totally toss cupcakes in your toaster oven!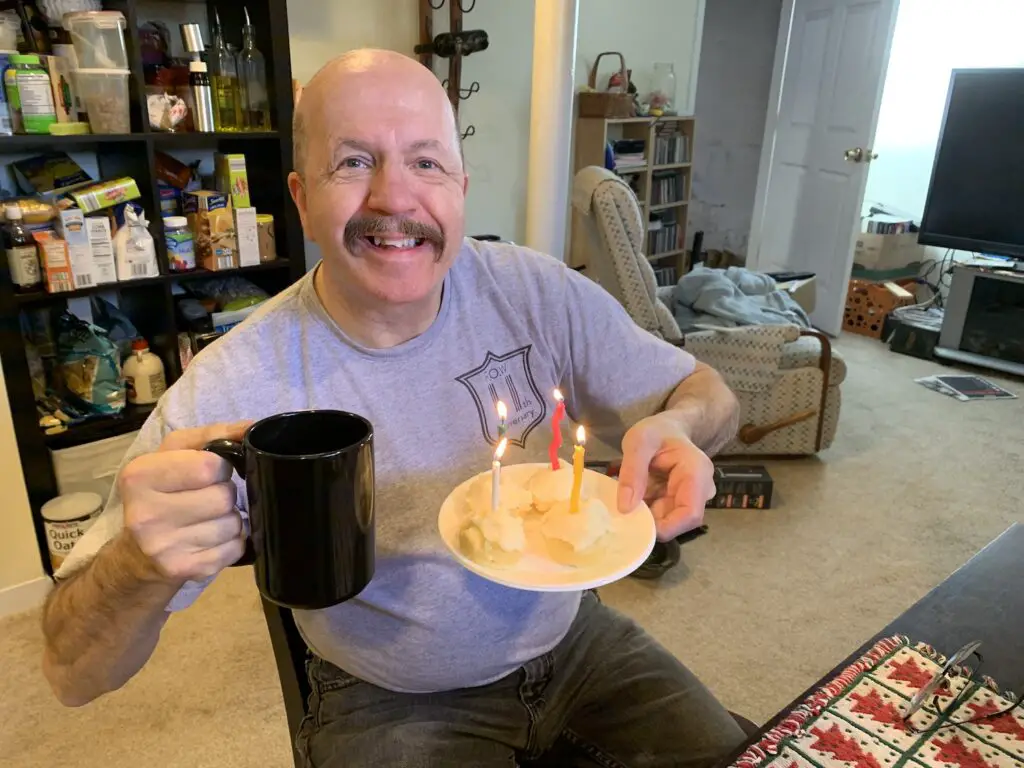 Get a small 6-cupcake tin…
And a cake mix you can make in one bowl…
And go nuts with an easy store bought icing!
Bada-bing, happy birthday!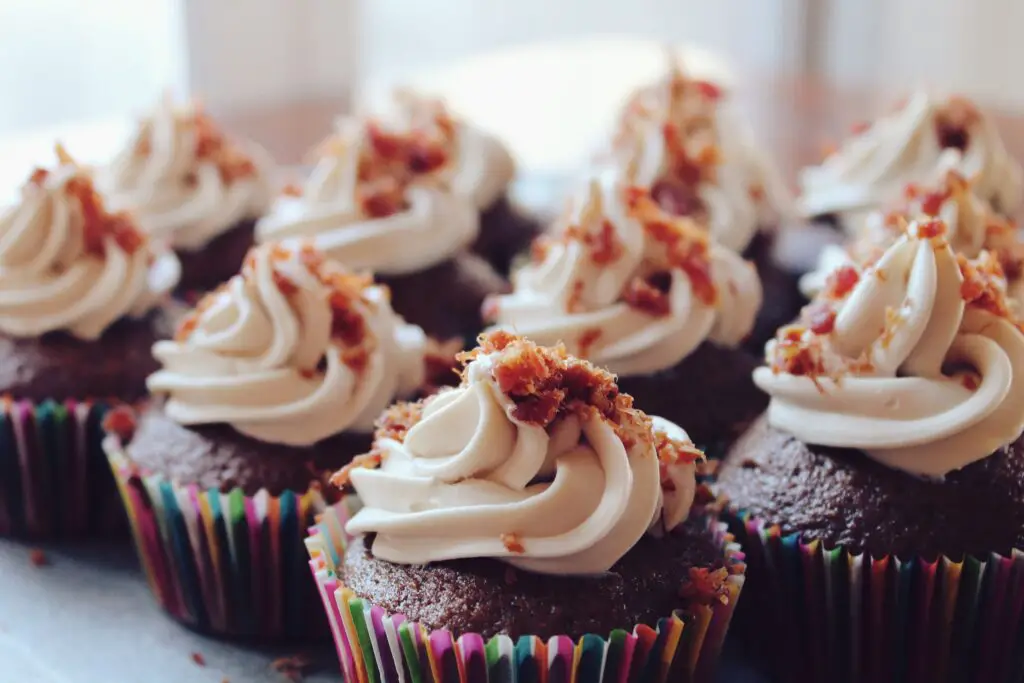 ---
We hope these toaster oven meals provide a springboard for idea-city on your meals during your kitchen renovation.
From simple toaster oven breakfast to basic meals or even desserts, you can make it through, we promise!
---
Related Posts:
7 Complete Meals When You Have No Kitchen
Crock Pot Comfort Foods – 12 Easy Meals
Cheap Temporary Kitchen – How to Set Up Shop When Your Kitchen is in a Dumpster
---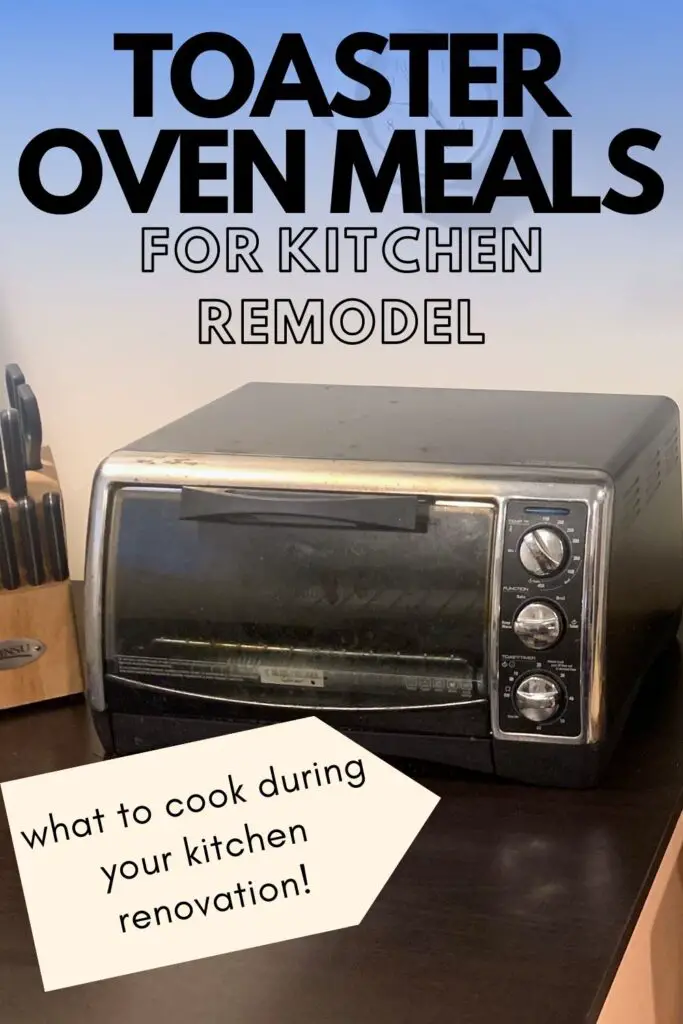 ---