home renovation budget – how to make your un-sexy remodel roadmap
This post may contain affiliate links. If you purchase a product through one of them, we will receive a commission at no additional cost to you. As Amazon Associates, we earn from qualifying purchases.
---
If you're looking for advice on how to create a home renovation budget, you're in the right place.
Amidst all the fun and stress of remodeling, it's easy to skip a looming factor – budget!
There are so many questions to ask when making a home renovation budget. How much should I spend on a renovation? What are actual home remodeling costs in 2022? How much remodeling can be done with $10,000? Or $100,000?
Fear not, fellow renovator. Follow these steps to create your personalized home renovation budget to stay on track!
---
Think about what you want
Day dream!  Before you crunch any numbers, sit down with your beloved or business partner and dream a little bit.  
Fill in the rest of this sentence: "In a perfect world, I want this room to look like…"
"Just tossing out ideas" has become a favorite pastime around our home – even if the ideas are outlandish and impractical.  Like the marble slabs we considered for our first floor bathroom shower – we definitely did not have that kind of money, but it served as a springboard for a conversation into what would really work (textured subway tile, for the record).  
Or, try this tactic: offer yourself different "levels" of remodeling options.  
First, we go all out and ask ourselves, "If budget was no question and I could do anything, let's…" and we'll see what comes out.  This often involves an extension, hydraulics, and a 5-figure budget.  
Then we'll figure out how to simplify to the medium-sized option – maybe not take out that wall – or find a different way to adjust a layout without reframing.  
Finally, we'll brainstorm a minimal approach – "…what can I do in this space with the least amount of work, smallest budget, and lowest cost?"  For example, paint, new furniture, and a light fixture, like we did in our nursery makeover.  
From there, we give and take from each column, and see what is truly appropriate for our finances.
No matter what your remodeling budget, the first step is to dream a little!  You never know what fun ideas you'll come up with.  
---
Research cost of materials
Let me be the first to burst your creativity bubble here in step two.
Since we're creating a home renovation budget here, you'll have to research cost of materials.  
Even if you plan to hire contractors for your project, you'll be wise to have ballpark estimates for your desired materials.  This will help you understand what the contractor is talking about when he or she quotes material costs.    
How do you research the cost of materials?  
Saunter over to Lowes or Home Depot and start typing items into the search bar.  
Let's say you're shopping for countertops.  
Go ahead and click around, noting the material cost per square foot.  It might not seem like a lot to have a $1 or $2 difference in a square footage price – but consider how many square feet your kitchen might need.  This will cause your total budget to swing significantly.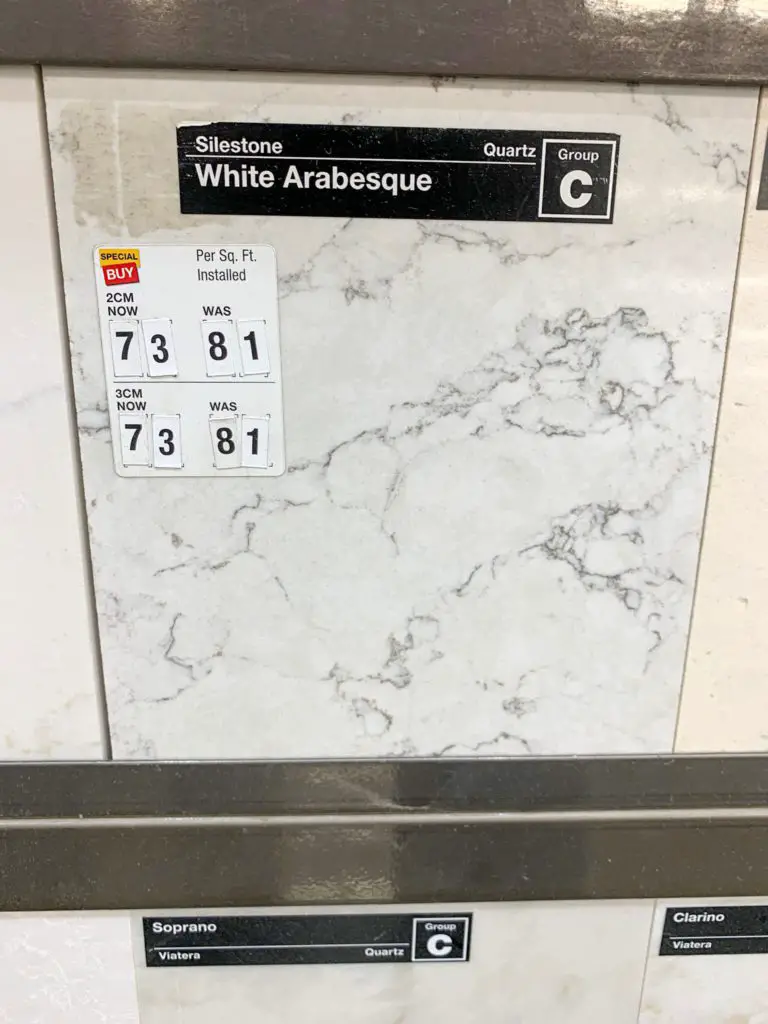 Or, let's say you're working on a bathroom.  Check out the vanities available at Wayfair, for example.  Some are $400.  Some are $1,000.  
Depending on how much you're going to DIY, you'll also want to price out things like:
a dumpster for demo (call your local places!)
construction debris
2x4s and other lumber materials
Sheetrock
Joint compound
Paint
Tools (we always end up purchasing a $200 tool on every project.  Don't ask me how).  
Hardware – screws, nails, brackets, lock sets…
Flooring (another place where square footage makes a difference!)
Appliances
Furniture
Décor (think curtain rods, blinds… why do blinds cost so much, by the way?!)
---
Research cost of contractors
This is a sticky point but it's a huge consideration.  Finding a reliable contractor is clutch for a successful project, and an extremely difficult thing to find.  They're all SO busy, and many struggle to keep up with communication.  
Ask around family, friends, and neighbors for their recommendations.  Don't be afraid to ask what the ballpark cost was on their projects, too!  
Once you have a short list, call up the contractors and ask for quotes.  They'll need to come and look at the project.  Yes, this is a time-consuming interview process. 
We personally interviewed 3 contractors for our second floor 100 year old house renovation.
Out of the 3 that came to estimate the project, only one contractor followed through with a written estimate.  
After a month of people coming over, following up with them, and watching the clock tick tock away, we suffered unparalleled sticker shock at the estimate price and decided to do things ourselves.  Our negative experience getting quotes from general contractors was the catalyst of our taking matters into our own hands.  
There are, however, many times when a seemingly expensive contractor will save you money in the long run. See also: 5 Reasons to Point and Pay on Home Renovation Projects.
Regardless of how much you DIY and how much you hire out, concrete numbers from contractors are imperative to staying on and under your home renovation budget.  
---
Consider your home and its "comps"
When creating a home renovation budget, it's important to consider your home value and surrounding neighborhood.  Let me explain.  
Our neighborhood is a blue collar / working class sort of town.  We're normal people who go to work and enjoy a BBQ on the weekends.  No one here own a yacht or a swanky island in the Pacific (at least… no one I know 😉 ).  
My point is, our town is not the place to install sweeping fountains in the front yard, dumbwaiters in the kitchen, or gold-plated anything.  
It's possible to "over-renovate" your home into becoming the most expensive house in town.  Don't do that.  If you ever want to sell it, you might not see the return on your investment.  Even if you're planning to rent it out – the most expensive rental in town might be harder to fill than if you're a scooch below the most expensive rental in town.    
Financial Samurai discusses this in-depth, particularly exploring renovation costs as a percentage of your entire house value. A good rule of thumb? Don't spend more than 15% of the value of your home on any one room.
Make sense?  Good.  Plan accordingly.  
---
Consider your cash
How much cash do you have saved up?  Or how much cash can you save up before you begin your project?  
Please, please don't leverage debt for your renovation.  It's not worth it.  
Don't trick yourself into mathematical hocus pocus just because you want a farm sink with brass fixtures.  Just save up ahead of time so you can get your home renovation budget set.  
There is also a huge advantage to having cash at the ready – some contractors will even give you a discount for paying in cash.  
Our roofers, for example, offer a 10% discount for Benjamins instead of plastic.  Ten percent off is HUGE when you're replacing a roof!  
For more tips like this, check out How to Save Money on Home Renovations.  
---
Create your detailed home renovation budget
Now that you have your project scope, your quotes from contractors, and chosen materials, you can create your detailed home renovation budget.  
Open up your spreadsheet of choice, make a line item for everything from paint to sheetrock to hardware.
Need an example to get started?
Check out our first floor renovation budget spreadsheet. It has everything that we spent, from kitchen cabinets to contractors, from bathtub to 5/8″ screws. Note that these prices were from 2019 and may not reflect current remodeling costs of today.
---
Add a contingency
We learned this from our FHA 203k Loan.
Once you have your detailed budget created, add at least 10%.  If your house is in as miserable condition as ours was, you might want to increase this number to 15% or even 20%.  
Why tack on this contingency?  A renovation is already expensive enough!
I'll tell you why.  When you rip open the walls, you never know what you'll find.
Like that time we thought we fixed our roof, only to find it was leaking somewhere else.
Or that other time when we gutted our first floor bathroom, only to discover it had been leaking down to our basement bathroom for…. years.  (Yes, we ended up having to replace half of the new basement bathroom ceiling).  
Or you know, the squirrel's nest in the roof.  Or the gutter that was clogged and disintegrating.  
You get my drift.  
It's better to have 10% leftover in your budget at the end of the project than to be scrambling with a half-finished kitchen and no cash left.  
---
Trim as needed
Is the money looking too tight for comfort?  You might have to give up a few things.
Go back to step 1 and see what design elements you can sacrifice to keep on budget.  
Would using a different kind of backsplash save you a thousand bucks?  Or maybe you need to compromise on a light fixture – for now – to cut $400 on the electric upgrade?  
Be kind to yourself and your partner(s) through this process.  Creating a home renovation budget is no easy task!  
---
To conclude…
Alright fellow home owner, you can now create your home renovation budget with confidence!
You have explored your design options, researched cost of materials and contractors, considered your home's value, counted your cash, and added a contingency.
Keep adjusting your home renovation budget as you go, and your project will be completed right down to the dime!
---
Related posts: 
---
---