how to furnish a home on a budget – decorate without regret!
This post may contain affiliate links. If you purchase a product through one of them, we will receive a commission at no additional cost to you. As Amazon Associates, we earn from qualifying purchases.
---
Welcome to Our Two Family house!  I'm guessing you'd like to know how to furnish a home on a budget.  
The hollow echo bouncing from the walls of your home is likely the reminder that you are
a) a new homeowner! And,
b) need to invest in some furniture!  
I'm also guessing that since you are here, that from learning How to Budget for Buying a House to the searching/bidding/closing process, you're exhausted of the spend that comes with your new abode.  
We understand – after everything our new home needed (see also: What to Do before Moving into a New Home), we didn't want to shell out another dime on our new place.  
Fear not!  There are plenty of ways for you to deck the new halls without spending a fortune.  
Here's how to furnish a new home on a budget!
---
Mindset
First off, please know – your house does not need to look like a magazine two days after you move in. It will take time to settle into your new home!
You don't need to buy a brand new living room or bedroom set right away. Try the "make do for now" approach (like we did in our Nursery Makeover) so that you can level your spending on furniture and decor.
Contentedness will take you far in homeownership.
That being said, here are a few ways to spend a little less but still find the perfect pieces for each room in your house.
---
Garage sales
Ohhhh you bet!  We love a garage sale here at OTF!  You just never know what you'll encounter at a garage sale.  
For example, we upgraded my desk chair for $5.  Leather, wheels, arm rests – barely used.  
Or check out this sweet catch-all chair – light as a feather and again, only five bucks!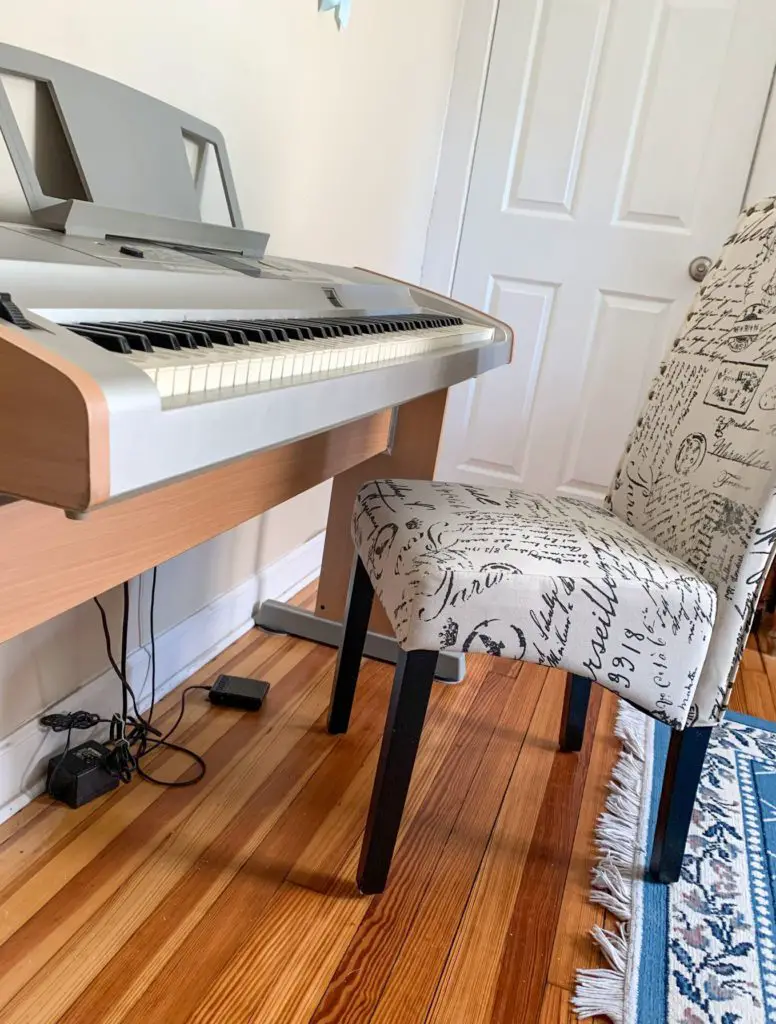 We've also found lots of kids' items in great condition at a steep discount, and yes, also barely used. Since children grow "so fast!" they go through things very quickly.   
Don't forget that towards the end of a garage sale – particularly a moving sale – sellers become willing to negotiate. They're selling stuff to get rid of it, so employ some bartering skills and see what happens!
---
Estate sales
You can also find wonderful furniture at estate sales, particularly if you're into vintage or quirky pieces. 
An estate sale often means that someone has passed away and their family is selling the contents of their house.
Put yourself in the seller's shoes – they're already dealing with a stressful, emotional situation – and it will make their life easier to empty the house.  
Be kind, be smart, and be hopeful!   
---
Help someone move out
We were so fortunate that as we were settling into our new home, Derek's parents were downsizing from theirs.  
They were thrilled to offload furniture that they didn't need anymore, and generously gave us everything from a patio set for our Backyard Before and After DIY to a couch and recliners.  All we had to do was go and get it.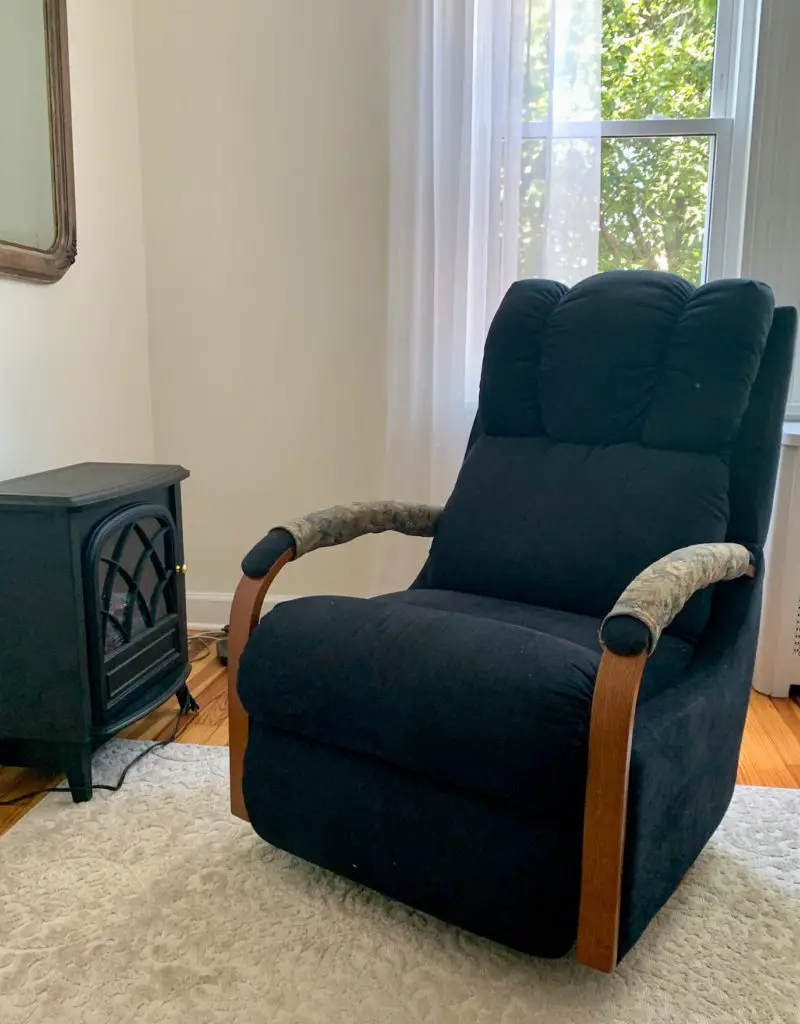 Is there someone in your life moving out of their home?  Do they need help clearing house?  
Get yourself a spacious set of wheels and offer to take things off their hands!  
---
Someone else's storage
Looking at my folks here – they have been in their house almost 40 years and have saved a few odd pieces of furniture that they aren't using.  
Dad had this neat director's chair sitting in his basement – all it needed was a quick repair of the canvas seat and a $2 dowel.
Not bad for a cheap fix, right?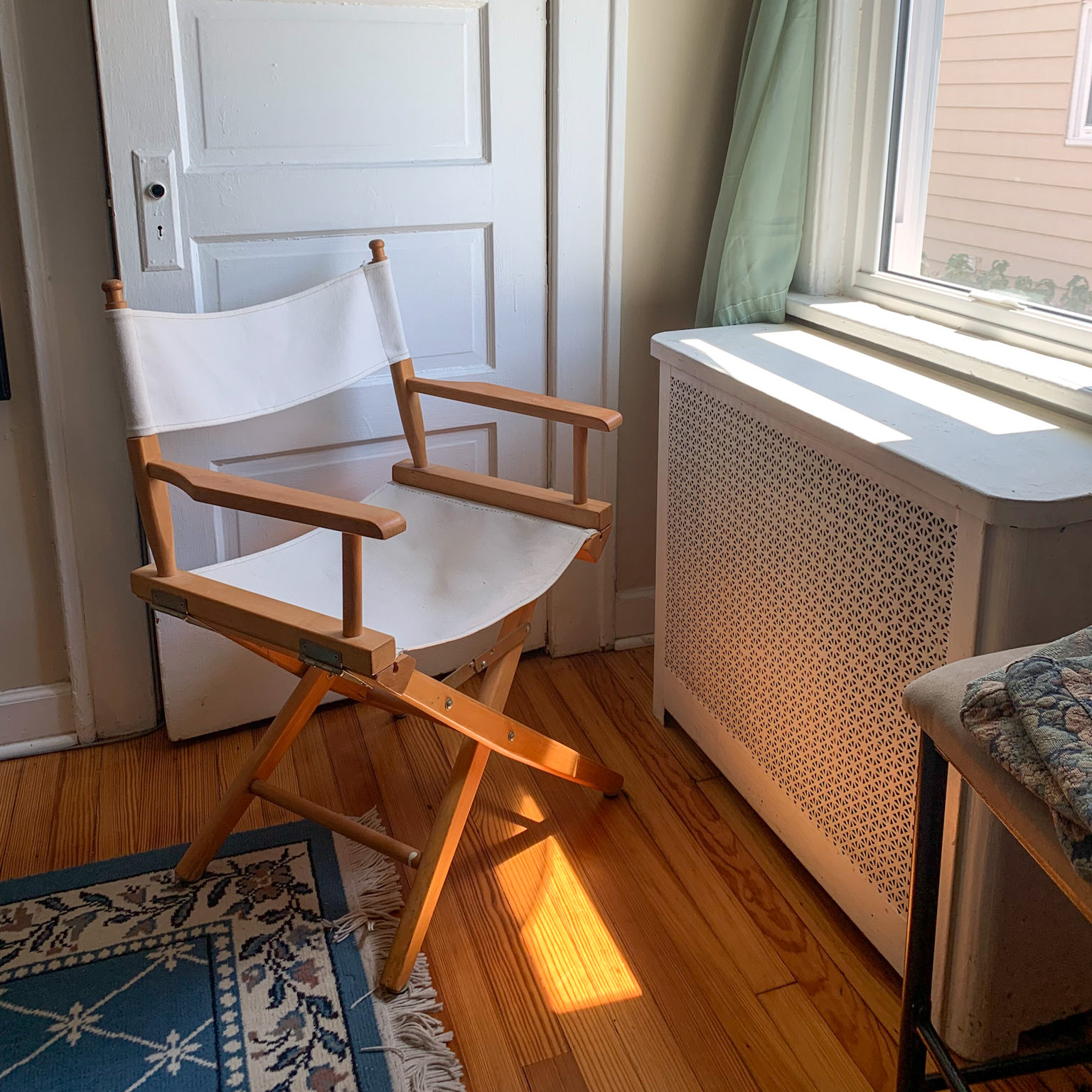 ---
Create it
If you're handy, why not whip up something fun for your new home?  
Crafting a coffee table or shelf isn't that hard if you have the tools and materials.  Check Pinterest for endless inspiration on crafting your own furniture.
Here at Our Two Family house, we like to keep a pile of useful scrap wood, aka a "boneyard," for times such as these.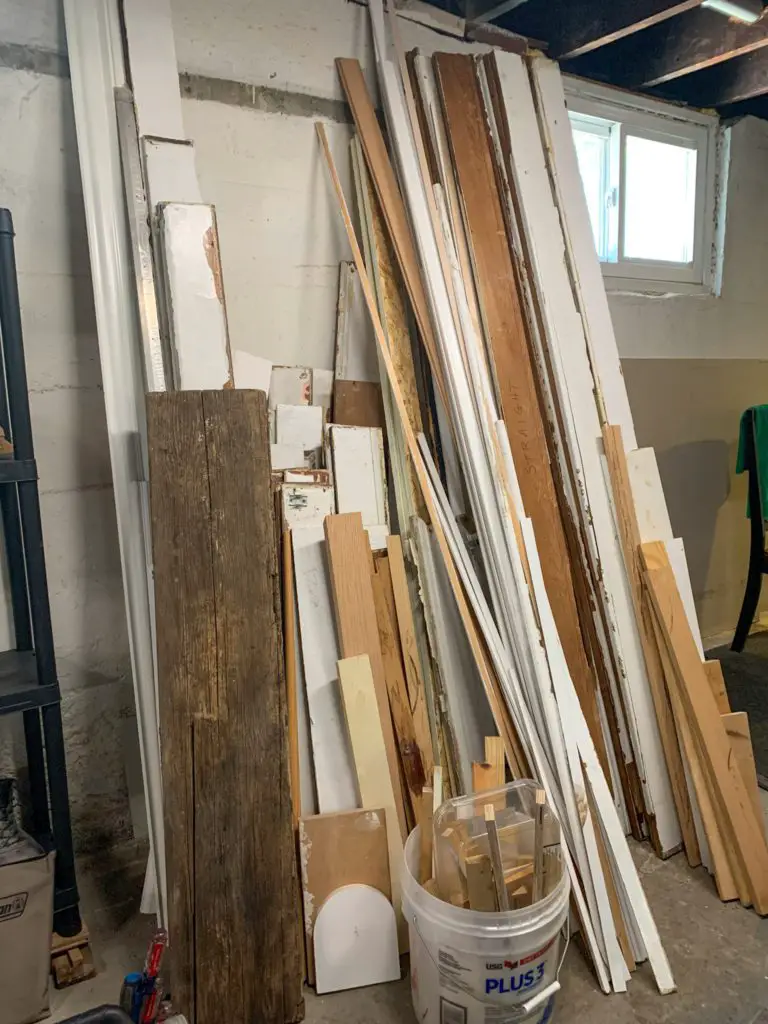 Check our post How to Save Money on Home Renovations for more money-saving renovation tips!
---
Recreate it
Have an old piece?  Still has life left, but you are tired of looking at it?
Re-create it!  
If you've got a solid surface such as a dining table or a set of chairs, why not paint?  A quick coat of a new color can stretch the lifespan of a piece of furniture.  Check out The Spruce for a library of furniture painting How-tos.
Bonus – painting furniture costs way less than buying new.  
Not paint-able? If it's a couch or chair, try a slipcover!  Yes, slipcovers can be annoying, but it is kinder to your budget than buying a whole new couch.  
---
"Open box" options
Did you know?  Wayfair dedicates an entire clearance section to Open Box Deals.  
These are items that were likely delivered to someone else, and for whatever reason, returned.  You can save a good bit of money by shopping this way!
And don't forget about Ikea's As-Is section – which, according to the Krazy Coupon Lady, is logically better stocked on Monday mornings.  
There's also Ikea's Limited Time Offers and Last Chance sales. 
I'm not promising this furniture will last a lifetime, but if you want to know how to furnish a home on a budget, this is a great place to get started.  
---
Shop used online
Looking for something in particular?  
You know it – check your local online selling sites. Facebook Marketplace and Craigslist are just the beginning!
The internet is ripe with used furniture sites such as AptDeco, Kaiyo, and Chairish, to name a few. Poshmark has also recently added a section for "home"!
We have found plenty of home goods and furniture online – such as a bifold door ($30), a handy umbrella stroller ($10), and a baby Bjorn bouncer ($75, that's 70% off!).
Really need furniture for free?
Check the Craigslist "free" section, particularly if you're in the market for a neglected upright piano. Or, check out your local Buy Nothing Group or local Freecycle page.
---
Goodwill or Thrift Stores
You just never know what you'll find at the thrift!  
We scored this coffee table for $15.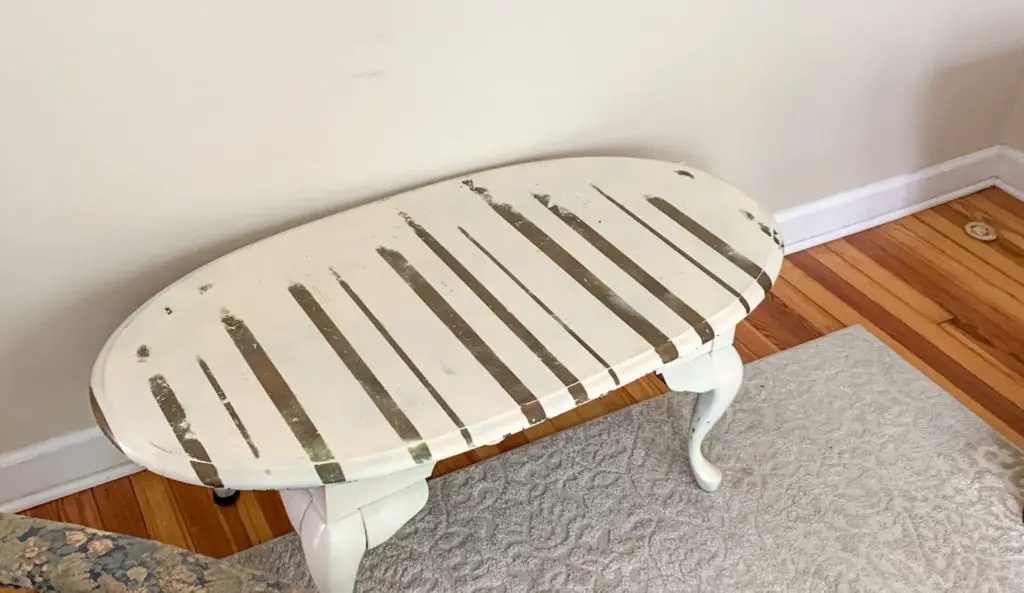 It's got a "creative" paint job that has faded and worn, but we don't mind.  It sufficiently held up our coffee cups and fuzzy slippers for five years.
Furthermore, after checking its backside, we realized our coffee table is made of a beautiful cherry wood.  Who has the last laugh now?  
Well, we don't, since we've been dragging our feet on refinishing it.
ANYWAY, my point is, keep an eye on the thrift – it just might possess the perfect piece of furniture for your place.
---
Bulk Pick Up day
Some towns have what's called a "bulk pickup day."  
In my brother's town, for example, there are two dates per year that folks can place bulky items out for trash.
Wanna know what happens twice a year?  
People SHOP, baby!!  Drive around town and have your pick of the litter!  
Caution: mayyyyybe you should check that there are no signs of bed bugs.  Check Bed Bugs Insider and Paffys Pest Control for some great advice on how to spot these miserable infestations before you haul away.
---
Move-out day
Do you live near a university?  Or a renter-friendly town?  
Do the math on when renters or students are turning over to maximize your furniture hunting potential. 
College students often move out starting in early May.  Renters usually skip town on the 15th or the 30th.  
Prowl the streets when you see activity like moving vans and "for rent" signs.  You never know what you'll find on move-out days!
And, as with bulk pick up day above, be sure to pick up only clean items from the curbside.
---
To sum it all up…
We hope you've picked up a few tricks on how to furnish a home on a budget!
Whether you shop at the thrift store and garage sales, create or re-create your pieces, or just help someone move out of their home, you'll be decorating your new home under budget in no time!
---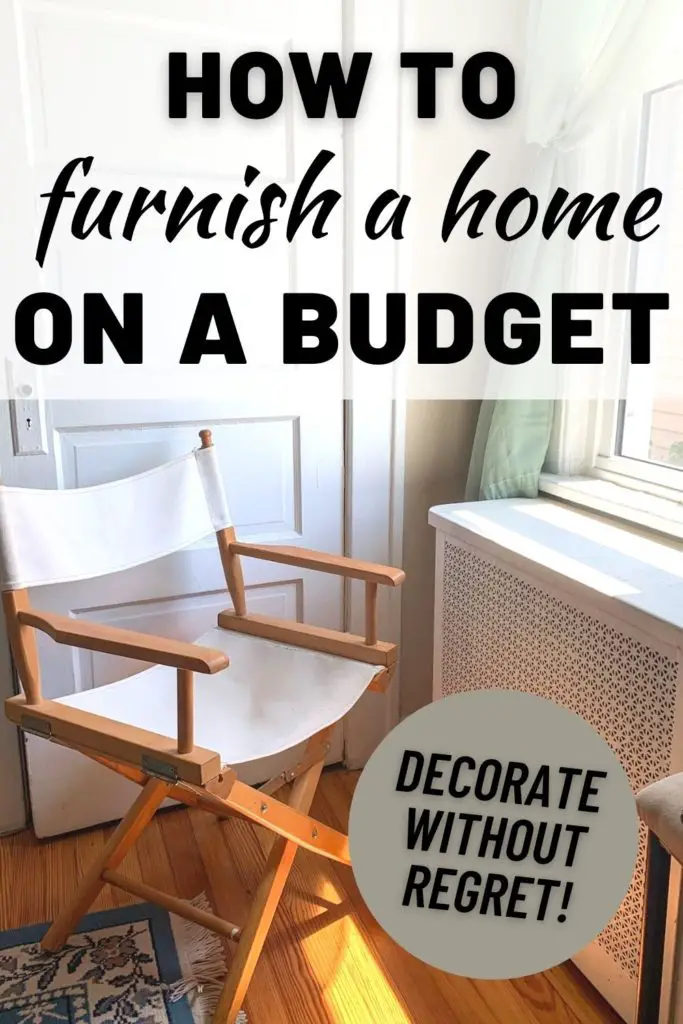 ---