how to save money on home renovations
This post may contain affiliate links. If you purchase a product through one of them, we will receive a commission at no additional cost to you. As Amazon Associates, we earn from qualifying purchases.
This post is about how to save money on home renovations.
---
It might feel like the "b" word has the final say in home renovation "after" picture.  
Budget, that is.  
If you're a first time homeowner or working on a house hack, you're probably not keen to spend your entire life savings on your renovation.  
We totally understand.  Since 2016, we have renovated 3 bathrooms, 2 kitchens, a front stoop, backyard, staircase, and living spaces in our two family house.  We have cash flowed all of them, with the exception of our FHA 203k loan requirements to make the house livable.  
In other words… we've been there!!
Here's our best advice on how to save money on home renovations.    
---
1. Do more rooms at once.  
This is the "buying in bulk" approach.  While your home renovation may not be large enough to justify bulk construction materials, you could still save by doing more at once.  
For example – we chose to renovate 2/3 of our first floor (kitchen, bathroom, master bedroom) all at the same time.  That meant one demo dumpster, one stack of sheetrock delivery, one call to the electrician.  
Had we done each room piecemeal, we'd have had to pay for a dumpster 3 times, retrieve sheetrock 3 times, call the electrician 3 times… it saved us time and money in the long run to just rip it all out at once.  
---
2. Save your lumber
Now listen, I find demo day to be the most therapeutic process in all of homeownership.  Hearing a dysfunctional, crappy piece of poor workmanship hit the bottom of a dumpster is beyond gratifying.  
BUT.  There are salvageable pieces of the "before" picture.  I promise!  
For instance, we removed all the trim from our old kitchen… and saved it.  It's a gorgeous pine.  One side happens to have 6 layers of trim paint.  The other side is perfectly beautiful and will become a headboard this spring.  
When we renovate, we keep what's called a "boneyard".  Like a puppy in his doghouse, we keep a stack of "bones" in case we need them later.  Only need 5 feet of that last 2×4?  Save it!   Someday you'll need a 2×4 at 3 foot, I promise.  Or, off-cuts of flooring – they make great shims for leveling out just about anything.  
Before you throw something away – consider a little stack in the corner for future lumber use.    
---
3. Don't open stuff until you need it…
And return it if you don't!  Most of the big-box stores will accept a return even if a package is open, but if you're not 100% sure you'll use it, hold off on busting open the box.  
Sometimes, to avoid a trip back to the store on project day, I'll buy a bunch of options, just so we have them.  (When you're the gofer, you learn early to always bring back something useful.). If we nix half the options, I just return them.
This was a particularly helpful tactic when choosing a backsplash for our first floor kitchen – it was so hard to picture what the options would look like in our kitchen while standing in the middle of a warehouse.  I bought one 12" piece of 4 tile options, brought them home, held them up in their clear packaging, and then returned the ones we didn't want.  
Pro tip – ask for both the digital and hard copy receipts.  You'll have better odds of finding one of them when you return it.
---
4. DIY the stuff you're good at… or can at least figure out.  
You don't have to pay for everything!  Challenge yourself to learn a new skill by picking a piece of the renovation to DIY.  That might mean the whole renovation… or that might mean only bits and pieces.  
What worked for us: we hired out plumbing, electric, masonry, windows, and roofing.  
That means the rest – sheetrock, taping, painting, tiling, and carpentry (hi dad! Thank you!) were all on us.  
We could have hired out a general contractor for all of this – and paid a pretty penny for it – but it was less expensive, more educational and way more fun to do these things ourselves.  Yes, it took longer for the renovations to finish, but the education we earned in the meantime was worth it twofold.  
---
5. Know when to hold 'em or fold 'em
Sometimes it's a better deal to point and pay, and we explain why in this post.  We've all seen DIYs go very wrong.
You only pay for quality once – the first time.  Be honest with yourself and your limitations, and you might save money in the long run if you just hire someone to do the work.  
This especially applies if there's an opportunity cost at stake.  
For example, let's say you have a vacancy in your second unit. The longer it's empty, the more you're losing money.  Can you really get all the turnover maintenance finished in time to show the apartment and rent it in a month?  Or would hiring someone else to do the work get your rental income cash flowing faster?  
You know.  Be honest with yourself.  
---
6. Rent some tools, buy the others
You can rent tools at the big home improvement stores and even from local shops.  This might save you money if you can work quickly enough to return them on time.  
Or…
It might serve you better to just buy a tool, particularly if you can store it.  
For example, we found it was better for our bottom line to outright purchase a chipping hammer.  We'd be using it not only in our demo for a couple of weekends, but also in future projects down the line.  
Run some numbers and see if it's better for you to rent or to buy.
---
7. Paint all the rooms the same color.  
My grandfather was notorious for his repeated use of "Linen White from Sears."  He painted everything that same color.
He's got a smart point, though, and I've done the same thing.  
It's way cheaper to buy a big 5-gallon bucket of paint than it is to go gallon by gallon.  If you're renting out a second unit, I highly suggest going with the same neutral in all rooms.  
If you're working on a big project (see #1 above, do more rooms at once), at least do yourself a favor and buy the 5 gallon primer.  The joint compound will drink the primer coat like a college town on Cinco de Mayo.  
Painting all the rooms the same color will also add a natural flow to the design of the house.  Admittedly, I'm not a design person – I vote for function 9 out of every 10 – but I have sacrificed about 2 years of my life watching HGTV to bring you this tip. You're welcome.
---
8. Coupons, baby!  
If there's a sale or a coupon, get your butt there!  
We've taken advantage of a nice black Friday sale for appliances on more than one occasion.  Big stores also occasionally have "save 10% one day only" coupons. Make a list for your project ahead of time, and grab as much as you can. This may mean storing your sweet finds until you're ready to use them.  
Who cares, if you're saving a chunk of change?  
There's also the option of store cards.  Now listen here, I do not believe in piling up consumer debt on a credit card, but I do believe in saving 5-10% on my home renovations and paying off the card immediately.  
5% savings might not seem like a lot if you're buying drill bits, but 5% savings is a nice pile o' green if you're purchasing a refrigerator.  
---
9. Pay in cash
Read the fine print on your contractor's paperwork.  
Our roofer will knock 10% off the price if you pay in cash.  Pretty awesome, right?  On a roof, that could mean thousands of dollars.  
Be sure to ask for a receipt, particularly for taxes if you're house hacking, and then enjoy your 10% saved.  
---
10. Shop in a rough neighborhood.
This might sound strange.  Hear me out.  
Here in the fine state of New Jersey, also known as the "tax-you-until-you-die—oh-wait-we'll-tax-you-then-too" corner of America, we've got a regular sales tax rate of 6.625%.  
Unless…
You shop in an "Urban Enterprise Zone." 
Then it's 3.5%.  
Elizabeth and Paterson, I'm looking at you.  
Northern NJ might have heart-stopping tax rates at every corner, but if you shop during daylight hours and lock your car doors, you can save on the sales tax.  
---
11. Sell the stuff you're ripping out.  
My heart smiles with a whirr of pride as I reflect on the two kitchens we've sold on Craiglist.  
Yes, not once, but twice, people have come to our house and paid us cash so that they could remove a kitchen and take it home.  
Even the ugly kitchens of our two family house – the miserable, FHA 203k Loan HUD-home, sad, sorry "before" pictures of our house – had value enough to sell for cash.  
We've also sold off ceiling fans, extra cabinet pieces, hardware, mirrors, you name it.  If you're not sure if something will sell – just stick it on Facebook marketplace or Craiglist for a weekend and see what happens.  
---
12. Materials matter.  
I've been bingeing Fixer Upper: Welcome Home this winter, and I must ask… how do these people afford terracotta tiling and brass fixtures?  I like the look, but my bank account does not.  
Those terracotta tiles may be totally gorgeous… but do you need them to be actual terracotta?  Would an imitation do?  
If it's in your budget, go whole-hog, but if you're trying to save a couple bucks… maybe stick with something more affordable.  
Material costs add up big time, especially in a large renovation.  
---
13. Call the scrap guys
Why?  
Depending on where you live, it might cost money to throw things out.  In our county, you pay per ton on your dumpster if it goes over the limit.  Any weight you can keep out of your dumpster means money savings.  
At the same time, I'm not interested in lugging a bath tub down to the metal yard in town.  
However, list scrap metal for free on Craigslist, and people will instantly assault your inbox to come claim it.  Think old pipes, tubs, etc.  
You'll save time, backaches, and money on your dumpster weight, and they'll get a few bucks for their efforts.  Everybody wins!
---
14. Shop used
Check your local thrifts, FB marketplace, yard sales, etc., for there are incredible finds for your renovation.  
Things we've found:
Chandelier – Habitat restore – $20
Entire kitchen including countertops – Habitat Restore – $2,200
Coffee table – Goodwill – $15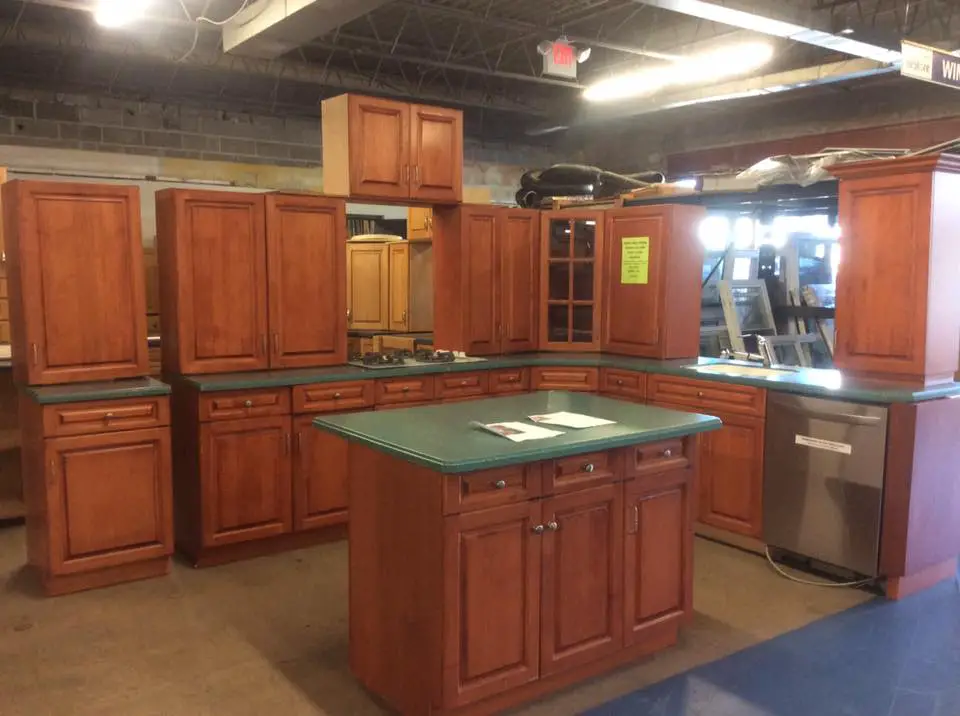 A wild step further – check your family and friends' basements and garages.  They just might have piles of leftover materials that they'd love to unload.  For example, if you come to my house, you can have ¾ a container of white grout, a 12 ft. length of track, or a 32" antique door for free.  
Things we've found:
African wood for doorway – my dad's garage – $0
4 10 ft lengths of pine – his buddy's garage – $0
Handrail brackets – Derek's dad's garage – $0
Do you see how to save money on your renovation? Think outside the box!  It's more fun, anyway!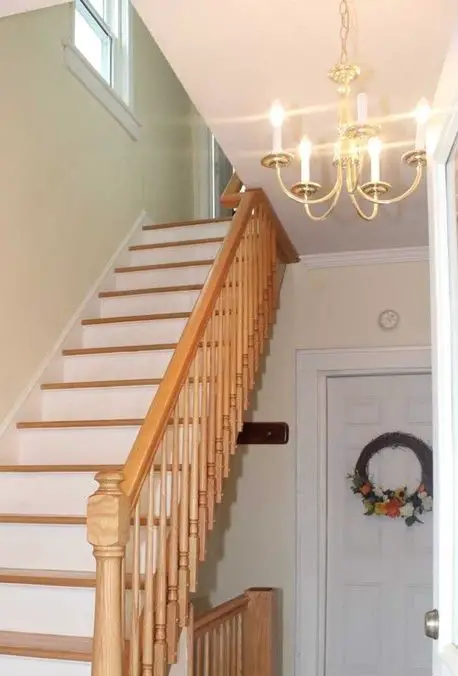 ---
15. Quit the takeout
Yes, this is old news in many ways. Hang with me.
If you're remodeling, you will be tempted to order takeout for you and/or your crew.
Doing this for one or two workdays is pretty cool.
Doing this for 3-6 months of workdays gets old. And… expensive.
We have loads of resources to help you survive your renovation, such as favorite freezer meals to prepare, what to cook during a kitchen renovation, or how to craft coffee break. Check 'em out!
---
Final thoughts on how to save money on home renovations
There you have it: how to save money on home renovations, from two nerds who have lived through it.
From shopping in an urban enterprise zone to paying in cash, learning DIY skills and saving your lumber, you too can cut the costs on your home remodeling projects.
What do you do to save money on your home renovations?
---
You may also like:
---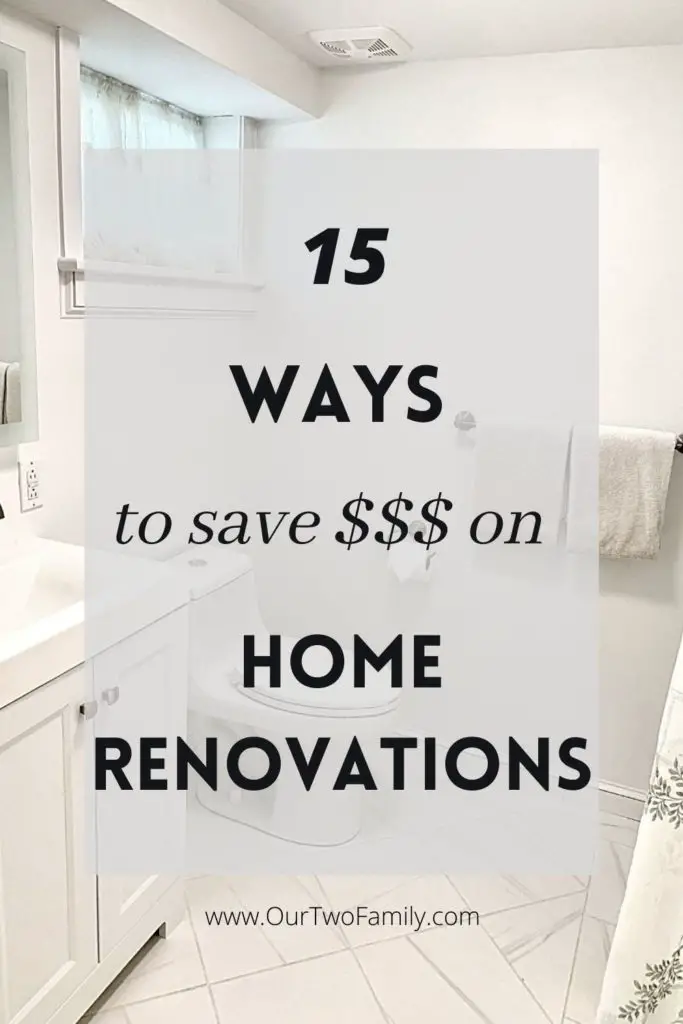 ---