This post may contain affiliate links. If you purchase a product through one of them, we will receive a commission at no additional cost to you. As Amazon Associates, we earn from qualifying purchases.
---
Welcome back to Our Two Family house! Today we are exploring how to handle depression during a house renovation.
First off, disclaimer: this post is not medical advice and does not replace the guidance of a mental health professional. If you are truly depressed – please get help.  If you broke your arm, you'd see a doctor, have friends sign your cast, and take some medicine.  Mental health needs similar attention.  If you have feelings of hopelessness, harming yourself, or harming others, please, please reach out to a professional. You can even do therapy online these days – check out Better Help for a great place to start.
Now, if you're thinking you're not clinically depressed, but rather you are just OVER IT with the home remodeling, then this post is for you.
Perhaps you're feeling the effects of a renovation, like overwhelm, stress and exhaustion.
This brand of depression might be characterized with statements at happy hour such as, "oh my gawd, my kitchen renovation is taking forever! I am, like, so depressed!"
We totally feel your pain. There are many strategies to handling depression during a house renovation, like taking breaks, budgeting, or communicating to name a few.
We'll explore all of these, so let's get to it!
---
Can home renovations cause depression?
Sure they can!  Any big disruption or change in your life's patterns can trigger depression or depressing feelings.  
Home renovations are also known to cause significant conflict in couples – check out this alarming piece on Psychology Today.
That being said, there are things you can do to alleviate and even prevent the stressors of fixing your house.
---
Why is renovating so stressful?
Renovating your home is stressful for many reasons, such as it is:
time consuming
expensive
unpredictable
and it uproots routines.
And, you've got a revolving door of contractors, dirty debris, and deliveries coming to your house.  
Of course this will invite drastic emotion and stress into your life!
---
How do you stay sane during a home renovation?
To let you in on a little secret – you don't, exactly, stay completely sane during a home renovation.  
There is a little bit of insanity induced with every project, and that's the fun part!  
It becomes this wacky bonding experience with family and fellow crew, even if tempers fly and the crazies come out. 
Looking for tangible advice? Check out:
Each of these provide insight to specific home renovation survival needs.
---
Tips for handling depression during house renovation
Here are great tips for preventing and dealing with depression during a house renovation.
Build breaks into your workdays
Unions require this – homeowners and DIYers should be no different.  
We've had days where we "push through" to get to a milestone or stopping point.  
You know – "oh, let's finish the flooring in this room before we break for lunch" – but, "Oh no – we should level out that little corner!" – and now we have more problems to solve, so we spend an extra hour mixing and pouring that little bit more of concrete – and… now we're all hungry, tired, annoyed, and… here come the bad feelings.
Don't do that. If you plan to take a lunch at 1pm, take your lunch at 1pm. Breaks will refresh you.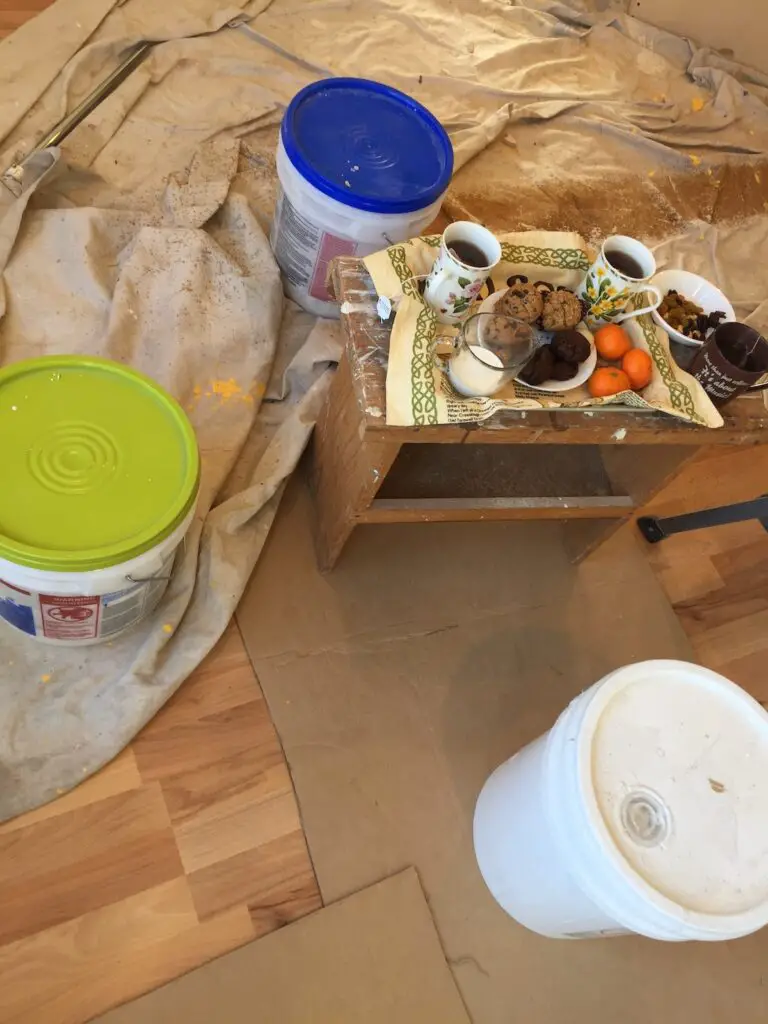 ---
Take a day off
If you're hauling a** on a renovation and you are just exhausted, it's time to come up for air.  
Renovating your home is not for the faint of heart, and you're likely working dawn to dusk to make it happen.  
Furthermore, if you're DIYing any or all of your project, you're probably burning the candle at both ends – working your regular job during the day and your reno at night.  And on Saturday, when you'd like to be sleeping in and heading to brunch, you're up by dawn and lacing your work boots (just me?).  
First of all, kudos to you for believing in yourself and your home.  
Secondly, take a break.  
Take a day off and go for lunch, to the zoo, to a wedding, a birthday party, a bridal shower… do what you need to do to hit "reset".  
Taking a break will provide the perspective you need to finish your project.
---
Create deadlines
It's easy, especially on a DIY, to let a project keep going… and going… and going… and then it becomes never ending.  
Particularly in projects that don't involve your necessary rooms – like your "second bathroom renovation" or that guest room makeover – it can be easy to let production peter out.  
Leaving a project unfinished can really contribute to depression during house renovation.  
The door to the room becomes an eye sore.  Living without the extra space starts builds resentment among family. Cramped lifestyle gets old.
Avoid these woes by creating deadlines for your project.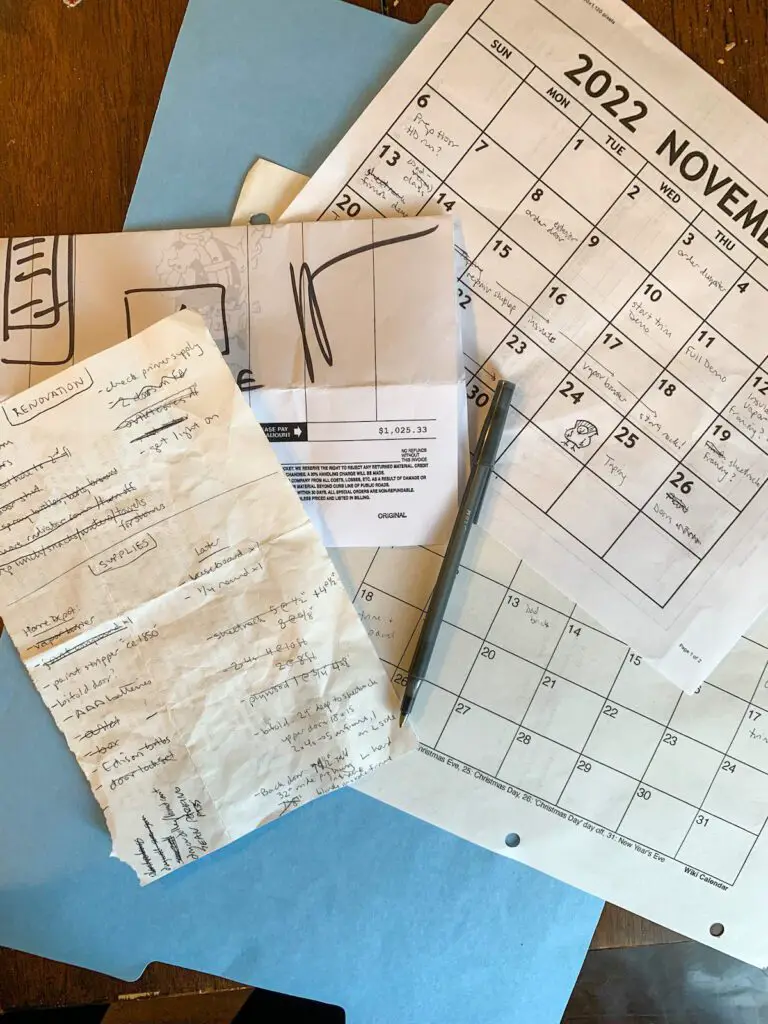 ---
Let go of deadlines
Sometimes, not meeting a deadline can be worse than not having one.  
If you were really trying to finish up before the in-laws come to visit, or worse – before the holidays! – and things get held up, give yourself the grace to let go.  
Even if your Christmas isn't picture perfect or the family has less-than-prime guest quarters… life will go on.  
It's okay if you don't hit your deadline goal. I promise. 
---
---
Dream of the final product
I don't know about you, but visualizing the final result of a remodel helps me on the days that the reno just won't seem to end.  
Right now, we are about three days away from finishing our toddler's new room, and I'm chomping at the bit to roll out the carpet and call it done.  But we have to be patient with paint, caulk, and last bits of patching to dry.  
In the meantime, to fight the frustration, I like to daydream about the final product, shop for finishing touches like curtains and rugs, and leave behind the memories of bare studs and insulation.
---
Expect the unexpected
If you have high expectations of the smoothest renovation ever without any hiccups or problems, you are delusional!  Take into account how old your home is and what kind of shape it's in when you start.  
Since we bought a foreclosure…
…and an FHA 203k HUD house…
… and a 100 year old house…
We basically approach our renovations knowing that we have a 100% chance of encountering at least one miserable surprise.  
Like that time we started our 1st floor demo, and encountered a vanity that had been leaking for 5 years.
Or when we ripped out our guest room, soon to be toddler room, to find rotted shiplap in our home's exterior: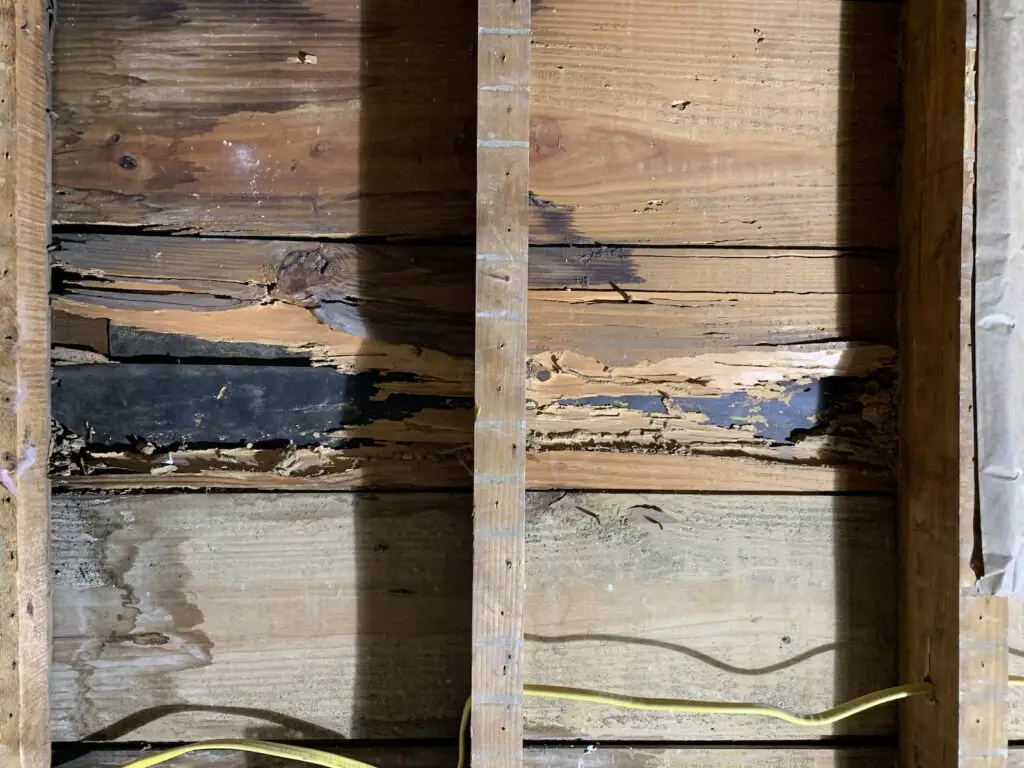 Start your renovation with anticipation that something might go wrong.  
Build a week into your renovation schedule.  Heck, take bets on what the surprise might be!  
If you're braced for the worst, it won't derail you when you encounter it.  
---
Turn off social media
Nothing cuts to the heart like seeing someone else's project finish up, while you're still covered in paint flecks and sheetrock dust.  
Turn off your social channels for a day or two and focus on what matters to you.  
We all know by now that social media can be detrimental to mental health.  (Just look at these articles from Psych Central and NBC).
Take time off from scrolling, and your mental health will improve. 
---
Hire a contractor you trust
Hiring a contractor is tricky.  It's hard to nail down estimates, shell out gobs of money, and negotiate schedules with (potentially) perfect strangers.  If you're not experienced or well versed in homes, it's easy to wonder if you're being taken advantage of.  
Avoid too much contractor stress by hiring someone via recommendation.  
Do your due diligence on their business – from checking their website, social feeds, and even the BBB – and be sure to trust your gut instincts. 
If they seem sketchy, or too busy for your project, they probably are.  
If they seem like they're trustworthy – you're likely right.  
---
Communicate
Whether it's communicating with your work team, your kids, or your spouse, talking about your feelings will ease depression during house renovations.  
If your children are old enough, ask them what they think of everything.  Even if they're still super young toddlers or preschoolers, touch base every once in a while.  
Feeling tension with your spouse?  Talk about it!!  (Great read: Emily Oster on Why You Should Surface Family Conflict.)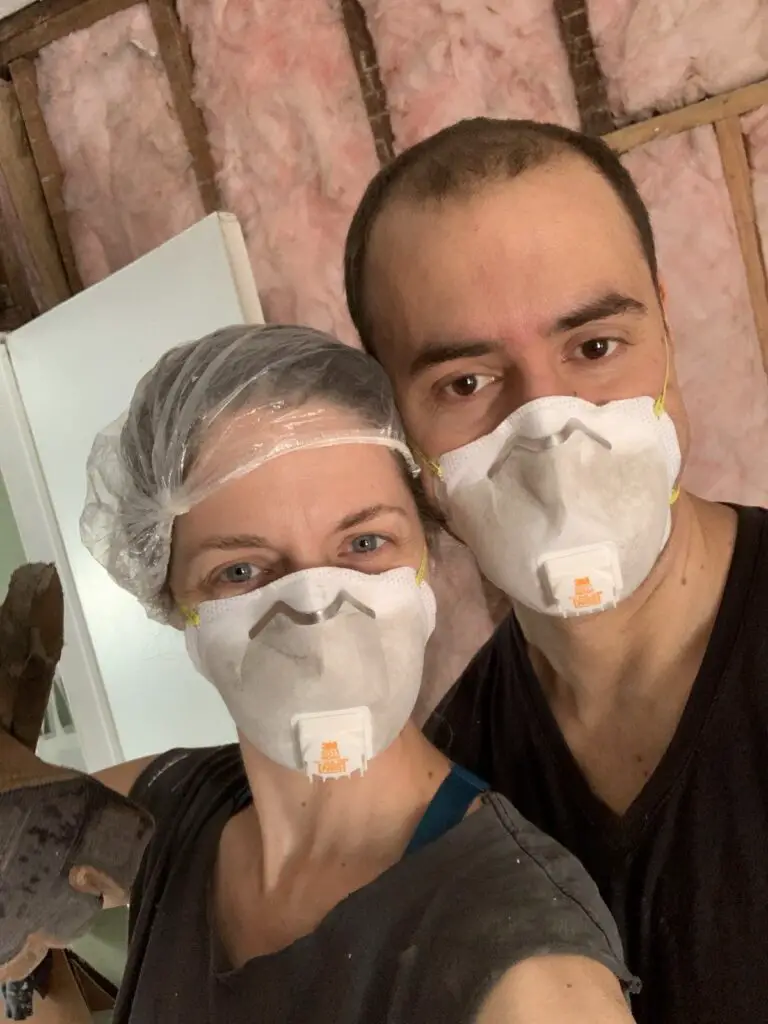 ---
Remember why you started
On the longest days of renovations, you must take a moment to remember why you started.  
Are you renovating a bathroom so your elderly mother can more safely navigate self care?  Are you hustling on your rental apartment so you can get some cash flow going before your baby is born?  
Right now, we're thisclose to finishing our toddler's room, and the longest days have gotten much shorter for me when I remember why we started: to create a beautiful space for our son to thrive.  
When the days and weeks just won't seem to end, I picture him reading in his new chair, turning somersaults on his new carpet, or learning to dress himself at his new wardrobe corner.
---
Don't overspend
Renovations are expensive.  (Trust us, we know.)  
Do yourself, your sanity, and your bank account a big favor, and plan your home renovation budget carefully.  
Renovation stress is bad enough – you don't need money stress on top of it!  
Always add a 10-15% contingency on top of your initial estimate to be sure you don't run out of money during your project.  
And, while you're at it, check out How to Save Money on Home Renovations.
---
---
Keep an oasis available
Unless you're gutting your entire property, you're likely renovating your home while living in it.
It will behoove you to create a completely livable space to stay in while the rest of your home is under siege.  Keep it a dust-free, tools-free, moving-boxes free zone.  
Having a "regular" space free of remodeling reminders will be the oasis you need to resist depression during a house renovation. 
---
Protect your routines
Whether it's keeping the kids in day care or summer camp, or your regular Tuesday kickboxing class – keep those routines in order!  
Don't skip the habits that keep you sane, whether that be Sunday church or your monthly happy hour with friends.  
Stick to your routine during your house renovation, and you'll feel more "normal" when the four walls are out of whack. 
---
Final Thoughts on depression during house renovation
Feelings of depression during a house renovation are legitimate and completely understandable!
Planning, communicating, hiring people you trust, sticking to routines – all of these tactics will help you manage the stress until your renovation is finished!
And – we promise – someday, your renovation will be finished!
---
You may also like:
---