kitchen renovation tips – 11 simple ways to make it easier
This post may contain affiliate links. If you purchase a product through one of them, we will receive a commission at no additional cost to you. As Amazon Associates, we earn from qualifying purchases.
---
Today at Our Two Family house, we are talking about kitchen renovation tips!
There is a lot to know about kitchen renovations, like how to save money, what to do first, or how to choose countertops.
It can get overwhelming, what with design choices, flooring, backsplashes, and oh yeah – how exactly are you going to cook in the meantime?
Fear not. With two full-on gut kitchen renovations under our belt, we have a few kitchen renovation tips that you will find useful!
So, I bet you're wondering…
---
What is the first thing to do when remodeling a kitchen?
The first thing to do when remodeling a kitchen is to live in it.  
Take a few months to really get to know your space and how it relates to your lifestyle.  You never know what you might discover about the flow of your home!  
This will help you make informed decisions about what you really need in your kitchen remodel.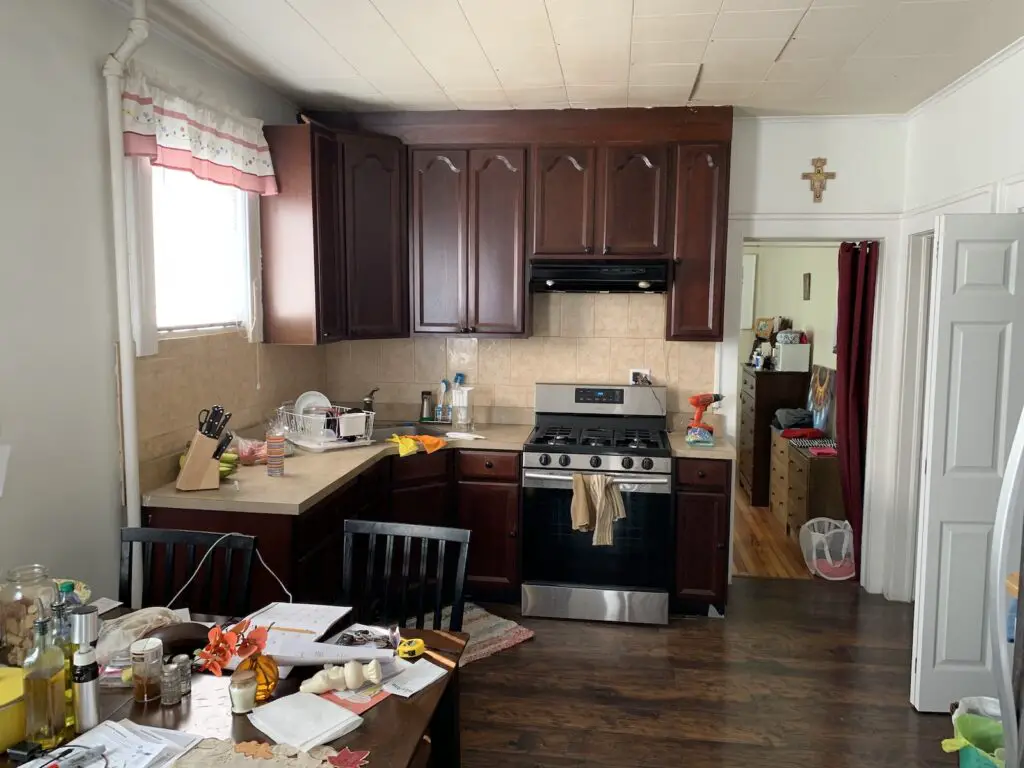 ---
Plan to live without a kitchen
The worst part about a kitchen renovation is having to live without a kitchen!  You'll relieve a lot of stress by planning ahead.  
Fortunately, we have resources to help you.
Start by snagging your printable Kitchen Renovation Planner!
For tips on how to prepare ahead of time, go to How to Prepare for a Kitchen Remodel.
Create a temporary kitchen
Please, if you're ripping out your kitchen, set yourself up with a temporary space to cook some din-din.
Also, be sure to peruse our deep dive into 3 Simple Steps to creating your Perfect Makeshift Kitchen.
If you don't have a lot of budget room, check out Cheap Temporary Kitchen – How to Set Up Shop.
Plan how you'll eat
Do you need recipe ideas for what to cook during kitchen renovation?  Check these out: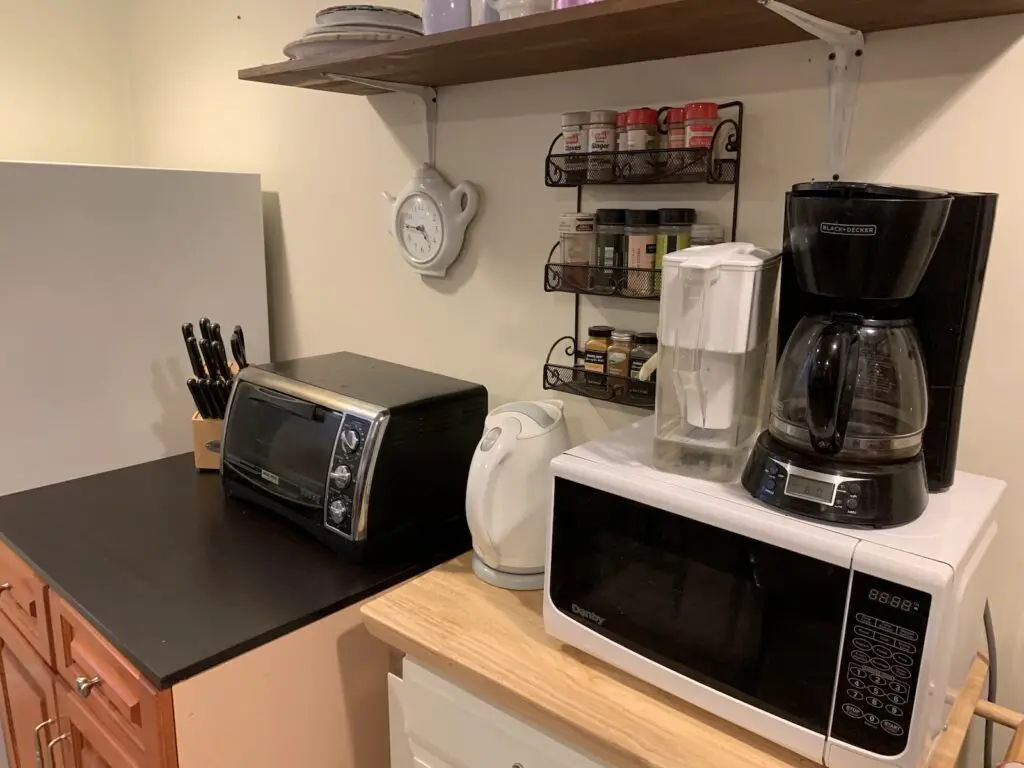 ---
---
Estimate a timeline
My first question after starting a kitchen renovation is, "When will it end?!?!!?!"  
Before you start, create an estimated timeline.  Ask your contractors how long they will need, check on wait times for appliances or cabinets, and build in a week or two grace period.  
Check out How long does a kitchen renovation take? for more tips on kitchen renovation timelines.  
---
Make design choices early
From appliances to cabinets to layout, it will behoove you to pick your preferences before you start.  
Just like when planning a bathroom renovation, you'll want to show your plumber or contractors what they'll be working with.  They're visual people, so the more pictures, specifications, and install notes you have, the better.  You never know what might affect their rough-in.  
This will also help you order everything early to avoid stock or shipping delays.  
---
---
"Dummy it out"
If you're hemming and hawing over cabinet and island layout, try the "dummy it out" approach.  Arrange some folding tables, boxes, or chairs in the shape of your potential cabinet design.  Play pretend by walking through what it's like to cook in this new shape.  
We roughly did this with Open Concept Galley Kitchen renovation, and discovered we would want one less cabinet.  
Less cabinets?!  Yes.  We put a chair where that cabinet would live, and found ourselves constantly walking into it.  So, we nixed it.  
---
Keep your kitchen in your pocket
And by this I mean, your kitchen renovation is about to become your bestie.  
Keep your measurements written down in your pocket, purse, or phone at all times.  You never know when you'll be swinging by a store with kitchen things!  
Also, keep a folder of photos on your phone with all of your design choices (paint color, tile option, backsplash, etc).  This will make it easy to do last-minute comparisons!
---
Understand "the working triangle"
The "working triangle" is the shape between the refrigerator, sink, and stove.  If you drew a line from one to the other to the next, it would make the shape of a triangle.  
For optimal function, it is recommended to total between 13 and 26 feet.  Architectural Digest has a great article explaining the whole thing here.  
---
Buy and return 
A little trick I learned from many years on modeling jobs – if you're deciding between design choices, buy one of each option and bring it home to see it in your space.  
The lighting and surrounding colors at your local shop will be different than what you have in your kitchen at home.  Sometimes you think you'll like something, but when you see it in the space, you change your mind.  
Just leave the tags or packaging on until you decide for sure, and return what you dislike.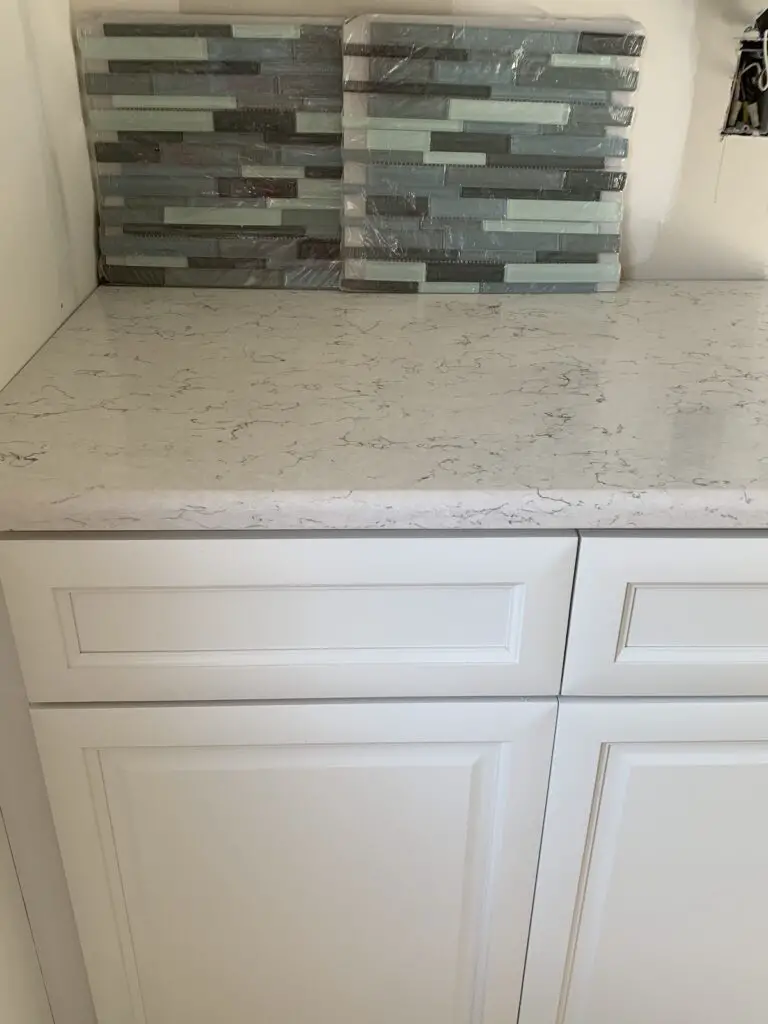 ---
Beware the trendy features
Kitchen renovations can get expensive – so you probably won't want to do them too often.  To keep it timeless, be wary of super-trendy features that are hard to undo.  
For example, it's much easier to change out a backsplash and light fixtures than it is to change out your flooring and cabinets.  Avoid going too much up-to-the-minute to allow yourself some leeway in the future.
---
How to save money on your kitchen renovation
Here are quick kitchen renovation tips to save money:
---
Consider your lifestyle
Think about your lifestyle when planning your kitchen renovation.
For example, let's talk about countertops. Ask questions about upkeep and durability when you speak with your contractor or supplier.  If you have the time and patience for resealing butcher block, go for it.  If you have plans to eventually rent out your home, like we do, consider a more durable material like quartz or silestone.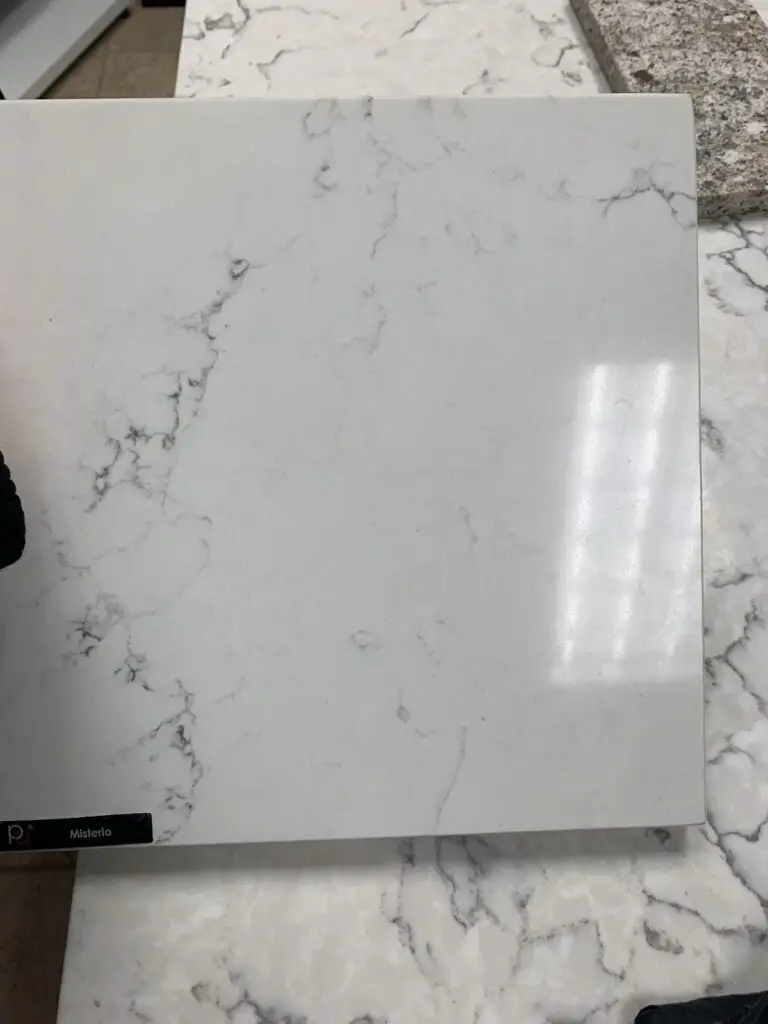 This goes for all aspects of your design picks – do you really need the convection oven if you're a take-out warrior? Would hardwoods survive your young kids' spills for the next ten years? Maybe it's storage that you need, or a breakfast bar for quick off-to-school mornings.
Get creative (or inspired on Pinterest!) and design your new kitchen according to your needs.
---
Final thoughts on Kitchen Renovation Tips
That's the scope of our kitchen renovation tips for you!
Be sure to plan ahead, estimate a timeline, think through your design choices, and employ some money saving tactics.
And of course, don't forget to enjoy the process! Renovations are fun!
---
You may also like:
---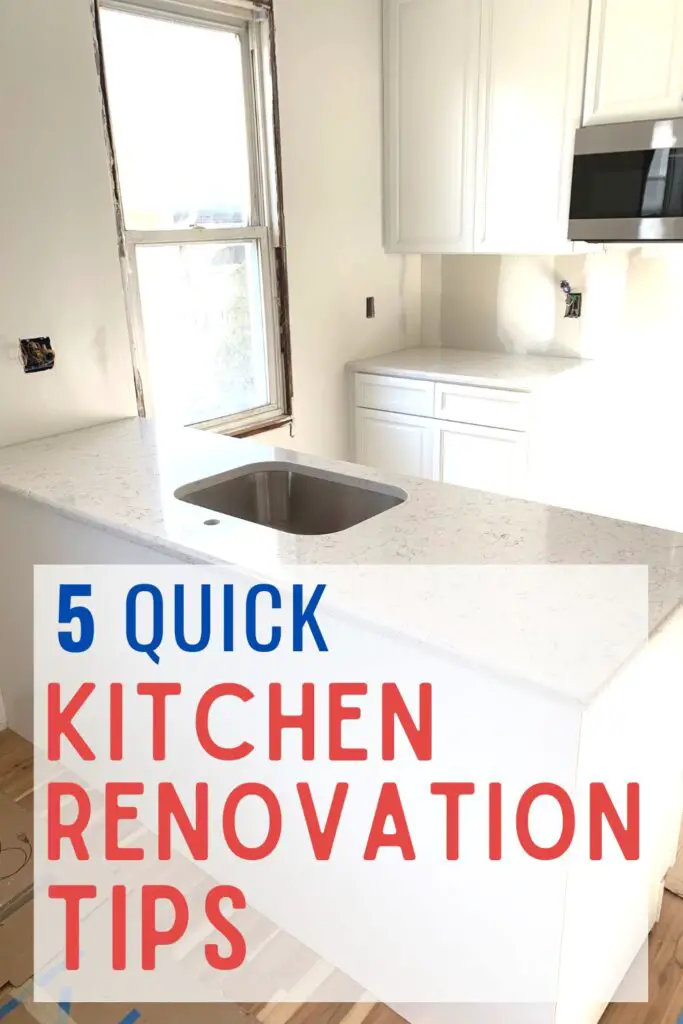 ---