house hacking strategy – what it's REALLY like
This post may contain affiliate links. If you purchase a product through one of them, we will receive a commission at no additional cost to you. As Amazon Associates, we earn from qualifying purchases.
---
Ah, the house hacking strategy. Lauded by some, hated by others – there is a lot to discuss when it comes to this real estate approach.
Some say it will launch your expedited trip to financial freedom. "YOU WILL LIVE FOR FREE!" they say.
Others claim you'll trudge through a life of misery, with nightly phone calls from nightmare tenants.
We here at our two family have been house hacking for 6 years, and are here to report the details of our experience.
Are we sailing on yachts in Hawaii? No. Have we doubled our net worth? Yes. If you'd like to know how we house hack successfully, keep on reading!
---
What is house hacking strategy?
House hacking is living in one portion of your home and renting out the other.  
For many people, this comes in the form of a multifamily house of 2-4 units.  The owner will live in one and rent out the rest with a long-term tenant.  
Some people also do this in a single-family property and take on roommates as tenants.  
There are also short term rentals, or STRs, when people rent out their property on Airbnb or VRBO. 
Our strategy:
We decided to buy a two-family house in New Jersey, close enough to NYC that I could still commute. Near the bulls-eye, but not in it – a great way to expand your real estate budget.
We live in our first floor apartment and rent out the second floor.
---
How much money do you need to start house hacking?
It depends where you live.  
To house hack, you'll need enough money to own and maintain your property.  
That means you'll need enough money to cover your mortgage, property taxes, annual insurance and closing costs to buy the house.  
You'll also need enough money to cover monthly expenses at least until you take on tenants.
Furthermore, you'll need a sinking fund for repairs, maintenance, and improvements. Things like appliances, HVAC systems, or landscaping all add up.
Our house hacking strategy:
We had saved up a 20% down payment for our house, with a max budget of $350k. (FYI, these are 2016 numbers.).
We wanted to afford our home whether or not we had tenants.
Eventually, we bought a foreclosed HUD home, which we purchased via an FHA 203k Loan. We put only 3.5% down and used the rest of our down payment on repairs.
That meant we had healthy $60k available after closing to improve our home. Buying a foreclosure home is not for the faint of heart!
Here are the ballpark numbers from our two family house purchase:
| | |
| --- | --- |
| Listing price | $260k |
| Purchase price | $287k |
| Down payment | $10k |
| 203k cost | $30k (added to mortgage) |
| Closing costs | in mortgage |
| Homeowners insurance | $1,200 |
| Total mortgage | $308k |
As you can see, buying a multifamily home is not cheap! And this was before we touched that $60k to renovate anything. (The $30k in that 203k was just to make the house livable.)
Here's more info on How to Budget for Buying a House.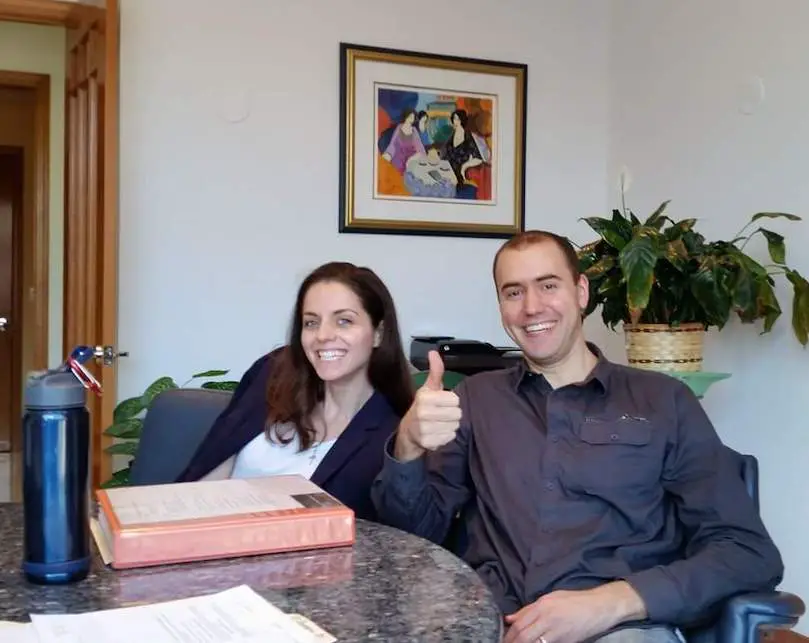 ---
Can you make money house hacking?
Yes, you can make money with the house hacking strategy.  That's why people do it.  You provide goods and services, and as a result, you get paid.  
Whether you turn a profit or not is a different question.  We personally do not take a profit (yet!) on our two family house because we are paying down our mortgage.  
All extra funds go to our housing costs and mortgage payments.  Some investors don't do this – they'll just cover their bare minimum, and call the rest profit.  That will be up to you.
Our strategy
Here are the basic monthly costs at our two family house in 2022.
| | |
| --- | --- |
| Mortgage principal & interest | $1260 |
| Escrow (taxes / insurance) | $843 |
| Extra mortgage principle payment | $1150 |
| Water (sewer & usage) | $50 |
| Utilities (sinking fund) | $15 |
| Maintenance / Repairs (sinking fund) | $160 |
| Capital Improvements (sinking fund) | $160 |
| Vacancy costs (sinking fund) | $199 |
| Municipal fees (sinking fund) | $6 |
| TOTAL | $3,843 |
Our second floor brought in $1925 monthly, and we "charge ourselves" about $1990 per month. We do this in order to maintain a healthy account for our property for its expenses.
There will come a time that we don't "charge ourselves" as much in rent, but for now, especially while early in our real estate venture, we do it so that we can pay down that mortgage.
---
Is house hacking possible?
House hacking is VERY possible – even in expensive markets!  
We can see the New York City skyline from our town, and yes, we successfully house hack.  30 minutes from the most expensive market in the country, we found a way.  
No matter where you live, house hacking is possible.  You just have to believe it so, and invest wisely, and it will be.  
---
How can I safely hack a house?
Choose your tenants carefully.  If your tenant is living under your same roof – and in most cases, this is how house hacking goes – then please, be vigilant and follow your gut when picking a tenant.  
This may require patience.  Do not jump at a tenant who promises you the moon just because you want the money coming in right away.  You also should develop thick skin to (respectfully) say no to sob stories.
Plan your house hacking finances so that you aren't strapped with your back to the wall, and have to take just anyone.  
Run background checks and credit checks – these are your right as a landlord – and interview people before you offer them a lease.  
Depending on your state, it could get very, very difficult to get rid of a tenant once they're living in your property.  
We cannot stress this enough – choose your tenant wisely.  
Our strategy
When our 2nd floor is available for rent, we use our trusted realtor. He and his team weed out applicants that aren't qualified for our rental, show the apartment, and handle all the paperwork, credit/background checks, etc.
Only after getting through the realtor do we sit down for an interview with the tenants.
---
---
Is house hacking a good idea?
Let's explore a few prerequisites to see if house hacking is a good idea for you.
Are you out of debt?  
We have to turn to Papa Dave Ramsey here and say – if you have other debts like student loans or credit card debt, please do not buy a house.  
No matter how much you think you'll just "collect rent and have your bills paid" by house hacking, there are surprises with houses you just might not know about.  A boiler or HVAC replacement can derail a tight financial freight train faster than you can imagine.  
Clear all your other debts first, then buy a property. 
Now, is it possible to own real estate while still in debt?  
Yes, sure it is.  But I'm here to counter that viewpoint and tell you – be very careful, choose your home wisely, and don't come crying to me if your debts get bigger rather than smaller.  
Related: Side Jobs to Pay Off Student Loans
Can you manage money?  
You don't have to be a budgeting wizard, but in order to house hack, you do have to manage things like water bills, tenant payments, homeowners' insurance, and more.  
Can you manage a separate bank account for your property responsibly?  Run a business? Complete a schedule E on your taxes?
If this sounds good to you, then proceed.
Related: 9 Best Budgeting Resources
Can you deal with tenants?  
A contractor we know has been house hacking for 25 years, and speaks wisely: "It's great if you can stomach the tenants."  
As a landlord, you will get calls or texts about leaks, toilets, heat, late payments, excuses, and more.  
If you can deal with this, excellent!  If not, maybe house hacking isn't right for you.  We find it a small trade-off for a big return.
Do you understand houses?
Let me be clear – you don't have to know this right away.  But you do need to be willing to learn.  
You don't need to know how a house is built or how to install a Fujitsu ductless split.  
But to be a good landlord, you do need to have some understanding of homes, their value, and how they work.  
You'll save yourself a fortune if you can learn how to do things like program a thermostat, re-caulk a bathtub, paint a room, or varnish a staircase.  
If you don't want to learn this stuff, be prepared to hire it out and pay for it.  
What's your why?  
Let's say we're at happy hour, and we strike up a convo about house hacking, and I ask you, "why do you want to house hack?"
What's your answer?  
Is it to save up for your kid's college?  FIRE movement under your butt?  Want to afford one parent staying home with the kids?
You "why" has to be strong enough to fuel the long days spent renovating your investment unit or fielding tenant complaints to remind you that it's worth it.  
---
Is house hacking worth it?
We think so.  It's not a get rich quick process by any means (and do those ever really work, anyway?).  
Here's a sampling of what house hacking has afforded us:
We are paying down our mortgage early – double time, to be exact.
I cut back to working part time to stay home with our children while they are young. 
We save money for our children's college funds monthly.
We pay for our renovation projects in cash.
We can afford live near our family even though we're in an expensive housing market. 
Owning our home has doubled our net worth because of appreciation.
It has taught us discipline (via sweat equity) and the value of delayed gratification.
We found this journey together, as a couple, making us more jointly self-confident plus closer in our marriage.  
We enjoy tax breaks thanks to our rental unit.
For more on this, check out: Is House Hacking Worth It? How a 2 Family House Changed Our Lives.
---
Final thoughts on house hacking strategy
House hacking is a great way to cut your housing expenses and make some money!
It's not for everyone, but if you can manage money, deal with tenants, understand your house, and remember why you started, it just might be your ticket to financial freedom.
We hope this deep-dive into our house hacking strategy helps you on your investing journey!
---
You may also like:
---
---