Fujitsu ductless air conditioner review – the things we love and don't love
This post may contain affiliate links. If you purchase a product through one of them, we will receive a commission at no additional cost to you. As Amazon Associates, we earn from qualifying purchases.
This post is a Fujitsu ductless air conditioner review.
---
Ah, summer.  Margaritas, flip flops, ice cream, and… air conditioners.  
"Fun in the sun" is more "fun" when you've got a delightfully cool, dry, air conditioned space to which you may retreat, right?
Unsurprisingly, our lovely, 110-year-old home boasted no central air when we bought it.  
Most of the housing stock in northern New Jersey is quite old, therefore requiring a retro-fit situation for modern conveniences like plumbing, heating, and A/C.  
With so many expenses piled up fixing our foreclosure – our second floor 100-year-old house renovation, home curb appeal before and after, entire first floor renovation, we didn't want to destroy the house with a central A/C install.  
Not only would full-out central air expensive, it would also involve colossal amounts of ductwork in our minimal crawl space.   
---
Enter: Fujitsu ductless mini split
Luckily, there is a fabulous air conditioning product on the market called the "ductless mini split."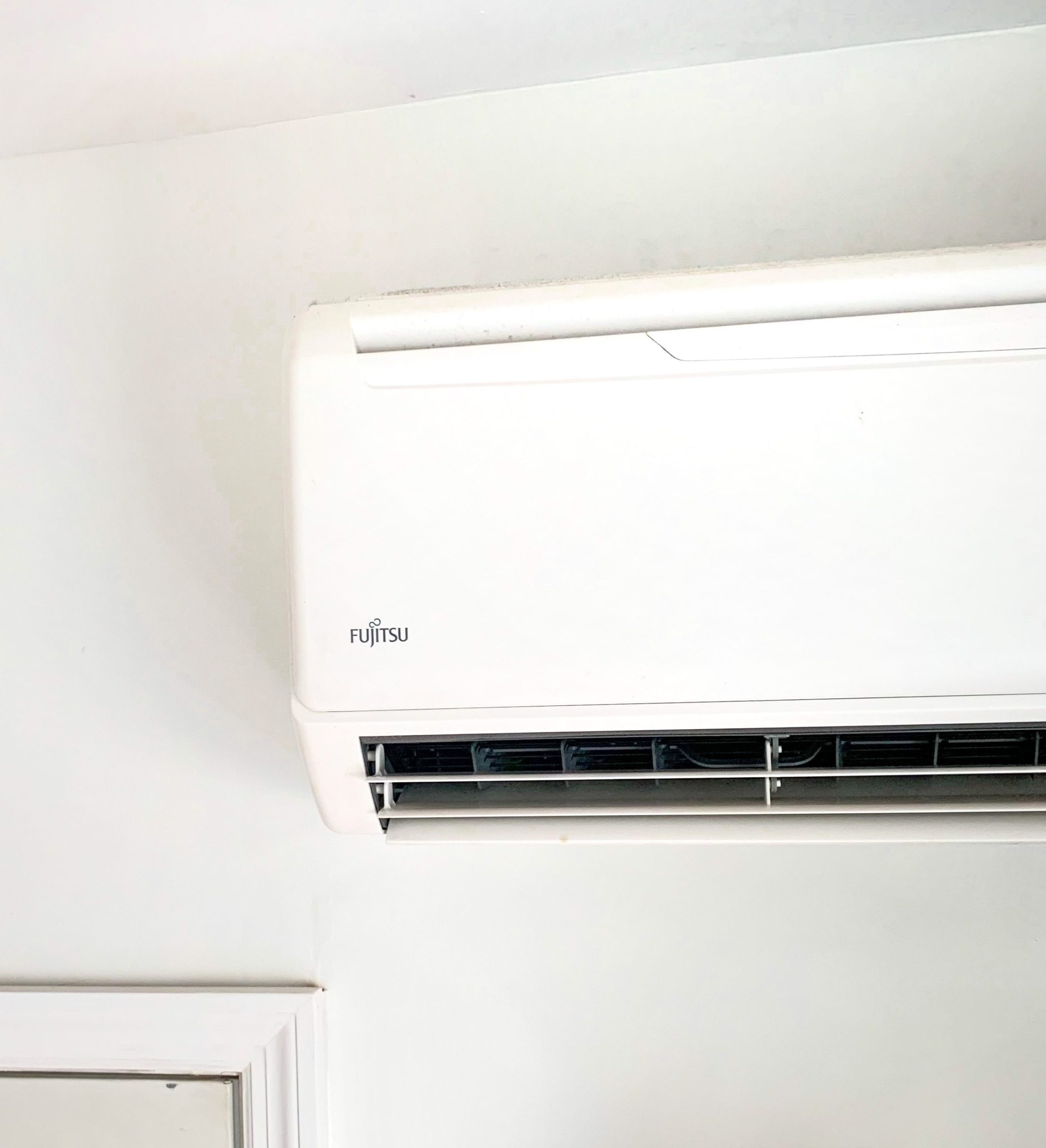 You've probably seen this spaceship-looking contraption in many places without noticing it – the waiting room at the doctor's office, window-less classrooms… 
Ductless mini-splits are great because they are exactly that—ductless!  You can get air conditioning without a Teenage Mutant Ninja Turtle-inspired duct system running through your house.  
Want to know how they work? The Department of Energy has a quick article for you: the ductless mini split ins and outs. 
We decided to spring for a Fujitsu ductless mini split during our first floor open galley kitchen renovation.  If all went well, we'd consider installing one on our second floor for tenants in the future.  
It's been two and a half summers since we first installed the unit – enough time to assess the pros and cons.  
Here's our Fujitsu ductless air conditioner review.
---
PROS
Price
As far as central air conditioning goes, the price of a Fujitsu ductless mini split is quite affordable.  Installation of central air with ductwork can easily run upwards of $10k, especially in an old house like ours.  
If our heating system boasted forced air, the AC company would be able to use the existing ductwork. However, our heating system is radiator heat, and the AC company would have to start from scratch on ductwork.  It would be complicated, and therefore cost more money.  
The ductless air conditioner cost us $5k total, including the unit, parts, labor and installation.  For a unit that keeps the house comfortable in the summer, we'll take it.  
---
Noise
You know what drives me nuts about window units?  
They're so loud. 
Oh, that summertime DRONE of a window A/C unit!  Add a couple of lawnmowers in the neighborhood and I'm over it!  Cancel the margarita and give me pumpkin spice, please!  
But I have to say, a highlight of the Fujitsu ductless mini split is that it is quiet.  
Ok, sure, if you run it on "high," you can hear the fan working.  But we generally keep ours on "auto" unless it's miserably hot, and we enjoy a very comfortable temperature in the house with comparably very little noise. 
---
Settings
Our Futjitsu ductless air conditioner review would not be complete without discussing its many settings!  
Let's take a look:
Mode options: dry, cool, heat, etc.
Fan options: low, high, medium, auto, quiet
Also has a timer, clock, and very obvious temperature up/down buttons.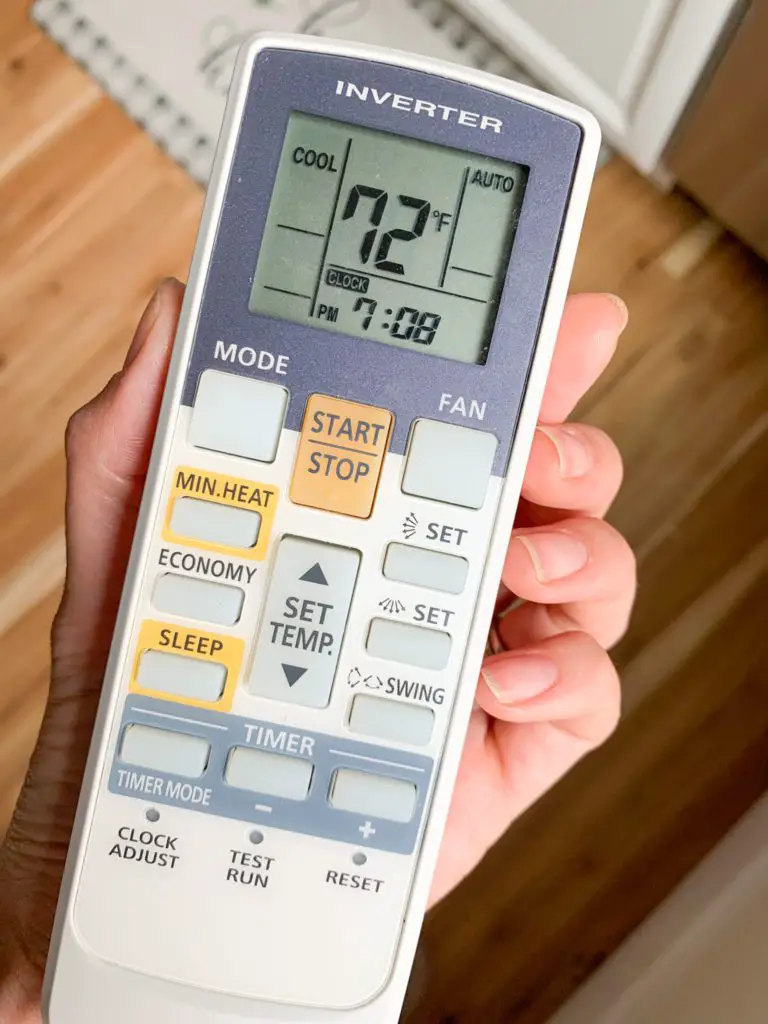 We appreciate that it comes with a remote control, so you don't have to climb hill and dale to adjust the temperature or settings.  
---
Versatile
Another huge perk of the ductless mini split – it doubles as heater!
You know that first "cool day" feel in autumn?  
It's usually a random Wednesday in the second week of October – temperatures plummet for exactly 20 hours.  
You think – do I turn the heat on?  Do I wait?  Should I get the boilers prepped for the winter?  But wait, it will be 70 degrees tomorrow—if we just wait it out…
With the Fujitsu ductless air conditioner, you don't have to worry about the boilers yet.  You can simply switch the setting to "heat" for the day.  
It takes the edge off of the pop-up-winter-preview, and you don't have to go crazy firing up the heat for just a day.    
---
Less work
You know that awesome day. 
Air conditioner day.  
You realize it, but a day too late – it's already sweltering outside!  
So, you and/or your partner dig into storage, locate the window air conditioners, haul them up or down a flight of stairs, trip on the plug, discuss which window to put it in, almost drop it out said window, fiddle with the accordion space-filler-thingys, send one person to fetch a 2×4 to prop up the back, get into an argument about nothing, and finally plug it in and turn it on, breathless and drenched in sweat.
Mm.  We know.
Thankfully, with a ductless split, you get to skip this day altogether.  Just dust it off and turn it on.  
Ahh… much better.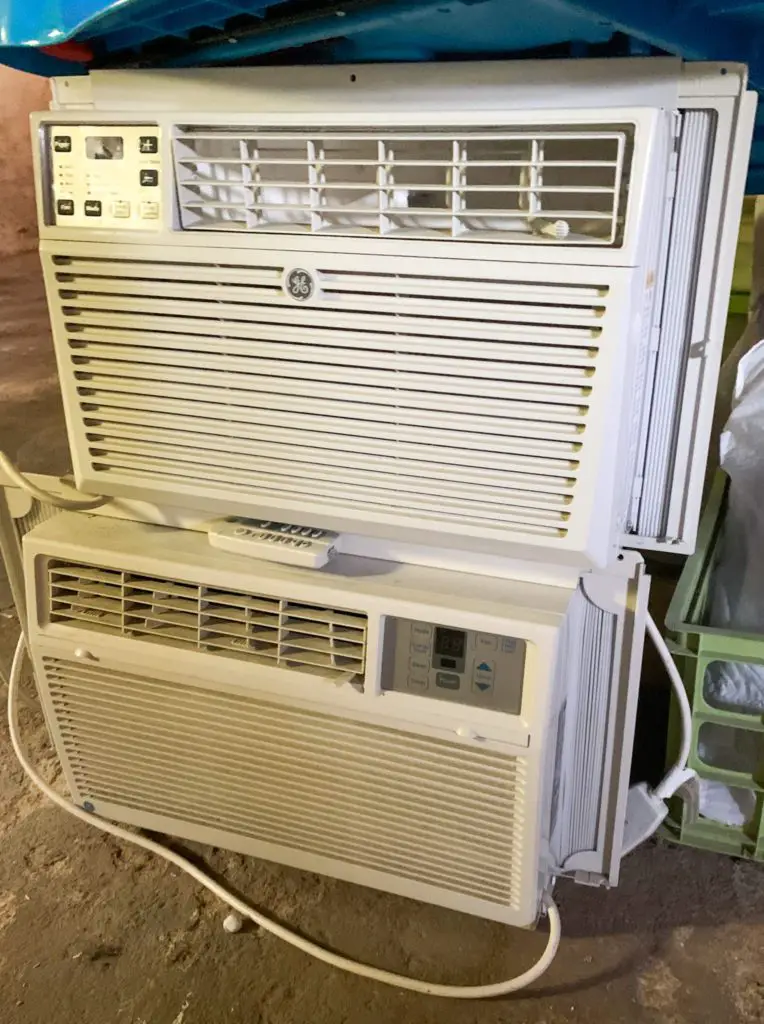 ---
CONS
Price
While yes, above, I admit that the Fujitsu ductless mini split is less expensive that a full-on ducted central AC install, it's still more expensive to install up front than, say, window units.  
If your house doesn't have ductwork and you need affordable air conditioning, you can probably invest in a window unit for $150 or less and call it a day.  
The up-front cost may deter some folks.  We still feel it was worth it.  
---
Location
Hear me now.  Choose your ductless mini split's home carefully. 
It will save you money if it is near an exterior wall.  It has piping – the further the pipes travel, the more pipes you pay for.  
The other strategic consideration is: where will the air best spread throughout the house?  
Since we're in a two family, our apartment is a modest size, so one ductless mini split gets the job done! However, our apartment is portioned off by many doors.
We chose to put the mini split in the kitchen since it is central to all rooms.  
But, we only had space for it on exactly one wall.  This wall just so happens to face our gas stovetop.  If the AC kicks on, it blows the gas all over the stove.  Not good.  
Our solution – turn off the AC when the stovetop is on.  
This is not ideal, however, it's perfectly bearable.  This is also not a fault of the Fujitsu unit and rather the fault of the company who installed it.  They probably could have foreseen this happening.  
The other tricky part of the Fujistu's location is that on especially hot days (> 90 degrees), we need to run a fan to really circulate the cool, dry air to all rooms.  
Again, this is not the fault of the unit, this is the fault of our apartment's closed-door layout.  We personally don't mind sticking on a fan to keep the whole house cool.  
---
Maintenance
I must tell you, as part of this Fujitsu ductless air conditioner review, that the unit requires maintenance.
No one mentioned maintenance of the ductless mini split after installing it in our house.  Naturally, we tossed the instruction manual to the side during our massive renovation (don't lie, you do it too!).   
We had been using it for the less than a year when the house started smelling moldy.  The sneezing and sniffles began, and we could only point to our AC unit.  After a call to the company that installed it, the kind worker gently informed us that we need to maintain the unit.  
You must hose off the outside unit.
You must clean out the filters.  (Plain ol' soap and water will do the trick, and let them dry in the sun if you can!) 
You must use this handy can of fresh-smelling who-knows-what to spray the gills of the unit. 
Then, turn the heat way up for about five minutes to help kill any germs. 
You should probably do these things about once a month.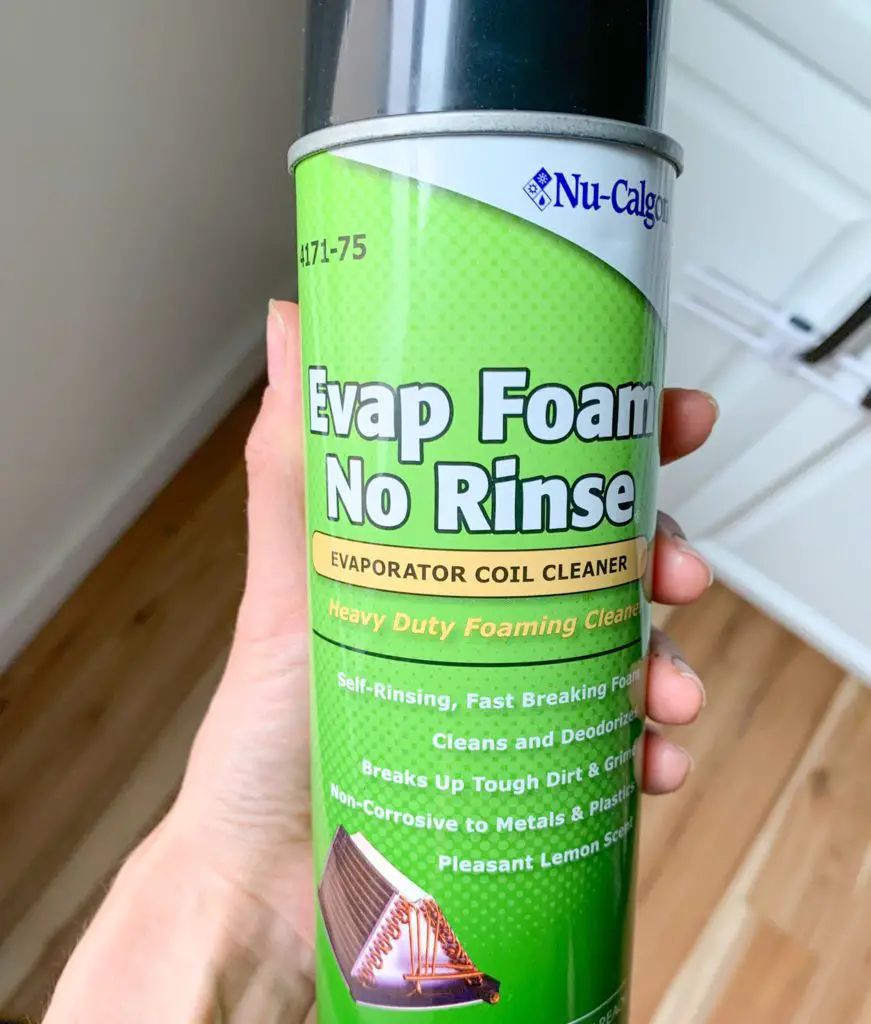 ---
Condensation 
The other miserable unforeseen negative of our AC unit is that on certain settings, condensation can drip from time to time.  This happened twice before we got smart about it.  
The first time this happened, our installers needed to re-do a drain pipe directly after installation.  
As you might imagine, I was livid— the unit was practically brand new.  
I classify that as a leak.  The installers blamed the sheetrockers for knocking something around.  (Little did they know, they were blaming Derek to his face.  Nice, right?  He didn't lay a pinky on the AC unit while rocking.).  Welcome to job site politics.  
Once the pipe was fixed, the drip happened again.  Condensation was drip-drip-dripping from the unit onto Grandma's antique china cabinet.  
The technician said that we should not run the unit on its "dry" setting, for this is what causes the condensation.  
Our solution: avoid "dry" setting if possible and keep an old towel under the unit to save Grandma's cabinet, just in case.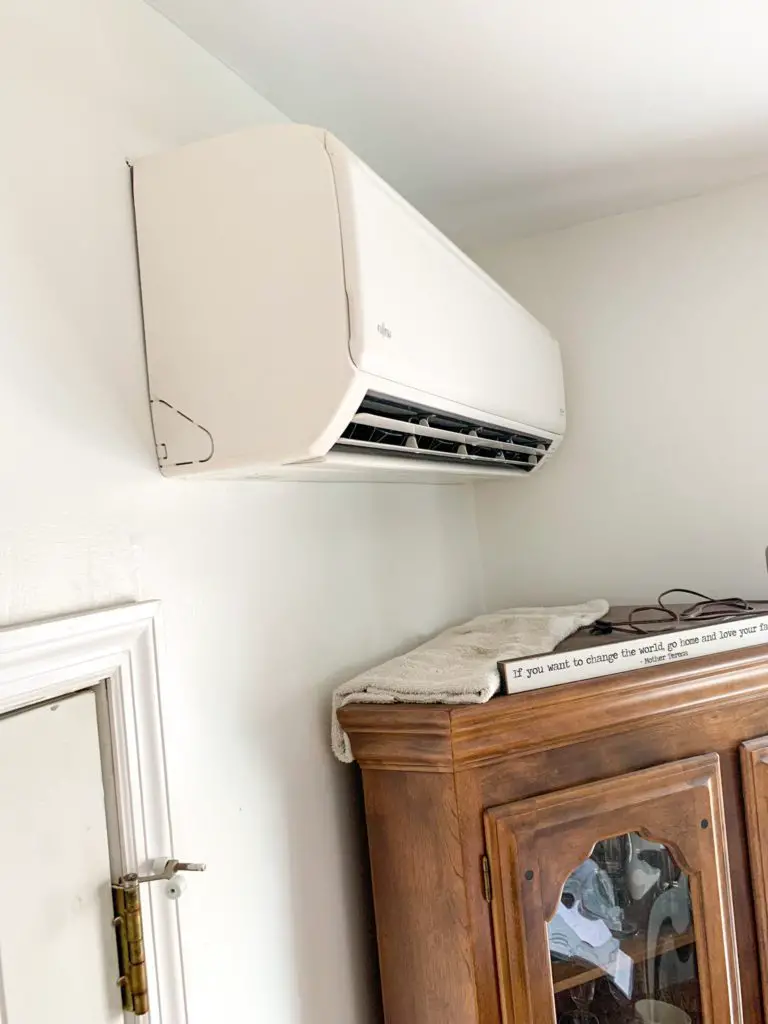 This, to me, is the biggest negative of the ductless split.  I wouldn't have bought a unit with so many settings if I didn't want to use them!  
I liked the dry settings for those humid August days when the humidity is so palpable you could scoop it into a bucket.  Alas, I now live without them.
---
Conclusion
To sum up our Fujitsu ductless air conditioner review :
The pros of the ductless mini split include its affordability, quiet running noise, versatile settings, and its ease of use.  
The cons include its up front price, particular location considerations, light maintenance, and condensation dripping occasionally.  
We hope you've found this Fujistu ductless mini split review helpful!  Leave a comment if you have any questions!
---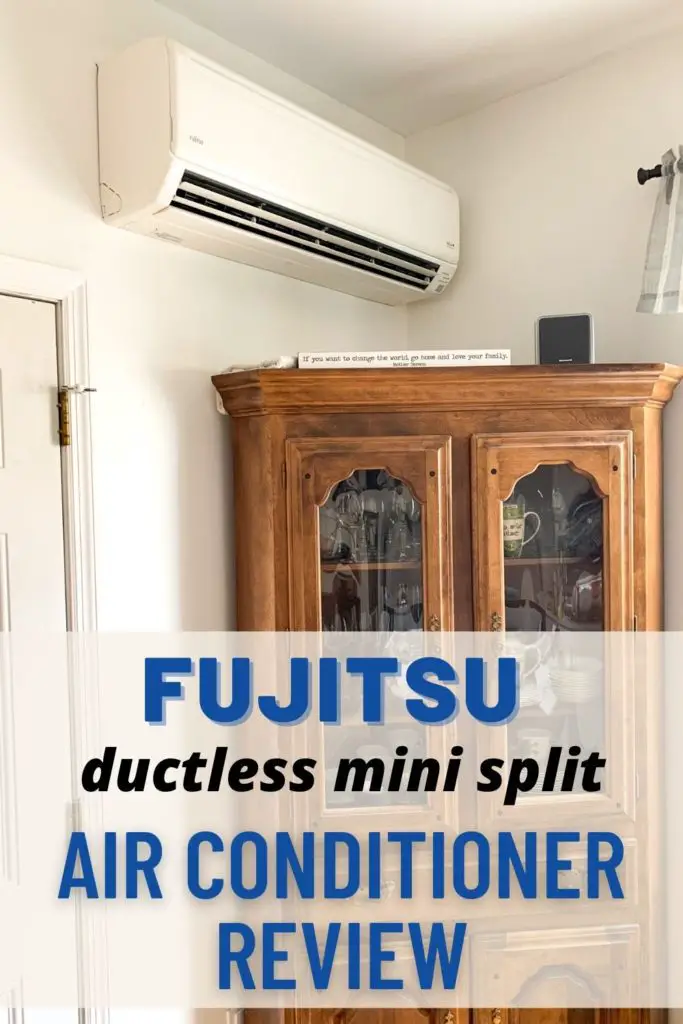 ---