how to plan a bathroom renovation
This post may contain affiliate links. If you purchase a product through one of them, we will receive a commission at no additional cost to you. As Amazon Associates, we earn from qualifying purchases.
---
Welcome to our two family house!  Today we are exploring how to plan a bathroom renovation.  
We've renovated three bathrooms here at our two family, which is totally crazy to think about!  We've only lived here for six years.  That's one bathroom remodel every other year. 
Craving the details of our bathroom renovations? Here you go:
Anyway, I bet you're here for some advice on how to plan a bathroom renovation.  You're about to remodel, your family needs a place to do their business, and you're just a little concerned about how this all might go down.
Fear not!  We've got you.  
---
---
Dream
Dream a little bit about what you'd like your new bathroom to look like.  Colors, materials… you name it.  
Maybe you've binged 12 hours of HGTV, picturing a farmhouse feel, or maybe it was that Airbnb you stayed at last summer which inspired a modern look… 
Whatever your preferred style, take a week or two to think about what you'd really like!  If you have a family or spouse involved, this is a good time to toss around ideas about needs and wants as well.  
As we like to say here at our two family, we're "just thinking out loud here," and "talking is free."  
---
Get a planner
Get yourself a copy of our printable Bathroom Renovation Planner, fresh from our Etsy shop!
Seriously, it's SUPER inexpensive and will give you a perfect roadmap for the crazy that is about to ensue.

---
Pick stuff out
Ah, shopping!  Yay!  
Or, maybe not "yay."  You're about to make a lot of decisions.  
Among the many decisions you will have to make include:
Tiles
Usually bathrooms have tile floors.  Some people like tile walls and tile showers, too!  
How much tile – just the floor, add the shower, up the walls, on the ceiling…? 
Patterned or plain?
And, what kind?  Porcelain, terracotta…
Vanity
This is a big one – how big a vanity would you like?  
Floating or footed?  
Colored or wood look?  
Big sink or little sink?  His and hers?  
Undermount or flush mount?  
Hardware
…brushed nickel, chrome, brass, copper?  
Or if that's not your language, ask yourself: gold, silver, or black?  
Colors
What kinds of color, do you want in this bathroom?  
Dark and moody, or bright fresh?  
Do you want color on the paint, tiles, linens, vanity…?
Will you go so far as to wallpaper?!
Toilet
Seems so simple. Can get complex.
One piece or two? Water efficient?
Handle or button?
Do you need a bidet??
These are all questions which stared us down in aisle 23 at our local big box. Don't be like us. Think ahead.
---
Budget
My least favorite part of planning a bathroom remodel… budgeting!
Maybe you don't need to budget, and that's super lovely. However, for most of us mortals, projecting costs is a necessity.
If you plan to use contractors, this is the time to have them swing by your place to give you an estimate. Make sure they give it to you in writing.
If you plan to do things yourself, price out your materials, subcontractors, etc., and add 10-15% on top as a contingency. And, don't forget to pull a permit if required in your town!
Want to save some money? Check out our post, How to save money on home renovations.
---
Buy materials in advance
It's 2022, which, means it's the year of the Tiger.
It also means it's the year of, "oh no! your item is stuck on a freight pallet in the Pacific Ocean indefinitely."  
You will probably fare better if you purchase your materials well in advance of your start date.  Once you begin your bathroom remodel, you will want to have finished your bathroom remodel.  Trust me on this.  
Having your materials staring at you, screaming, "Pick me! Pick me!" will result in a faster and more efficient renovation.  
Don't start without them all lined up and ready to go.  

---
Choose your vanity…
…And choose your vanity early.  Your plumber will stand a better chance of success if he or she sees it, live and in person,
Learn from my mistake when remodeling our first floor bathroom. 
We had decided to go with white tile and walls (the good ol' "light color makes a room feel bigger" still holds true for us!).  
Wanting to avoid a full-out psychiatric hospital look, we decided on a beautiful navy blue vanity.  Since we're tall, we chose a vanity with drawers instead of cabinet doors – less bending and crouching.  
Well, a few shipping delays here and an incorrect delivery there, our vanity took months to come in.  Our plumber looked at a picture of it but didn't ask much about specifications.  It all seemed so straightforward…
…until it came time to install the vanity.
Our plumber had roughed in a 1½" pipe – standard for kitchens – instead of a 1¼" pipe – minimum standard for bathrooms.  Our second vanity drawer only allowed for a 1 ¼" pipe.  This meant either the drawer would never close, or the pipe would have to go.
Options, from most to least annoying: 
Destroy the entire bathroom again to re-plumb the rough-in
Get another vanity and wait 3 more months for it to arrive
Give the vanity in front of us a little… haircut.
We went with option 3.  
The only people who know about it are me, the plumber, and anyone who needs a q-tip.  
---
Scheduling
Depending on how much of the renovation you plan to do yourself, your schedule may vary.  If you've only got one bathroom in your home, you should probably work very, very quickly.  
Schedule your deliveries first.  
Once you have your materials lined up (and in 2022, that means your materials are staring you in the face), then you can schedule your plumber and/or other contractors (electricians, carpenter, mason, etc.).  
Your plumbers and electricians will probably want to come twice and no more than twice: once for the rough-in, and once for the finishing touch (installing fixtures, etc.).  
If you are tiling your shower or floors, they will need time to dry for a day, so they can't just show up on one day and call it done.  Make sense?
If you're doing a full gut, your schedule will look something like this:
Demo
Rough in plumbing / electric
Sheetrock
Taping
Paint
Flooring  & tiles
Finish plumbing & fixtures
Please remember that tiles, taping and paint will need time to dry.  This might feel like it's taking forever.  I promise, your bathroom renovation will end… someday.
---
Keep the toilet for as long as possible
When working through how to plan a bathroom renovation, you're probably asking yourself, "where are we going to… you know… if we don't have a toilet?"
This is especially important if you only have one bathroom in your home.  
There's not really a good answer to this, other than – be sure you have a plan.  
If you've got a second bathroom, then there's your plan. 
If you don't have the luxury of a second bathroom, you may want to work out of order – as in, get the flooring done ASAP so you can get your toilet installed.  Typically, it's best to work "top-down" and do the flooring last, but in this case, a work-around might be better so that you've got a john!  
---
---
Quick tips
We have just a few random tips when you are thinking about how to plan a bathroom renovation:
Contingency plans: shower
Be sure to plan where you'll shower.  Renovations tend to take longer than we anticipate, no matter how carefully you plan.  (What's behind wall #1? Sometimes we'd rather not know, am I right?).  
Options: shower at your gym, your neighbor's house, via a bucket and sponge…
Keeping things nice while you work
Keep your tiles covered in cardboard!  The box that your vanity arrives in is a great fix for this.  Chop it up and tape it down with some painter's tape.  No one wants a chipped tile in their new bathroom!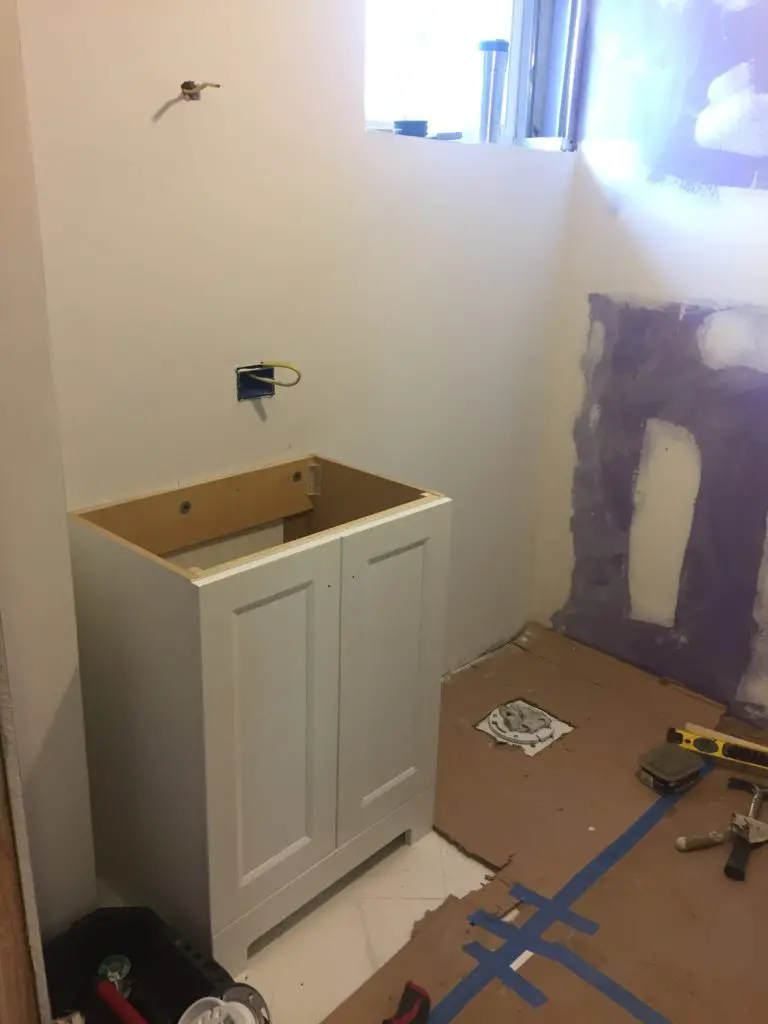 Keep the film or cardboard on shower and tub for as long as possible.  No one wants a chipped tub in their new bathroom!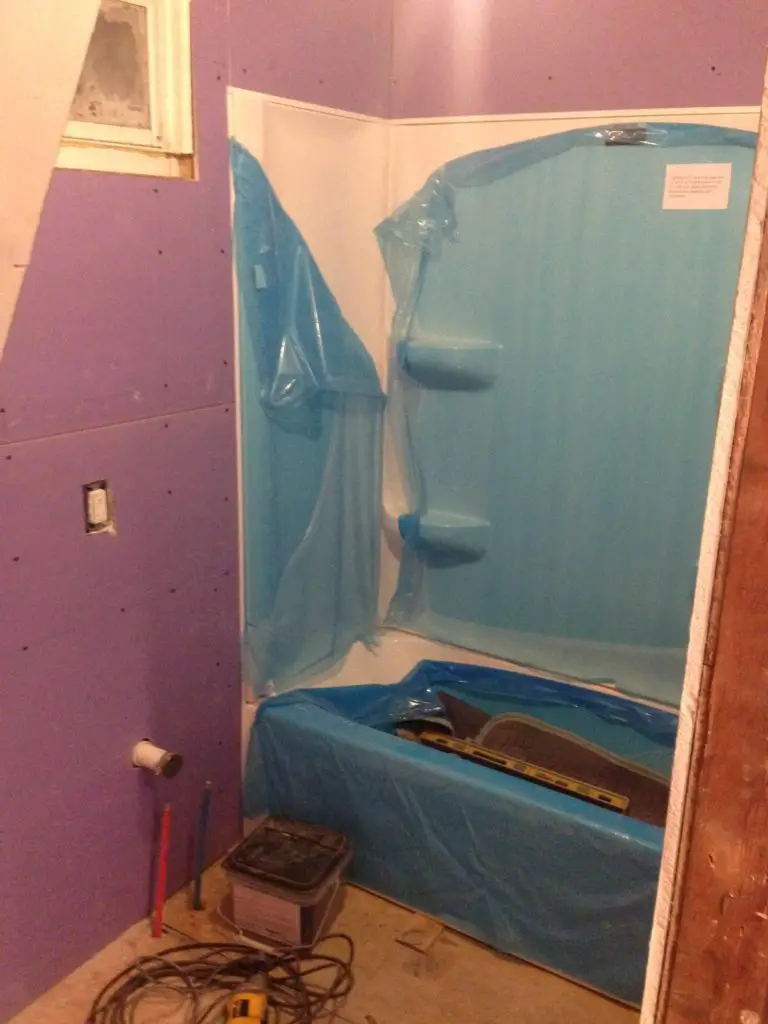 Take pictures of the pipes before you add the walls. This will always come in handy. Like this: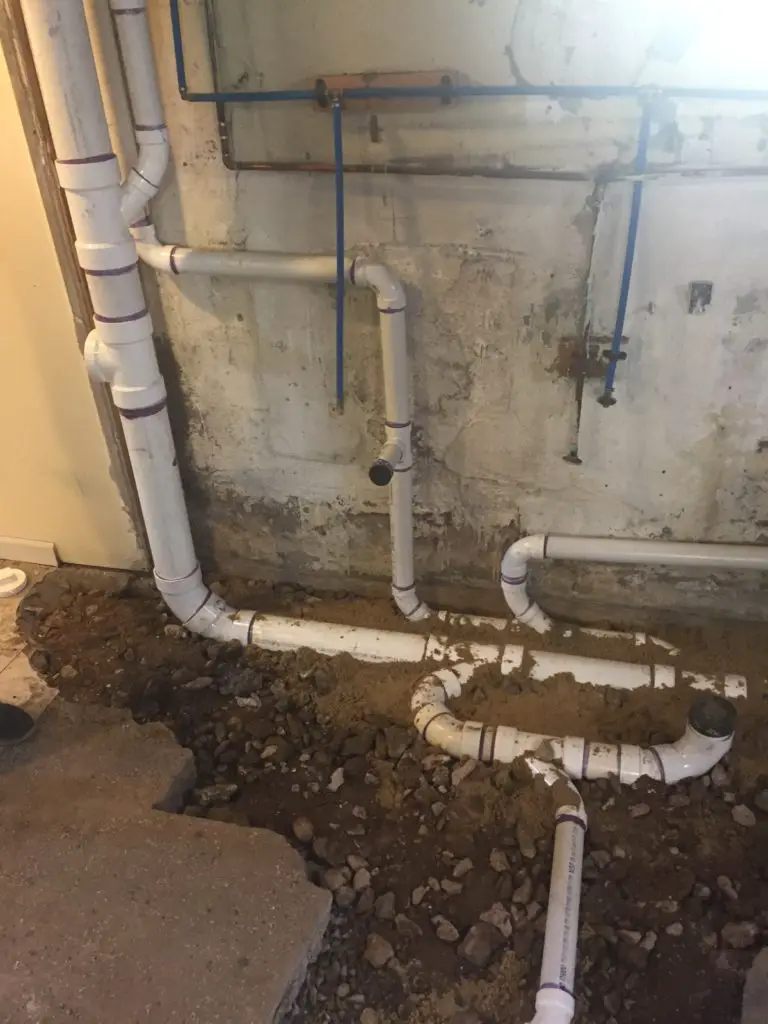 There's nothing like that crowning moment of towel bar and TP holder, wondering if you're about to drill into a stud or a pipe. Don't do that. Take pictures.
Contingency plans: humans
What do you do with your family during a bathroom renovation?  
Ideas: Consider sending your sweetheart on an all-expenses paid vacation.  What about Grandma's house?  Or sleep away summer camp (for your kids, not your wife).  Maybe there's a bachelorette or bachelor party weekend you can take advantage of.  
Or, just get the fam some work boots and call it an adventure.  If your kids are old enough, they might learn a lot from helping with a renovation. Bonus – they'll have a ball while participating.  
---
Final thoughts on how to plan a bathroom renovation
That's all for now, fam!
How to plan a bathroom renovation, from dreaming to scheduling and beyond.
Don't forget to snag your Bathroom Renovation Planner – it will make life so much easier, promise!
---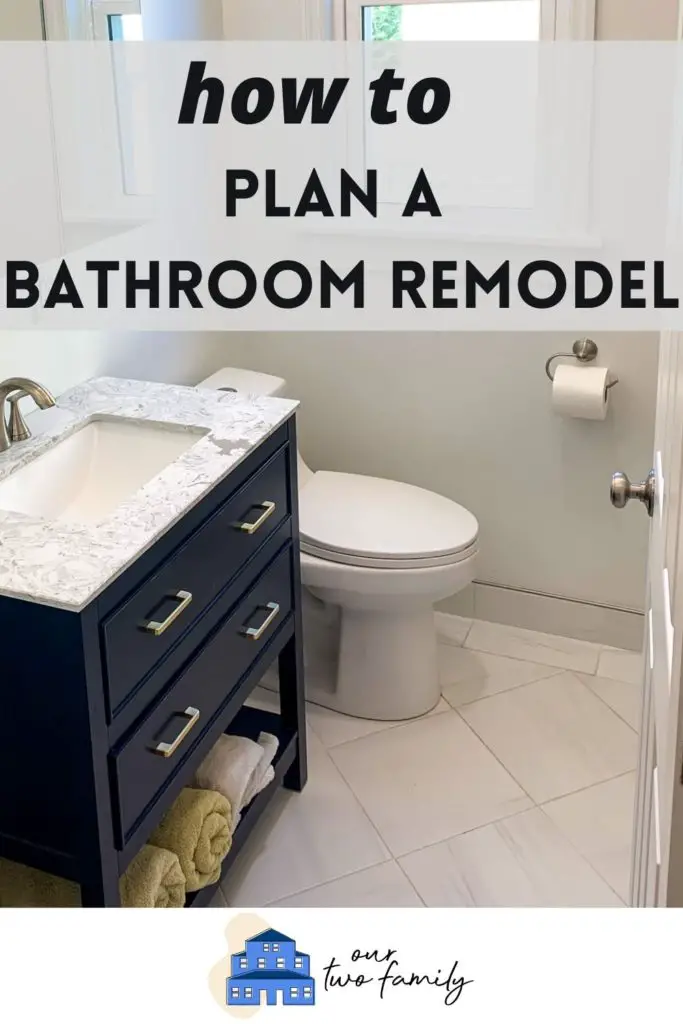 ---