how long does a kitchen renovation take? our realistic advice
This post may contain affiliate links. If you purchase a product through one of them, we will receive a commission at no additional cost to you. As Amazon Associates, we earn from qualifying purchases.
---
Ah.  The age-old question.  How long does a kitchen renovation take?
The short answer is, anywhere between 3 weeks and 6 months.
The long answer is—it depends.
The comical answer is – seemingly forever.
What does it depend on?  Let's dive in!
---
Who is Doing the Work?
The first question you need to consider when establishing your kitchen renovation timeline is, who is going to do the work?  
Are you planning to hire a contractor?  Or will you do the work yourself?  
Hiring a Contractor
While we love to DIY, hiring a contractor can be a great move!
There are lots of reasons to hire a contractor, particularly if you have no interest or skill in remodeling.
Be sure to get the recommendations of friends and family. Honestly ask your resource how long their renovation took.  Have no shame in asking the contractor how long they think it will take.  
And, beware, If your contractor stinks – and there are some that do – you might have to fire them and find someone new.  This could add weeks, if not months, to your project!  
Tips – ask your contractor what their schedule looks like. If they're busy or shorthanded (or both!), they're not going to be working at your house every day. While they will likely work faster than the average DIYer when they are there, it won't do you any good if you're on hold for three weeks. The best ones will be honest with you about this.
DIY Kitchen Remodel
If you plan to DIY the kitchen renovation, consider: have you done this before?  Or is this your first crack at a remodel?  
If you've done this before, you've probably got an idea of how fast you work, how much help you have, and how much time you can devote to the project.  Someone with a sweet bit of time off might have a faster kitchen renovation than someone with a 9-5 doing renovations on nights and weekends.  
If you haven't DIY'd a kitchen before, plan on the kitchen remodel taking a little longer.  There is a learning curve on everything from planning your home renovation budget to ordering appliances to installing a tile floor.  
There's nothing wrong with a remodel taking a while – it's your house, and ultimately you're gaining remodeling skills, so that's a great thing!  
Just be prepared for it (check out How to Prepare for A Kitchen Remodel) and be patient with yourself and/or your team.
---
How Big is the Kitchen?
Call me Captain Obvious, but a larger kitchen will take longer to remodel than a smaller kitchen will.  
With a larger room comes more materials to install, more square footage to paint, more, more, more! This is one of the reasons we love the Best Benefits of a Smaller House. 
There's nothing wrong with a bigger project – just know that it will take more time.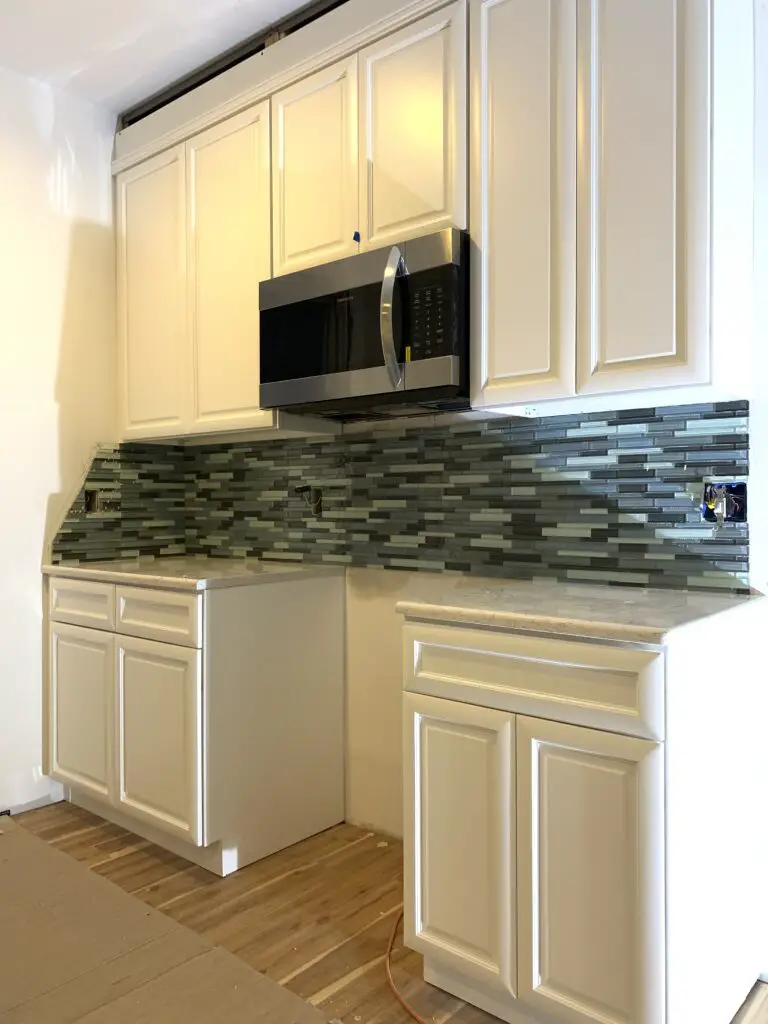 ---
Scope of kitchen renovation project
This is a biggie!  If you're thinking about how long a kitchen renovation takes, you need to think about the scope of your project.
Are you painting the cabinets and changing a light fixture?  Give yourself a week or two.  
Or, are you getting all new cabinet doors, ripping out a backsplash, replacing floors, and calling in an electrician for 6 new high hats?  Now we're talking 6-8 weeks.
Or… are you completely gutting the room down the studs, rearranging the layout, moving a sink and a gas line, replacing windows, and overhauling the electric?  See also: our Open Concept Galley Kitchen Renovation.  
That one took us 6 months.  Granted, we paired it with a bathroom renovation and master bedroom renovation, worked only nights and weekends, and were rudely interrupted by a global pandemic… but still.  A gut renovation can take a while. 
---
---
Steps of a Kitchen Remodel
To help you estimate your timeline, consider the steps of a kitchen remodel.  
How long does it take to demo a kitchen?  
I would say we took 2-3 full days to get through our demo.  To give you an idea, our kitchen is about 10' x 17', and we did a full gut down to the studs, including the first layer of ceiling.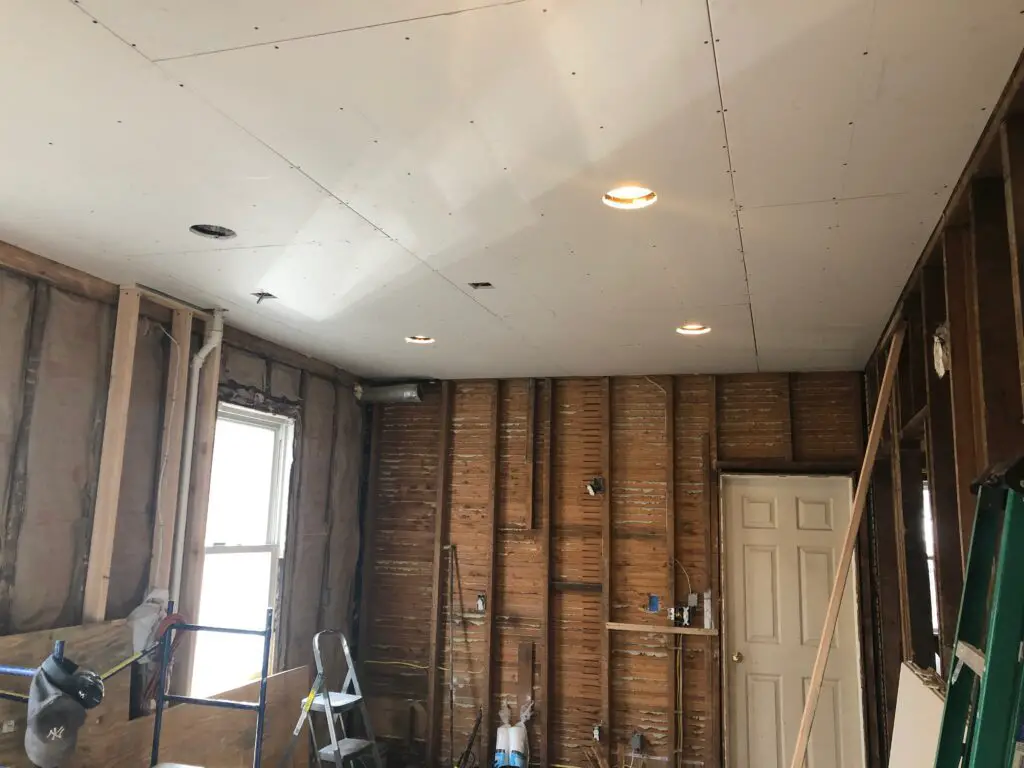 How many days for contractors?
Electricians or plumbers could need anywhere between 1 and 4 workdays to rough-in. Add another week or two, especially if waiting on scheduling.  
Sheet rock and taping
Depending on the size of the room, this could also be a week or two.  
Flooring and backsplash
These could take a workday each, maybe two if it's a big room.  
Cabinets & Countertops
Cabinets – a full day.  Countertops – maybe another half to full day.  If you're getting a delivery, you might spend half the day waiting for the truck to arrive.
See how this can add up?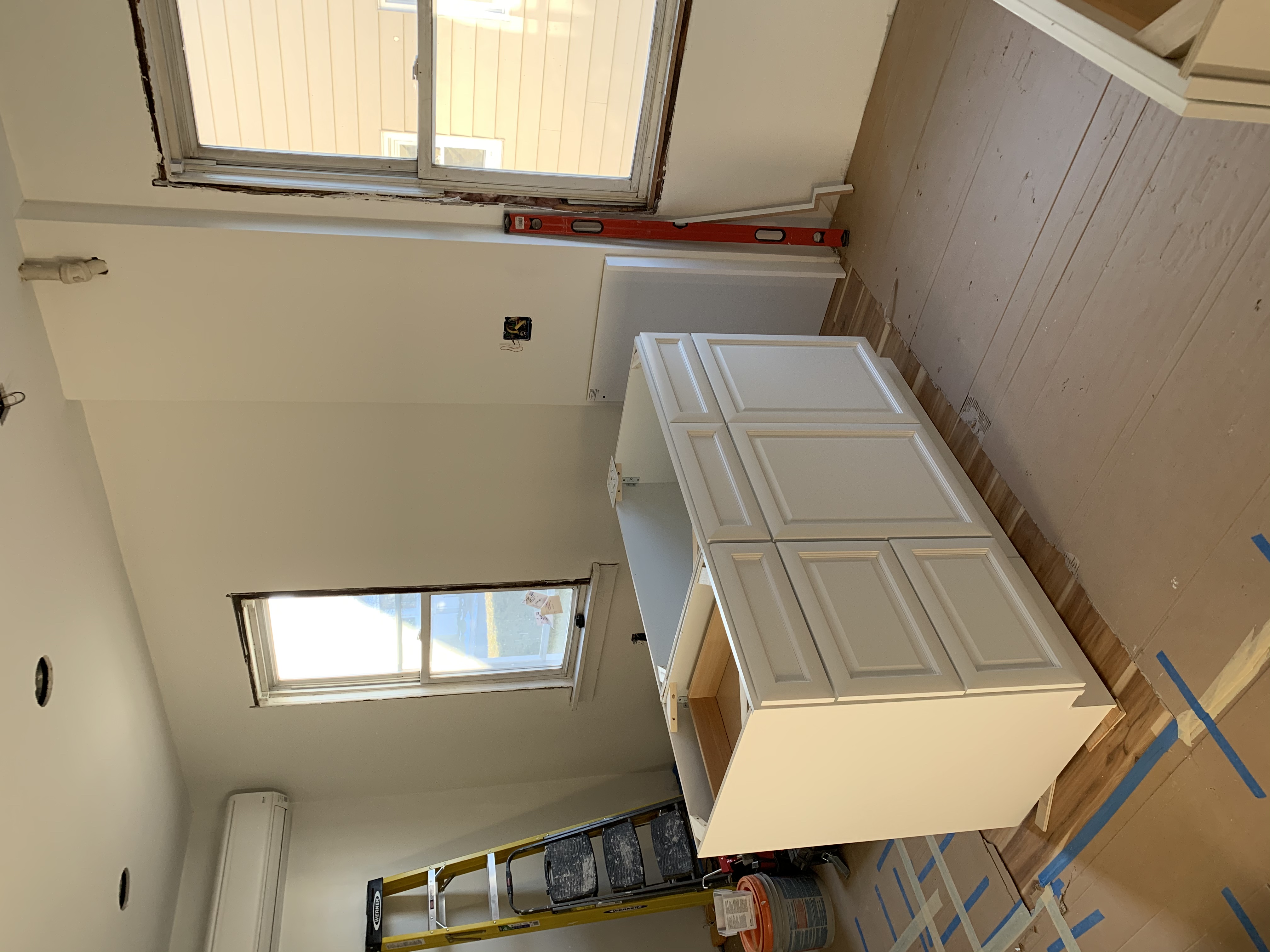 Contractors return
Then you get to wait for the electricians or plumbers to return for the finish work.  
Taping, Painting, and Finish work
Taping needs a day to dry between coats, and usually 3 or 4 coats. Hopefully you've been doing this as your go, but it will take at least a week.  Then add painting for a day or two. And add trim for a day or two (or five), depending on how many windows and doors you have.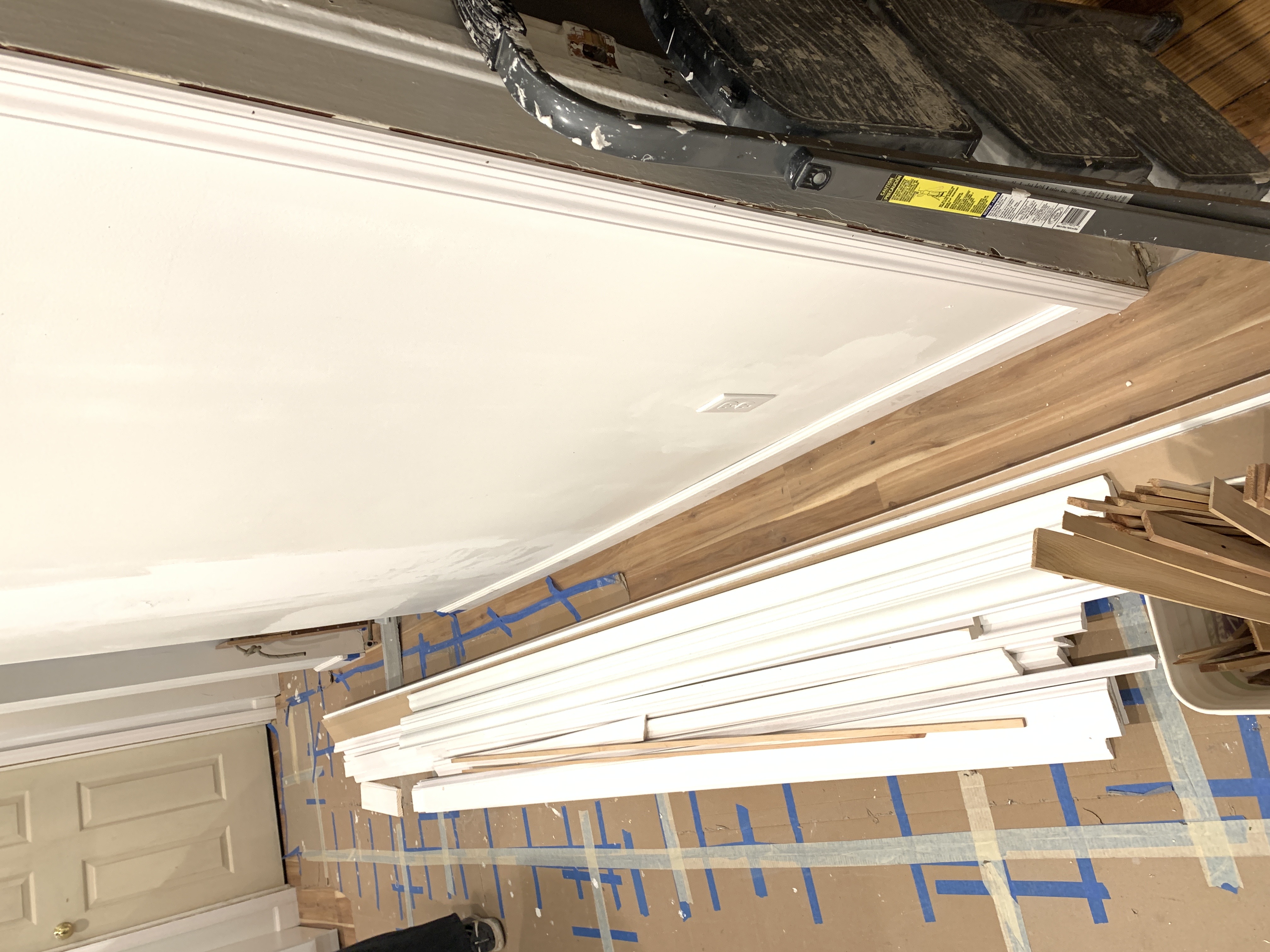 Kitchen Renovation Timeline
Here is a list, to make that easier to read:  
Demo: 2-3 full days
Rough in electric and plumbing: 3-10 full days
Sheetrock – 3-10 full days
Flooring – 1-3 days
Backsplash – 1 day
Cabinets – 1 day
Countertops – 1 day install
Finish electric and plumbing – 1 or 2 days
Taping – 4-10 days
Painting – 1-2 days
Trim – 1-4 days install

---
Product availability & Shipping delays
The best part about renovating a kitchen in 2022 is wondering where on planet Earth your materials might be!  (Said no one, ever.).  However, it's nice to know your bathroom vanity has enjoyed an extended cruise tour of the Pacific Ocean, right?
If you're planning a kitchen renovation that will require big orders, like appliances, cabinetry, lighting, or tiles – be sure to get your orders in early.  As my Grandmom would say – "'tis better to be looking at it than for it."  
Hopefully you've got space to store your materials as they arrive.  Then, they'll be waiting for you, instead of you waiting for them.
If you're hiring a contractor for your project – don't be afraid to ask who their suppliers are and how much lead time they need for materials.  Be up front about your design choices so that they can order things right away!    
---
Can't get enough? Check out our best Kitchen Renovation Tips – 11 Simple Ways to Make it Easier.
---
Worker availability
This goes for both the DIYers and those who hire a contractor.  A huge consideration when asking how long a kitchen renovation will take is: how often will the workers do their work?
If your contractor is busy – and they seemingly are all busy – how often will he or she be coming to your project? 
Sometimes they'll come a day or two in a row, and then leave for something else that's pressing.  You're probably not their only customer – fortunately and unfortunately – so you might need to add a week or two to your kitchen renovation timeline to accommodate for their schedules.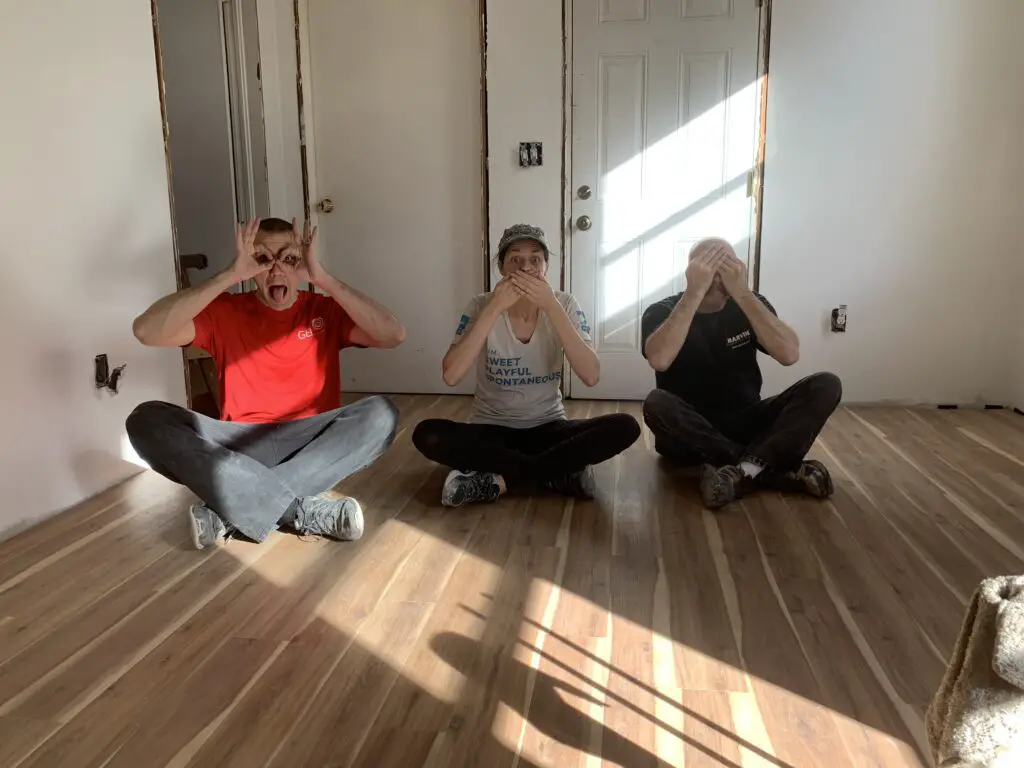 If you're DIYing the project, ask yourself – when are you realistically going to do the work?  
Listen, I'm the first person to pick up a paintbrush, but if I've had a marathon work week, it's very unlikely I'll be bright and chipper on a Saturday morning at 7am to start the primer coat.  
Consider: do I have a few days off to make a big push?  A holiday break from work, a few days of personal time, an entire summer off (thinking of teachers here).  Or will this be a nights-and-weekends approach?  
All of our projects have been a "nights and weekends" approach.  I'll be honest, it's exhausting, but when you want your kitchen done, you get it done.  Even an hour a day can make a difference. 
---
The Ol' Town Permits
One other significant hold-up you might face will be obtaining and passing your town permit requirements.
Some renovations do not need a permit. For example, replacing a window will likely not require a call to your local Building Department.
However, once you start rearranging plumbing and electric – they'll want to know.
Our top tips for speeding up the permit process:
Be nice to the administrative assistant.
File all of your paperwork as soon as humanly possible.
Follow up on all phone calls promptly.
Be nice to the inspector. Don't volunteer any information. Answer questions succinctly if asked. Get my drift?
Permits will eventually finish up, but don't be surprised if waiting for yours adds time to your project.
---
---
Contingency planning for your kitchen remodel
Let's get smart here, fellow renovators. When you're thinking through the question, "how long does a kitchen renovation take?" you need to be honest with yourself.
This is not the time to get ambitious about how fast the project will go. Please don't rip out your kitchen three weeks before you host the family Christmas party. That's a recipe for disaster.
Hustling on a renovation throughout the holiday season? We've been there. Read Renovating During the Holidays – Tips on How to Survive.
Take all of the above considerations, including obtaining permits to wrangling contractors, and add a week. If your house is starting out in bad shape, add two weeks.
Just like adding a 10%-15% contingency to your home renovation budget, add a contingency to your kitchen renovation timeline.
---
How to speed up a kitchen renovation
Get pregnant.
Nothing lights a fire under a project like a baby on the way.
Ask me how I know.
---
Conclusion
We hope this helps you establish how long a kitchen renovation will take!
Be sure to consider everything from contractors to DIYers, the scope of the project to the size of the kitchen, and of course worker availability and permits.
Patiently plan your kitchen remodel and you will be basking in its shiny new glory in no time!
---
Related posts:
---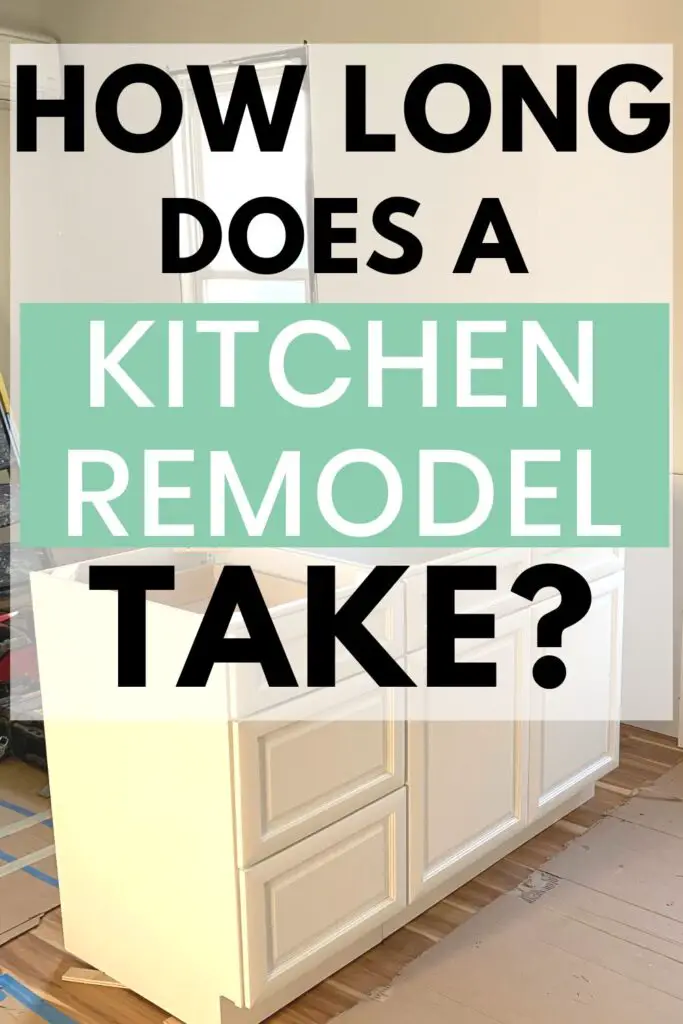 ---