selling used kitchen cabinets – make it a profitable win/win!
This post may contain affiliate links. If you purchase a product through one of them, we will receive a commission at no additional cost to you. As Amazon Associates, we earn from qualifying purchases.
---
Selling used kitchen cabinets is a fabulous way to make a few dollars back on your kitchen renovation! 
I'm so glad you're here – we have sold our used kitchen cabinets not once, but twice, and are here to help you do the same.
The perks of selling used kitchen cabinets are many. First, you get some money, and your buyer gets a kitchen.  
Secondly, you're keeping an old kitchen out of a landfill, which is a step in the right direction for our environment.  Everybody wins!
But before we get to the celebrating, let's weed through the who, what, and how of selling used kitchen cabinets.  There are a few tricks we have learned that you might find useful.
---
Best way to sell a second hand kitchen
The best way to sell a second hand kitchen is to list it online.  
People who are buying a used kitchen are likely concerned about measurements.  
Buyers will exert the least amount of effort by examining cabinet sizes above all else.  
Buying used limits options – which can be a good thing! – but if folks are shopping this way to save a few dollars, they'll want to make sure the product fits in their space.  
---
Where to sell used kitchen cabinets?
We have personally sold used kitchen cabinets via Craigslist.  
While we had listed the kitchens on both Craigslist and Facebook Marketplace, our buyers happened to find us on Craigslist.  
As a big fan of reselling, I personally have found that contractor-types still do quite a bit of shopping on Craigslist, and more "finishing touch" shoppers are found on Facebook Marketplace.  
For example, I've sold cabinet hardware, plumbing parts, random cabinets and a mini fridge on Craigslist.  
On the contrary, I've sold dressers, a desk, end table, and decorative mirrors on FB marketplace.  
It's a slight difference, but it's one to note.  
---
---
Who will pick up old kitchen cabinets?
In our experience, people who will buy old kitchen cabinets are contractors, DIY weekend warriors, and landlords.  
We personally qualify under the last two, and we ourselves purchased a used kitchen from Habitat for Humanity.  You can read all about it in our post, Impressive Old House Kitchen Renovation. Unfortunately, our local Habitat stopped accepting kitchen donations, so that's no longer an option.
As for selling used kitchen cabinets, the first time we sold them, it was to another landlord.  He seemed to be either outfitting or replacing something in an apartment. We sold it to him for cheap, as they were in rough shape, but he was thrilled.
The second time we sold a set of used kitchen cabinets, it was to a family who was setting up a second kitchen in their basement.  They wanted a little area to outfit their recreation space with a place for snacks and sundries.  
It was clear that the buyer's father was an experienced craftsman who could think through the details of cabinet measurements and make them work.  
If selling your used kitchen by yourself isn't for you – check out Little Green Kitchens and The Used Kitchen Company – innovative companies that provide other options.
---
How to sell used kitchen cabinets
Selling used kitchen cabinets online is simple!  The two most important things you need to do are measure accurately and take good pictures.
Measure your kitchen cabinets
You'll need a measuring tape and something to write down your measurements.  
Be sure to measure accurately – there's someone out there who will carefully inspect each cabinet to be sure they will work for their space.  
Lower cabinets
Measure the width of each cabinet individually.  Standard sized cabinets usually go in increments of 3 – ex., 30", 33", 36", etc.  
Then – measure height and depth.  These will likely be repetitive, so you can either do it individually, or just say "all lowers are 24" deep and 33" high."  
If you have a corner cabinet, measure everything!  By this I mean, measure the front of the cabinet, the largest dimension across (like the biggest width of a diamond), and the depth from front to back corner.  Geometry will make this all make sense.
Be sure to note which cabinet has a place for a sink, and if you are including the sink and its faucet with the cabinet purchase.  In all 3 cases where we've dealt with used kitchen cabinets, they have included the faucet and sink with purchase.
Also note if there are nice features, like interior drawers, soft close drawers, a Lazy Susan, dummy doors, or a concealed trash bin drawer.  We purchased our second floor kitchen used, and at a steal of a price at $2.4k, it had all of these features!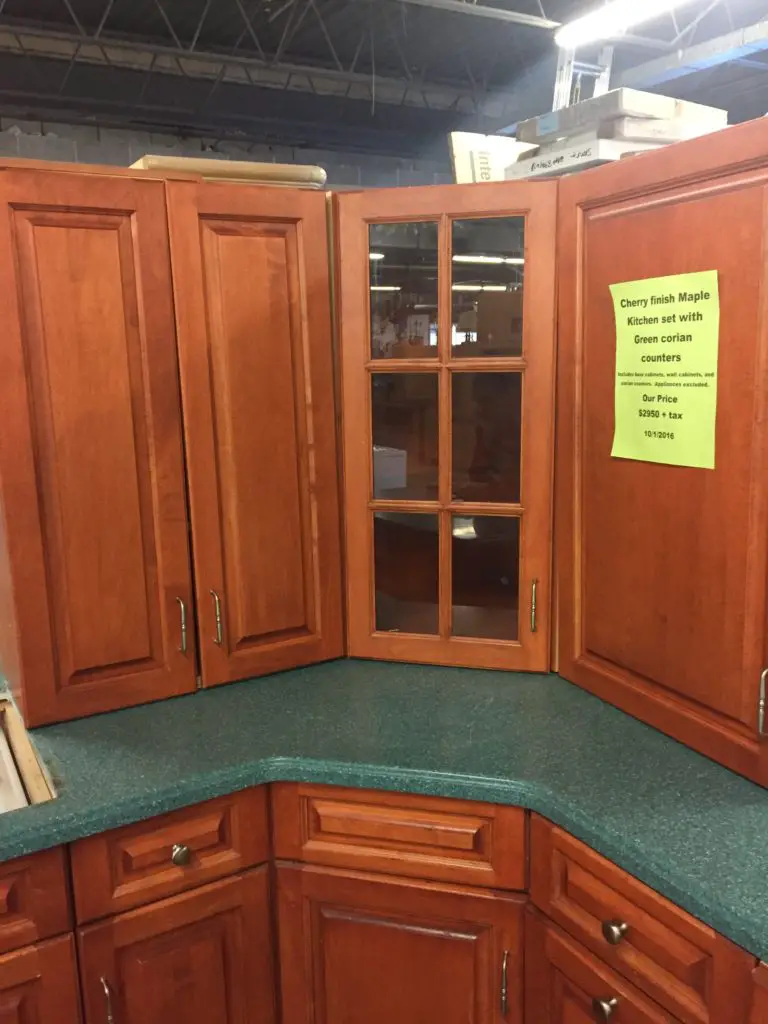 Upper cabinets:
Again, measure the width, height, and depth of each cabinet individually.    
Note if there are features like crown molding, a corner cabinet, open shelving, or a glass pane door.  
You also should note if the shelving is removeable and/or adjustable.  
Countertops
It's up to you whether you include the countertops when selling used kitchen cabinets.  Though, I can't imagine what other purpose you'd have for them!  
Either way, as above, measure accurately, even if it seems obvious.  
---
Take good pictures
Selling used on any platform requires awesome pictures.  By the way if you love reselling, check out our post Reselling Online for Extra Cash for tips and tricks on how to resell just about anything.
Back to your used kitchen – be sure to take good pictures to sell them online!  
Clean your cabinets thoroughly and buff them up to look good for their close up.  We love Olde English polish for brushing up stained cabinets.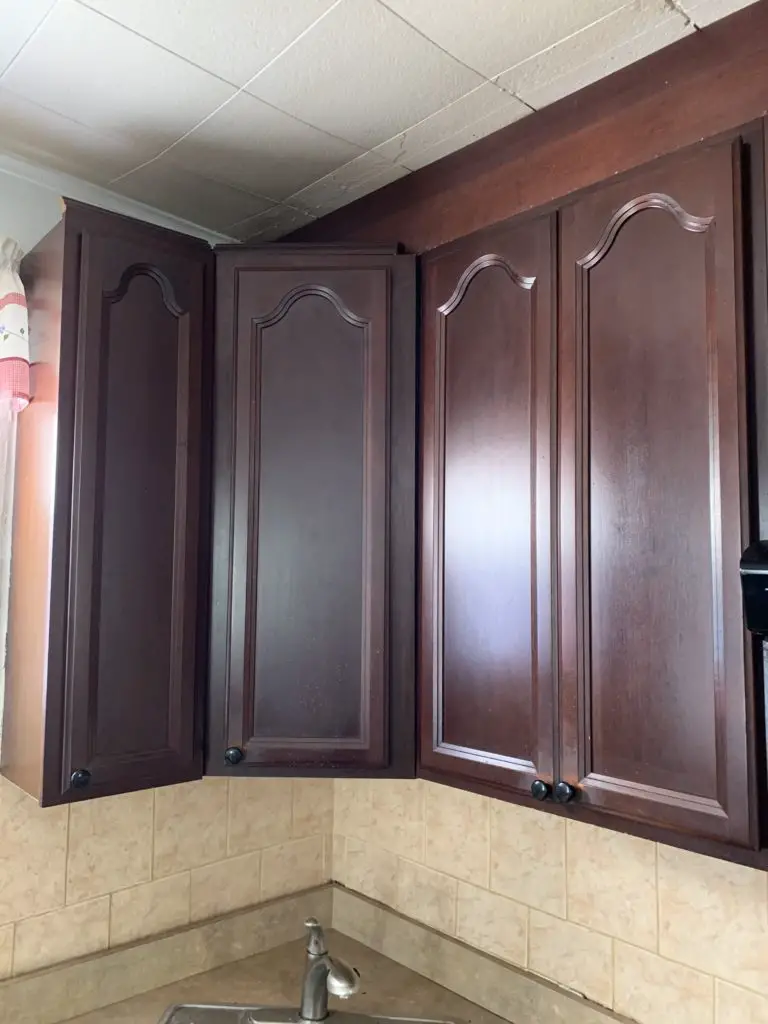 Here are some notes for taking pictures:
Do photos during the day to take advantage of the best light.  
Take a wide shot (hold your phone horizontal, i.e. left to right) of the entire kitchen
Take individual shots of each section of cabinets, for example a wall of uppers.
If the cabinets have adjustable shelving or other features, take a pic or two to drive that point home – people shop with their eyes.  
Take close ups of any blemishes or imperfections.  Note – these will not prevent you from selling the kitchen!  Just inform your shoppers up front and let them decide.
Create your listing
Here's a real example of our used kitchen cabinet listing.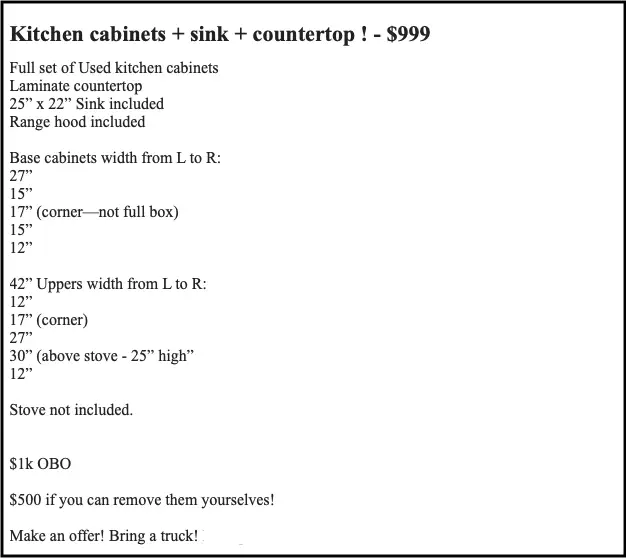 For your safety, do not list the exact pickup location on your ad.  I personally wait until I have a day and time confirmed before disclosing a pickup address.  
It's also good to remind shoppers that they will need a large vehicle to pick it up (unless you plan to offer delivery).  Sometimes people want something and then realize they can't get it home! 
---
---
How much can you sell used kitchen cabinets for?
You can list your used kitchen cabinets for whatever price you think is best!  Welcome to the wild west of internet reselling!
Seriously though, there are a few things to consider when pricing your cabinets.
How old are they?  If you have a kitchen from the '50s, you'll want to charge less than a kitchen from 2009. 
What kind of cabinets are they?  Try to figure out what they're made of or where they're from.  MDF is cheaper than solid woods, right?  
How big is the kitchen?  Price out what it would cost to buy that sized kitchen brand new.  
What kind of extras are you throwing in?  Adding a sink, faucet, and countertops make the listing more valuable.
Are you offering delivery / charging extra for a delivery?  
What condition are they in?  
Will you remove them or will the buyer?
I will say, the lower you price them, the faster you'll sell.  In our experience, any amount of money earned on this endeavor would be worth it to save on our dumpster weight costs and to get rid of the old kitchen quickly.  
---
Selling our used kitchen cabinets
The second floor
During our Second Floor 100-year-old House Renovation, we decided to list these cabinets online and see what would happen.  
Given their age and miserable condition, we listed them for $500 if we removed them, and $250 if the buyer removed them.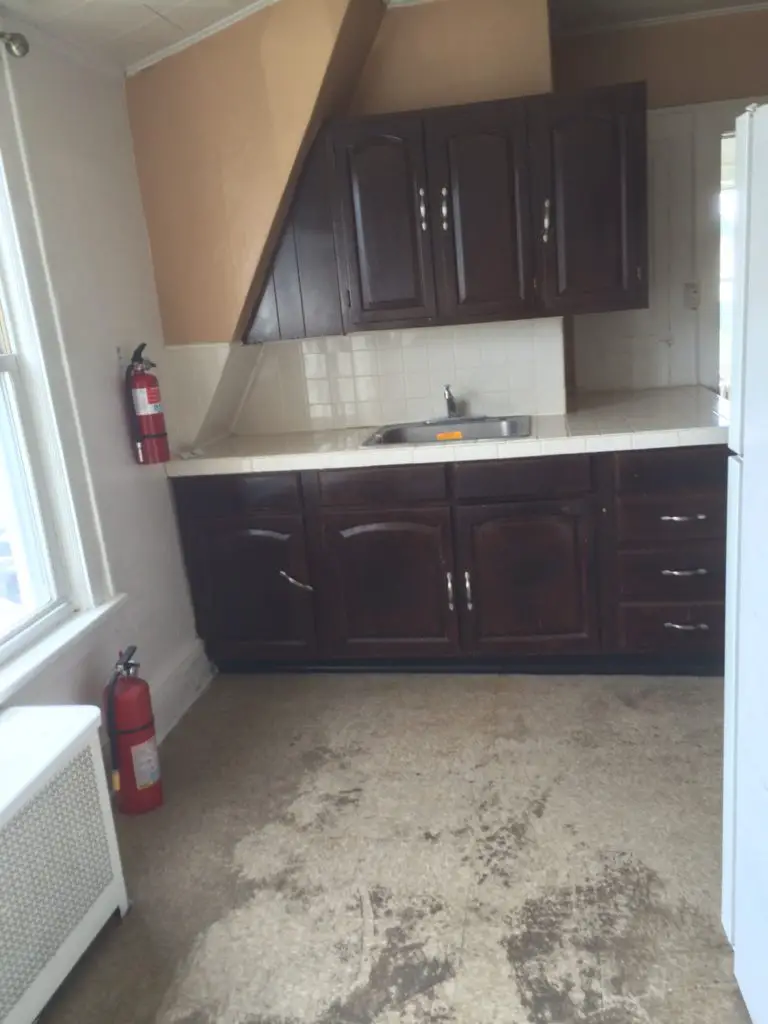 (See how incentives work?  If they remove the cabinets themselves, they save money.  Remember, secondhand shoppers are always seeking a deal!)
Someone ended up offering us $200 and we said YEP.  This old fella and his two buddies came along with a rickety trailer and a Sawzall and went to town.  Two hours later, we had cash in our pockets and that ugly kitchen out of our hair.  
We didn't lift a finger on getting rid of this kitchen and got some money to put towards our renovation.  Not bad for a first try.
The first floor
During our first floor Open Galley Kitchen Renovation, we decided to try and strike gold again!  
We used the same tactic – $1,000 if we take them out, $500 if the buyer removes them.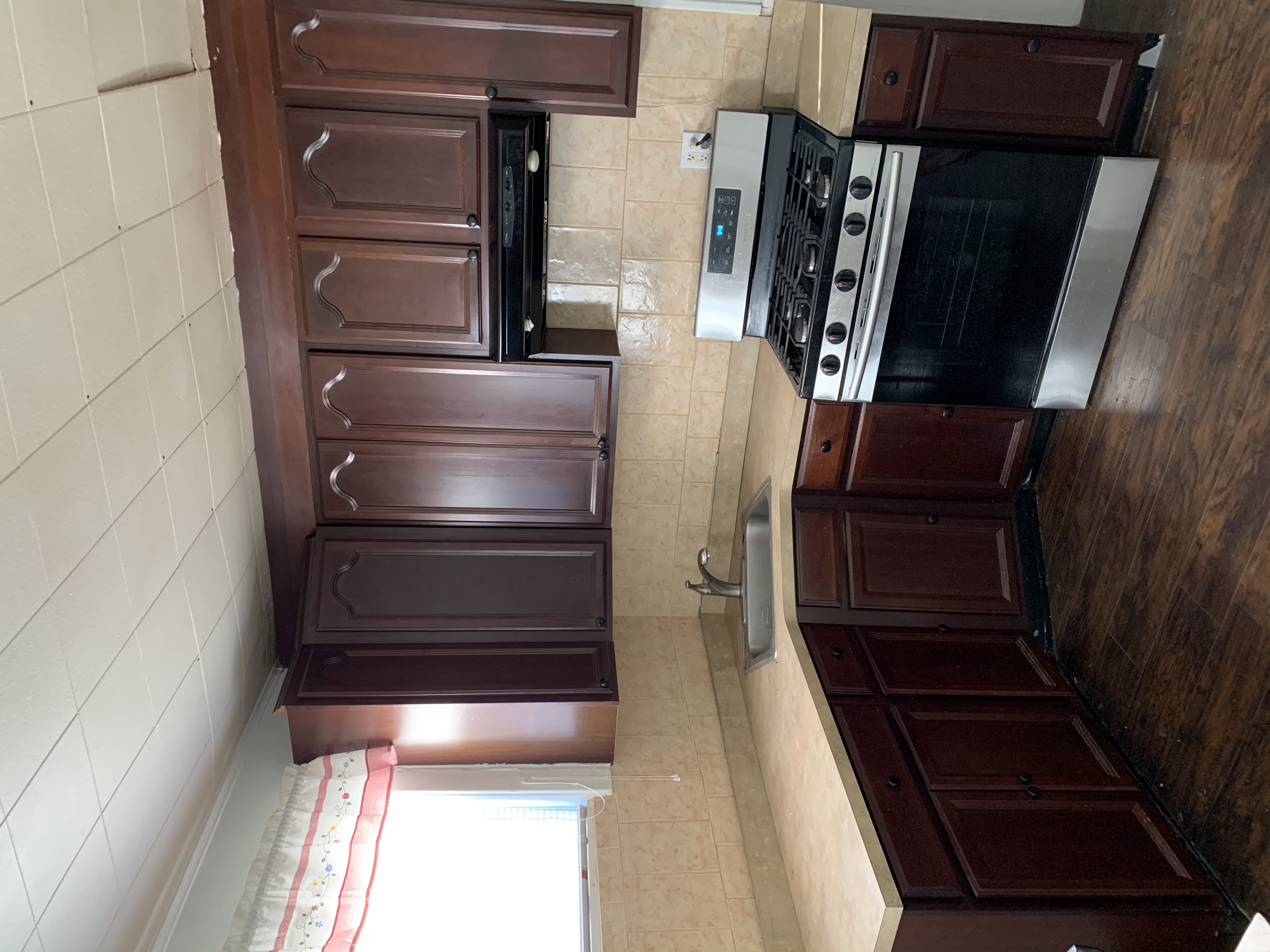 We priced this one a little higher than the other because it was slightly larger, in better condition, and had nicer cabinets than the second floor set.  We included the sink & faucet, the laminate countertops, and the range hood.  
There was slight water damage (I love my foreclosure!) underneath the sink, so that box needed some repair, but they were otherwise in great condition.  
It worked!  Once again, we left a clear path out our front door, and a sweet family came along with drills and a van to remove the kitchen.  Two hours later – boom, five hundred bucks, which covered the cost of our dumpster arriving the following weekend. 
---
All in all…
We hope that this post has been helpful to you in selling used kitchen cabinets! You know now where to sell the cabinets, who might buy them, pricing, measuring, taking photos, and more!
We wish you the best of luck on your renovation – and we're here for you at Our Two Family!
---
Related posts
---
---