Home Renovation Demolition – 12 Best Tips for an Easy Demo Day
This post may contain affiliate links. If you purchase a product through one of them, we will receive a commission at no additional cost to you. As Amazon Associates, we earn from qualifying purchases.
This post is all about home renovation demolition day.
---
We've watched demo day on HGTV numerous times – whether you're a fan of Fixer Upper or Love it or List It, you know its name.  It's the day you've been prepping for — the first official workday of your project. 
The dumpster is lined up in the driveway, hungry and ready to chomp down the guts of your soon-to-be-former-kitchen. 
The new materials are on order; the contractors are hired.
There's just one thing left to do. 
Destroy. 
Today we are talkin' DEMO DAY!  It is so much fun!  Smash stuff!  Break stuff!  Throw things out the window!
Hold up now.  Before you embrace your inner Chip Gaines and karate-kick yourself through a wall, there are a few things to consider.  Namely…. Safety + sanity. 
Let's face it, starting off your project with a trip to the ER is probably not the best use of your time.  Nor is losing your mind and feeling defeated before your project gets off the ground.
Let's take a look at how we can make our home renovation demolition days efficient, fun and most importantly, safe.  
---
Mask Up 
Yes, masks are a hot topic in the world as of 2020.  Yes, you need to wear one when doing demo. 
Depending on the age of your house, it is possible the walls are made with plaster and lathe (small strips of wood on which mucky yucky plaster was smeared to make a wall).  Plaster and lathe are d-i-s-g-u-s-t-i-n-g materials to demolish.  Plaster dust is downright dangerous to inhale. 
Nowadays we have sheetrock, but even if you are demolishing sheetrock, a mask is still immensely important.  One box of N95s is a lot cheaper than the hospital bills for lung disease.
Not into it?  Pull out a marker and make it fun.  Seriously folks, I cannot implore you enough to get a stack of heavy-duty masks for you and your crew. 
Please don't skip this step.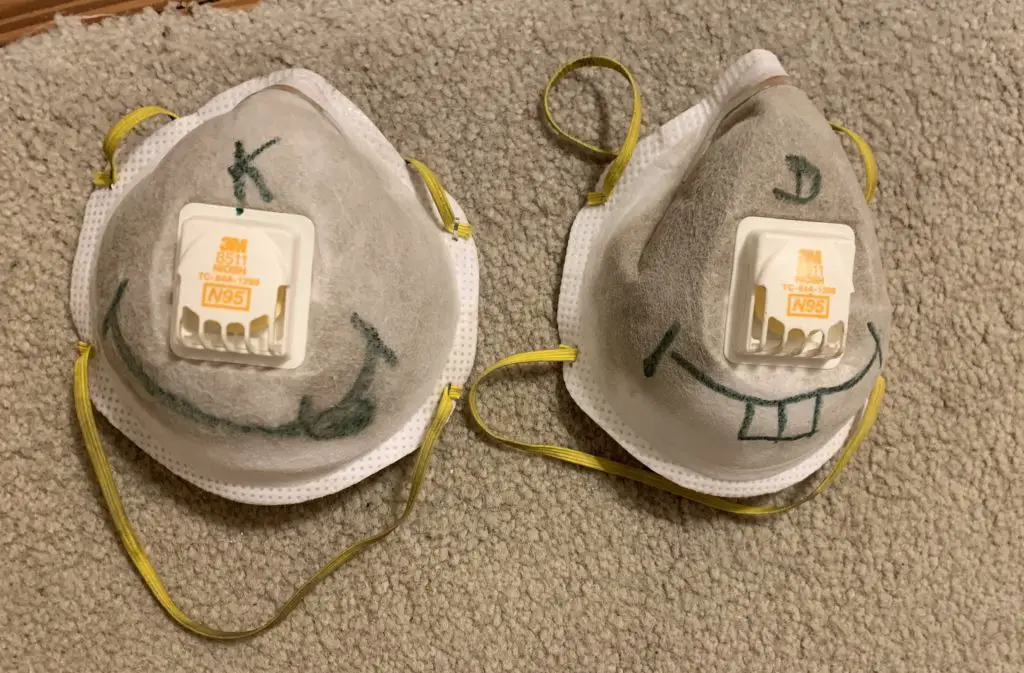 ---
Wear Boots 
No, your old gym sneakers are not going to cut it. 
You need work boots, or at the very least, something with a sole thicker than the average running shoe. 
Why? 
Well, for the bottom of your feet – think of all the crap that will jump around the floor as you work.  Puncturing the bottom of your foot with a rusty old framing nail does not sound like a good time! 
And as for the top of your feet – think of all the crap that will be falling from the walls and ceiling. 
Boots will protect them better than a soft sneaker.  Smashing out walls is a lot more fun if you can tear through with confidence, instead of tiptoeing around and jumping back for fear of falling debris every two seconds. 
---
Wear Gloves 
You can't necessarily predict what kind of materials you'll encounter on your demolition derby, so stock up on several pairs of good, solid work gloves.  Leather is nice and durable, for instance. 
As a hand model, I am obviously very concerned about even the tiniest cuts.  But YES, I participate in demo day, top-to-bottom, with great confidence thanks to gloves! 
As mentioned in my post, "How to keep your hands nice during a renovation," gloves are a regular part of my life.
For serious demo days, I wear leather gloves like these – I especially like the velcro around the wrist, preventing debris from falling into the glove.
---
Wear Goggles and Ear Muffs
Protect your senses during home renovation demolition day. 
Safety glasses can be annoying, but they're going to protect you from getting dust and debris in your eyes. Be sure to have extras for your team when they arrive!
And, demo day is LOUD! Once a few people get to smashing, the compounding noise adds up.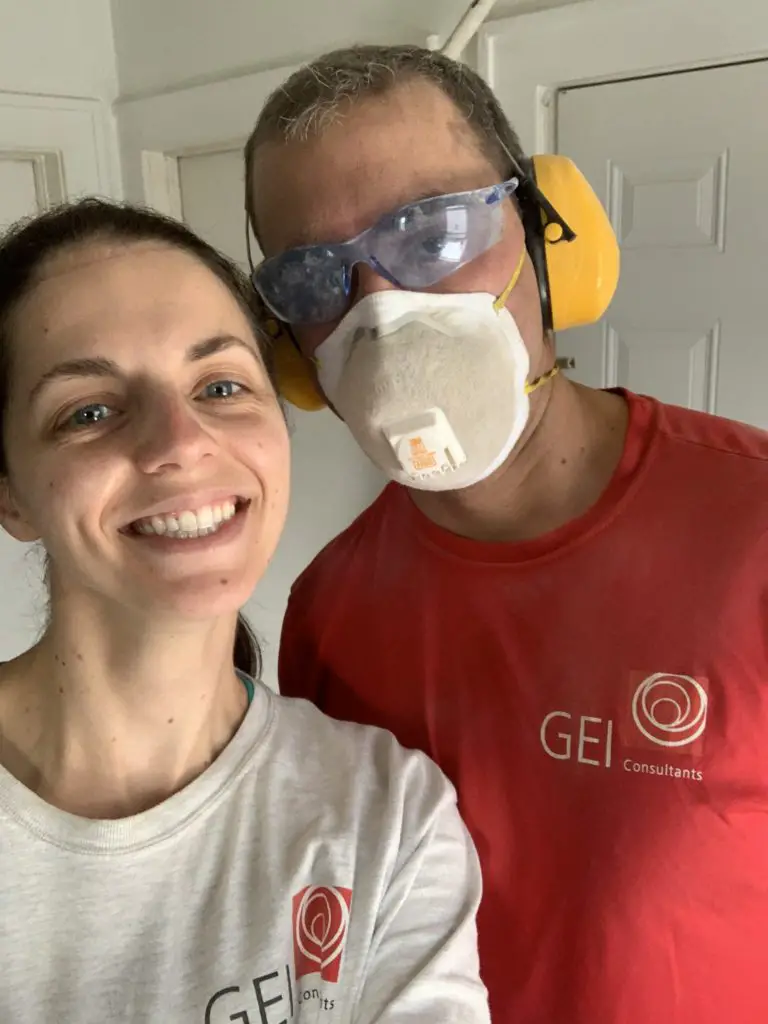 Protect your hearing with some sturdy ear muffs. (No, Derek does not have gray hair.  That's all plaster dust!)
---
Wear Proper Clothes
…i.e. long Sleeves, long pants, and a hat.  This is really personal preference, and I understand that certain climates get hotter than others which may deter a person from long sleeves and pants. 
However, much like wearing gloves, keeping your extremities covered can really reduce the possibility of cuts to your body.  There were times during our kitchen demo that we were ankle-deep in plaster pieces and lathe.  Long pants were essential to reducing injury. 
We also find hats to be most helpful, especially when working overhead.  Our high ceilings mean a lot of tearing stuff down above eye level – when you duck, a hat can help prevent said stuff from falling into your eyes. 
---
Get Friends
GET HELP. 
Want to know who your true friends are?  Invite people over to demolish a room in your house.  The true friends will be there to lend a hand, or at the very least a crowbar. 
---
Drink Water
Hydrate, people.  It's the solution to most problems. 
It's easy to forget just how much you are exerting yourself when ripping out a wall.  Be sure to have a stack of water for your crew, too!  Wipe your brow and have a few sips, cool?
---
Take Breaks
Yes, on TV it seems so quick to rip out some cabinets and smash a wall.  But just imagine how much help those folks have off camera! 
If you've got even a small crew, that's awesome – but remember that breaks will fuel your energy for more. 
Again, construction projects involve a lot of exercise, and you may not realize how hard your body is working.  Actually, you might realize it—the following morning – when you wake up to find you are sore in muscles that you never knew existed. 
---
Eat Snacks
Always have coffee break.  It makes the day better. 
And remember, treats like donuts are fun to eat but they are not long-lasting fuel!!  Have some healthy options, too, like protein for energy (protein bars, boiled eggs, cheese) and fruit for carbs (double whammy – fruit can also hydrate you!). 
---
Play Music
Make it fun, people.  Demo can get long and sometimes frustrating (you never know what you'll discover).  Green Day's Dookie has always motivated me to rip out a wall! 
Music helps keep it light and make the day enjoyable. 
---
Plan Somewhere to Shower 
I realize this becomes difficult if you are ripping out your bathroom. 
But, when you are planning your project, for the love of all that is sanity, PLAN WHERE YOU ARE GOING TO SHOWER.  You may think that your project will go right on schedule – and it might – but what if a fixture or set of tiles is delayed? 
Side note – gentlemen whose wives are not part of project planning… please abide by the phrase, "Happy wife = happy life" when deciding how long to let your sweetheart go without a convenient shower.  Give her an option, and if you can't do that, give her a vacation while you rip your house apart. 
My point: at the end of a day of demo, you ain't gonna be clean, so make sure you know where you can rinse off, whether it be a neighbor's house or the local gym.
Related: How to Plan a Bathroom Renovation
---
Have the Right Tools
This includes but is not limited to:
All of these tools will make your day easier on your body and your project. Separate post to follow on the ins and outs of your best equipment to get the job done!  
---
There you have it – a dozen ways to make your demo day safe and sane! 
Don't forget to subscribe to Our Two Family to never miss a post!
---
---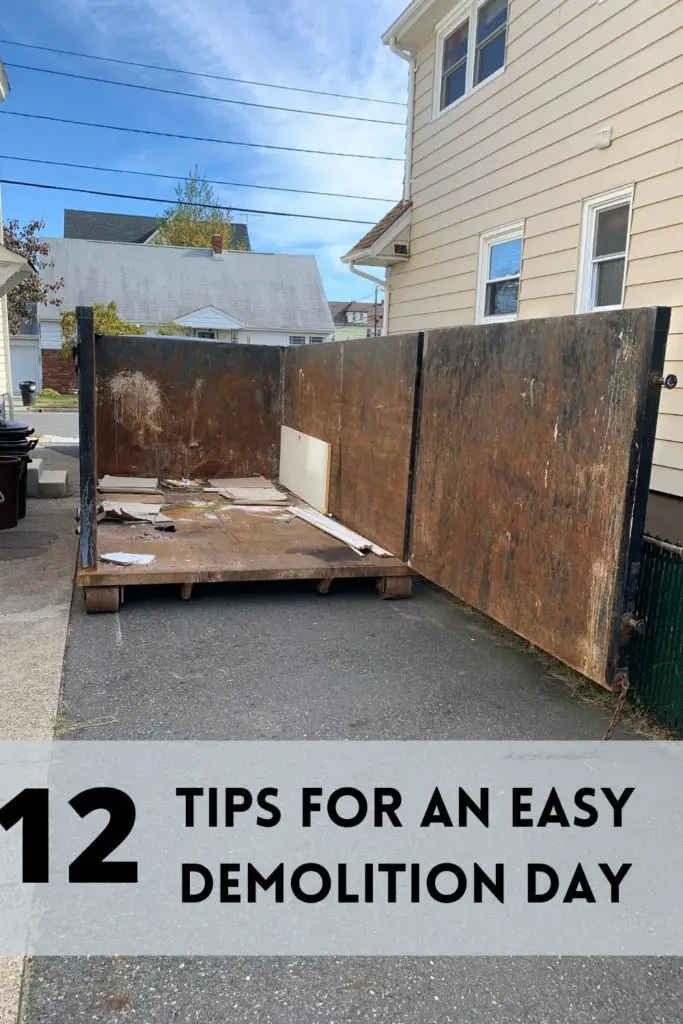 ---