how to cover heating pipes with sisal rope
This post may contain affiliate links. If you purchase a product through one of them, we will receive a commission at no additional cost to you. As Amazon Associates, we earn from qualifying purchases.
---
Welcome back to Our Two Family house!  This post is all about how to cover heating pipes with sisal rope.
I know what you're thinking… why would you need to cover a heating pipe in sisal rope?  And also… is it even possible?  
Well, if your house is anything like ours, it might boast heat pipes outside the walls because of its age.  
Or perhaps you're looking for a way to improve the wanting aesthetic or reduce the likelihood of your kids burning themselves on the heat pipes.  
I'm here to assuage your concerns and tell you that yes, it's totally possible to cover your heat pipes in rope.  We've done this twice – once in our Nursery Makeover, and once in our Toddler Bedroom Makeover with great success.  
Come learn how to cover heating pipes with sisal rope!  
---
Why cover heating pipes with sisal rope?
We wanted to cover our heating pipes with sisal rope for three reasons
1) Aesthetic
The pipes were a real eye sore.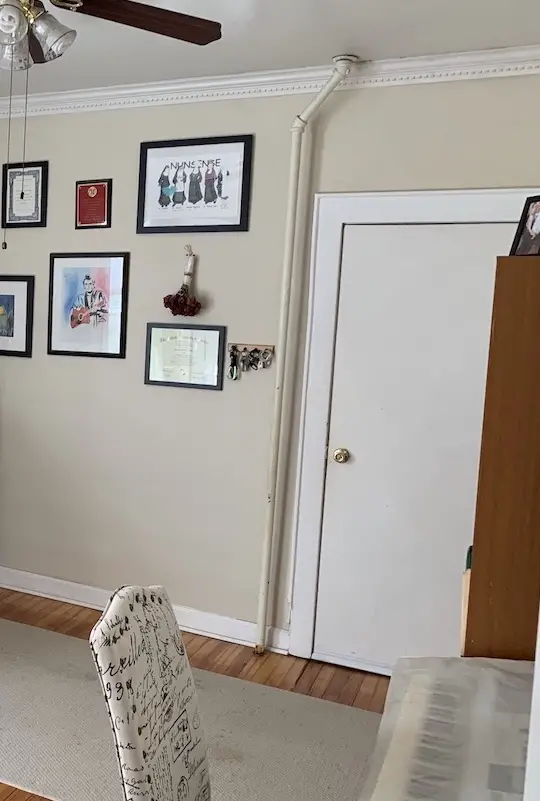 Our heating pipes had also been painted to match their walls at the time (WHYYYYY!!!!), and with latex paint no less, yielding a nasty, peeling, bubbling heat pipe.
Take a look at the close-ups if you'd like to engage your gag reflex.
2) Safety 
These are in our children's rooms and could really burn if touched while heat is pumping through them.
Baby proofing? Check out the Best Baby Proofing Products for Your Home.
3) Insulation
Covering the heat pipes would prevent more heat from escaping, thus being more efficient for our 2nd floor heat.  
This is based on logic, not engineering, so don't hit me too hard in the comments please!
Love eco-friendly home renovations? Here are 11 Practical Eco-Friendly Home Renovation tips!
---
Can you wrap hot pipe in rope?
Yes!  
While shopping for rope for the nursery pipe, we reached out to SGT KNOTS to ask what kind of rope would be best to avoid fumes, fire hazards, and charring.  
Their kind customer service replied that their All Natural Sisal Rope would not char until 300 degrees Fahrenheit.  
Ba-da-bing!  This is the perfect solution to wrap hot pipe in rope. 
---
What can you use to cover a hot pipe?
We used this rope from SGT Knots to cover our hot pipes:
We've also listed some other ideas at the end of this post, if you're not into the rope option.
---
How do you cover a heating pipe with a rope?
How do you attach a rope to a pipe?  
The short answer: patiently.  Wrapping a pipe in rope simply takes time.  
The long answer: There are two ways to do this.  
One way is that you can thread the bulky pile of rope around and around the pipe, up, up, up until it is complete.
Or you can twist the rope around the pipe from the big bulky pile of rope.  
This is basically a "choose your poison" situation because neither approach is very fast. You just have to do it.
---
How to cover heating pipes with rope, step by step instructions
Step 1:
Order some sisal rope. Better to be looking at it than for it.
Step 2:
Clean the pipe.
Be sure to do this with the heat off!
If your pipes are as miserable as ours, you may need to strip the paint in this step.
We used a paint stripper like this:
I found that a combination of a wire brush and rag worked best to scrub the paint off.
Be sure to cover your flooring, lest your paint stripper also take up the varnish on your hardwoods!
Also, open the windows and get a fan going! As you can see by these close-ups, this is a nasty step!
Fortunately we got this down to the metal again, and proceeded.
Step 3:
Get your rope ready.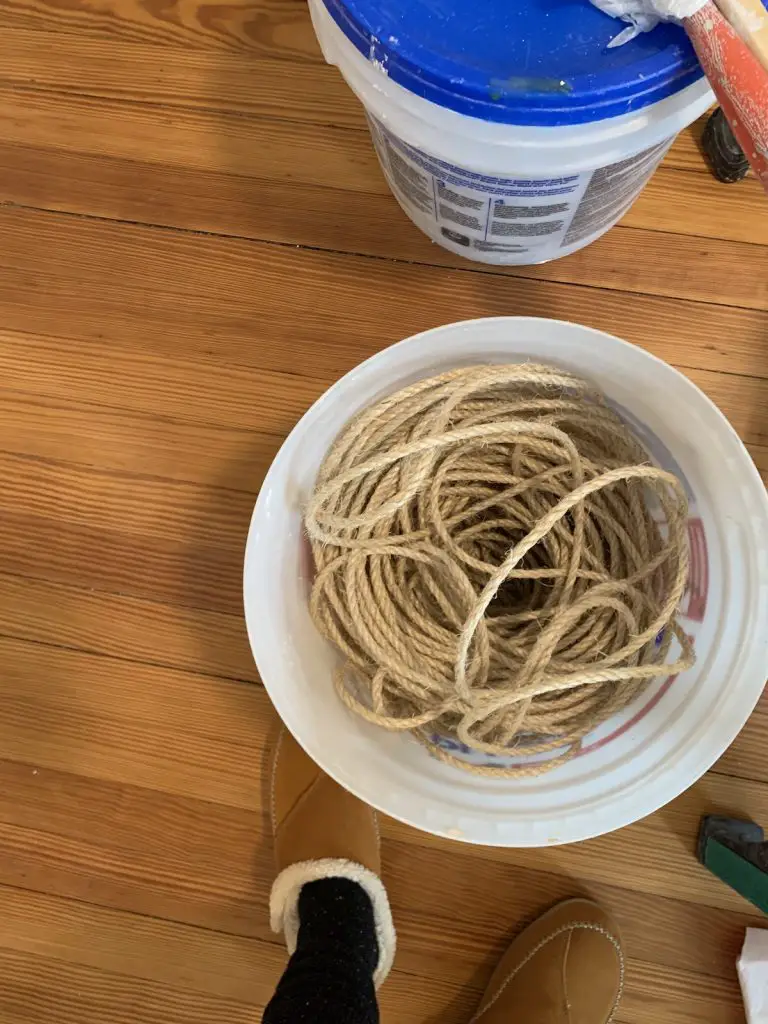 We highly recommend wearing work gloves. You also may need to re-coil the rope before you try to wrap it to make it small enough to fit behind the pipe.
Then, twist and shout, baby! Put on some music and twist or wrap that sucker around and around until your pipe is covered.
This took us hours. Yes, unfortunately…. hours.
It's just a time consuming project, there is no way around it.
If you need to take a break, make sure to tie off your rope somehow so that it doesn't undo itself!
Step 4:
When the end is in sight, you can cut the rope to finish it off.
Tuck in and tie a few layers around the top and bottom to prevent it from slipping off.
It's ok to double it up at the last few rotations – the rope will settle down over time, and you'll be happy for the extra slack. Then you can neaten it up later on.
You'll also want a vacuum handy when you're finished because the rope can shed!
---

---
Alternatives to covering a heat pipe with sisal rope
Covering heating pipes with sisal rope might not be the approach for you, so here are some other options to improve safety and aesthetic.  
Foam insulation
One heat pipe cover option is foam insulation.  It's not the prettiest solution out there, but this will definitely insulate your pipes and keep little hands from burning themselves.  
Column Cover
You could try using this PVC column cover.  
These fit columns up to 4" in diameter.  They are advertised for covering support poles in your basement (which we battled – check out our Basement Renovation on a Budget.)
Perhaps contact customer service to ask if these can withstand the heat of that which you want to cover.  
Paint
I do hate that I suggest this, for I couldn't stand the paint on ours.  
However, if you are really looking for a quick budget solution for covering your steam pipes, you can paint them.
Please, PLEASE use oil based paint and not latex for a metal pipe.
Latex paint yields the ugly bubbling that we had in our home.  You don't want that.  
Here's an example of oil based paint.  
Remember to mask up, open a window, use a floor covering, and consider a disposable brush for easy clean up.  
---
Before and afters – covering a heat pipe with sisal rope
Take a look at the before and after photos of these newly covered heat pipes!
Here's the nursery:
And here's our toddler's room (formerly our guest room):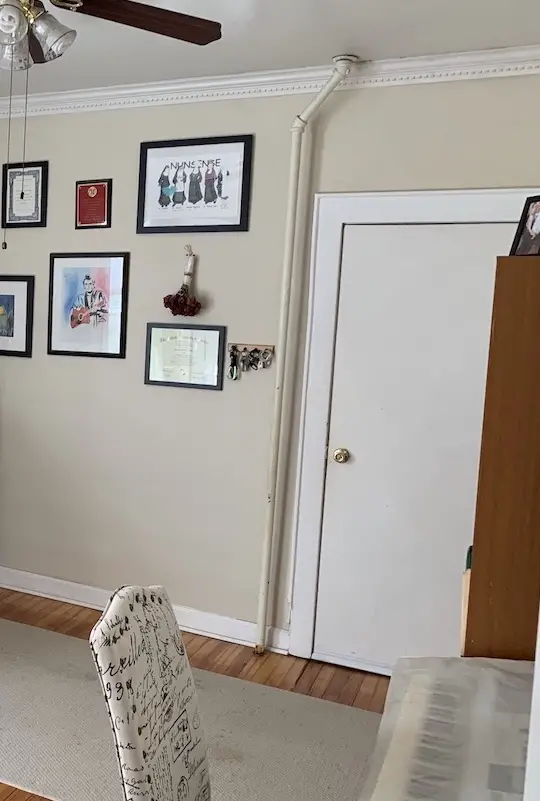 As you can see, the aesthetic payoff is pretty hefty – and the ROI isn't too shabby for a pile of rope and a bit of effort!
---
Final thoughts on how to cover heating pipes with sisal rope
We hope this tutorial on covering heat pipes has been helpful.
Set aside some time, grab your rope, and wrap that pipe to make it prettier and safer! And if that doesn't work for you, there are other options to be had.
Don't forget to snag your renovation planners at our Etsy shop!
---
You may also like:
---