toddler boy room decor – sprucing up a simple space
This post may contain affiliate links. If you purchase a product through one of them, we will receive a commission at no additional cost to you. As Amazon Associates, we earn from qualifying purchases.
This post is all about toddler boy room decor.
---
Welcome back to our two family house! It's a rare day here at OTF as we discuss a popular topic – one that is foreign to us – that of decor.
We're not often worried about decor here. Since buying our foreclosure home, our remodeling focus has been on functional utilities, sturdy gut renovations, and appropriate rental fixes.
Even in this room, our biggest concerns were insulation, re-framing a closet, and installing an exterior door. (Check out Kid's Bedroom Makeover for all the heavy-duty fixes and before & after photos.).
With our little guy getting promoted to his big kid room, we found ourselves leaning into simple decor choices suitable for a 2-year-old. With a little research on Montessori-inspired spaces (Montessori in Real Life, for example), we created a few nooks and crannies to help our toddler grow.
Read on to explore our toddler boy room decor choices!
---
Toddler Boy room – Steam pipe cover
If you want to know how to decorate a toddler's room, please start with safety.
One of our favorite features of our first floor (yeah, right!) is the exposed steam pipes in every room.
These pipes run to our second floor rental radiators, so we have to live with them.
But because they get steaming hot in the winter months, we cover them to protect little hands – like in our nursery makeover.
We'll post a full step-by-step of this project soon. Just know this pipe was cloaked in nasty latex paint, required a heap of elbow grease, and now rests covered in sisal rope.
---
Toddler boy room – Radiator cover
This room thankfully came with a radiator cover when we purchased our house. All she needed was a cute coat of spray paint!
Thank you, Mother Nature of NJ, for laying off the February winter winds for precisely 3 hours so that we could spray paint outdoors.
Need to do the same for a metal radiator cover in your space?
Celebrate the old house charm with a good ol' can of Rustoleum.
---
Toddler boy room décor – color scheme
Once we had safety items set, the thought occurred to me – how do you style a small boy's room?
We decided on navy blue and white. They flow with the rest of the house nicely, and match with a lot of little man's favorite things.  
Since we had leftover white paint from our primary bedroom remodel, we continued that wall color through into this room.
However, with such huge 9-foot ceilings and such tiny furniture, the bedroom was begging for some pop.
Enter…
Wallpaper
We went a little crazy and tried out the stick-on wallpaper trend – and are super satisfied with the result! We thought this pattern would be fun, particularly for a kid's room decor.
If you're looking to shake up the look of any room in your home, this is a great non-committal, renter-friendly option, plus a perfect beginner DIY.
Here's the exact wallpaper we used.
Curtains
To repeat the color and chevron-ish pattern of the wallpaper, we went nuts for these beautiful navy curtains! I love how they break up the white-on-white in the room.
Note – these are not 100% blackout during the day, but they get the room dark enough that our toddler can fall asleep for his nap.
We also tacked on this wraparound curtain rod to avoid aggressive sunlight peeking through corners.
Area rug
The final echo of some serious navy & chevron lovin' can be found in the area rug!
We decided to try out Ruggable for the first time, after seeing so much PR online. While I was hesitant to spend… literally any amount of money… on a carpet destined for doom in a child's room, I do take comfort in the fact that the carpet part is machine washable.
We have not yet needed to wash this rug (and at 8′ x 10′, I'm not looking forward!) but will post a review when the time is appropriate.
---
---
Toddler Reading Nook
After many a trip to our local story time, we realized our toddler was obsessed with the cozy reading chairs at the library. Thanks to generous grandparents at Christmas, he was blessed with this little chair to call his own!
In an effort to foster a love of reading, we added some book shelves at toddler height, so our little guy can pick and choose his literary adventures himself.
These are the ever-popular Ikea BEKVAM spice racks – we just love their simple look and easy install!
If you're looking for toddler boy room ideas on a budget, a miniature library corner is a great way to go.
We can't get enough of how cute it is when our little fella snuggles into his reading nook!
---
Dresser
We adore the Ikea RAST dresser for this space! It's just the right height so our toddler can pick out his own clothes when he wants to.
For those who have yet to enjoy the RAST and its umpteen possibilities – know that it comes unfinished, so you can paint or stain it to your heart's content.
We kept this simple using 2 coats of a clear stain.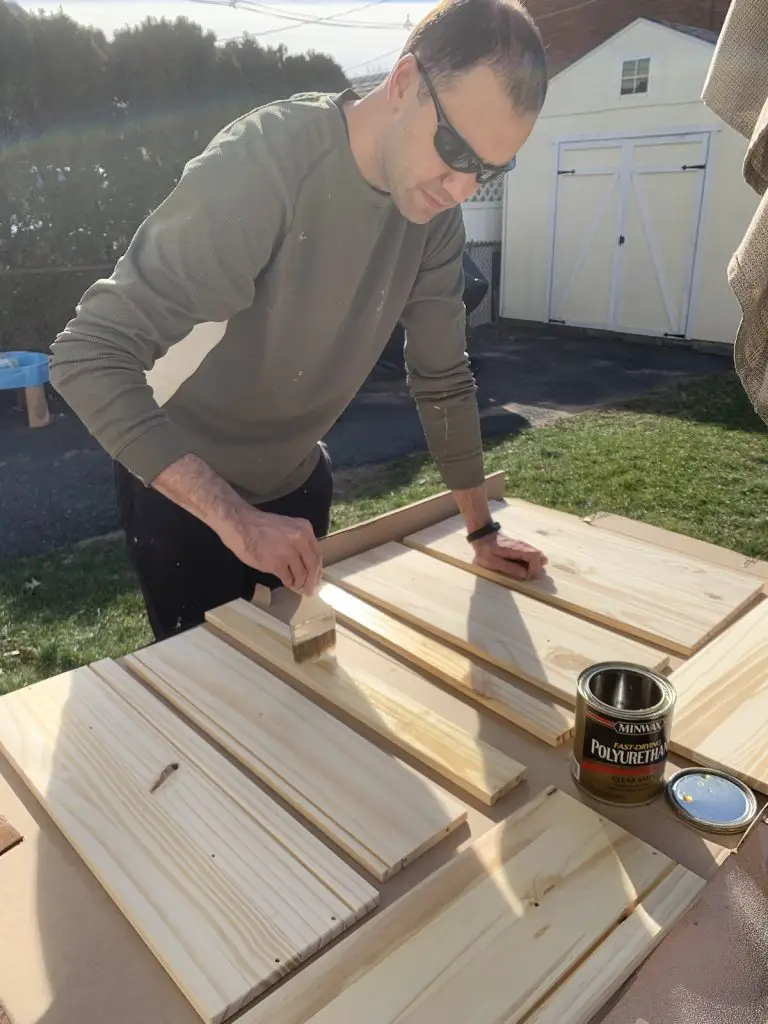 Then, we personalized just a little bit with these snazzy drawer pulls.
We also added the same pulls to the closet doors, for continuity's sake.
Fellow parents of littles – take the wall mount seriously! If you open all the drawers at once (never mind trying to climb it), this little dresser will tip over.
We love that the RAST doubles as a perfect night stand. It has just enough space for seasonal clothes and basics – particularly since children's clothes are small.
You might notice that we also use the RAST dressers as nightstands in our Primary bedroom – just with different hardware and a deeper stain. Like I said – infinite possibilities!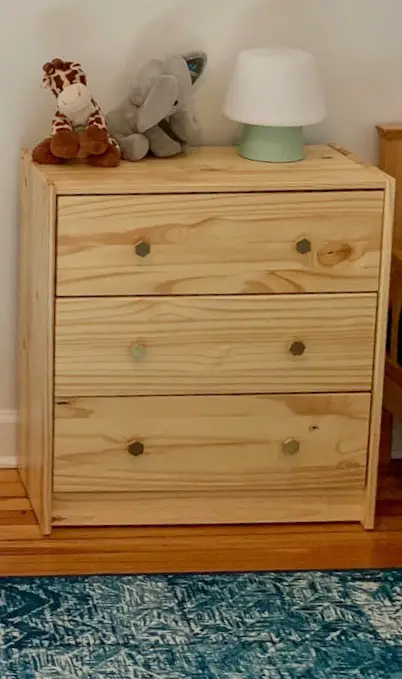 ---
Coat Rack
In an effort to encourage independent dressing, we created this simple coat hook from some scrap wood. This is a simple and affordable DIY for toddler boy room decor.
Derek cut an appropriate scrap piece down to size and sanded the edges.
We had some navy blue paint leftover from our exterior door repair, and used that for a pop of color. "Salty Dog" by SW, for the record.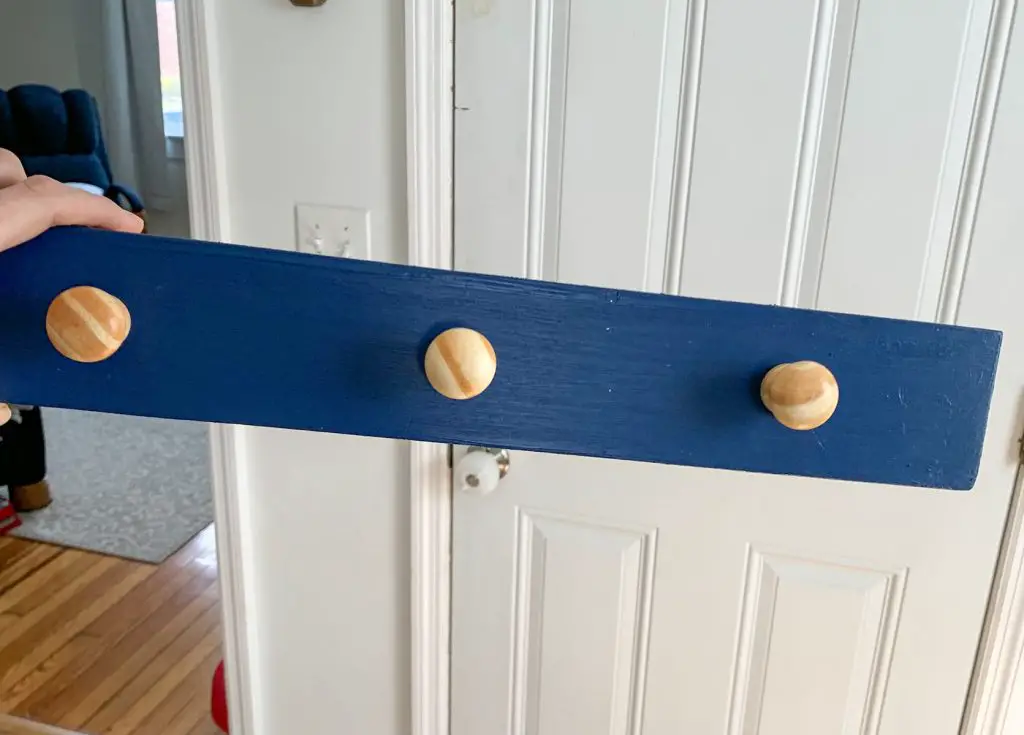 The "coat hooks"? The RAST dresser comes with pine knobs. Since we used different hardware, we had these leftover.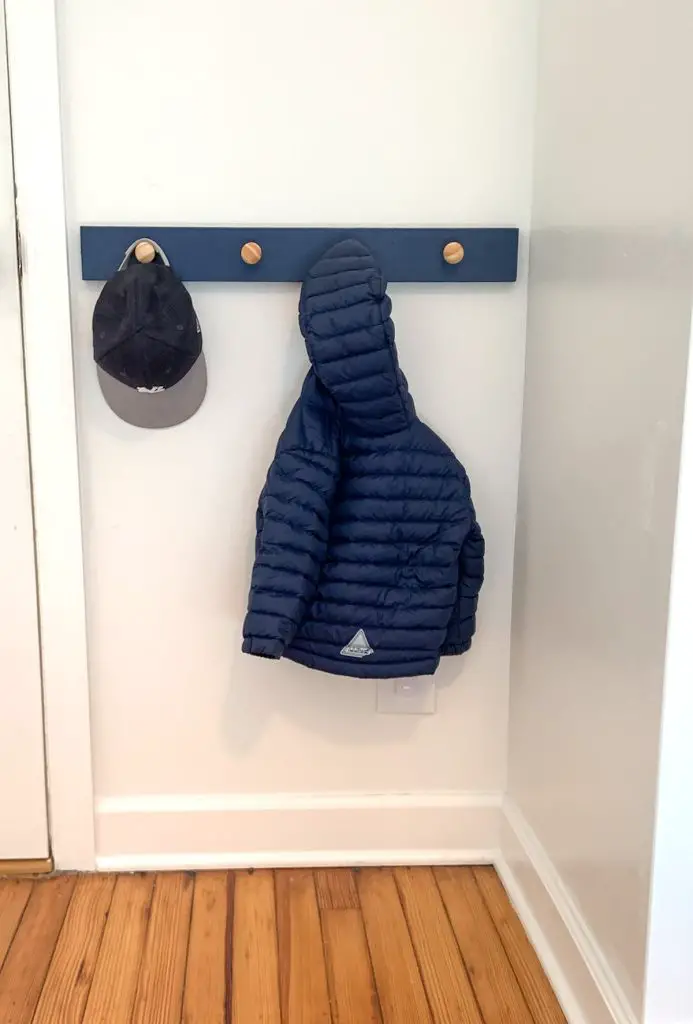 ---
The rest is still unwritten!
You may notice that the walls remain without more toddler boy room decor.
We have a few more ideas in the hopper, but with a baby due (literally any day now!), we have put a halt on production at the moment.
So far, we are quite pleased with our toddler boy's room decor, and will practice contentedness in the meantime.
From wallpaper to rugs and reading nooks to DIY coat racks, we hope you are inspired to create a beautiful space for your little boy!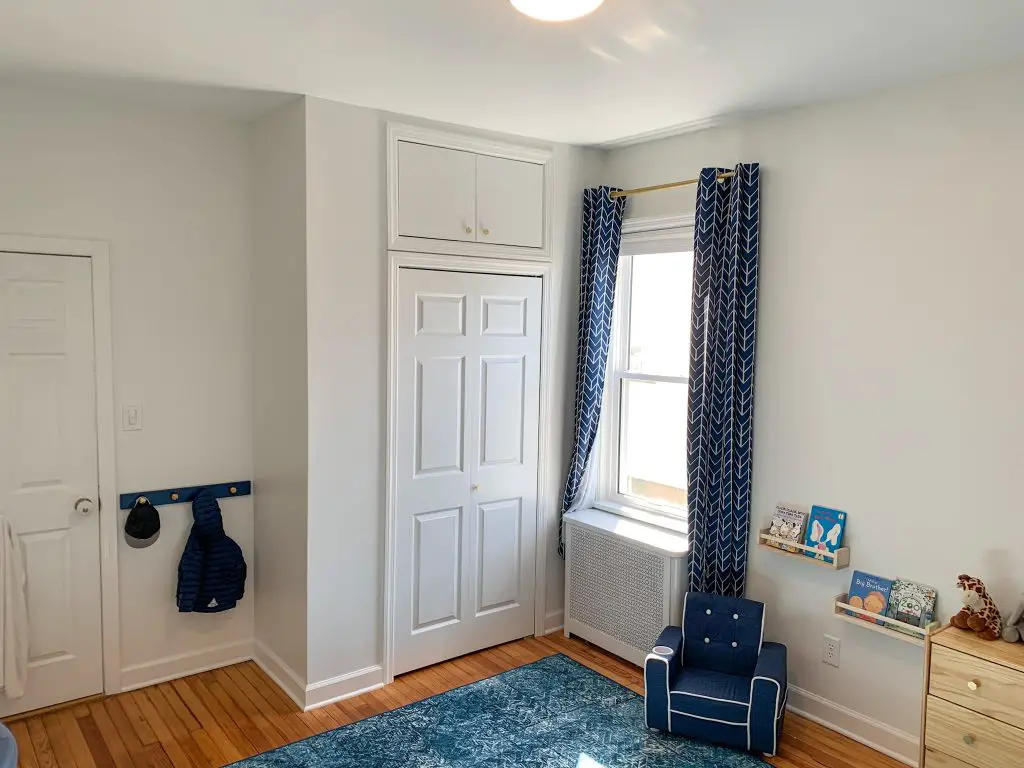 ---
You may also like:
---