Fall 2023 House Updates – The Latest Repairs, a Garden Collapse, and Apple Jam
This post may contain affiliate links. If you purchase a product through one of them, we will receive a commission at no additional cost to you. As Amazon Associates, we earn from qualifying purchases.
It's time for a "what's new" at our two family house!  Here's our Fall 2023 house updates.
With summer officially closed for business, we're taking stock of what we have and what we haven't (Irving Berlin, anyone?).
Our rental apartment has seen 6 years of wear and tear. Naturally there are things to maintain!
This summer, our renters requested our attention on their backsplash and microwave, and we were happy to oblige since they're great renters. Not to mention, it's always in our best interests to keep the place looking spiffy. After all – it's ours!
Our other adventures this summer were the sad garden table collapse, followed by a brilliant fruit picking experience next door.
Read on for a spin around the premises to see what we have repaired, updated, and enjoyed!
Rental Apartment Backsplash
If you've read our post on the second floor Old House Kitchen Renovation, you know that we did this kitchen on the cheap as brand new homeowners in 2017.  
To save money, we tacked up some simple plastic backsplash.  It looked nice enough for a while.
Unfortunately, we didn't anticipate how it would show its wear next to the stove.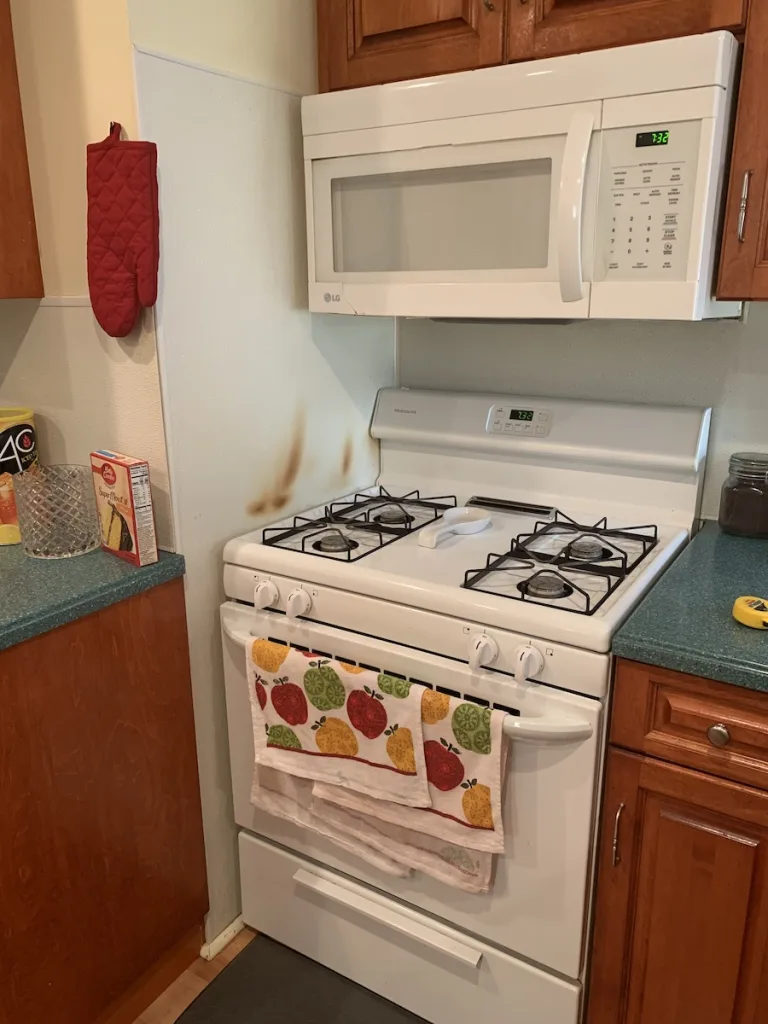 Thankfully, we found an easy fix!  
Enter this beautiful, double sided stainless backsplash piece.  It was just the right depth to cover the eye sore and keep things looking neat and clean.  
You can one like it at your local big box or even Amazon.
And the install?  
Just move the stove away, slide into place, level it, tack it down.  Boom!
Here's the before and after.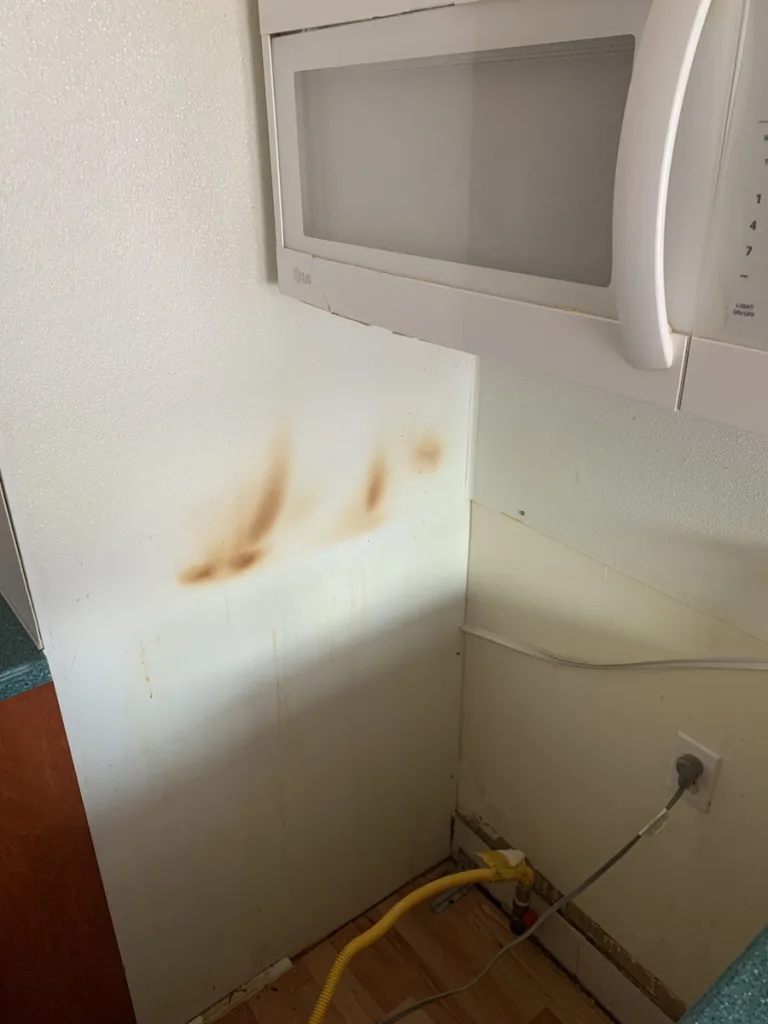 Rental Apartment Microwave
One of our most significant fall 2023 house updates was the 2nd floor microwave.
It's no secret that rental units see wear and tear.  Our 2nd floor above-range microwave was no exception!  
The glass within the frame of this microwave door was loose. It looked to have been slammed shut one too many times. Wanting to avoid a full shatter altogether, we decided to fix it.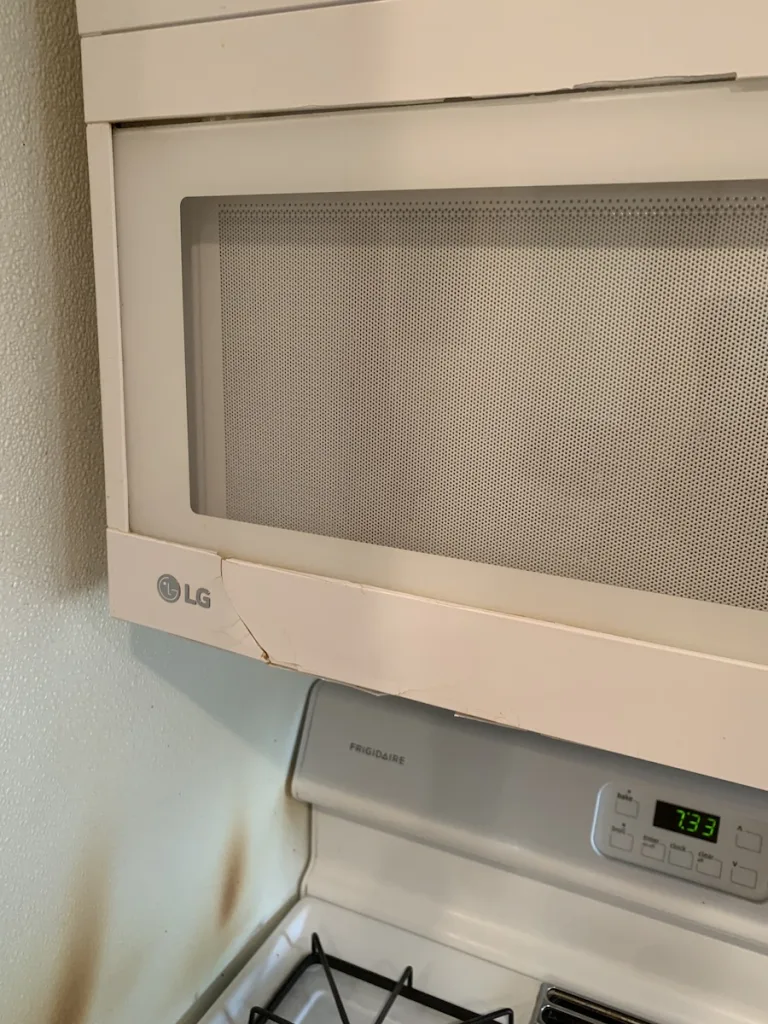 We looked into replacing the door only, but unfortunately this microwave is no longer made.  
We decided to just replace the whole microwave with this lovely new one.
This became a bit of a process because the newer model is slightly taller than the old one.
With backsplash already installed, we had to do some minor surgery. Thankfully, we had some leftover back band from our Open Concept Galley Kitchen renovation.
Pro tip: never throw away good lumber! Keep a boneyard in the basement for occasions such as this. Check out more on How to Save Money on Home Renovations.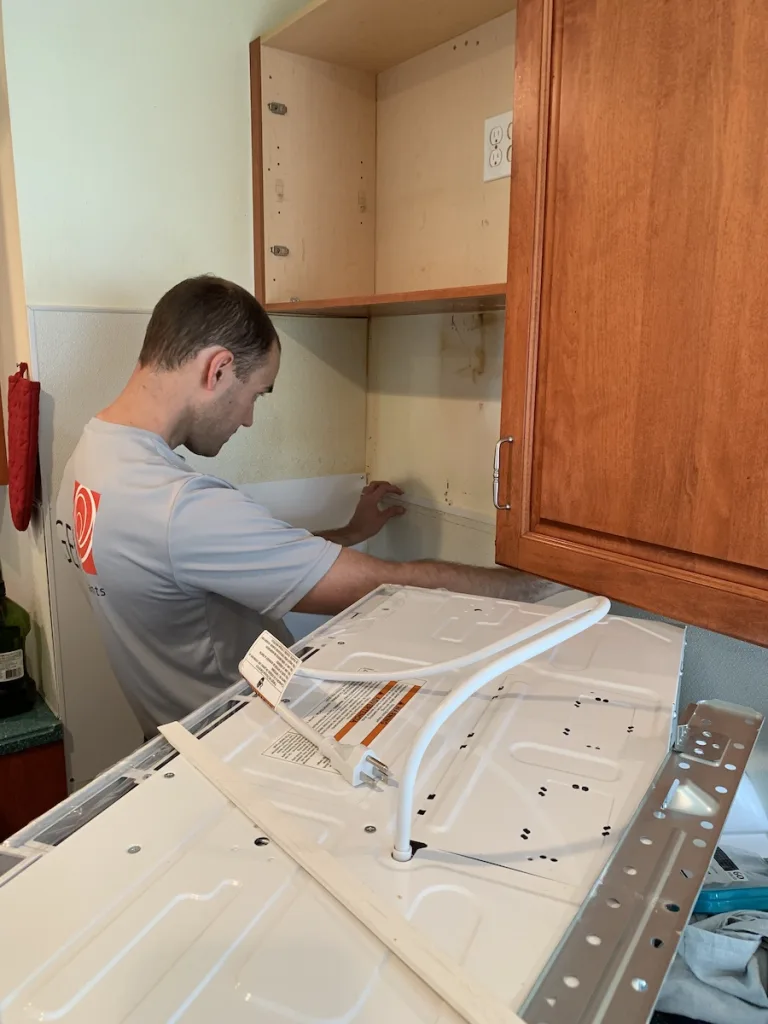 We used the small back band to match the depth of the existing backsplash. Fortunately, this only took a few hours!
Now our tenants have a beautiful new microwave that will (hopefully) last for years to come.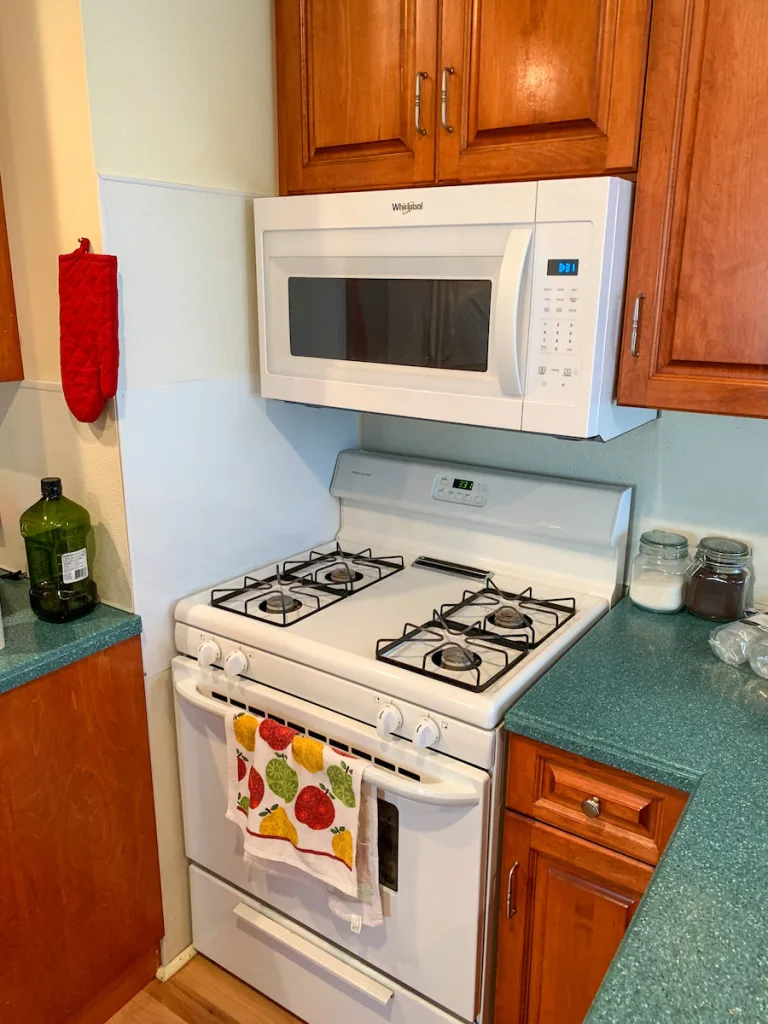 Derek did a fabulous job of leveling and hanging the new brackets for this beautiful microwave, no?
Garden Table DIY
And now for the saddest of all our summer affairs… the garden table.  
It arrived on the scene during our Backyard Before and After DIY Makeover.
We loved this garden table because it defined the space in our driveway, received massive sunlight, provided adequate drainage, and put gardening at the perfect height.
Sadly, after living on a non-level surface on our driveway for four years, our garden table finally whimpered its last and gave way to collapse.  I guess all the water and weight caught up to it.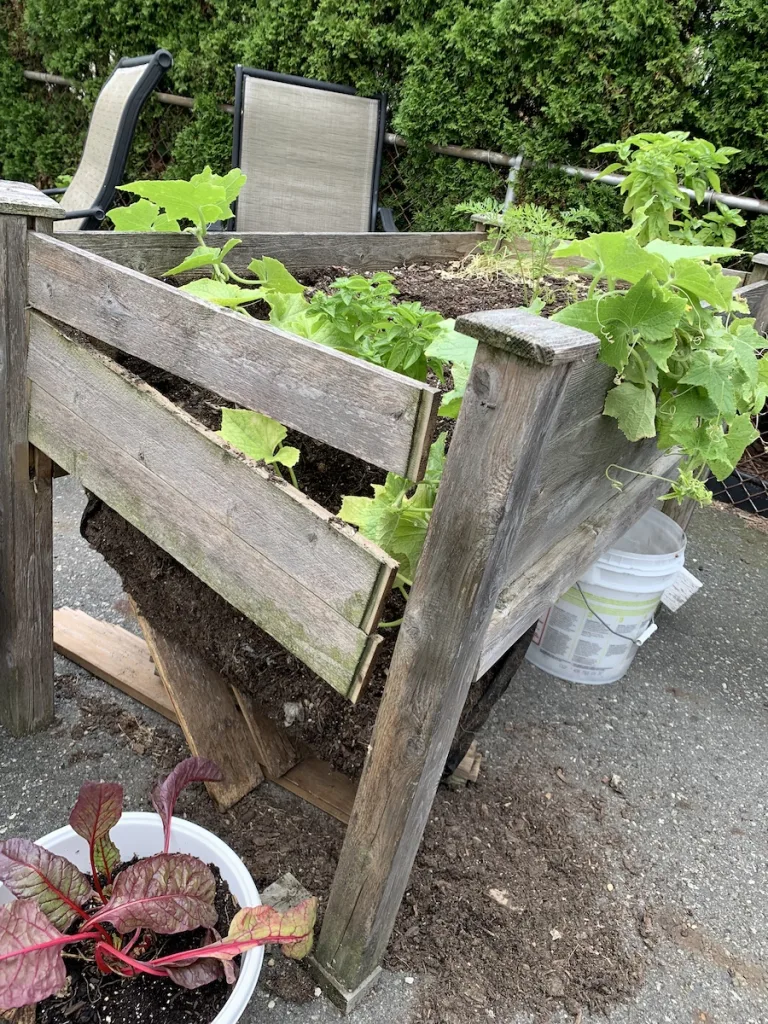 What's a gardener to do? 
Well, we decided to repair it.  Made from cedar, it had plenty of life left.  
First up, we had to empty the table.  We re-potted a few herbs, then emptied the soil onto a tarp for easy transport.  It made for great fill in our other garden spots that were getting shallow.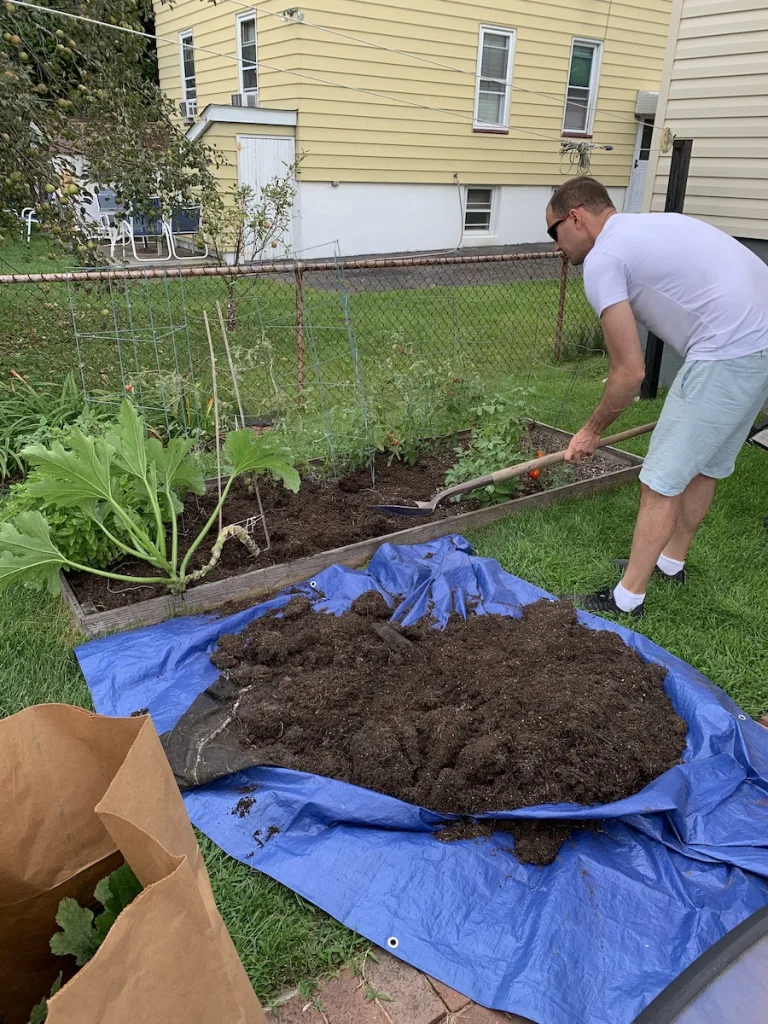 Finally, dear old dad jumped at the chance to for what he called "a fun little project," and the boys replaced all the wood in the bottom of the table.  
They also added reinforcements on each side of the legs of the table.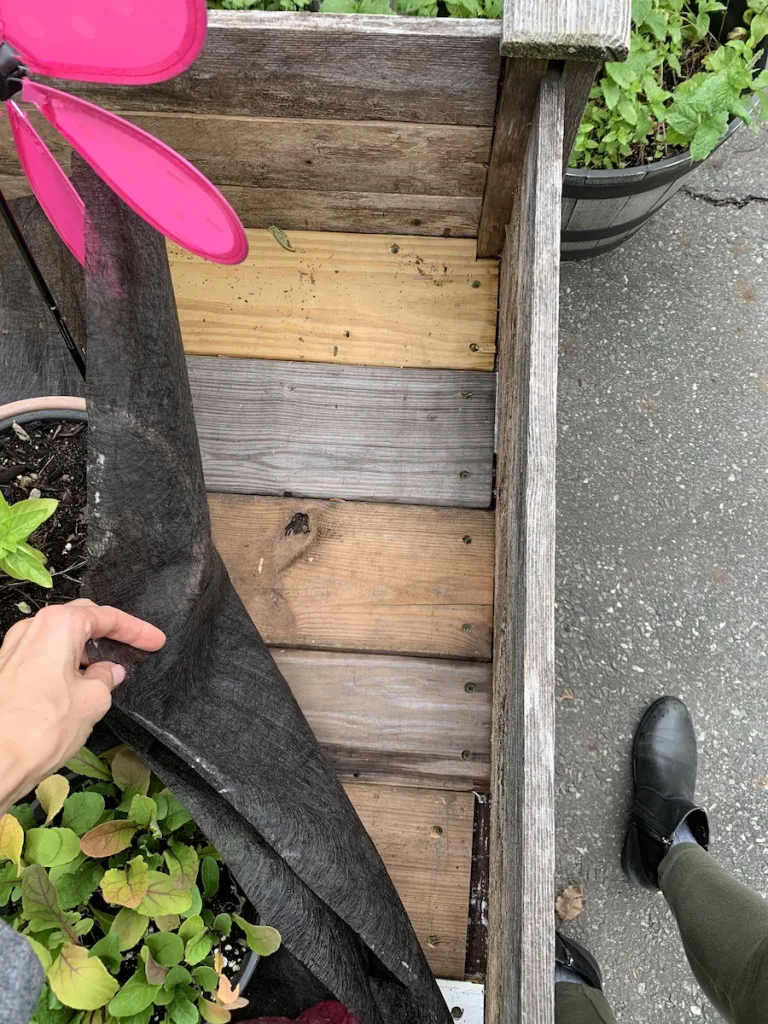 Since the garden table originally collapsed due to the heft of all the soil and fill, we have taken a new, lightweight approach: potted plants inside it!
Originally we were just quickly tidying up before a backyard party and tossing the smaller pots in there, but we liked the versatility and look so much, we decided to keep it.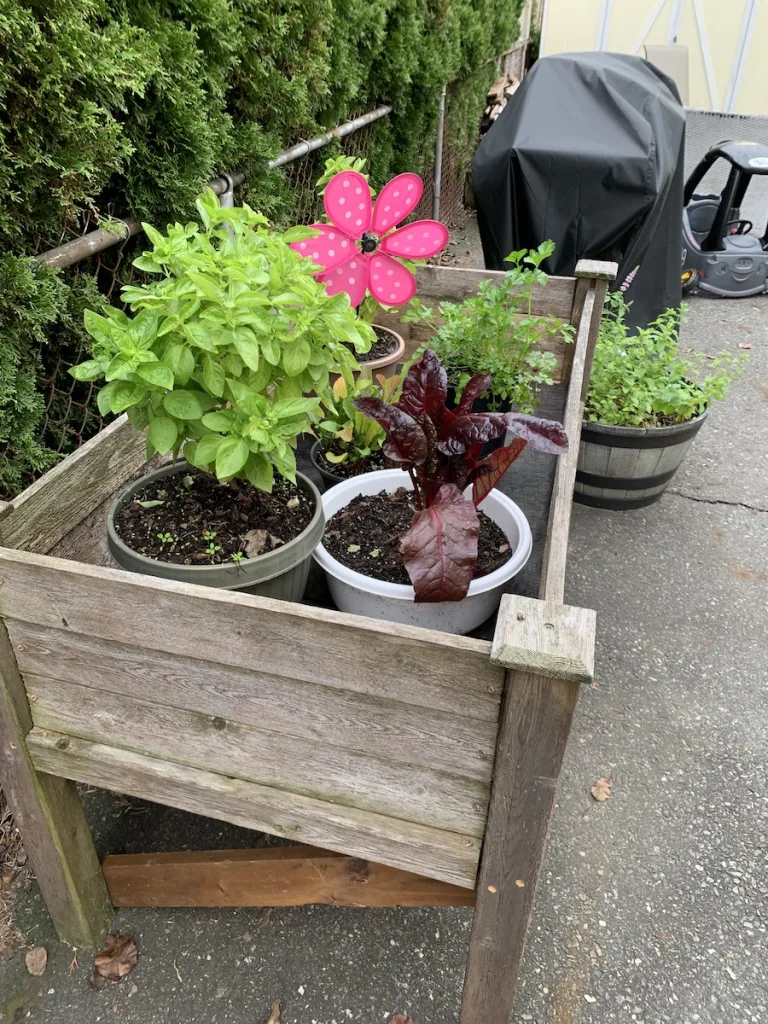 ---
Adventures in Apple Jam
Finally, this past month we have enjoyed the fruitful bounty of our neighbor's apple tree!  While some folks head out for apple orchards, we just tossed our kids over the fence for a few minutes. Thank you, dear neighbor, for being the coolest out there.
Since hauling home a compound bucket full of tart green apples, we have come to enjoy the wonderful world of apple jam.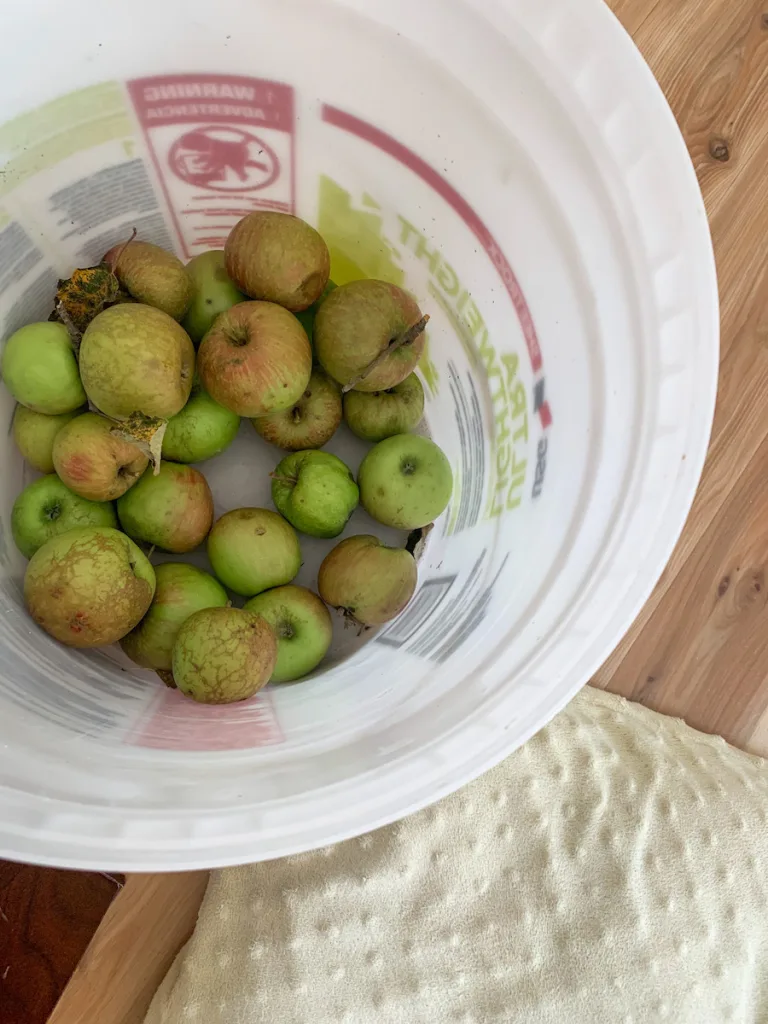 All you need are a few pounds of apples (I found about 7 medium apples yielded 1 half pint of jam), maple syrup, spices, and an hour of your time.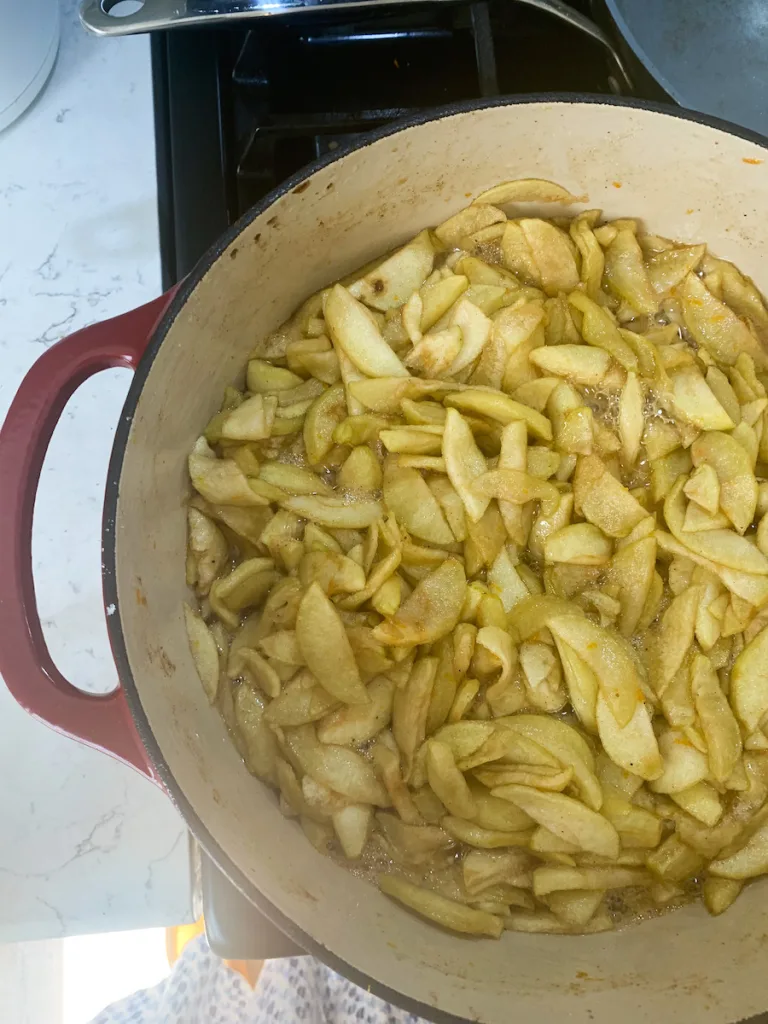 We cannot get enough of this recipe from That Recipe blog. If you're looking for a fall flavor to accompany that pumpkin spice latte, you should definitely try it!
Between me and our son, the first half pint disappeared in one day. I can attest it pairs perfectly with brie, crackers, toast, and nothing at all.
As for the other four jars, I disciplined myself enough to can and seal them away for the cooler autumn days to come!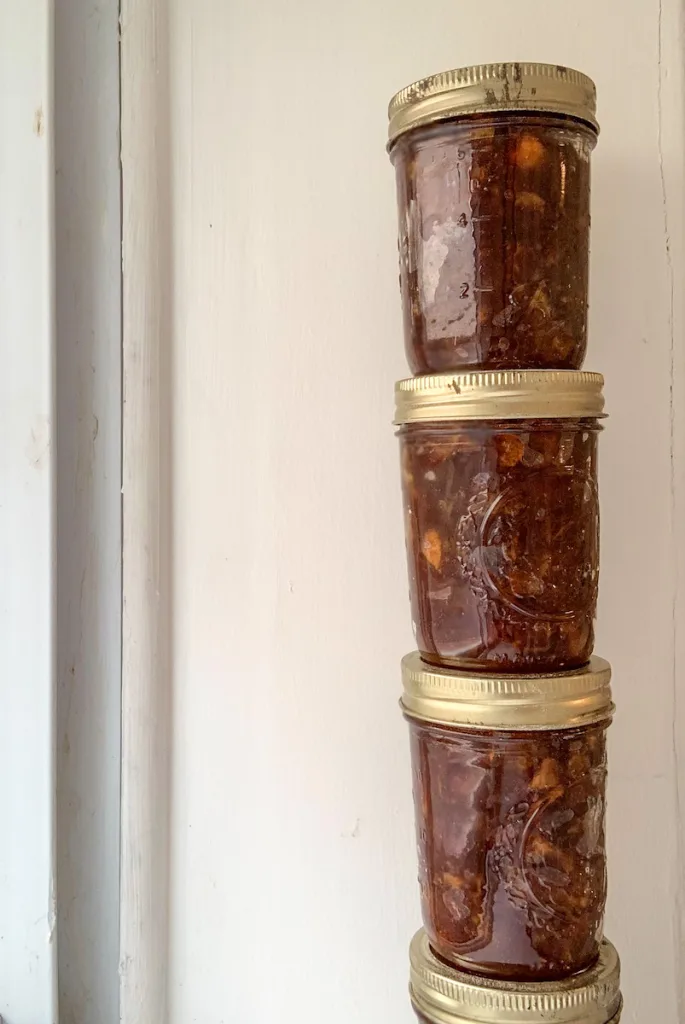 Final Thoughts on Our Fall 2023 House Updates
Nothing lasts forever, and that includes renovations in a home.  
Thankfully these Fall 2023 house updates were simple and dare I say a bit of fun!  
Summer flew and it's off to fall, and we'll see you in our next monthly newsletter – subscribe here!  
---
Related posts: